---
Text: Peter Johansson
Editing: Christer Lundstedt
Photos: Christer Lundstedt, Peter Johansson

---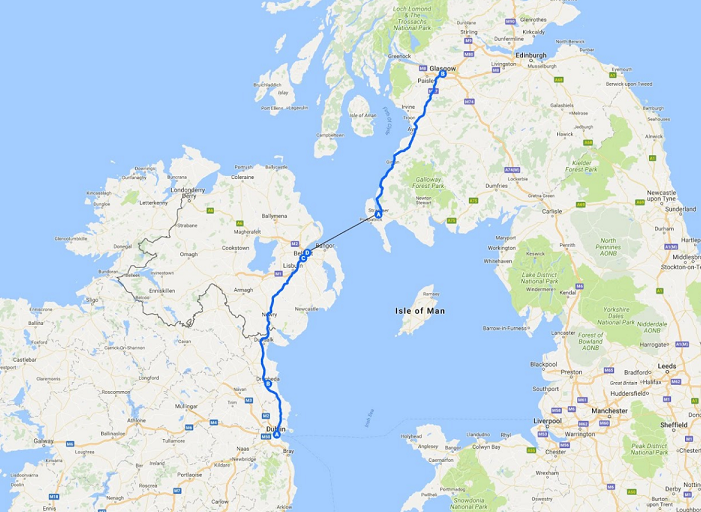 ---
Friday 31st of December
09.13 We've slept well and filled our stomachs with breakfast. Now we will wrap up our stay here. The stay has been on top. There is always a bit special to stay in the smelly dorms but the standard of everything here has been good. We can't blame Jacob's Inn for the fact that our roommates smelled from hangover. Now I'll finish writing before the towel is rolled up and packed. It's time to leave Dublin. Today we will change country but not island
09.29 In about half an hour we will be sitting on the bus that will take us north to Northern Ireland. Now we are sitting inside the bus station making a final check of the luggage. It´s strange that the same amount of things takes so much different place depending on how thouroughly you have packed them?
10.52 We left Dublin at about ten. So far the journey is just fine. Now we have stopped at the bus station in the foggy Drogheda. There are around two hours left on this trip.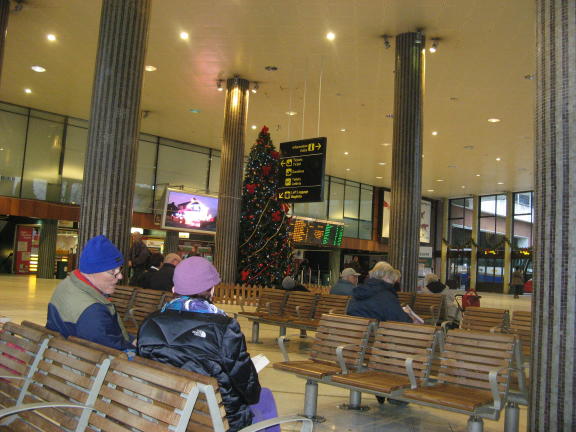 We are waiting for the bus inside Busaras, Dublin's bus station.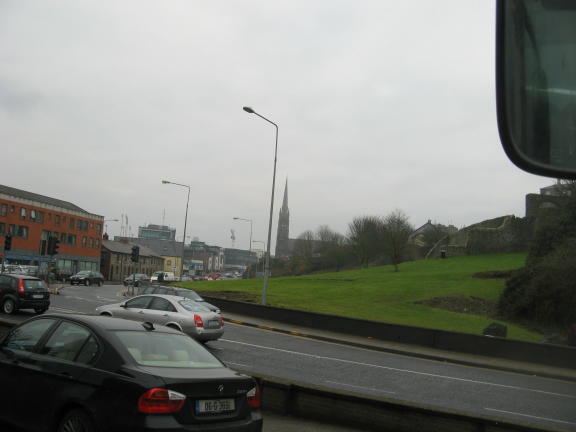 We made a short stop in Drogheda.
11.34 It's time for a new stop. We are at the bus station in Dundalk. Right next to the bus station is the shopping center Long Walk. There are plenty of people shopping here as well. Perhaps they are bunkering before the New Year celebrations tonight? It is still hazy. The landscape we passed on the way here is agrarian, rural. Mountains are visible in the distance.
UNITED KINGDOM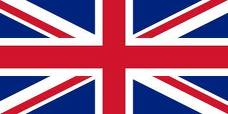 11.59 It's time for a new stop, at a new bus station, in a new city, in a new country. The town is Newry and the country is Great Britain. It´s not a new country for us but it feels really new in some way to visit Northern Ireland and Scotland on this trip. Now the signs are monolingual (in English) and the distances indicated in miles and yards.
12.20 A stop was made in Banbridge. Here the Brontë sisters´ dad grew up. Crozier who was commandant of Franklin's non-successful Northwest Passage expedition with HMS Terror also originated from here.
13.01 We finally arrived at today's final destination. It is time for a bench break at Europa Bus Centre in Belfast. Christer is away checking out the exchange rate of the British pound. It is good to know when we´ll be withdrawing money.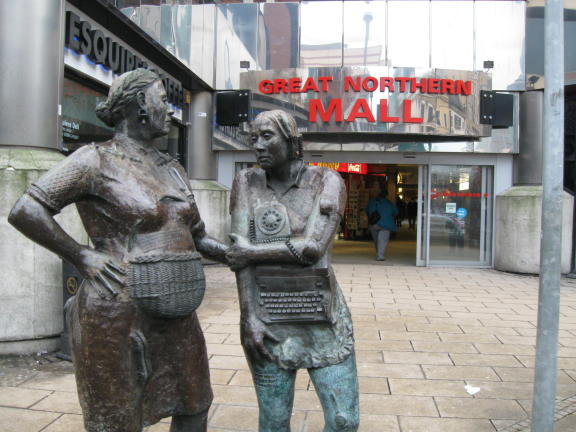 You can reach the bus station Europa Bus Centre through this mall, Great Northern Mall.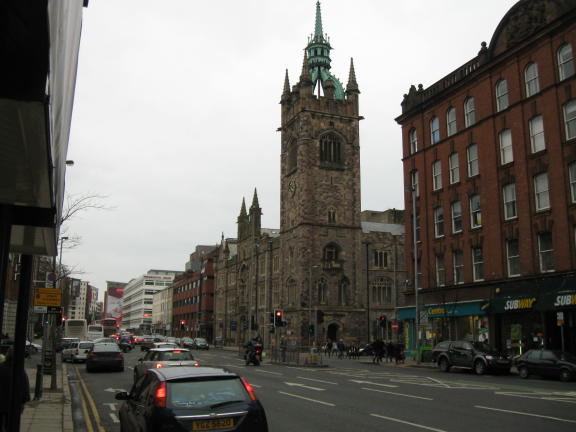 Spires Mall, a former protestant church turned into a shopping mall.
13.07 We're not much wiser concerning the current pound exchange rate. Nowhere was there any information about it. We made a reasonable estimate, and visited an ATM. With some skepticism, we saw what the ATM machine spat out. The Northern Irish pound banknotes resembled almost toy banknotes. Now it is the time to take out a new course, this time towards the pre-booked accommodation here in the city.
13.24 We walked past one of the stations used by Belfast's black cabs. They replaced public transport during the turbulent years here in Northern Ireland. Those troubled years 1968-1998 called "The Troubles" was a conflict between Catholics and Protestants. The Catholics wanted to join the Republic of Ireland. The Protestants wanted continued British rule. A taxi line drove Catholics to the Falls and a another line drove the Protestants to the Shankill. The lines became so popular that they still last. The taxis run along a fixed route.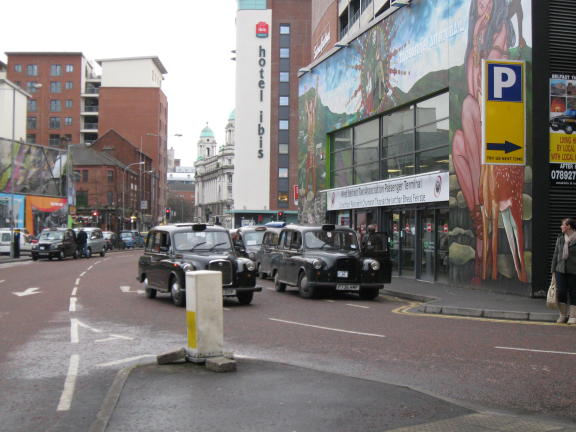 Belfast black cabs, the catholic station.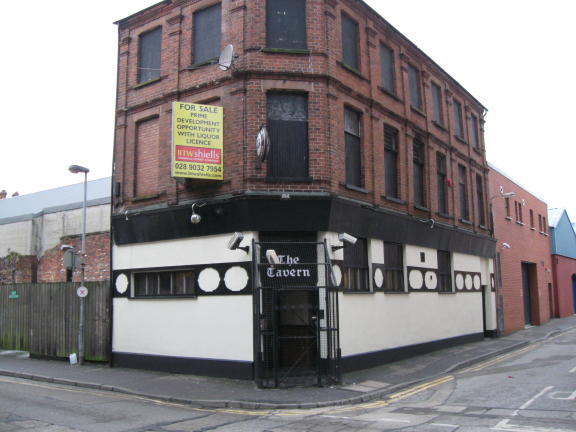 Caged pub entrance. Safety has been given a high priority in Northern Ireland.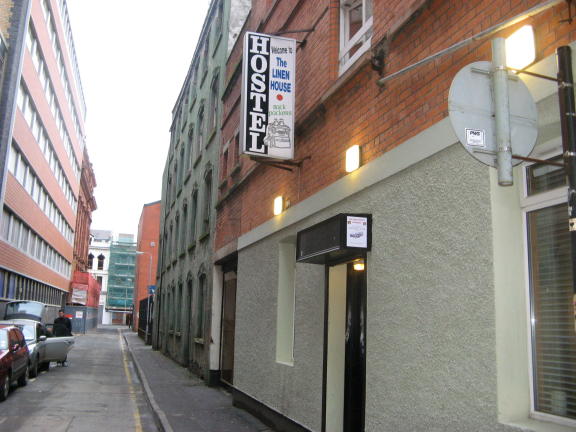 The Linen House Hostel, this is where we will stay.
13.50 Now we have checked into room 16 at The Linen House Backpackers Hostel (http://www.belfasthostel.com). We live fairly central but on a back street. It used to be some form of textile factory here. An interesting rule they have is that only foreigners can stay here. Probably they want to avoid local gangs from using it as a party place. Now we will prepare ourselves for a city tour with various activities.
14.18 We walked around a while in central Belfast and found the pedestrian streets, shops, hilarious sculptures and droves of teenagers standing and hanging. Right in the center is the magnificent Belfast City Hall. The building can not be missed.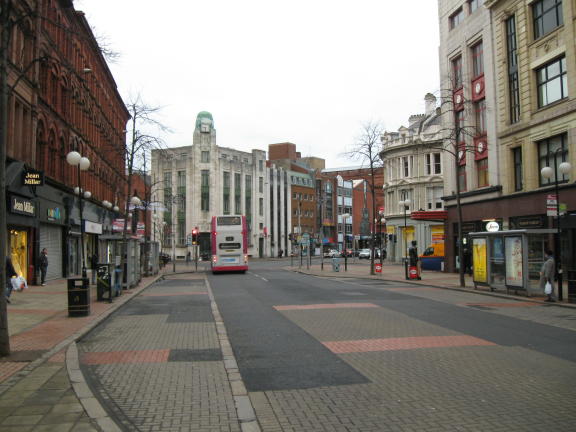 Royal Avenue, Belfast.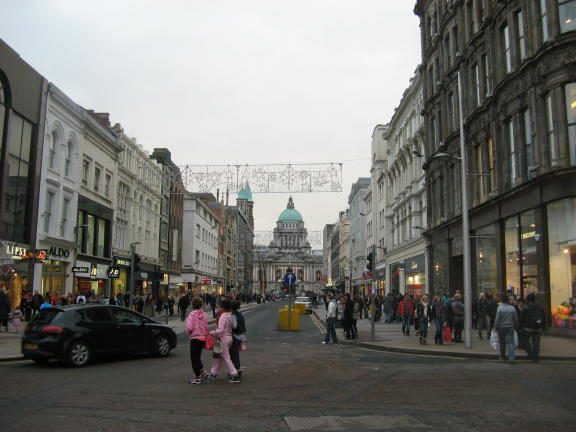 Donegall Place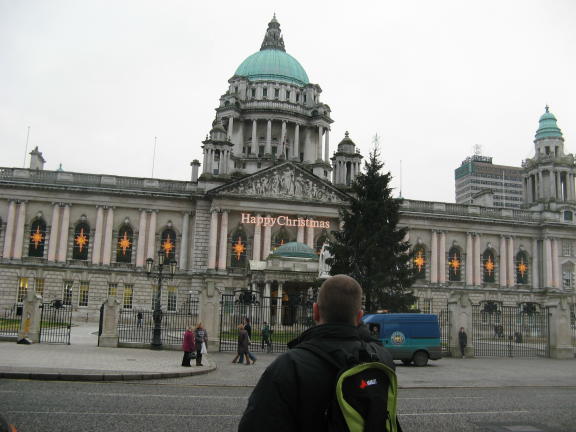 Christer is taking some photos of Belfast City Hall.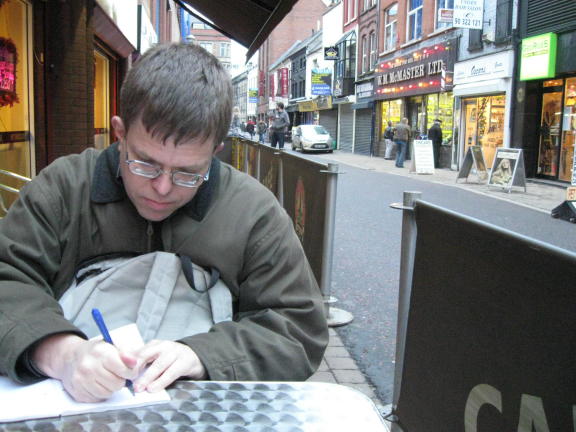 Peter is having a lunch outdoors.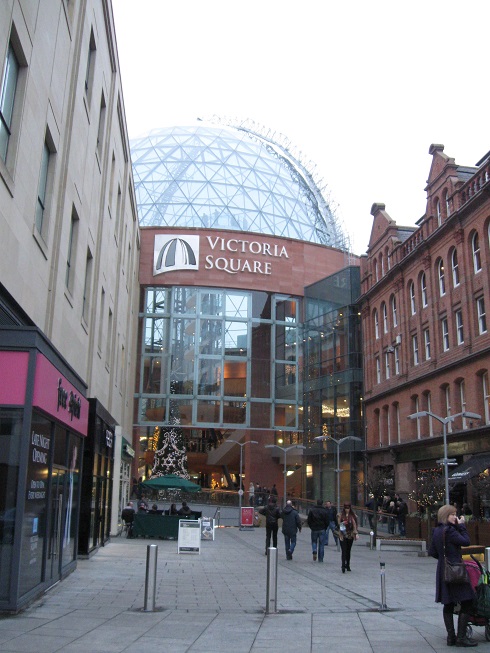 Victoria Square, a new modern shopping mall in Belfast.
14.38 Today we will be having a late lunch. We went, after lots of searching with hungry stomachs, to the Windmill Restaurant at 19-21 Church Lane. To the waitress great surprise, we chose to sit outside and we are now waiting for the kebabs.
15.17 The food was good and needed. We have now regrouped to Lanyon Place at the river Lagan. Here it is quiet and peaceful. Darkness is falling at this year's deadline. There are signs telling you that you are not allowed to consume alcohol on the streets. It can get very expensive if you insist on drinking in public.
15.42 Down by the river, we saw a huge fish, it was on land and made out of stone. On the fish there are pictures that summarize Belfast's history. Now we are standing looking at the slightly tilted Albert Memorial Clock. We have also decided not to watch football tomorrow as originally planned. We wanted to see the game Portadown Glentoran at The Oval tomorrow. However, it seems far and time-consuming to get to the stadium.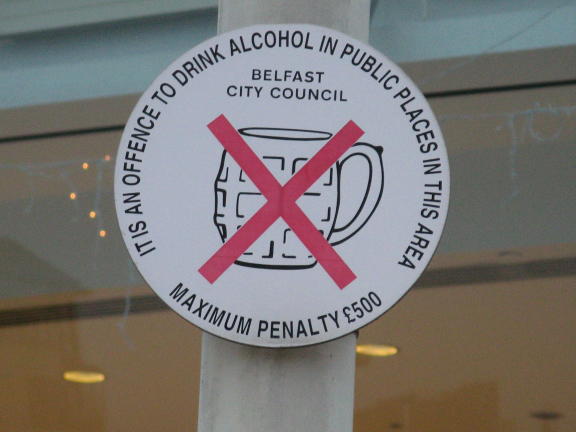 Here you should drink your beer indoors.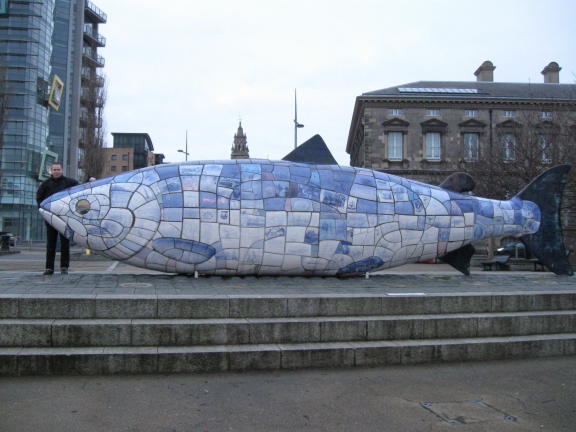 Christer is standing behind the 10-meter-long sculpture Big Fish.
16.49 As darkness fell, we wandered around in Belfast. We have been inside the mall Victoria Square and are now at yet another Starbucks for a bit (or plenty of) coffee. Behind me there are two police officers in their typical fluorescent vests.
18.06 There was a stop at Tesco supermarket for some purchase of breakfast and something for the stroke of midnight. Now we are back in room 16 again. It's time to gear up for the evening. When we passed the reception desk, a Romanian guy told the staff that "something was wrong".
18.28 Beneath our window there are 6-7 people and they are smoking. On the street we can see two "regular" police cars and a strong picket bus. It gives a sense of anti-riot vehicles. Does this have anything to do with what the Romanian said? Nonetheless, there are no police men there right now.
18.57 Through our open window we heard someone say "Get in, get in!". A police officer was seen walking into the vehicle. Probably another one had stepped in before. The 5-6 policemen went to their cars and drove away. Had they brought someone with them?
A surprise visit on New Year´s Eve.
20.21 We will soon leave the room and go out on the streets. On these streets, the likes of C.S Lewis and Van Morrison have walked. From the city comes the by Ridley Scott filmed "Titanic" Yes, the famous ship was built at a shipyard in the city. In Belfast they are also very eager to point out that nothing was wrong with the ship when it left the shipyard here.
20.54 We wanted to surf a bit on the internet in the lobby before leaving. The coin box by my computer didn't accept money. Christer's coin box happily accepted money but the computer didn't let him out on the web. This was very rewarding.
21.37 The sad trend that began in the hostel seems to continue. We did not find many restaurants open with acceptable prices. Now I'm sitting on a wall at the bus stop on Bruce Street. We have not found any place, town square or park where it will be any certain New Year celebrations. It is time for a look back on New Year celebrations, two years ago in Košice it was cold, pouring rain in Rome last year and this year a setback in Belfast.
21.52 It lightens. We have found the restaurant Nando's. Here we have ordered Prego Steak Roll with strips and beer to drink. We've dined at Nando's before. The last time was in Bloemfontein, South Africa last year. We will be drinking Brahma, the Brazilian beer we drank often during summer.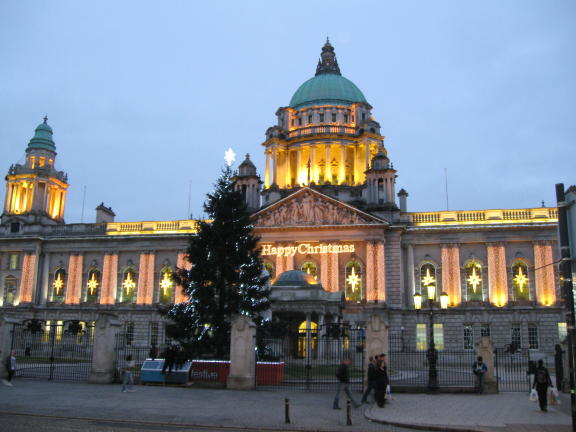 Belfast City Hall with beautiful lights.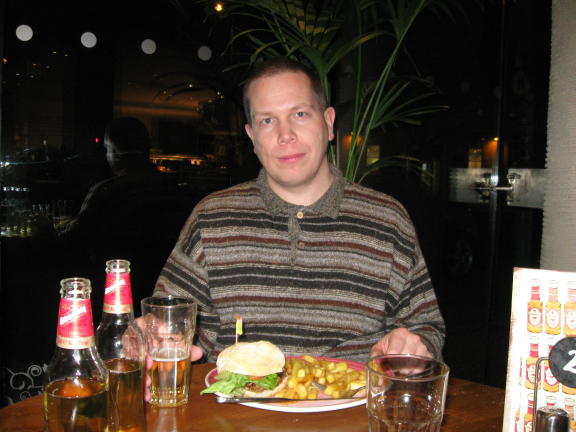 Christer is enjoying a New Year's dinner at Nando's.
23.11 It was really good. Not much is happening out on the city´s streets so we have returned home. Down at the front desk Christer tried to buy winegums in a vending machine. It swallowed coins but gave no product back. From the pound he got 0,20 back. Now the machine was opened by one staff member and a candy bag came out. Let's try the internet again. There is a gentleman at the computer I tried before without success.
23.40 Well, well. The people remain seated by the computers. The one Christer tried did not work. We wanted to wish a Happy New Year to people at home from the computers but nothing happened with it. We are back in the room and have cleaned up the different debts between us. We have also come to realize that here in Northern Ireland the banks print their own money. We have seen the pound notes from the Bank of Ireland, Ulster Bank Limited and Northern Bank.
23.48 It's simple, it seems simple but what can we do? There are no celebrations downtown and people are taking it slowly down at the reception. We'll have a quiet New Year toast here in our little room.
---
Saturday 1st of January
00.00 Athbhliain faoi mhaise Duit! Happy New Year. We have cheered the New Year in white wine. A drama took place down the street just before midnight. Eight young ladies came out of the hostel and began chanting. It sounded as if one of them said "Who ordered a cock" but she may have said "Who ordered a Coke." Another one laid on a couch that stood out on the sidewalk and said, "I am going to spread here tonight" but she probably said "spend here tonight", or? Rockets and New Years chants can be heard from outside. Four of the ladies took a taxi, the others walked. None of the ladies knew if it was before or after midnight.
00.12 A group of friends are singing "Auld Lang Syne" in a house some distance away. Through the window we can see what is happening in their apartment. They are hugging, cheering and even a dog is celebrating. Now, maybe I should hit the sack. A new day and a new year of traveling are waiting. The year which passed brought us to Italy, Vatican City, Austria, Slovakia, Hungary, Great Britain, Brazil, Uruguay, Argentina, Paraguay, Norway and Ireland. Certainly, travels are booked, there are plans, but will things turn out as planned this year as well?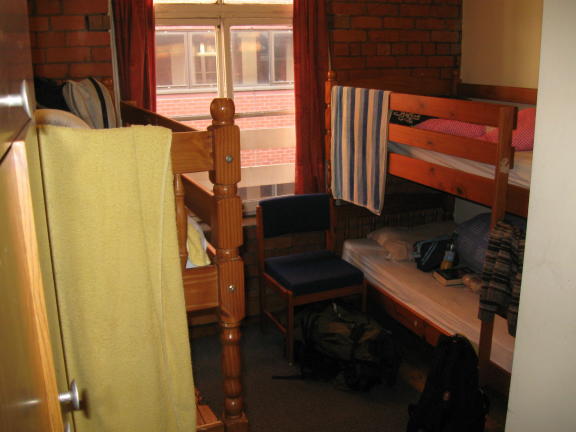 This is our room and this is where we celebrated the New year.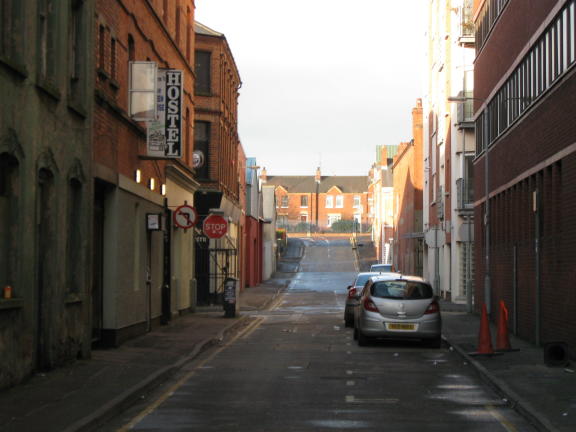 Kent Street, our "home street".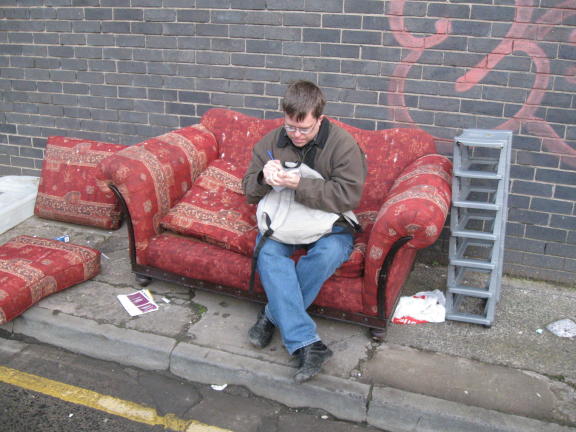 It is perfect with a couch on the street when it´s time to take notes in the travel journal.
08.58 Good morning new year. Now it is 2011. The night's sleep has been good. We went to sleep with open windows. Now we will be having the breakfast which we bought last year. We must leave the room to have a shower.
11.07 There will be a slow start today. Now we are looking for new adventures. I'm sitting on a couch in the street, the same one that the girl sat in/was in. The lobby was full of people including some policemen. Someone complained loudly that he had already paid the deposit. It seems that someone no longer is welcome to stay at the hostel, possibly have something been stolen from the reception. Does a police officer in a reception become a "lobby bobby"?
11.30 We left the police and the chaos behind us and went out. We took some photos on a small plaque which commemorates the German bombing of the city 15th of April, 1941 (http://en.wikipedia.org/wiki/Belfast_Blitz). We also found out that it is not possible to catch a bus to the ferry terminal on Sundays. We have to find out another way to get there tomorrow. Now we will do some sightseeing.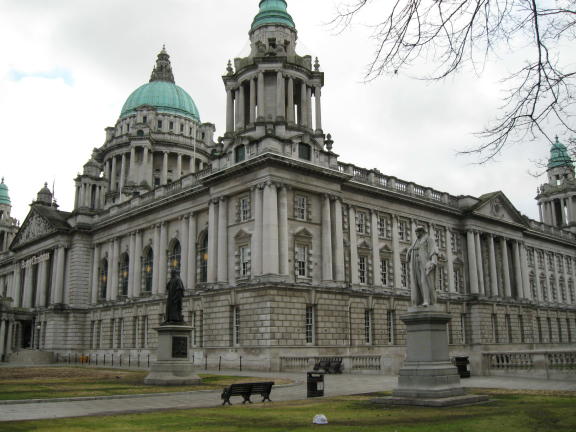 Belfast City Hall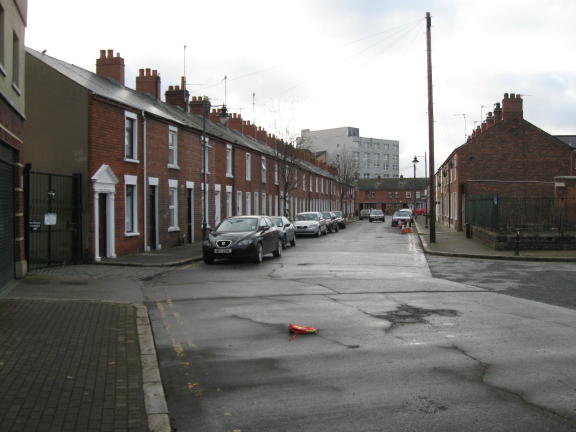 Someone has lost her/his schoolbag.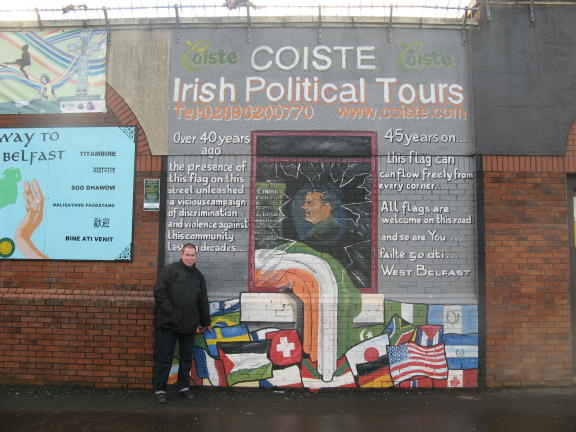 Welcome to West Belfast!
11.45 We're going to visit the city's Catholic parts, Falls. Let's see what these parts have to offer.
11.57 We have passed lots of paintings on housewalls and facades. Some are political, but many also deal with peace and anti-racism. We were welcomed into West Belfast in several languages. The welcome was painted on a wall. Nearby here is also the apartment building where British security forces were housed. From the top floor, they could look out over the surrounding area. The Berlin Wall is known throughout the world but few are aware of the Belfast Wall. There was a wall between the Catholic and Protestant areas and it is still there. At night the doors are locked in it. The wall gives people some sense of security and they want to keep it nowdays even though it is quiet and peaceful.
12.10 After walking along the Falls Road with various murals from the Troubles in the city, we are now in Dunville Park where we sat ourselves to rest. Nearby is the Sinn Fein office. Sinn Fein is the political branch of the IRA who fought for the British to leave Northern Ireland. Along the way here we also saw the beautiful St Peter's Cathedral and several memorials for people killed during the turbulent years here.
13.23 We are back in the central regions of Belfast again. We are more accurate on a bench on Fountain Street. Just before we left the Falls we saw an old man being carried/lifted into a pub by some younger colleagues. It takes a lot before an Irishman renounce visits to the pub. Now next we'll look for a lunch place. Many places are unfortunately closed today.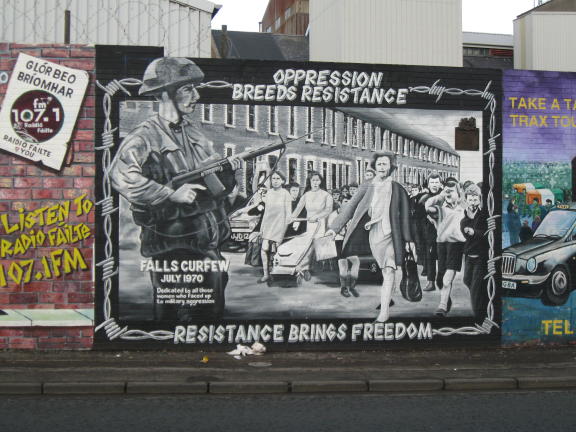 West Belfast´s famous murals.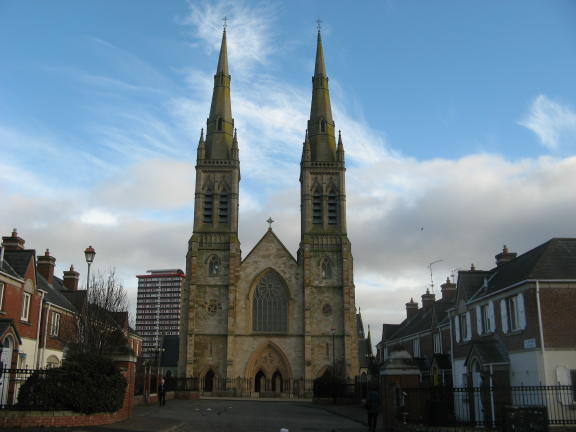 Saint Peter´s Cathedral.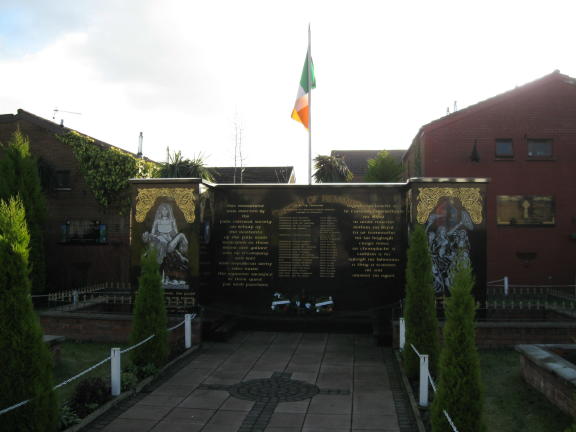 In Falls you can see the Irish flag everywhere. Here people remember the Catholics who lost their lives during "the Troubles".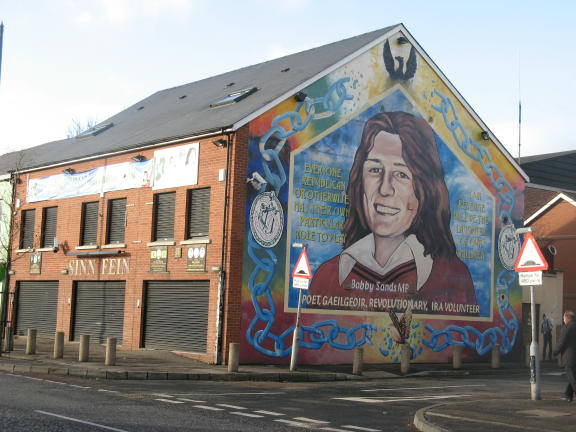 The Sinn Fein office has a picture of Bobby Sands on the wall. He died in a hunger strike 1981.
13.51 There will be lunch at Yangtze Express, wok and tasty. We are in the mall Castle Court and its food court.
14.23 We've decided to not leave the mall. It seems the right thing to do since a cold rain is falling over Belfast. Unfortunately, the darkness is on its way.
14.49 We went out as soon as it held up. Now we are surrounded by the protestant parts of the city. We managed to get into the district Shankill and had time to walk a bit along Shankill Road but we have again been fotced to seek shelter, this time in a bus shelter. It's raining too much to make some more sightseeing in this part of town.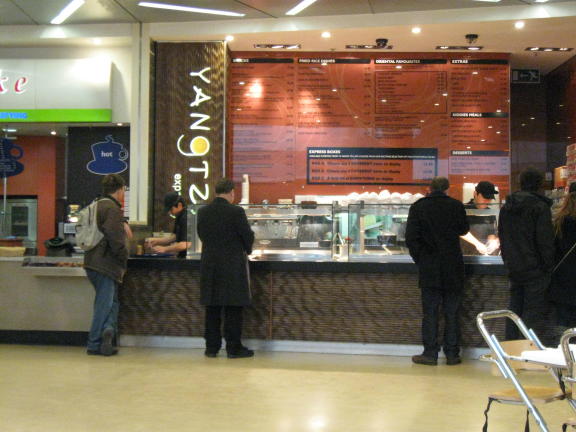 Peter is waiting for his lunch at Yangtze Express.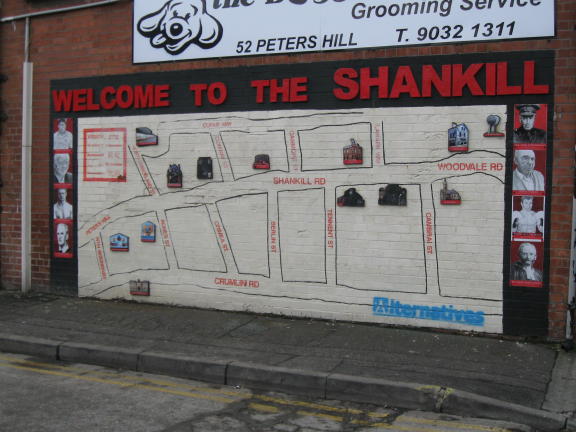 Shankill is showing photos of the famous people from here.
15.08 We tried to forget the rain and have walked into a residential area. Now we've looked at the protestant paintings. Here there are other things that has been painted and presented. There are British, Scottish and American flags, memory paintings of soldiers and a great tribute to Martin Luther.
15.23 We met a small dog before we left the Protestant parts and their paintings. Now we have returned home to get dry, warm and for some planning of the rest of the day.
16.44 It was full house at not less than two Starbucks so we are now just like in Dublin at Costa Coffee. We're in the mall Victoria Square. It includes cafes, restaurants, cinema and 98 different stores. Both Costa and Starbucks are perfect spots for some coffee. What's so funny at the next table? Two girls are sitting there and they are having a good laugh. I can't hear a thing of the conversation.
Shankill remembers its fallen heroes.
The Union Jack and Martin Luther. Maybe there are protestants living here?
18.13 We're back home. We went out on the internet before returning to the room. My computer was slow. However I did find out that the Swedish actor Per Oscarsson and his wife might have been killed in a fire during the night. Now we will get some rest before we head out for dinner.
19.27 The resting time is over. Let's go out. Possibly we'll get reacquainted with an old acquaintance from South Africa. We thought we saw our old friend inside the mall Victoria Square.
20.18 Our friend did not let us in. The friend in question was a restaurant in the chain Spur. The refusing of letting us in also applied to other restaurants in Victoria Square. Even the classic Burger King at 56 Donegall Place, was locked in front of our eyes. Now we are instead at the Lebanese restaurant Byblos on 8-10 Amelia Street.
21.11 It was tasty and spicy. Byblos is a nice restaurant with food and music from the Middle East. We are relaxing now. It'll be a little internet surfing before it's time to pack our belongings.
23.29 Things are mostly packed and we have checked the internet for general information. Useful information in case of fire breaks out hangs next to the room door. So far so good. However, no one has filled out the information about how the fire alarm sounds, where you are supposed to resemble or how you trigger the alarm. I guess all you need to do is to light a fire
---
Sunday 2nd of January
08.48 There is no snow outside, but what else was to be expected. Today we are leaving this island for another. Today, it is to go by boat, a ferry.
09.48 Most things are packed and we are ready. Now we need to check out and order a taxi to the ferry terminal. I hope that everything and that includes the ferry will run smoothly. The Linen House has been a great place to stay at. A minus was that it did not serve breakfast but it's usually not a thing that hostels offer. The two police call-outs was probably also a bit more than we anticipated.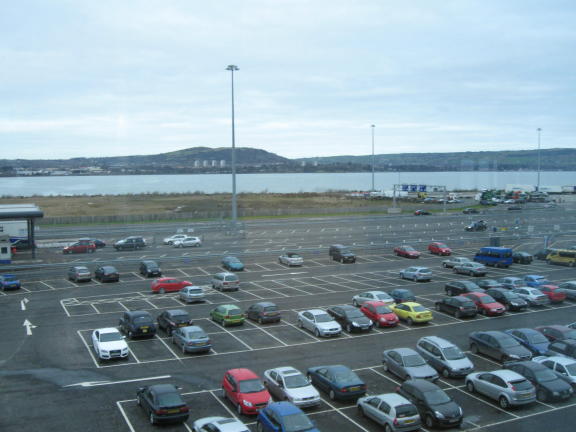 Parking lots in the Belfast ferry port.
10.35 Our taxi driver has a touch screen by the steering wheel. There he could check who had booked, the pickup location and our destination. There were also various notices. Now we have checked in on the Stena Line ferry to Stranraer in southwestern Scotland. The large backpacks were left on the conveyor belt. Some others had to take their luggage through the security check but we were spared.
11.19 We have boarded the HSC Stena Voyager. We are within half an hour heading for Scotland.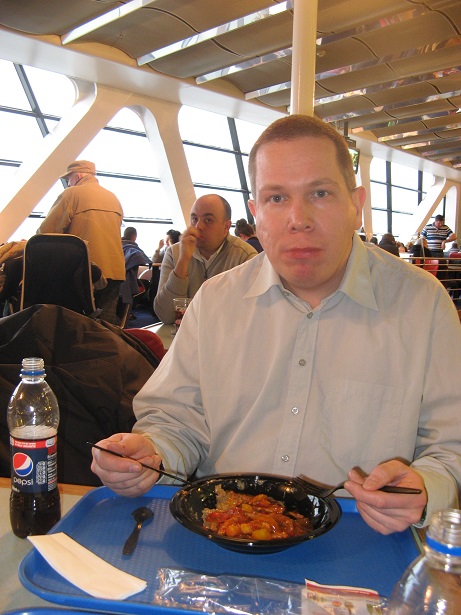 Christer is having lunch on the ferry.
13.17 There is a great comfort on board, nice seats and a possibility to watch TV. We have been eating lunch. We had it a little earlier than usual. We wanted to take the opportunity when it suited us best. Christer got a mix of several dishes because the food was almost finished when he ordered. Land is visible outside the windows. We must not forget the backpacks as we come ashore. I wonder how we get them. Should they be picked up somewhere or are they on a baggage conveyor belt?
14.15 There was a conveyor belt in the same manner as in airports and it was to be expected. My backpack was among the very last to arrive. Now we are sitting on the train. Soon we´ll leave the station in Stranraer port. Our destination is Glasgow.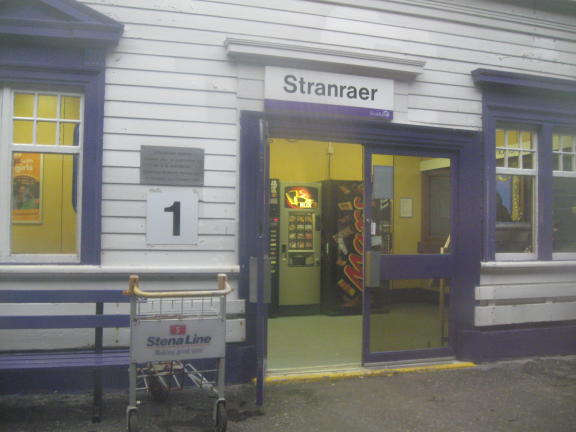 We will soon leave from Stranraer station.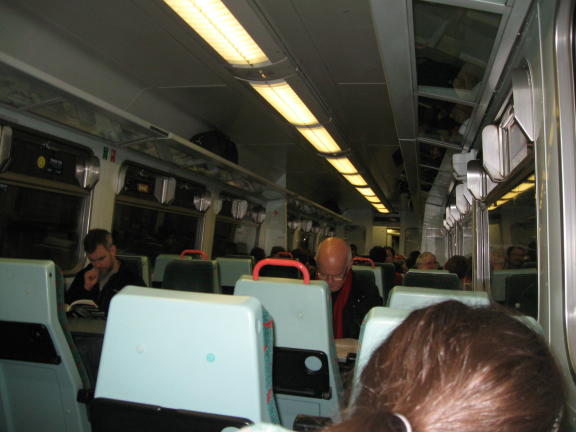 On the train to Glasgow.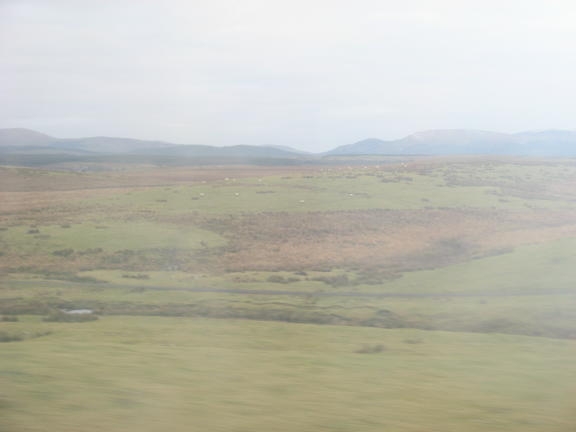 A piece of Scotland can be seen through the window.
15.06 We just did a short stop. The landscape is hilly and sheep graze here and there.
15.59 It is dusk and our rail are lined with trees and shrubs. We are, if the timetable is kept, near Ayr.
16.02 We are, a bit late, at the station in Ayr. The city bus company here is called Ayr Ways.
17.16 The voice announcing "the next station is" came in phase before we came to Glasgow Central. It had been one station behind along the whole trip. Now we have checked in to room 720 at Euro Hostel (http://www.euro-hostels.co.uk/glasgow). We tried to put in our key cards in a slot to get the lift to come, just according to the information at check-in. Nothing happened. However, the lift came down with some people that were on the way down. They stepped out and we and a girl stepped inside. She informed us that no key card was needed.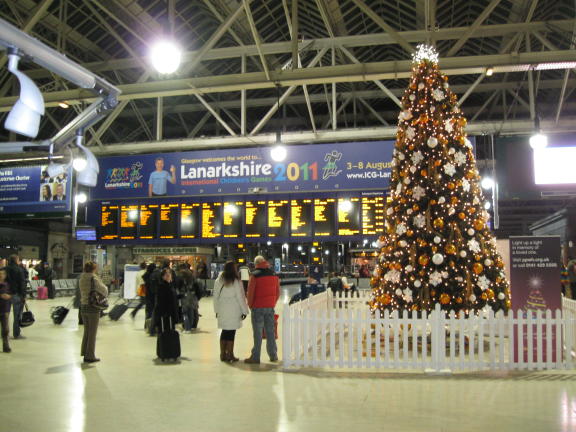 Finally we arrived to Glasgow Central.
18.42 It's time for a classic snack. We are once again on the classic Starbucks. This venue is located on Buchanan Street, a pedestrian street in the center. Glasgow is a much livelier city than Belfast, but it has a much larger population too.
19.48 We walked slowly towards home after our coffee break. We managed to have our coffee just before it was closing time at Starbucks. We have looked at train times and a proper pub for tomorrow. In addition, we bought an Irn-Bru each. It is the drink that the man we read about the latest trips, John Rebus, drinks the day after. It is also one of the few drinks that managed to beat the Coca Cola in sales anywhere in the world. The name Irn-Bru comes from the fact that the drink could not be called Iron Brew because of some stupid rule.
21.09 Now it´s time to go out for dinner. Where we shall have it remains to find out.
22.16 We had dinner at Chopstix, an Asian restaurant on the corner of an intersection. Very simple wok food but also delicious. This was followed by internet surfing here on the hostel. Now we know the way to tomorrow's football game. We also know that a body has been found in the remains of Per Oscarsson's house.
23.11 Now, we have tried Irn-Bru. Interesting color, bright orange. No special taste. If it's good for hangovers, well maybe it is. It is amazing how Dublin feels distant already.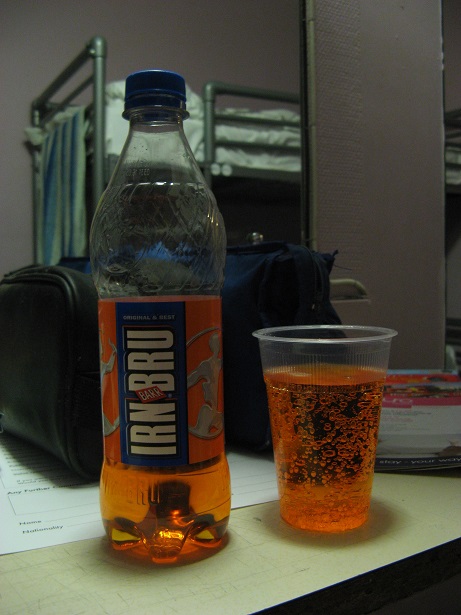 Irn-Bru, a very popular soft drink in Scotland.
---
You can see 56 photos from December 31 in this photoalbum.
You can see 42 photos from January 1 in this photoalbum.
You can see 13 photos from January 2 in this photoalbum.

---
CONTINUE
---
---
---