---
Tbilisi - Yerevan 23rd-25th of March 2008
---
Text: Peter Johansson
Editing: Christer Lundstedt
Photos: Christer Lundstedt, Peter Johansson
Videos: Roberth Nordin
---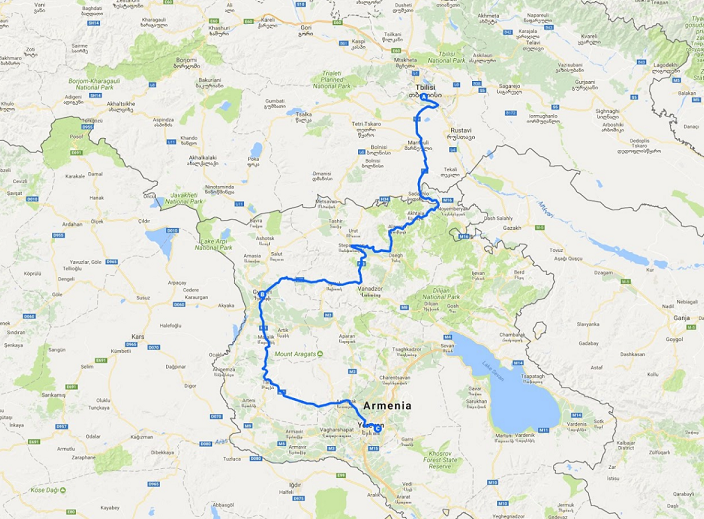 ---
Sunday 23rd of March
06.36 Roberth is thinking about if fluids are good or bad before we go on the bus trip to Armenia. Is it possible to keep all fluids inside the body if you eat saw dust? Does the body take up water in the shower? Is it best to avoid it?
07.36 The last Georgian breakfast for this time has been eaten. The last things are soon packed and in half an hour we will on our way again. We will go with the metro to the station 300 Aragveli which we went from yesterday. After that we will stroll down to the river and hopefully to the right bus station. If all is right it will be called Ortachala and have buses going abroad. Our home here has been great and is recommended.
09.03 All went well on the metro and now we are on the move towards the bus station. We have followed the map in the guide book but haven't seen any sign of the station. I am sitting on a board between two trees while Christer and Roberth are trying to figure out where we are and where we shall go.
09.30 We were about to give it all up as Christer suddenly saw it, the bus station. The guide book had misled us totally. Now we have bought a ticket to Yerevan for 30 lari (20 in what is called dollars) and we are packed in a yellow mini bus.
09.57 A man just sat down on a loose chair here in the bus and we have begun our journey. The trip will take 4-5 hours according to my Georgian seat neighbour. Crowded is just the beginning in how to tell how it is. We are sharing space with plastic bags filled with stuff. I think it is metal boxes with cooking oil.
10.52 We are going through an agricultural area and just met a flock of sheep. My 18 year old seat neighbour keeps trying to offer me beer from a plastic bottle. It feels so wrong to drink this wonderful beverage in that simple way.
11.13 We passed through Marneuli, did some filming and as we were about to cross the border Roberth got a phone call from his daughter Alva. Now we have been stamped out from Georgia and stand in no man´s land. Soon we´ll get inside that crowded bus again.
11.40 The bus has stopped on a bridge across the border river Mtkvari. We just started to roll again and soon we will get out. We will need a visa to enter Armenia. I am glad that we have filled in the application already.
ARMENIA

12.14 We had to fill in a new visa application and it took some time to exchange Armenian money (dram). The exchange man just showed me his hands as I gave him the money. He showed me some coins and all of the sudden had the money. He did the same thing as Roberth tried to exchange money. It seemed as if I had blown the bank. The man had to go and get more money to give to Roberth. The neighbour offers us beer snacks and claims we have to rinse it down with beer. Strange, he seems to have a new bottle although I haven't seen him finish the last one. I have promised him that we will have a beer by a table just as soon as we reach Yerevan.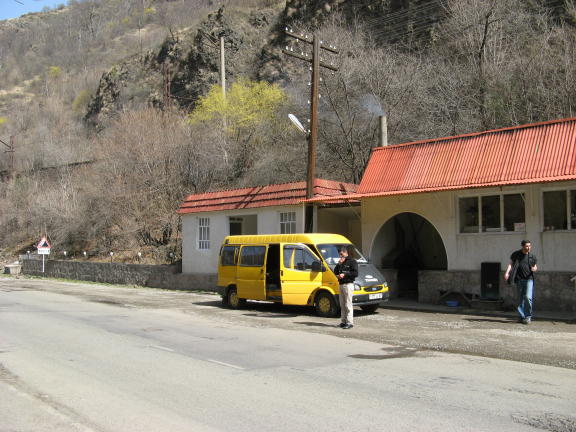 Finally we could stretch our legs for a while.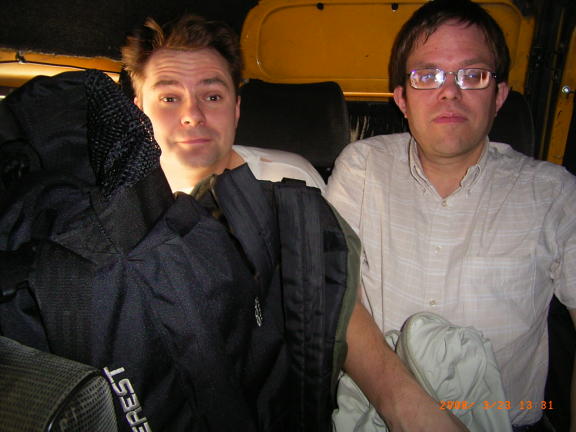 Not so much space in here, or?
13.09 We have stopped by a small café in Dzoraget. On the other side of the road the mountain runs steep down into the brown river Debed. I really need this break. I want to stretch out my legs and cool down.
14.01 The guy next to me asked me to open a window so that he could get rid of his bottle. The window was opened and the bottle went out and crashed against the road. I think we will keep the window open. The guy is about to get some sleep and he has asked me to wake him as we reach Yerevan.
14.31 After having climbed some switchback roads we made a short stop. It is cooler in here with the window open. The neighbour woke up and wondered if we have reached our final destination. What shall I say? It would be nice to get rid of him. We have passed through Vanadzor and also the small town of Spitak which was the epicentre of the earthquake that took the life of 25 000 people in Armenia on the 7th of December 1988.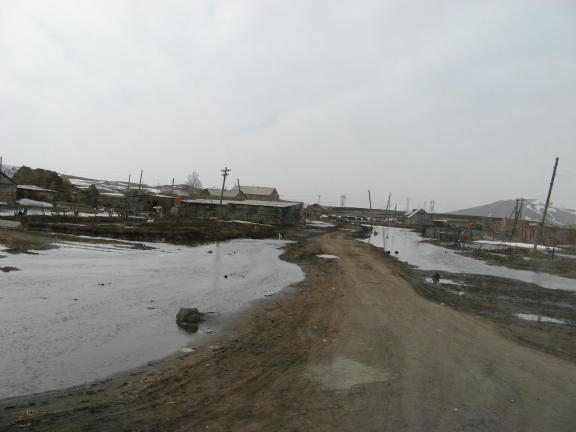 Poverty and melting snow in the Armenian mountains.
14.50 There is snow on the mountainsides and we keep approaching Yerevan. The view has been spectacular. Mountains reaching 3000-4000 metres above sea level can be seen wherever we look.
15.56 We are in the outskirts of Yerevan. Some young ladies just got out and brought with them their black plastic bags. Freedom! The neighbour has moved a seat forward, double freedom. We have soon reached the goal.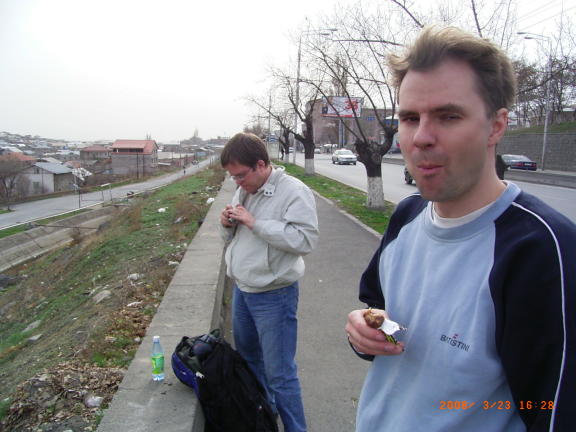 Roberth eating a Snickers to celebrate the arrival to Yerevan.
16.15 We are in Yerevan and have been chased by taxi drivers. Now we are walking towards our next home. Whatever happened to our beer thirsty neighbour? Just close to the bus station is the factory making the excellent brandy Ararat that got its name from the mountain not far from here. According to the legend the arch of Noah stranded on the mountain of Ararat. It is on the Turkish side of the border but an important symbol for the Armenians. If we get clear weather we might be able to see it. It is misty and warm today.
17.17 We have found our way to Envoy Hostel (http://www.envoyhostel.com) in Yerevan. Here we will stay in a room with two bunk beds. Our room has no number just a street name, Mashtots Street. I fell just before we got here. My hands are bleeding. The lady in the reception was slightly surprised as Roberth told her that it was 40 degrees colder at his house in Sweden, 20 below instead of 20 above zero.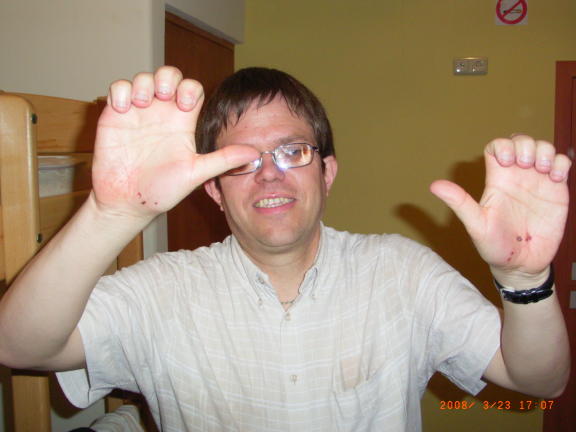 Not stigmata, just a close encounter with an Armenian street.
18.11 Just got out of the shower and I´m ready for a culinary visit. My hands are clean from the blood. Further in in our room a German guy called Volker has his bed. He has told us about that it is safe to visit the enclave of Nagorno-Karabach and that there are no longer any martial law in Armenia. It was proclaimed in early March after some protests against the president and how the election was run. It led to some burning cars and a few people being killed.
19.09 We found several supermarkets and after that we sat down on Shah Pizza at 34/1 Mashtots Avenue. Here we actually will have pizza. The air is filled with the scent of tea and water pipe and also oriental music. It is an Iranian (Persian) restaurant.
19.52 Roberth just told us that life sure is great as you feel well. We had great food and beverage here and have a room that awaits us there.
21.27 I must admit that it is tempting to go to bed. First we will have some snacks and maybe plan tomorrow.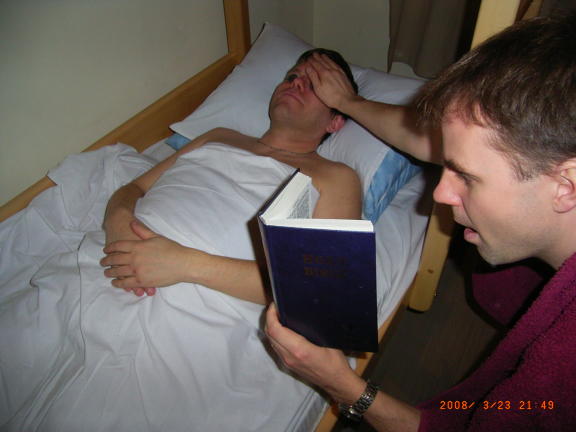 Peter is already feeling better :-)
---
Monday 24th of March
09.10 We have for sure slept well. Next is the main test of the place, the breakfast.
10.08 I am back on the side of bed after bread, cheese, marmalade and coffee. We have made up some simple plans. Now we need to be more detailed. The hostel is just a couple of years old, clean, fresh and really excellent. Apart from us there are some Spanish ladies, that German guy I mentioned and some other persons.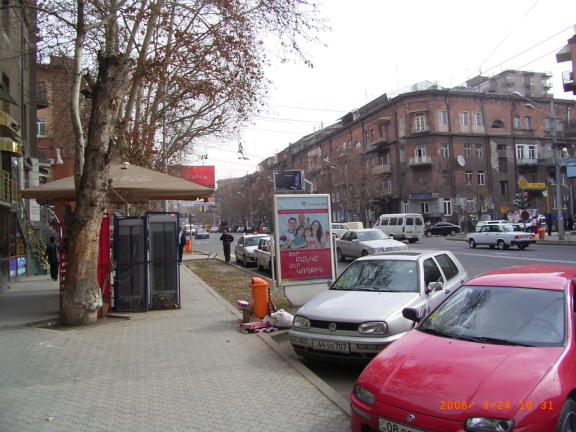 Meshrop Mashtots Avenue, Yerevan.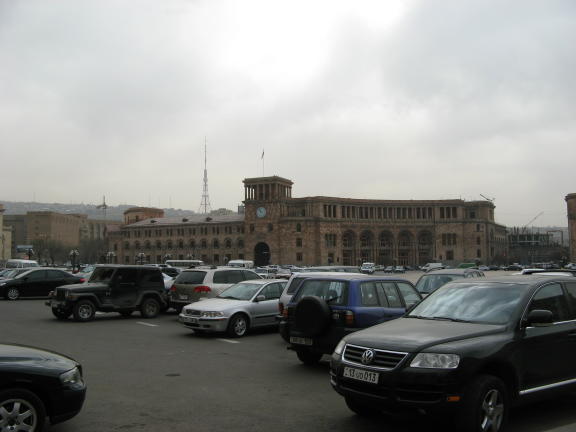 Republic square, Yerevan
10.51 We have walked to the Republic Square here in Yerevan. There are a lot of people on the move today. We think it was here that there was some violence earlier this year. A gray haze rests over the city and it is getting warmer. It is time to take some pictures.
11.49 We´re sitting down at Caffé Luna. Here we will have cheeseburgers and soda. They also offer some Thai food but we settle for a plain lunch. We have walked through some quiet modern streets with pretty recently built houses. It doesn't feel like the same country that we passed through yesterday. Music from the sixties can be heard from the loudspeakers. Next to us is the Katoghike church, the only church surviving the earthquake of 1679. Since then it has been rebuilt now and then.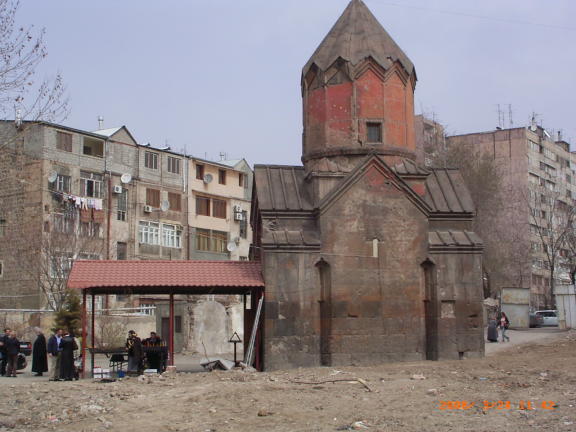 Katoghike church.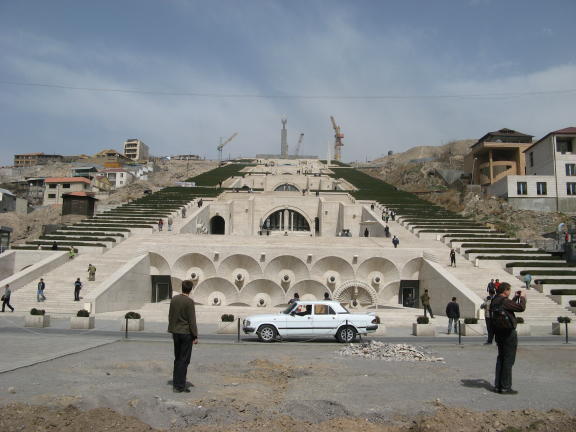 The Cascades, Yerevan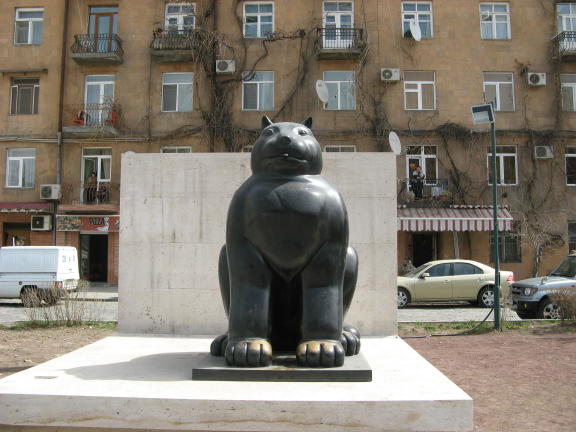 The fat black cat near "the Cascades".
12.55 We have reached "the cascades". Broad, marble?, stairs with fountains. We have begun to climb up the stairs and just sat down for a short break. We just got redirected from a wall to a bench of stone. The cascade is a project which was started during the days of the Soviet Union but wasn´t completed. Now it is about to be. Below these stairs there is a statue of a fat black cat which was placed there as they once again inaugurated the escalators. The man who made the cat is apparently Colombian! As everything is completed it is supposed to run an artificial waterfall here.
13.07 We are as high as it is possible to get by now. Everything is built yet. The sun is breaking through the haze and the heat rises. We will not walk down the stairs. We will use the escalator.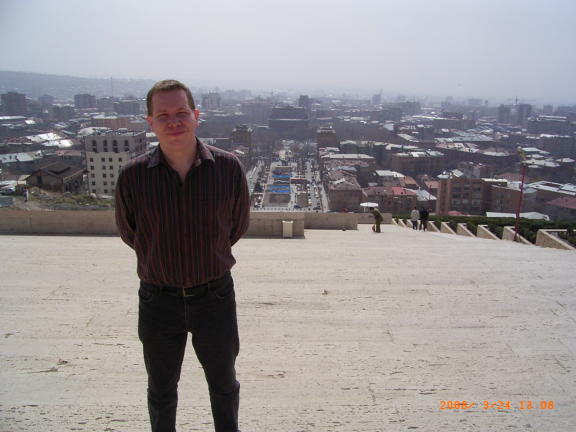 Christer at "the Cascades".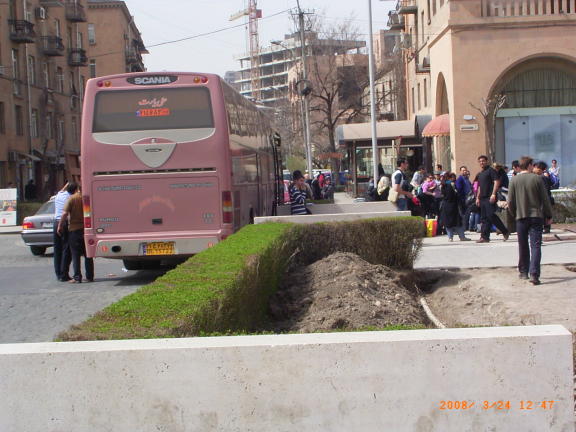 Iranian tourists coming by bus to visit Yerevan.
13.42 We have made a new stop, this time at a café. Here we are drinking Jazzve coffee http://www.jazzve.am and Pepsi. The coffee is strong and reminds me of Turkish coffee.
15.25 We went back home and have begun to write postcards. Now we are making up plans for the evening. Soon we will head out to the post office before we check what the cinemas have to offer.
16.15 We are in the main post office of Yerevan. Here it seems that all the smokers of the country have some annual convention. One breath and it feels like you have been smoking. Bad ventilation might also have caused this.
16.45 We are looking for a cinema. We saw military and policemen outside the Opera house. Right now we are seated by the now dry fountain and pond Swan Lake. We are getting hungry. Shall we have a sandwich or a dinner?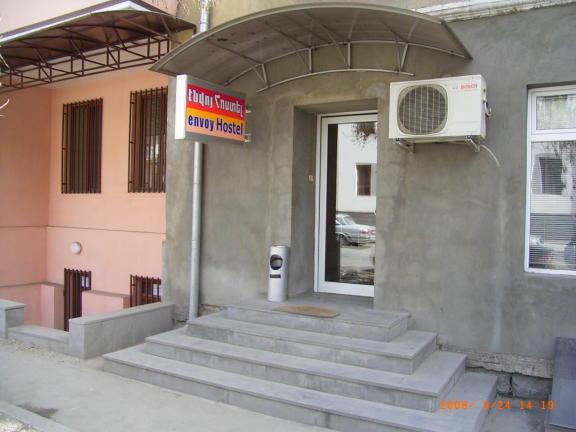 Our home in Yerevan, Envoy Hostel.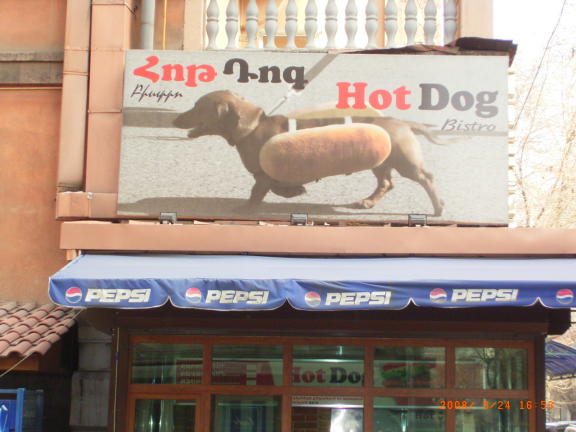 Hot dog
17.07 It is time for a late lunch at Shirvan Restaurant. We are in need of nutrition and fluids. We have cancelled or maybe postponed the cinema visit.
18.24 The food was great and now we are resting in a park with a small pond. On one of the pond´s shores is the restaurant Aragast, Isahakian Street 41. The restaurant got famous (infamous?) after the president´s bodyguards beat a politician to his death at the men's lavatory a couple of years ago.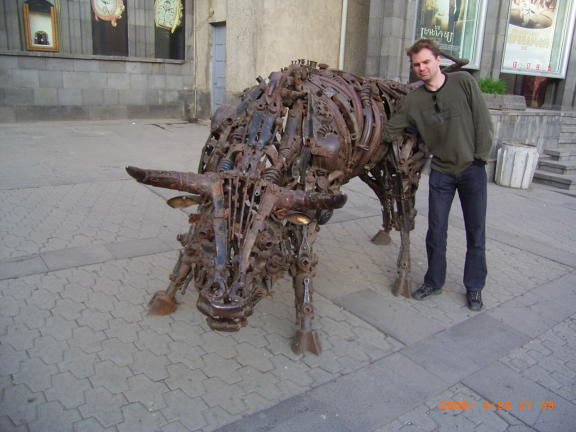 Roberth and the metal bull in front of the Moskva cinema.
19.15 We are back in our room. It is time to plan the evening. What shall we eat? Where shall we eat? What's that strange sound outside our room? It sounds like someone is rubbing something against the floor.
20.57 We left our room partly due to hunger partly due to the fumes from the cleaning of the bath-/shower room next door. Now we reached a lit and nearly fume free Republic Square.
21.36 We have reached the restaurant Noah´s Ark, Parpetzi Street 9, not far from our home. Here we tried to order different dishes. Our stylish attempt ended up in having the same kind of food. It seems to be the only alternative. They didn't offer us any Armenian beer either. They placed us in the basement. Roberth just tapped on the little box that brings the waiters attention. We have heard a buzzing sound. What will happen now?
22.45 No one came. Well, not until we called again. We paid, $10.50 each. They served us a free glass of sherry before we left. Now we are back in the room. It has been a hectic but wonderful day.
---
Tuesday 25th of March
08.43 The big day is here. Roberth will change pants. I on the other side will switch to shorts. The last day in Armenia has come.
11.12 After a medium breakfast we have found our way out. We have exchanged money, I have bought a book for this summer's travel journal and Roberth has bought some squeaking bears. We are currently seated in the Kirov Park. The trees are buding and some has got leaves.
11.25 It is time for another bench break. We are not far from where there were riots a couple of weeks ago. Around twenty people are in a queue outside the Italian embassy. I wonder why.
11.44 Time for another break, this time to fill up with caffeine. We are at Café Martika, which also has got a barber shop. We´re also trying to find out on the map where we might be. I am afraid we might be outside of the map.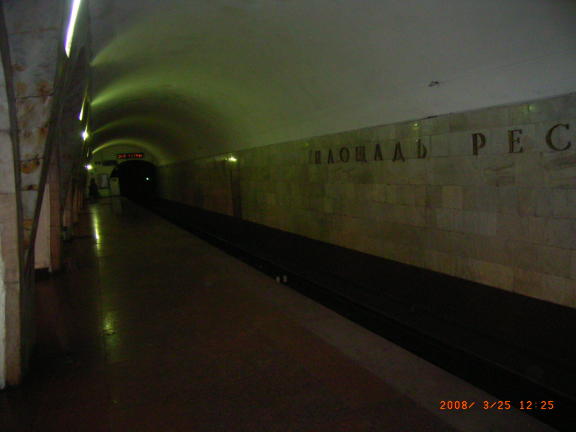 In the Yerevan metro, photo from the Republic square station.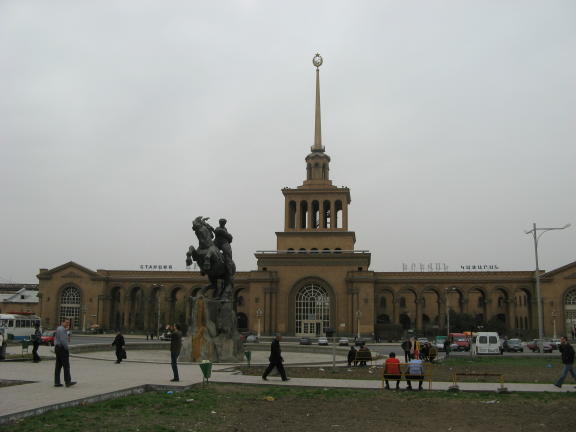 Statue of David of Sassoun in front of the railway station in Yerevan.
12.26 We have searched for and found yet another metro. We will travel two stations in hopefully the right direction. We have a slight problem in finding out what it says on the signs. They have an alphabet of their own here just as they had in Georgia.
12.44 We went in the right direction and are standing outside the railway station and the statue of the national legend David of Sassoun (http://www.angelfire.com/sk/darthreiko/index10.html) Next we will go with the metro and find a place to have lunch.
12.51 We are back in the metro. You need a plastic coin to travel here. It costs 50 dram (15 cent). We have one station left. They sold everything and more on the station that we went from, among other things cheese in buckets and watches.
13.33 It is time for lunch at Pizza Di Roma, a chain with several restaurants here in the city. Walking and travelling with the metro makes me hungry.
14.44 Tired, torn and what else is there? Yes back in the room. It is time to cool down our torsos and feet. I am glad that I decided to wear shorts today.
16.51 We have been shopping and bought some snacks for tomorrow´s bus ride. Christer and I also bought some Armenian brandy and Roberth has bought some dried fish which is supposed to be some kind of beer snacks. It is time to head out for some…
17.06 We went north on the metro and have seen the parliament and presidential building. I am afraid it wasn't much to write home about.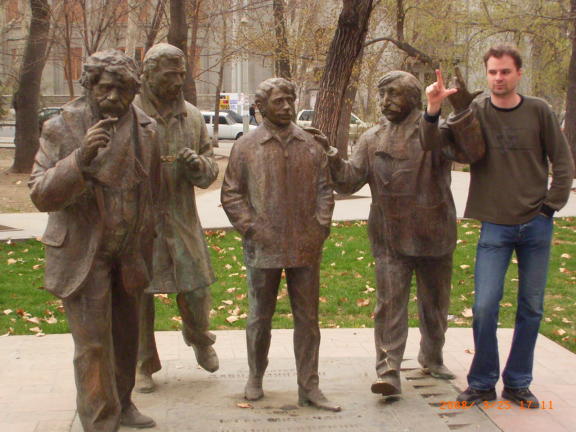 Roberth with some local guys.
17.21 It is time for a beverage break at Café Atlantic Complex near the Opera. Now I will try some beer. It will be Gyumri, a beer from northern Armenia.
18.43 We paid for the beverages and succeeded with some problems to cross a street. Both we and the crossing cars had green light at the same time. Now we are on a bench along Northern Avenue in an area under construction. They are building high, wide and deep.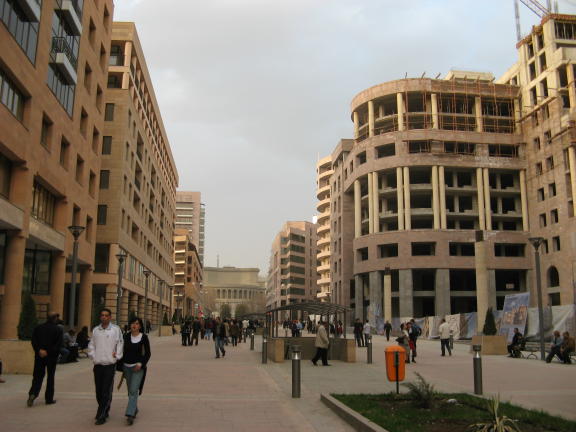 Northern Avenue, a shopping street for the future.
19.10 We are back on the Republic Square and its singing fountain. It is not in any singing mood though. This might be due to lack of water. Well lack and lack. There is no water at all. Darkness falls around us and we are getting hungry.
19.56 We have strolled to build up the hunger. We just returned to the Republic Square.
20.27 We have ordered dinner at U Armasha, a restaurant we´ve seen earlier today. It is supposed to have genuine Armenian food. Food and beverage is on its way. I am looking forward to this. On our way here we met some people who shouted "How are you?" and" Merry Christmas" from a balcony in a tall building.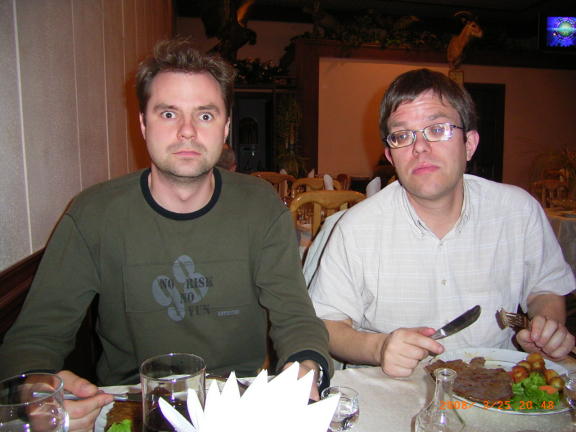 Roberth tried the free vodka.
20.33 They just gave us some free vodka here. Just as Roberth with a smile was trying to taste some of the tasty gift, his phone rang. It was his little daughter and the scene changed dramatically.
21.59 Really tasty and lots to eat. We are really pleased with our final dinner in Yerevan. Now it is time to pack our things again. Tomorrow we will embark a new minibus for another ride.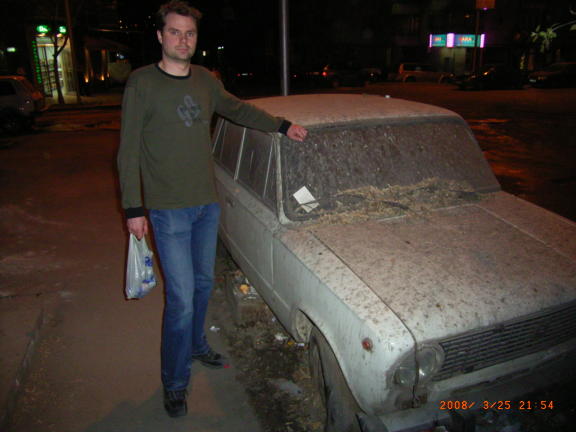 This car outside of our hostel was probably here already when Armenia was a part of the Soviet Union.
---
VIDEOS
---
You can see 13 photos from March 23 in this photoalbum.
You can see 40 photos from March 24 in this photoalbum.
You can see 20 photos from March 25 in this photoalbum.

---
---
---