---
Text: Peter Johansson
Editing: Christer Lundstedt
Photos: Christer Lundstedt, Peter Johansson

---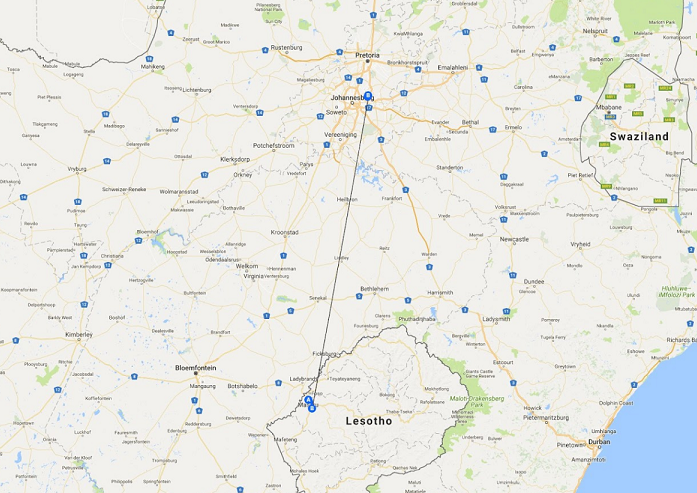 ---
Tuesday 11th of August
08.39 A scent of warm milk enters our room at Foothills Guesthouse, Maseru, Lesotho. Breakfast is on its way. From the world outside a bird and a helicopter can be heard.
09.20 We've consumed yoghurt with Cape fruit, cereals/muesli, fruit, coffee, juice, eggs/beans, bacon and toast. With a breakfast like that all one can do is leap out into the world. Well, as soon as we are ready. We've had thoughts about going on some kind of tour today but have taken an unanimous decision to save the energy and just have a lazy day today. It isn't that smart to go with a private driver out into a countryside without any special sights. The mountains here are truly amazing but they should be visited in the summer as one head for the heights/hills. All they´ve got to offer this season are snow, ice and misery.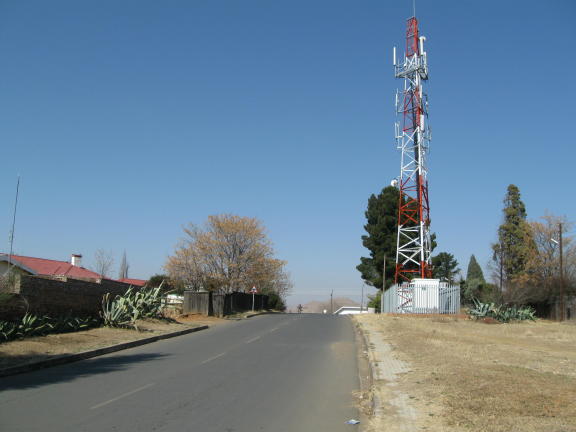 We´re walking along Maluti Road, ready to discover Maseru.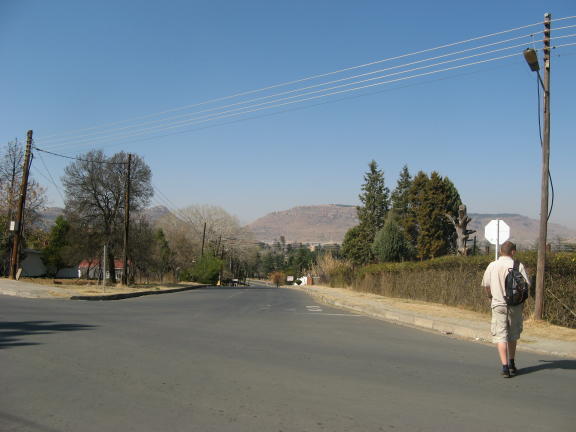 Christer crossing the street near our guesthouse.
10.25 It is a special vacation feeling to have nothing planned and just walk out careless into the town for a whole day of sightseeing without any stress in the body. This is what we are doing right now. Our street which has the same name as the nation's beer, Maluti, will take us all the way downtown.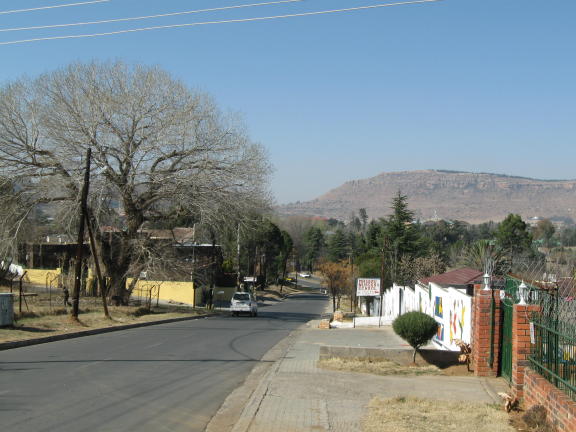 We´re approaching the central parts of Maseru. The hills you can see are actually in South Africa.
10.48 It is time for an early eleven o´clock coffee. We are at Times Coffee down in central Maseru. We managed to get all the way from our home down to the main road Kingsway. The café/restaurant is situated one floor up and it has an outdoor serving area with a good view over the street. We can see taxis going back and forth. They are honking all the time to get attention.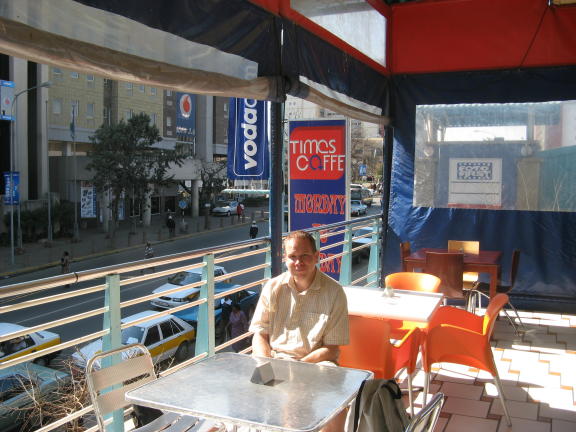 Christer is waiting for the morning cofee at Times Coffee.
The taxi drivers can be seen and heard everywhere.
12.04 The coffee and pastries were great. Since we had them we´ve done some more walking through this capital. We are standing near the cathedral. It isn't the largest cathedral I've seen but so what. I guess it fulfils its duties. It is built by a roundabout in the eastern part of the town. The sun is shining and it has become a really warm day here in the middle of the winter.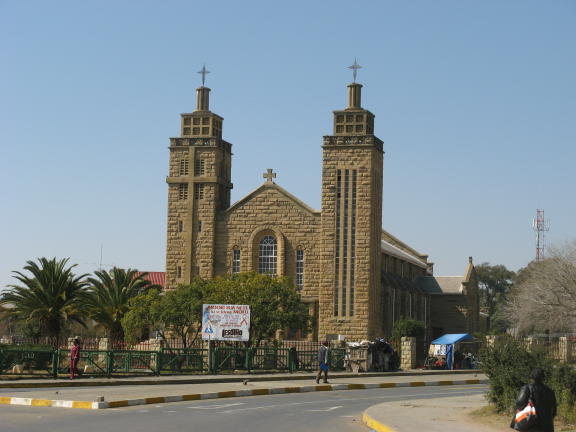 The protestant cathedral in Maseru.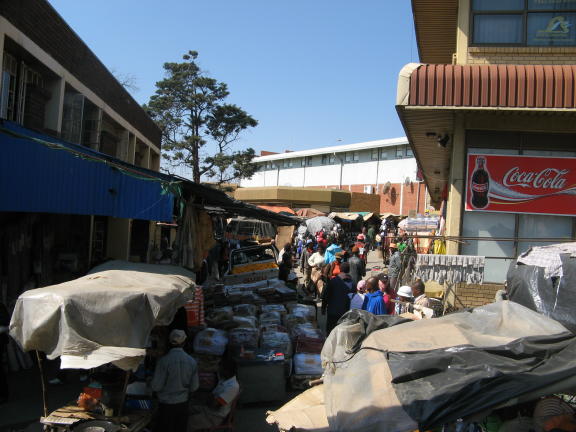 Market area near Sefika Shopping Centre.
12.20 We left the cathedral behind us and strolled through a market area. We are currently at Sefika Shopping Center. Peaceful (spiritual?) music can be heard from inside a store. Christer has gone to get us some beverages from the local supermarket. Earlier we were asked by a lady if we wished to enter some health club. We humbly said no thanks.
13.15 We've walked back towards the centre again and have been at the post office. There we bought stamps, wrote postcards, put on the stamps and actually mailed some postcards. Now it is time for lunch. We are back at Solomon Ground. We are about to ask them to hold the soft drinks until they serve us the food. It is easy to tell that it is a warm day. It is a sunny day with +26-27 degrees. It feels great that we decided to take it slowly today. We managed to catch some local gentlemen's attention on the way here. They asked where we came from and they thought we were far from home.
14.42 We had asked them to wait with the drinks until later. By that we didn´t mean after we had finished our meals. This forced Christer to go to a counter and ask for his soft drink. We've returned home and are pleased. A small detail by the way, our home is surrounded by a wall and has a large iron gate at the entrance. If you wish to enter all you have to do is to take a stone and bang on the gate. The gate opens as you do so. It is opened with a remote control from somewhere inside the building.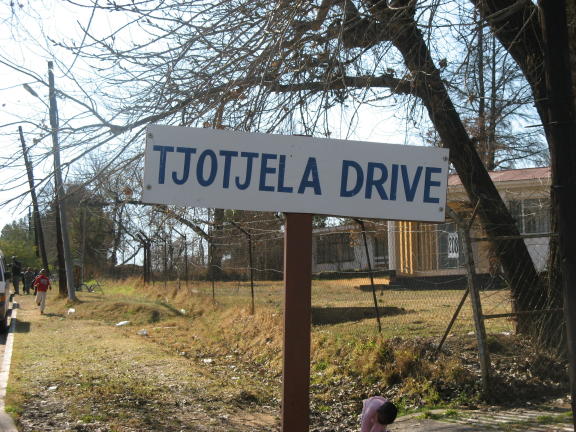 Happy schoolchildren are being collected on Tjotjela Drive.
14.51 There was a knocking on our door and I opened it. Our host Melvin stood there with a toilet seat in his hand. He wanted to replace the one we had since it is broken. I told him that Christer was in the shower and asked if he could come back later.
16.20 It feels great to have a "doing nothing day". The only thing we are doing right now is reading our books.
18.05 A brisk walk took us to an internet café. We did some surfing there. I mailed tomorrow's hostel and checked if they were going to pick us up at the airport. We are currently at Restaurant Regal which just has opened for the evening. This restaurant is in the building which is called Basuto Hat. In the ground floor is the souvenir shop which we visited yesterday. We briefly spoke with a lady before we went up here. She was looking for eleven tourists from Ireland who were supposed to have arrived today. They had e-mailed her before they left the airport in Johannesburg and had asked to be picked up. Now they were gone! We should have told her to look for them in a pub but we didn't think of that until later.
18.25 We are not the only guests here. A couple of welldressed gentlemen are seated by the table next to us. Some other tourists are sitting further away. There are few restaurants to choose from in Maseru. Foreigners here are easy found as they are having dinner in some of the 2-3 quality restaurants which are here. The welldressed men discussed among other things the future of Lesotho and discussed an interesting problem. Both HIV and a rising use of condoms will make the population decrease. So it is failure in both ways.
19.25 A walk in the dark took us home. We met two guys in camouflage clothes in our walk. They might have been soldiers? We are about to make sure to remove the tasty food from between our teeth.
21.30 We are having some coffee and pastries out in the TV-room. It has been a peaceful and nice day.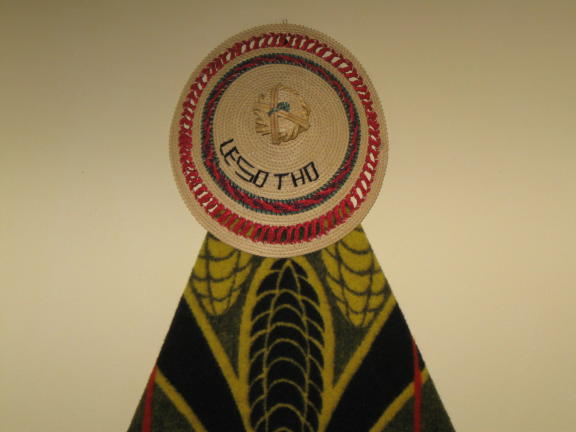 Traditional clothing from Lesotho, the hat and the blanket.
---
Wednesday 12th of August
08.29 Christer just turned on the radio. They seem to be speaking about the situation in Zimbabwe. People are allowed to call in and tell their opinion.
10.06 The breakfast was of the same kind as the one we had yesterday. The radio is talking about a strike in Cape Town. It is the taxi- and bus drivers who are on a strike. The debate program is about whether the new constitution is good or not. There have been some more or less intelligent views. Some conservatives think it is way too liberal and decadent.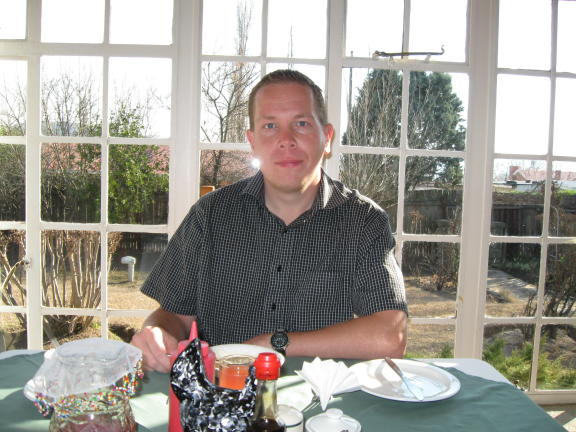 Christer is having breakfast in the morning sun at Foothills Guesthouse.
11.38 We are sitting in a couch each reading a book each. We just received a 20-rand bill each from our hostess. It was the change for the five hundred rand we had paid each for the room. It has been a great room with really wonderful beds. Our transport to the airport will be here within twenty minutes.
12.09 The airport transport is here slightly delayed. Mike is about to drive us now. Mike is driving a minibus and brought with him a couple of American women that he had picked up somewhere else in town. I hope that everything will run smoothly now. Our plane takes off in one and a half hour.
12.41 It took some time but we got to the airport eventually. The trip here went through an extremely dusty and very run down and poor countryside. One can see so much more poverty here than in Mozambique but the fact is that we only saw the area around the capital there.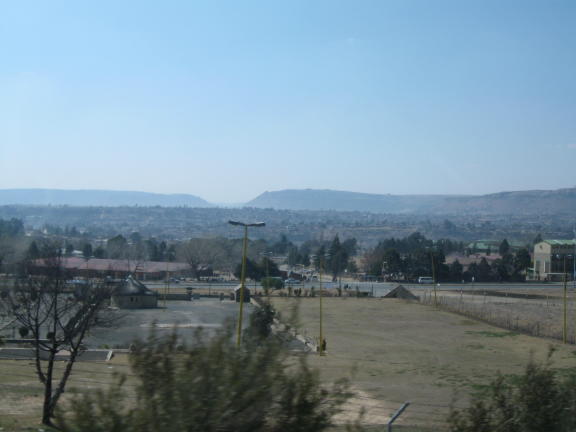 View from a bus window in Lesotho.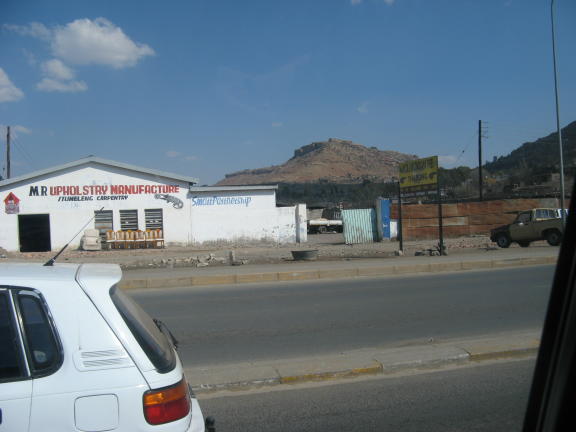 On our way to the airport.
13.09 We are stamped out of the country. The stamp was placed above the one we got entering the country. The security was zealous and wanted to have a close check on our hand luggage. Such procedure takes time even though there are just a few passengers. It is just a couple of flights each day from this airport. We are now sitting by the gate together with well dressed and ordinary dressed people.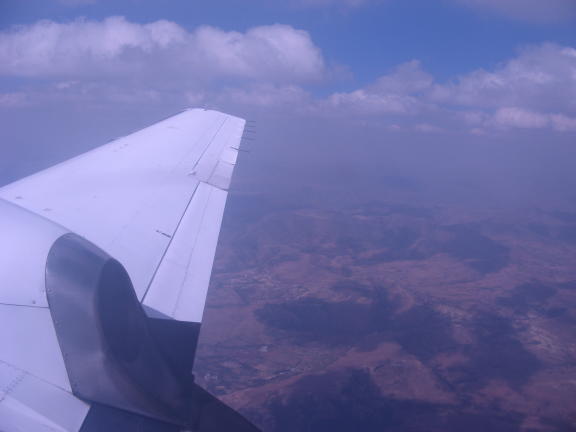 We´re leaving Lesotho by air.
13.49 The plane was of a familiar model, a propeller plane similar to the ones we flew with in the Caribbean 2007. We've taken off from Moshoeshoe International Airport. It is one of the smallest international airports I've been to. A dry landscape is spreading out beneath us. We just have to relax and enjoy the ride. It is some slight turbulence though.
SOUTH AFRICA

14.48 We've once again landed at O.R Tambo International Airport in Johannesburg. We are taxing on to the right gate. We flew over Soweto and got a perfect view over this famous part of Johannesburg just before we landed. I wonder if someone will pick us up here. I did send an e-mail to our hostel here about it yesterday.
15.17 We are in the arrival hall and there are several people here meeting tourists, but no one for us. This seems familiar.
15.56 No pick up in sight and we took a taxi to our final African home. We are staying at Airport Backpackers (http://www.airportbackpackers.co.za) at Mohawk Street. We are in the same area as we were when we first arrived to this country, Rhodesfield. We are staying in room 2. We passed a shed on our way here. The guy who brought us here grabbed the door of the shed. I thought for a moment that it was our home. We are about to head out for some shopping before it gets dark. A walk in the dark isn't that wise here in Johannesburg. We will sign up for a dinner before we head out.
Yet another night will be spent close to the airport in Johannesburg.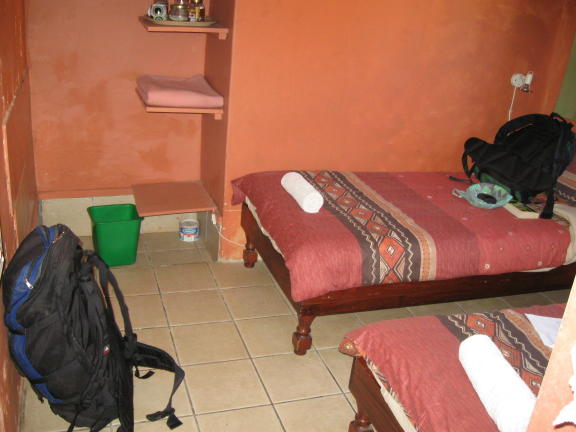 A room with strange colours is also a room.
17.08 We are once again at Festival Mall (http://www.festivalmall.co.za). We were here on the 22nd of July as well. We saw our host from our last visit here, Rob, on our way here. He looked at us but couldn't quite figure out where he had seen us before. We've just done some shopping at the supermarket Checkers.
18.30 We bought a red vuvuzela each before we went home var. The vuvuzela is the name of the plastic trumpets which are blown in during soccer games here in South Africa. It wasn't easy to find them. We had to ask around a lot before we found two of them at the store Edgars. Several of the people we met on our way home had comments about our little red friends. I guess that white men with vuvuzelas were something extraordinary. The light skinned here are more interested in rugby than in soccer. We are about to do one of the last packings of this trip.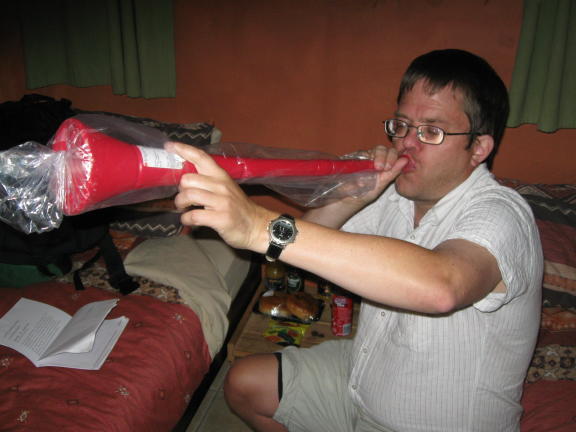 Peter with his new vuvuzela.
19.18 Rice, braai sausage and a mix of vegetables. That is our dinner. We are eating in the bar here at our home and are waiting for our beers. We are sitting by a wooden table in a traditional African house.
22.25 We've been drinking an evening beer. We've also thought about the fact that we are soon about to be back at work. We are returning with mixed emotions, back to the classrooms, the pupils, colleagues and principals. But that is still far away. We´ve still got some travelling and writing to do.
---
Thursday 13th of August
07.41 Yet another airplane is climbing towards a distant horizon. Well, we are not onboard, we just hear it. We are after all living next to an international airport. The night has been great but as earlier here Johannesburg a bit cold. We've just realised that a window has been open during the night. We are thinking about if we've missed some important news from home during the summer.
09.31 Most of our things are packed. I hope I will be allowed to carry my vuvuzela in my hand as we travel. It is just too long to not fit in my backpack. The sun is shining outside. I just heard a metallic sound. Did someone ring a bell? We've also heard a humming from outside.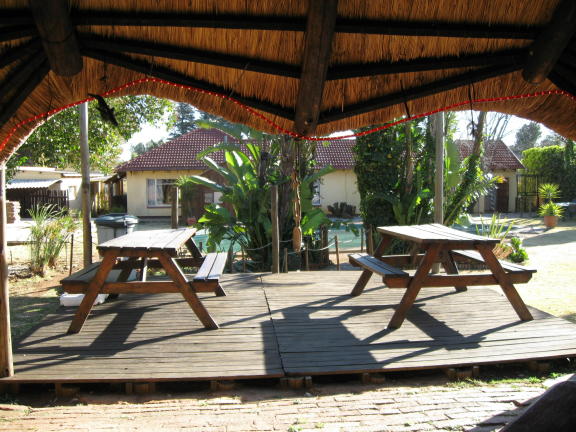 Airport Backpackers, a good place to spend a night. If it had been summer we could´ve used the pool as well.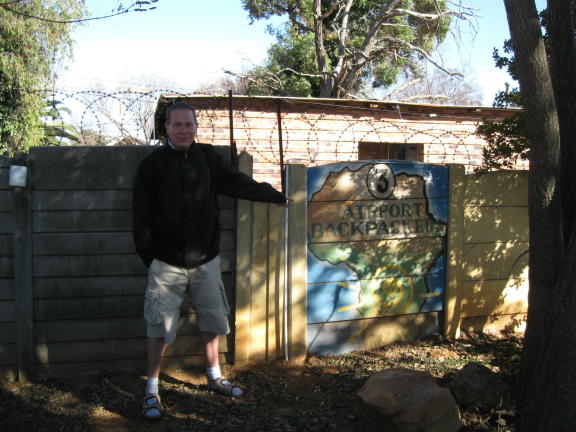 This is where we´ve stayed the night.
09.54 The last African resident door has been locked. We are out in the sun with our bare legs. The shuttle to the airport will leave in an hour. We are about to do some reading in our books. The sun is slightly warm but far from enough.
10.49 We are talking to the driver who will take us to the airport. I am sitting in the backseat with my vuvuzela next to me. We are reversing out of the open gate. Our journey home has begun. A small bottle of water is hanging in a red stripe from the rearview mirror, holy water?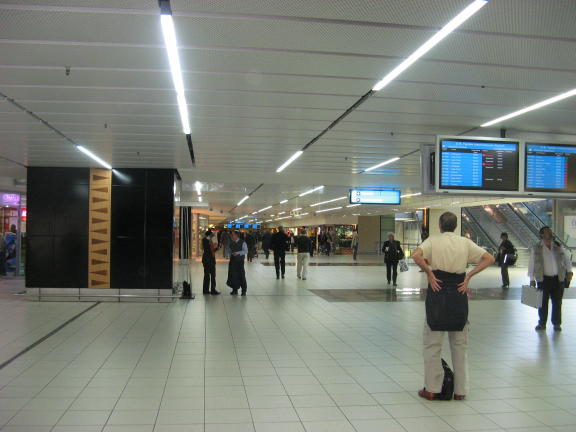 O.R Tambo International Airport, Johannesburg.
11.12 We are once again at Oliver Tambo International Airport. But we will fly away from here this time. We have no clue where we are supposed to check in. The journey here got longer than planned. The driver took one of the employees to Kempton Park before he took us to the airport. A funny thing is the fact that we actually passed the plane we are about to fly with. Etihad had parked their plane just next to the wall towards the highway. We heard some news about cruelty to animals and a bloody murder in Soweto before we said goodbye and left the taxi. There is a lot of crime in this country but few with tourists involved so they can feel quite safe after all.
12.29 We had no problems checking in and passing the security control. We met a young beautiful woman on our way to the passport control. She wanted to talk to us about money. She wanted to know how much money we were carrying. I guess they would like to know if someone is bringing out to much currency. We are now having coffee at Caffé Ritazza. Hmmm.. the name seems familiar. I am pretty sure that we had coffee at this chain before, just in another place. Christer just realised that he is carrying more rand than he told the young woman.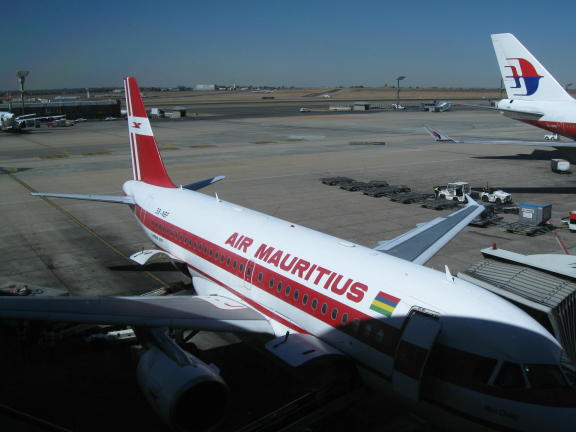 A plane flying to an island we´ve never been to.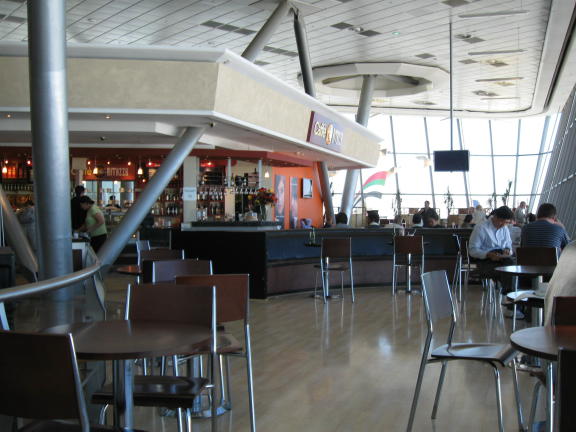 Caffé Ritazza, the last taste of South Africa this summer.
12.59 My little red vuvuzela is safely tucked away on the shelf above me. Next to me is a see through plastic bag. It contains an apricot coloured duvet. The duvet is owned by a German speaking black lady. We will take off at 13.35. As we were on our way down here, we´re flying with Etihad Airways from United Arab Emirates. We will like then make a stop in Abu Dhabi.
14.07 After some delay we´re about to get ready for take off from Johannesburg.
17.43 A man is suddenly standing up in the left aisle of the plane. He is calling something in Arabic. Is he informing about the evening prayer or is it his personal way of praying?
20.17 Everything is going according to plans. It is an easy and calm flight towards the north.
---
You can see 16 photos from August 11 in this photoalbum.
You can see 10 photos from August 12 in this photoalbum.
You can see 11 photos from August 13 in this photoalbum.

---
CONTINUE
---