---
Resedagboken.cc - History and background
You have entered the website RESEDAGBOKEN.CC. Maybe you have a few questions? How did it all start?
What has happened through the years? On this page you will find the answers.
---
1999
It all started at the end of the last millennium. Peter and Christer finished their studies at Umeå University in June 1998. They were now ready to look for teaching jobs. Peter decided to stay in Umeå looking for jobs that didn´t exist. Christer moved to Hudiksvall where he had a teaching job waiting for him. Roberth was almost abroad. He was in the south of Sweden, in the province Skåne (Scania). He was studying to become a teacher too. He was doing that at a school in Kristianstad.

Peter traveled to Prague in the Czech Republic together with his friend Roger in June 1999. They didn´t have time for much more than trying the Czech beer and visiting loads of pubs but that´s an important acitivity in that city. Christer spent the summer in Umeå together with Linda, his girlfriend at the time. Peter and Christer talked about traveling at a party in her apartment that summer. Christer had been to England in 1997 and would love to go back. Peter also wanted to travel somewhere. After that they started to plan a trip to the UK.

In August that summer the trip became reality. They visited northwest England and northern Wales. They acted like amateurs, carrying the things in suitcases, didn´t write any travel journal and so on. It was the 20th century after all! It wasn´t more than 10 days but it was still a very nice trip with lots of fun and nice memories.
2000
Has a man once had a taste for travel it´s difficult to stop. It will be most interesting of course when planning everything yourself, dare to improvise and not planned everything in detail in advance. The summer of 2000, it was time for the first long trip. In the spring of 2000 Christer and Peter began to research the topic interrail. What would it cost? Where can you go?

In May 2000, Christer was invited on a trip to Germany and Poland by his employer Hudiksvall Municipality. They would invite two teachers and two students on a tour of the Holocaust. They traveled to Berlin, Warsaw, Krakow and Gdansk. During the trip Christer made observations for the summer because the interrail trip was scheduled to start in Poland.

In June, Christer went up to Peter in Umeå to plan the trip. An interrail card for Eastern Europe could be bought at the railway station. The man who sold them wondered if we'd chosen the wrong area because we planned to travel in the eastern parts of Europe. We had chosen the right. Being able traveling from the Baltic to the Adriatic Sea on the same card, we thought it was a brilliant idea.

In July, we traveled away from Sweden. We took the ferry from Nynashamn to Gdansk. As small novices we got on a train to Olsztyn. We did not know where we had to sit or how the interrail card worked. Sometimes conductors did not know that either. It was a fantastic summer. We discovered interesting cities and countries, good food, cheap beer and realized pretty quickly that this would not be the only trip in that part of the world. Peter took small notes to remember the trip in the future. We visited Poland, Slovakia, Hungary, Croatia, Slovenia, Austria and the Czech Republic.

In November 2000, it was time again. Peter and Christer went with their friend John on a cruise to Tallinn in Estonia. The wind blew sharply on the sea. John was asleep with his shoes on and was looking for dodgy port district of Tallinn. Because of the waves we thought that everything was still rocking when we returned to John's apartment in Uppsala. The most memorable thing, however, was John's performance to catch the ferry. Via a train from Uppsala, metro to the wrong station, a taxi ride and a rush by the ferry terminal, he managed to get on board at the last minute.

Some geographical changes had also occurred during the year. Peter left Umeå and returned to Bjästa, a small community where he grew up. Roberth came home to Östersund again after his studies in southern Sweden. A cottage was purchased and all of a sudden he had become a countryside dweller.
2001
This year had barely started until it was time again. This time Christer and Peter enlisted the old student friend Tobias as traveling companion. It was a cruise again. This cruise was in January to Helsinki in Finland. It was a nice trip to a snowy Finnish capital.
On the Easter break, there were plans for another cruise on the Baltic Sea. This time Riga in Latvia was chosen as the destination. Unfortunately, the shipping company went out of business and a compromise solution was yet another trip to Tallinn. Peter and Christer was on this trip.
During the summer of 2001 we had a great longing to once again travel throughout Central and Eastern Europe. You learn from your mistakes. After a little math we concluded that it had become cheaper to buy regular tickets instead of having an interrail card to the countries we visited. Therefore, we changed our approach and ignored completely all kinds of interrail documents. This time Roger also wanted to join. He already knew what Prague had to offer and now he wanted to see other places as well. The trip would begin in midsummer.
We began the journey on the sea. During the midsummer holiday, we traveled to Tallinn and then continued south through the Baltic states. There are few journeys that contained so many memorable events such as this. When we reached Bratislava in Slovakia a fourth participant joined. It was Roger´s friend Ante who flew to Vienna, hitchhiked to Bratislava and then traveled with us to Croatia and Hungary. During this trip, Peter began writing a travel journal, the first step towards the stories we produce today.
In the autumn of 2001, Peter´s travel journal from the trip was published on Christer's personal website. We also made a similar journal of the trip in 2000 from the small notes that were made on that trip. Eventually we even created a travel journal of the trip in 1999 on the basis of our photos and memories. During the summer 2001 Christer moved from a small-town life in Hudiksvall and settled in Sundsvall where he got a good teaching job..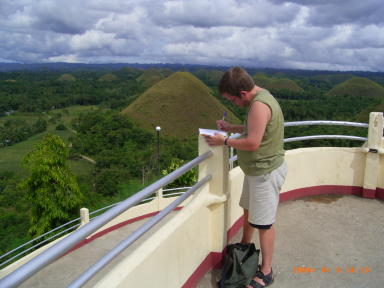 2002
In January 2002, there was a ferry trip to Helsinki again. This time it was Peter and Christer traveling and they had brought John with them.
As Christer and Peter planned the trip that would take place during the summer 2002, much had changed. For the first time there was a ready-made route, with train times and specific locations about what could be seen. Moreover, from the outset there was a clear plan that a travel journal would be written and then be posted on the internet. This time the plan was to visit the Balkans. From the start Tobias joined in the travel plans, but eventually he pulled himself out of it. The trip was the longest so far, 43 days.
A new era began this year when our travel journals got its own website. It was named after a good beer we drank in Slovakia, Martinsky Zdroj. Due to an increasing number of questions about who our "friend" Martin Skyzdroj was and if he was running the website we later created the domain Resedagboken.cc. Resedagboken means "the travel journal" in Swedish.
2003
This year began with Christer and Peter trying to freeze to death in Tallinn. It was -24 degrees and also windy. Besides the climate, it was a nice cruise and a bit recreation before switching to everyday life again.
Before the summertrip in 2003, we had learned something important. A trip could be implemented by means of flight. Previously, we had always assumed that it would cost us too much to fly and that all shipments were made by land. Thanks to SAS's low fare campaign Snowflake, we could now open and close travel in Prague rather than in Poland or the Baltic states. The funny thing in the plan was that Peter should be at a wedding in the middle of the journey. The idea was that he would fly home from Prague and then back to continue with a visit to Croatia. Christer was meanwhile expected in Prague. This trip could have been something really special. The days in Romania, Moldova and Ukraine was a perfect start but then a lot of the trip was destroyed because of stomach problems which both Peter and Christer suffered from after the days in Ukraine. Peter went home to his brother's wedding but was unable to continue then. Christer got better and traveled home by land through Poland.
This year we received a larger audience for our travel journals because we started to translate them into English.
2004
In January, Peter and Christer visited Riga in Latvia for shopping and recreation.
During Easter Christer and Peter went to Riga again. It was not just a cruise but an overnight stay at a hotel in the city.
The summer of 2004 Christer and Peter took advantage of yet another offer from SAS Snowflake. Cheap tickets were bought. The trip this summer would start in Malta and the return journey would be from Split in Croatia. Another new thing was that a large part of the trip would take place in a country that was much more expensive than the previous destinations, Italy. This was also the last journal with scanned non-digital photos. It was a fantastic trip with substantial contrasts. The same summer such diverse countries as Malta, Italy, Slovakia, Albania and Bosnia Hercegovina were on the same route.
Before the trip Roberth and Christer met in Östersund. Roberth who gladly would have joined but could not (because he became a father in 2003), felt "anchored" at home in Östersund, and instead he developed his philosophical works "Anchor theories" that same summer. This was followed later by the texts explaining the causes behind traveling and its history. Unfortunately they are only in Swedish.
Roberth did however taste the sweetness of traveling in the same year when he traveled with his wife and daughter to New Orleans in the United States.
2005
This year began with two trips to the Baltic states. In early January Christer, Peter, Roger and Roberth traveled to Tallinn in Estonia. Roger had brought his video camera with him and documented what happened. The film is legendary, but is unfortunately not with us anymore. On the return journey the storm Gudrun came and several of the party were sharply seasick. Roger, however, was unmoved and partied the night away with some Russians.

In connection with the early Easter in late March, the next trip took place. It consisted of a ferry trip to Riga in Latvia, then a bus trip to Vilnius, Lithuania. This trip was also filmed and this legendary film was even better than the loss from Tallinn. Both are lost forever. Purely in photographic terms, this was the last non-digital journey.

Peter and Christer had serious plans for a trip to Asia in the summer 2005. It was mainly Malaysia and Thailand that were the upcoming destinations. The tsunami disaster in December 2004 resulted in a feeling that the plan seemed all wrong. Instead, Turkey was an interesting destination. After considerable reflections, an absolutely fantastic itinerary was created which began in Estonia and ended in Egypt. The adventure began with a ferry trip to Estonia. The trip had been won as a prize in a music competition when we traveled in January. Roger and his friend Magnus were joining Christer and Peter to Tallinn but then went home. Christer and Peter went through Eastern Europe via Turkey to the Middle East. The trip was one of the best we have done and also one of the longest in the number of days. We were on the move for 51 days. The travel journal also had a huge lift in quality because we started using digital photography.

In the summer of 2005, Roberth made a trip on his own to Dublin, Ireland.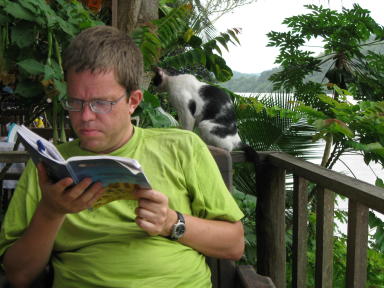 2006
Roberth who joined on the two trips to the Baltic states wanted to travel again. During the winter and spring of 2006, there were two trips to some of Europe's smaller countries. In January we visited Andorra and Liechtenstein were visited in April. It is new this year that Peter wrote travel journals even on the shorter trips. This meant that it became more than a new journal each year. The trip to Andorra was the start of an intensive use of the budget airline Ryanair, which took us to Girona in Spain. We have that airline to thank for many of our trips. Their fares have made travel much easier for us.
In April we traveled to Liechtenstein, the tiny country in the Alps. Switzerland and Austria are countries that were also included in our itinerary. After the Easter trip to the Alps Roberth created our travel photoalbum where we started gathering all of our photos with captions. There are now thousands of photos gathered. The address is http://resor.myphotoalbum.com
In the summer of 2006 there was a revolutionary change in our thinking and planning. We thought about all of our travel plans and realized that we can actually afford expensive planetickets to a destination if that country has really low prices. Peter and Christer headed for South-East Asia, namely Singapore, Malaysia, Brunei and the Philippines. Peter´s penpal Shu Ming guided us in an excellent manner in Malaysia and Singapore. Asia was a wonderful experience and a part of the world we wanted to see more of. The same summer Roberth made a quick effective trip through central Europe and visited Hungary, Slovakia, the Czech Republic and Poland.
In the autumn of 2006, Christer, Roberth and Peter met in Sundsvall. Two trips for early 2007 were booked and there was also some partying. Roberth tried to recruit another traveler by calling our friend Per-Magnus in Östersund. During the phonecall, a new identity appeared, Nyström. According to Roberth, Nyström would be involved to discuss the upcoming London trip. When asked about it later on who Nyström is, Roberth had no idea. He didn´t recall talking about him at all.
The travel interest in 2006 was so large that there was an autumn trip too. It was rather modest and was just over the border to Norway in early November. Although it was only a few days, there was also a travel journal created from this neighbourhood visit.
2007
The new year began with a trip to London. Roberth, Christer and Peter went there. The accomodation was in Harlow and the airline used was once again Ryanair.
During our winter holiday week in March the same three travelers traveled to the east, namely to Baku in Azerbaijan. From the beginning it was a pretty smooth trip, but trouble arrived and it took various flights within Russia to get to and from Baku. The reason for this trip was that the Latvian airline Air Baltic had very low rates to destinations including Caucasus. We actually survived this trip and it was also very nice, but friends and family told us that we were going to die on a trip like that. Why are people so afraid of countries they know nothing about?
The Caribbean was the summer destination this year. Christer and Peter went there from France and the trip became possible after a very carefully planned itinerary with low fare flights between the islands and the booking of each island´s cheapest accommodation. It was interesting with so many small countries in a short time and also the first trip on the other side of the Atlantic
During this year, Nyström came forward as a truth-telling profile of large dimensions. Nyström started a blog and started a fruitful collaboration with Resedagboken.cc which is still progressing today. Unfortunately we´ve only noticed Nyström speaking and writing in Swedish.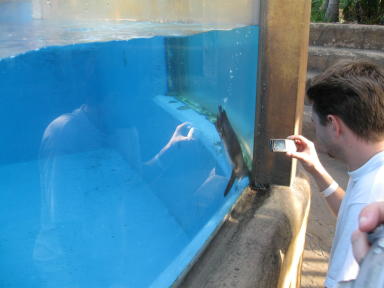 2008
Year 2008 arrived and it started with a pleasant trip to Malta with the best climate in January Europe has to offer. Roberth, Peter and Christer traveled through the small islands really well. On this trip, it became the start of two new features on Resedagboken.cc. A live photo blog was tested during a travel fair in Stockholm in the autumn of 2007 but was now used in Malta. Roberth was taking photos with his cellphone and uploaded them to our website in real time. The second innovation was the movies. Roberth made short little movies that captured parts of our trip. From this trip and onwards Roberth would assist resedagboken.cc with video clips, a media breakthrough for our travel journals. The videos are uploaded on www.youtube.com but there are also links to them in the travel journals.

Easter was a time for a new trip in the Caucasus. Georgia and Armenia were visited and a very strong film material came from this trip. It also offered a great deal of Stalin nostalgia and a travel story of a very high quality.

This year´s summer trip was to some extent also a return visit. Peter and Christer traveled to Asia again and also met Shu Ming again this summer. It was the third time. She had been to Sweden on a visit in April 2007 too. She joined Peter and Christer in Malaysia and Vietnam. The trip through Malaysia, Thailand, Laos, Cambodia and Vietnam was the longest so far, 53 days! The same summer Roberth traveled to the United States and Canada. New York and Montreal were the destinations. This was the first travel journal in which only Roberth figures.
2009
This was a difficult year in many ways. The planned New Year's trip to Rome was far too expensive because you have to buy tickets far ahead when visiting Rome to get a good deal. Peter and Christer had to rethink. Old destinations in Poland and Slovakia were visited instead. Roberth was forced to decline because it proved somewhat impossible for him to connect to the itinerary after the ew Year holiday. A new tradition was introduced, to celebrate the New Year abroad.

Information telling that the Geocities server would close came as a dramatic news. Our travel journals were critically endangered, and a tough process began. All content had to be moved to a new domain, www.webs.com. The great thing about all the work was that the older travel journals could be revamped making them look prettier.

Christer was sick during the spring and had to spend some weeks at the hospital. Therefore, he could not travel as planned to Portugal. Roberth and Peter, however, were there and they made an interesting account of the journey with a fine travel journal with video clips.

The problems this year also continued in the summer when we planned and booked a trip to southern Africa. Christer could not go on the date we planned because of his health and there was an enormous bureaucracy to cancel and rebook tickets and get money back from our insurance. It all ended with Christer and Peter making a short trip to the Netherlands, Belgium and Germany in early July. In late July, we could then travel to Africa, the shortened version of the trip. Roberth would participate only at the end of the African adventure, but now it ended up with him leaving Sweden at around the same time as Peter and Christer. Those two traveled to Johannesburg, but Roberth to Cape Town, weird. All three were however reunited in Johannesburg on Roberth´s birthday. South Africa became a pleasant but rather cold acquaintance. We did a lot on this trip which was somewhat shorter than a month. Apart from South Africa we also visited Lesotho, Swaziland and Mozambique. Roberth also met his South African friend Jacques and traveled with him in the beginning and end of his South African trip.
2010
Before this year even started, Christer and Peter had left Sweden to visit Italy. Rome, Vatican City and Naples were the destinations. During the Easter week they went on a trip to Austria, Slovakia and Hungary. During summer (winter?) it was time for a trip to South America for the first time. The countries covered was Brazil, Uruguay Argentina and Paraguay. Originally the plan was to visit the places in southern Africa which was dropped from the 2009 trip, but the soccer World Cup made the airline tickets there extremely expensive. This year we´ve also started to upload our travel photo to the Google Earth software. We´re doing that through the Panoramio website.
2011
The new year was welcomed on location in Belfast, Northern Ireland. We had started the trip a few days earlier in Dublin. The trip also took us to Scotland, more exactly to Glasgow and Edinburgh. In April, we made a return visit to the Balkans, where Peter visited Montenegro and after that he has now visited every country in Europe (not Kosovo). The summer was spent in Central America. It was a record trip. It was the best so far and also the longest, 55 days. Through the website doodle it had also become possible to book flights to one city and home from another at really good prices. This opened up new possibilities for us and we used this for the first time in connection with the trip to Central America.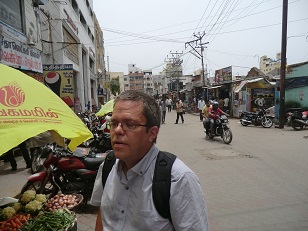 2012
The year started with a trip to Greece. At the end of December 2011 we went to Athens and then went to Thessaloniki, where we celebrated the new year. The trip ended in Istanbul, Turkey. It was a nice return. We were also there in 2005. During the winter holidays in March, Peter and Christer made visits to Helsinki, Finland and Stockholm, Sweden. The aim was to visit the friend John, who received a scholarship and works in Helsinki and to visit another friend, Tobias, on his 40th birthday party in Stockholm. Given that Sweden and Finland, hardly figured in the travel journals, a travel journal was written during this week. The Easter trip went to Italy, Monaco and France. The trip started in Milan and via Genoa, Monaco and Nice Christer and Peter traveled to the islands of Corsica and Sardinia. In the spring of 2012, Resedagboken.cc also has its own page on Facebook where links to all the journals will be posted and visitors can leave comments. The summer trip in 2012 was to southern Africa. Peter and Christer spent seven weeks without even one minute of rain. The highlights of this trip were Victoria Falls, Lake Malawi and the Okavango delta. In August Roberth traveled to Tokyo in Japan. The last days of this year Christer and Peter traveled to United Arab Emirates and Oman for the New year trip.
2013
The experience of the New Year's trip to the Middle East was that it is important to see the overall cost of a trip. An expensive flight ticket can be compensated by the low prices at the destination. It is important to keep in mind for future trips at New Year and Easter. This year's Easter trip was to some extent a return visit. We had in 2002 traveled in extreme heat to Sofia, Bulgaria and Skopje, Macedonia, and in 2004 we made ​​a very brief visit to Albania. We now wanted to see Sofia and Skopje again in a more tolerable climate and see the beautiful Lake Ohrid in Macedonia and Albania's capital Tirana. It was a good trip when we met spring in southern Europe. In the summer we went back to the nice habit to have an Asian travel companion. Shu Ming traveled with us in 2006 and 2008. This year we traveled with Patricia from Bandung, Indonesia. She traveled with us on Java, Bali and Gili Trawangan. It was very nice and we learned a lot about Indonesia through this. We also had time to travel on Sumatra, East Timor and Flores on this amazing journey that ended with a stop in Bangladesh and Qatar on the way home. In the autumn, work began to move our photo albums to Google+ using Picasa. It makes it easier to see all our photos. In December Christer got a new mobile phone which will make our video clips better in the future. The year ended in Portugal and Spain. A journey through three cities, Lisbon, Madrid and Barcelona made it possible for Christer to finally came to Portugal. He missed the trip in 2009 because of illness.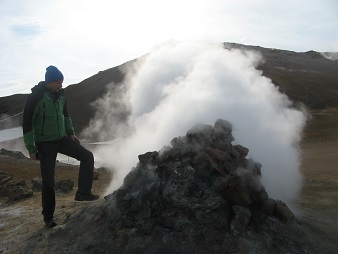 2014
After Peter and Christer's pleasant New Year's trip to Portugal and Spain, plans were made to visit Iceland during Easter time. We had planned a trip to Iceland for several years, but other destinations came before. Peter and Christer had planned to travel to Iceland for a week but at the last moment Roberth also joined on this trip. The novelty of the trip to Iceland was that it was made in a private vehicle, a rental car. The positive experience and freedom in creating an interest in doing it again if the costs are right and traffic conditions at the destination are fitting. Another new addition on resedagboken.cc during the year was that Christer added photos from various trips with no written travel journal. Photos show a lot from a trip even when not documented by Peter´s pen. During the summer, Peter and Christer made a return visit to the Caribbean, and this time it was the western islands. 2007 they visited the eastern part.
2015
There were various plans for the New Year's trip in early 2015. A trip to Tunisia was planned but flights were unnecessarily expensive. Various other options were discussed and in the end the choice fell on Cyprus. A trip there did not feel quite exciting initially, but this island had a lot to offer. The Greek part of the island were visited and we also made a return visit to the Turkish part. The Easter trip this year went to Central Asia, Kazakhstan and Kyrgyzstan. Almaty and Bishkek were visited and on the way home it was even possible to spend half a day in Istanbul. It was a very interesting trip to some parts of the world Swedes have very little knowledge of. This summer's planned trip with the Trans-Siberian railway was postponed and instead it became an amazing journey through the Andes in Ecuador and Peru. This became one of the longest trips we made and visiting Machu Picchu was obviously a highlight of the trip. New on our site is that we made a special start page with a Swedish and an English flag where visitors can select their language. We have noted that many foreign visitors "are turning in the door" when they see a page in a language they do not understand. They have left the website before they saw the link to the English version. We hope the new feature can change that.
2016
This year began with a trip to southern Spain and Gibraltar. Despite trouble with a missing bag initially and too many rainy days Christer and Peter could still enjoy a nice trip. Later in the spring, the number of travelers grew to four as Berlin, Prague and Munich were visited. Our friend Björn and Roberth participated in addition to the regular lineup consisting of Peter and Christer. It was a lovely week devoted to culture and enjoying life. This summer's trip was to East Africa. Peter and Christer used their African experience from 2009 and 2012 and visited Rwanda, Uganda, Kenya, Tanzania and the Seychelles. A decision has also been taken that from now on not determine when the next trips will be implemented. Instead, we prepare various possible options but the prices of flights and other factors will determine when each trip gets off. We have also realized that some places outside of Europe should be visited at New Year instead of the summer because a number of countries are hard hit by substantial rainfall during the Swedish summer, for example, India and West Africa.
2017
New Year was celebrated in Morocco, a country we longed to visit and now it finally became reality. At the beginning of the year, there were major technical problems with our web site, because Webs.com has received various trouble. The help we received and the messages provided by the company did not feel reliable. We made the decision to move all our content to a new domain, One.com. It became a time-consuming job, but everything has become so much better, more space, faster and smoother to get into the page and easier to handle all files (text and photos). In August all content had been moved. Bye bye, Webs! During Easter an Italian trip was made to Tuscany and nearby areas. Christer, Peter and Roberth participated. We started using Google Maps for navigation more intensively than before. In the summer, the so many times postponed trip with the Transibirian railway was finally conducted through Russia to Mongolia and China. The journey itself was smooth and simple, but so much time has been spent preparing for paperwork (visas, invitations, train tickets, etc.) In conjunction with the summer travel journal, we also began to add map images with travel routes to our various journals.
2018
The new year was welcomed on French soil. A trip we had planned to do at Easter time some year now turned out to be in the middle of winter, mainly due to a lack of other affordable alternatives. The trip we made was to Normandy in northern France and to the Channel Islands Jersey and Guernsey. The trip then ended with a football match in London. The trip in connection with Easter was a fantastic trip. Christer, Peter and Roberth visited two islands in the Portuguese archipelago Azores. Again, we used a rental car as a means of transportation, which is a must at this destination. The Azores are one of the most beautiful places we have visited and are especially nice if you can avoid the rain that often falls there. During the summer, Peter and Christer traveled to South Asia. The monsoon rains were avoided and the countries visited were Sri Lanka, India (southernmost part) and the Maldives. Before the flight to Asia, time was also spent in Oslo, Norway.
2019
A new year will begin with a pleasant trip and this time it was Tunisia, a trip we often postponed due to unnecessarily expensive airline tickets. Now the journey was done and it became a natural continuation of the journey to Morocco a few years earlier. During Easter, there were again three travelers and this time the Basque Country was visited in northern Spain. Roberth's pink bottle became a companion that appeared in many of our photos from Bilbao, San Sebastian, Pamplona and Vitoria. This was a trip where we really indulged in the good life with very good food and wine. The Spanish-language theme then continued during the summer when Peter and Christer traveled towards the winter in southern South America. In Argentina, Bolivia and Chile it was often really cold but there was also a lot to see in the form of cities and beautiful nature. The trip became one of the longest in number of days, mainly due to the long distances traveled. This year we have also compiled all the hotels, hostels, guest houses and private accommodation we have stayed with during the years we have traveled. They are in a table on our site.
2020
The end of 2019 and the beginning of 2020 were spent in the United States where we visited Southern California. We spent nice days in Los Angeles and San Diego. This was the first of hopefully several visits to the big country in the west. The price level was high but there is a lot left to see. Itineraries for the continuation of 2020 were demolished in the spring when the spread of the coronavirus in the world eventually made it impossible to travel abroad. As for the summer, the first plan was to visit China, Taiwan and South Korea. During the Korean part of the trip, we had also planned to see Patricia again and travel there with her. When the news about the coronavirus in Asia came, we decided to book a trip to a completely different part of the world instead. We booked a trip to Brazil with continuation to French Guiana, Suriname, Guyana and Trinidad & Tobago. Later in the spring, it became clear that that trip and our already booked Easter trip to the Faroe Islands would not be possible to complete. We instead started planning a car trip in the Nordic countries, but when the borders to our neighboring countries were closed, it instead became a trip by car only in Sweden. It was a fantastic summer when we traveled over 8000 km from the northernmost to the southernmost part of the country. The disappointment over the canceled trip abroad was quickly forgotten when, with the help of our own vehicle, we were able to fill the days with content like never before. We have never before had time to visit so many different places during one and the same trip. During the year, we also structured our video clips better. Now everyone is linked to a geographical location and is presented by country and title in two lists.
2021
This year was another year marked by the corona pandemic and its restrictions. Travel abroad had to be postponed to the future. At New Year's, Christer and Peter were in Stockholm for a few days. The Easter trip went to Skåne (Scania) and served as a follow-up to the summer trip. What did not happen then was done during this trip when Malmö, Skanör-Falsterbo, Ystad, Tomelilla, Simrishamn, Kivik, Hässleholm, Höör, Eslöv, Helsingborg, Båstad and Laholm were visited. It was then a second summer by car through Sweden for Christer and Peter. The cities and areas that were not visited in 2020 were allowed to be part of this trip, which also included a visit to Gotland. Roberth began a new tradition of bicycle travel. He biked from his home in Överbyn to Stockholm. After the Christmas weekend, it was time again to take cautious steps outside the country's borders again. Christer and Peter then traveled to Spain.
2022
This year became the year when we would return to a normal life again after the pandemic that paralyzed the world and our travel plans. The year began in Spain, where Christer and Peter made a nice round trip despite face mask requirements and other obstacles. At Easter, the canceled trip to Copenhagen and the Faroe Islands could finally be carried out. Everything was planned and ready to travel there already in 2020, but with some adjustments, Peter, Christer and Roberth now traveled to Copenhagen and then on to the Faroe Islands, which were explored with the help of a rental car. With bitter experiences of pandemic restrictions and canceled trips, Christer and Peter bet on a safe card for this summer's trip. The trip went to England, Ireland and Wales. It was a long trip with a total of 96 cities visited. Roberth did a repeat from the summer of 2021 and did a new bicycle trip. This adventure started in Mora and went through Sweden down to Halmstad. From there it was a journey home via Denmark (by bike) and Norway (by train). The year ended with Christer and Peter going to the south of France after the Christmas holidays.
---
The future
What will happen in the future? Who knows? Resedagboken.cc will remain and develop but where our trips will go, who participates and how often they will happen we do not know.
There are lots of plans for the future though.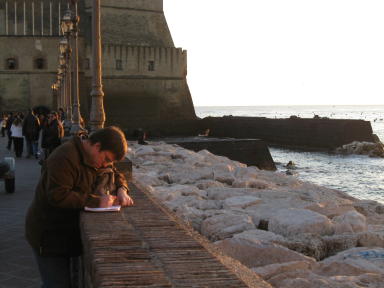 ---
---