---
Text: Peter Johansson
Editing: Christer Lundstedt
Photos: Christer Lundstedt, Peter Johansson
Videos: Christer Lundstedt
---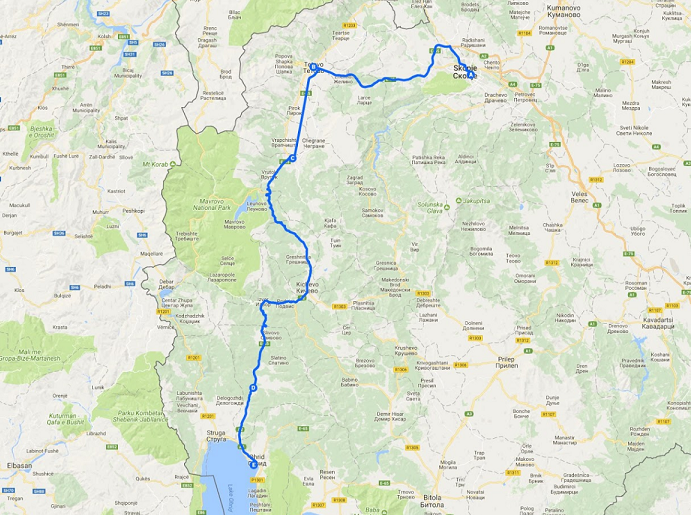 ---
Tuesday 2nd of April
07.50 We both woke up with the same thought, where am I? Pretty soon we realized that the answer is Macedonia, Skopje and the apartment we rent from Urban Hostel. Today it´s like mentioned before a full day for us here in the city. It feels like we are in a whole new city. When we were here in 2002, all we did was sweating and were drinking Fanta Icy Lemon.
09.27 We went out of the house, out of our front door and down the street to the hostel part of Urban Hostel. Here we have had breakfast. In addition, we paid for the accommodation. We paid the room price even though we stay in an apartment, thank you! It has also revealed new facts about the bed problems. Urban Hostel has no two bed rooms at all. It was thus wrong on Hostelworld's booking page. We booked a room that has never existed.
10.28 We have been given information from the internet and from the staff. We have, based on the latter information found a smart solution for today and tomorrow. The plan for today will soon be put into action.
10.39 We are now, after a quick visit to the apartment, ready to look around in Skopje. It is overcast and there is an imminent danger that it will rain today.
11.07 The plans have become reality. The reality is that we are in the center of Skopje. We have taken a brisk walk here and it included a look at a modern church along the way. I can not remain here, there is more to see today.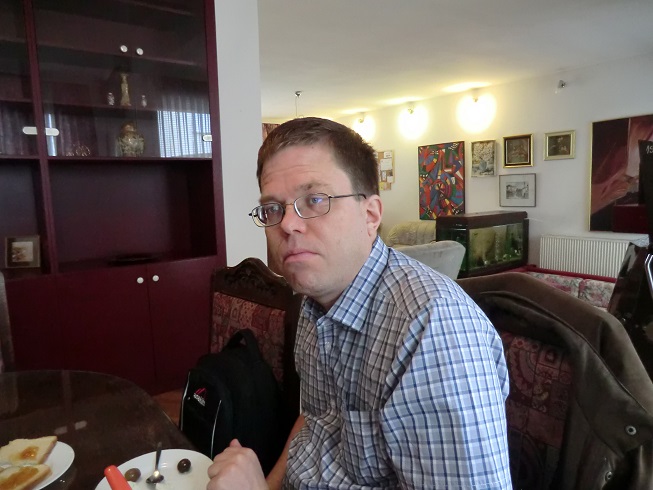 Peter is having breakfast at Urban Hostel.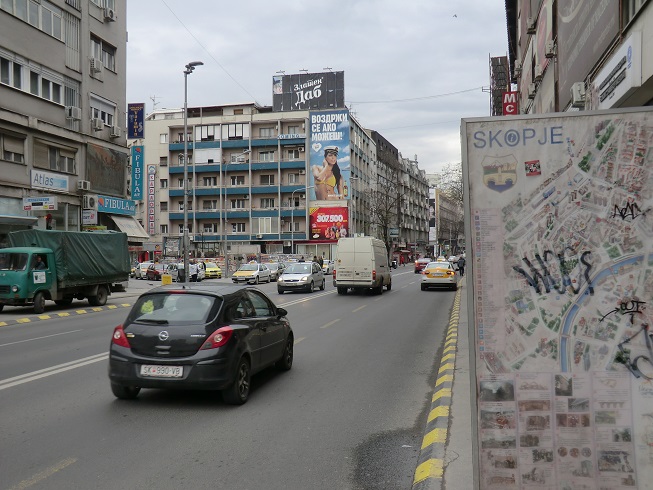 We are walking towards Skopje city center.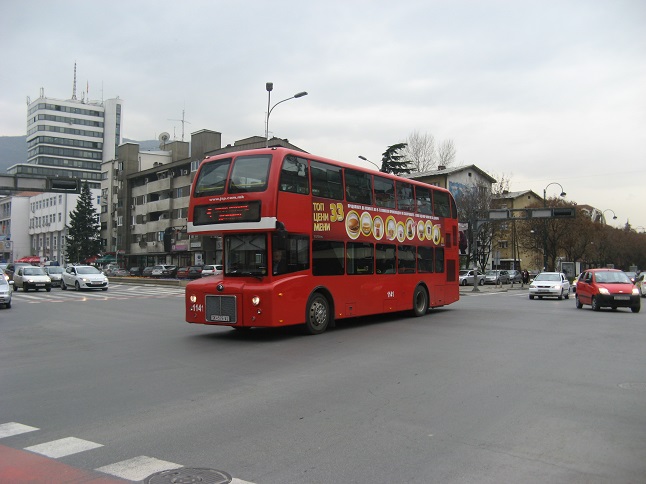 The public transport in Skopje reminds us of London.
11.14 We pretty soon ended up on the pedestrian street Makedonija which is lined with cafes and hotels. Unfortunately, it has started to drizzle. As usual, we have wisely packed our umbrellas on our journey and then left behind them in the backpacks. We did the same thing in Rome. Act stupid and you will get wet.
11.20 At the end of Makedonija Street is a museum which is based in an old railway station building. The clock on the old train station here is at 05.17. It has been so for a while. It was at that time an earthquake hit Skopje on the 26th of July, 1963. The clock stopped, it was supposed to be repaired but it was never done. The clock is a memory of the earthquake that claimed over 1000 lives and destroyed 80% of the city.
11.29 Further up the street, we earlier saw some statues and a building dedicated to Mother Teresa. Mother Teresa was born into an Albanian family here in Skopje in 1910. Her real name is Anjezë Gonxhe Bojaxhiu. Teresa was the name she took as a Catholic nun. Mother Teresa is world-renowned for his work among the poor in Calcutta, India.
11.37 We have searched drizzle protection at the cafe Il Caffe di Roma here at Makedonija Street. Here we ordered black coffee and muffins.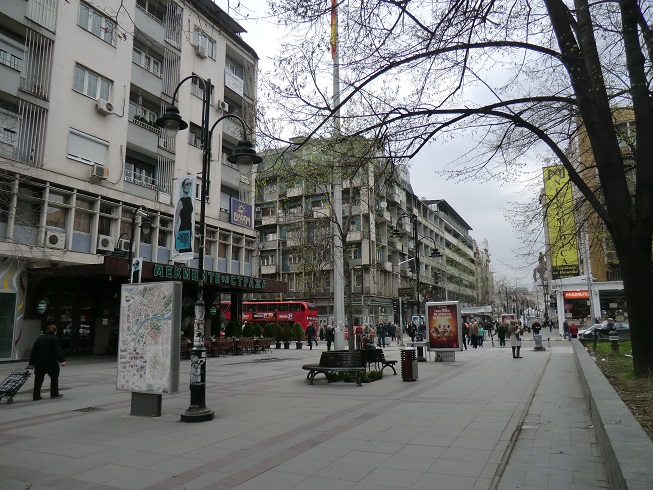 The pedestrian street Makedonija.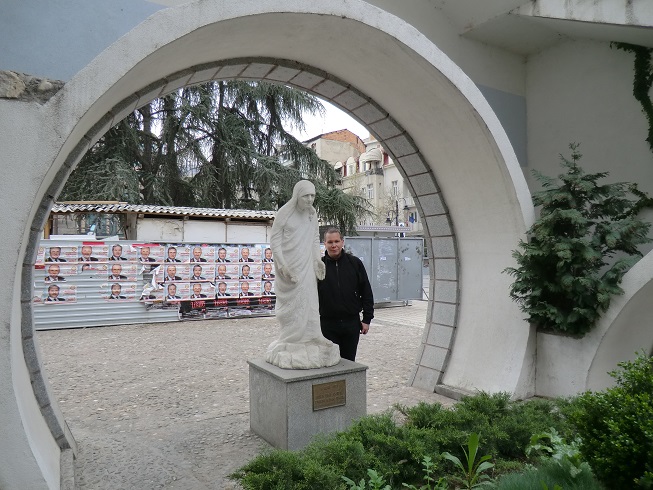 Christer and Mother Teresa (Majka Tereza).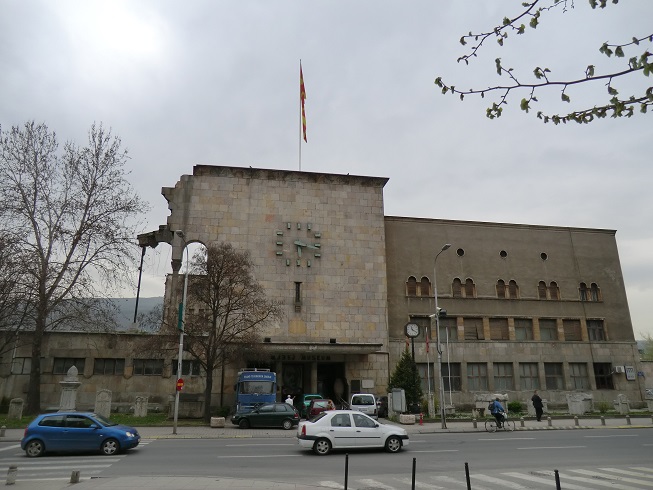 The clock has been at 05.17 since an earthquake destroyed Skopje in 1963.
12.27 It was great with coffee and muffins. Unfortunately, the drizzle hasn't stopped. It has rather increased. We have photographed and admired the city's replica of the Arc de Triomphe, the great white Porta Makedonija in Skopje's downtown. The Arc was built in 2011-2012 to commemorate 20 years of Macedonia's independence.
12.37 We are now, after a quick visit to the GTC mall which we also visited in 2002, by the old stone bridge over the Vardar River. Here it is not different from then. It is totally and fully changed. Where there used to be grass slopes and a grazing horse it is now beautiful buildings and statues. One of the statues is of a man on horseback which the locals claim is Alexander Makedonski (Alexander the Great). However, it is just a huge equestrian statue. The square he stands on is called Macedonia Square.
12.43 As usual, Greece had issues on the triumphal arch erected here. The Greeks have opinions on most things regarding Macedonia. They claim that Macedonia is the name of a Greek province, that Alexander the Great did not have anything to do with this nation and that Macedonian is not a language, just a Bulgarian dialect. The Greeks also forced the country to change the flag because the first flag was a symbol from Alexander the Great's father's grave.
12.53 It is still gray skies. We are looking at a bus stop where the bus to the tall cross Millennium Cross on Mount Vodno departs from. We are also looking a place to have lunch at. We need to eat before any further plans are to be implemented.
13.34 The bus to the cross and the cross itself will have to wait. It rains a little too much. It is also low clouds and more or less fog on the mountain. Now we have been looking for a nice lunch restaurant. The only ones we found have an Italian touch and to visit Macedonia to eat Italian food feels a bit wrong.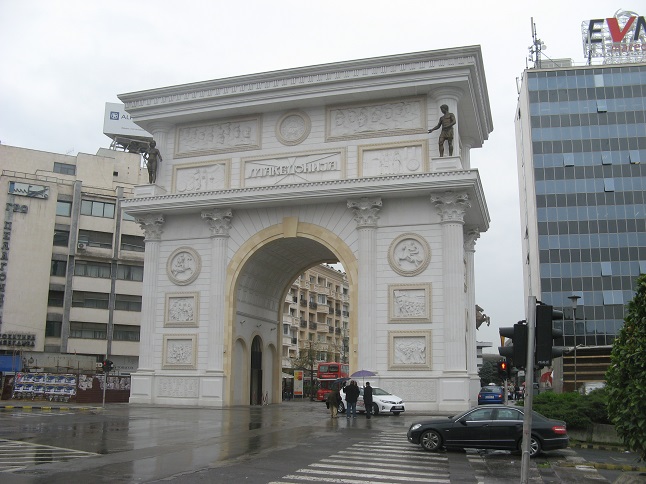 Porta Makedonija.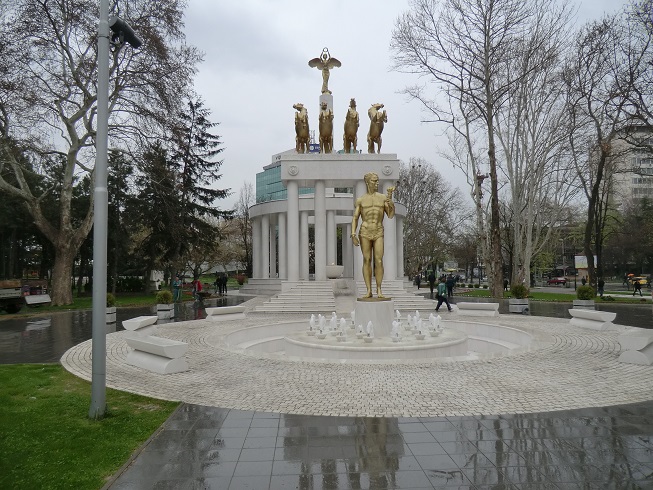 Newly built Macedonian monuments.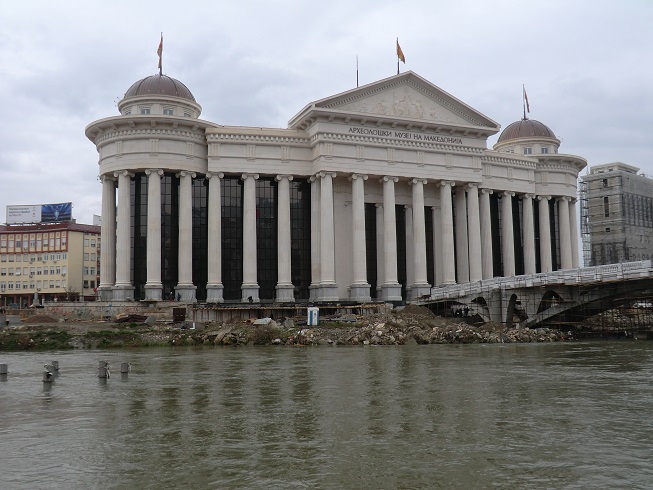 A new archaeological museum being built by the Vardar River.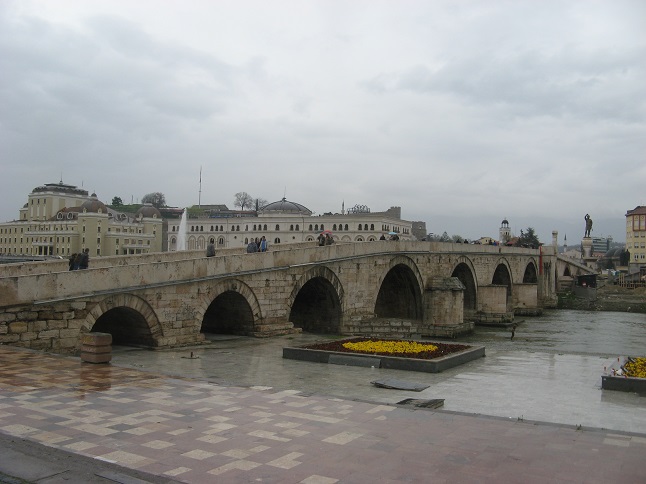 The famous stone bridge dating back to 500 AD.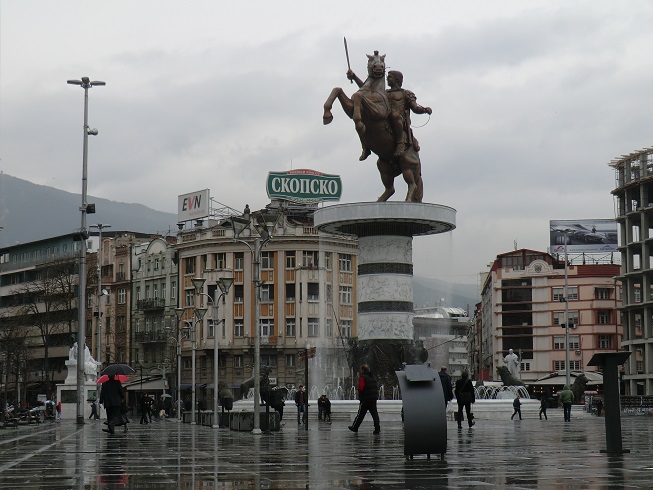 Alexander Makedonski (Alexander the Great), or?
13.46 It became an Italian lunch after all, the restaurant Gino in the upper level of the GTC mall. No sooner had we arrived before one of the waiters took our jackets and hung them away. Now we ordered mixed grill to Christer and ribs to me. We had aimed for a simple lunch but this place is really classy. Plenty of people are here, too.
14.34 My language skills have messed things up for me again. I ordered ribs, most likely a little vague and was served was a delicious pork chop. Say the right word and you will get the right dish.
15.28 The tasty meal is over and we found our jackets. Our plans have changed a bit. Instead of crossing the river Vardar on the old Stone Bridge, we´ll have a coffee break at Coffeshop Company. It is an Austrian chain with a somewhat familiar name. Have we had coffee with them before? The reason for this stop is the intense rainfall that is still ongoing. I also managed to buy a football jersey from the local team Vardar Skopje to a colleague back home.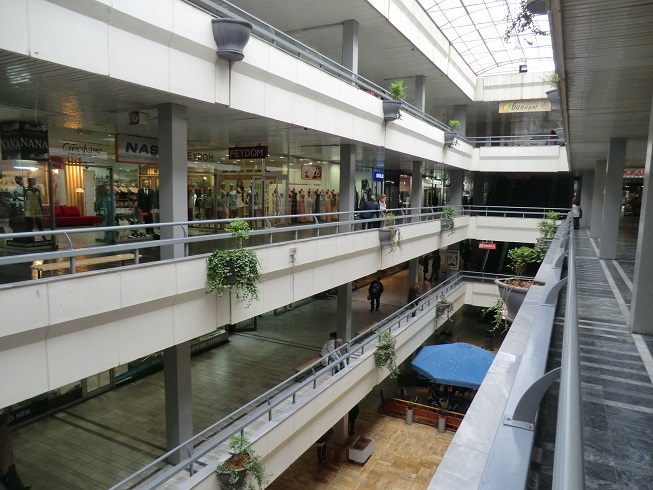 In the center of Skopje you find the shopping mall GTC.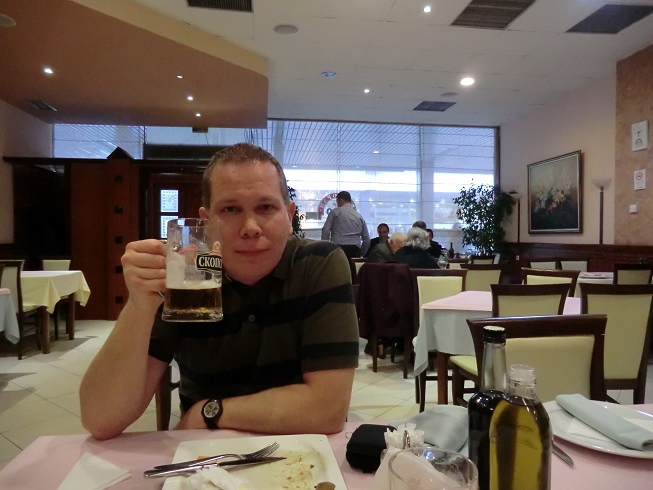 Christer is having lunch at the restaurant Gino.
17.09 It might so be that Christer has visited the coffee chain before, possibly during a visit to Prague with his father and sister. We left it and went briefly to another mall. It did not have much to give us and now we finally crossed the Stone Bridge and the river. Here on the other side are some constructions and renovations going on. We have also seen a statue of King Philip II, father of Alexander. It rains in this part of city as well and also in the old bazaar, Carsija. We passed a new museum devoted to the Holocaust victims.
17.43 The wandering in the old quarter was reminiscent of Sarajevo's old town and its Turkish bazaar part Baščaršija. This part of the city feels completely different from what we have seen earlier today. There are narrow streets, mosques and shops here. The range is varied. First the things you find in the malls and also some with an older twist. Now we left the rain outside and sat down at the restaurant Old Balkan. Here we have ordered our old Balkan classic, pljeskavica. We will not need to figure out which beer we drink. They serve no alcohol at all. Our waiter has lived in Sweden in the 90's. He fled the war in Yugoslavia for life in the town Ludvika. Last summer in Malawi we saw a jacket which had ABB Ludvika Floorball Club written on it. Ludvika is apparently known and noticed in the world.
18.11 The waiter just came and apologized that it took time to bring us the food. There was much to do in the kitchen because a larger group would eat. However, he would arrange some sort of pastime for us. We got a book each was to read. They contain photographs and stories from the past. I got a book about the old Skopje and Christer a book on Albanian photographs from the early 1900´s.
18.20 Dinner is finally here. I have, beside pljeskavica, ordered a Shopska salad; tomatoes, cucumbers, peppers, yellow onions chopped, mixed and topped with grated sirene, Bulgarian white cheese.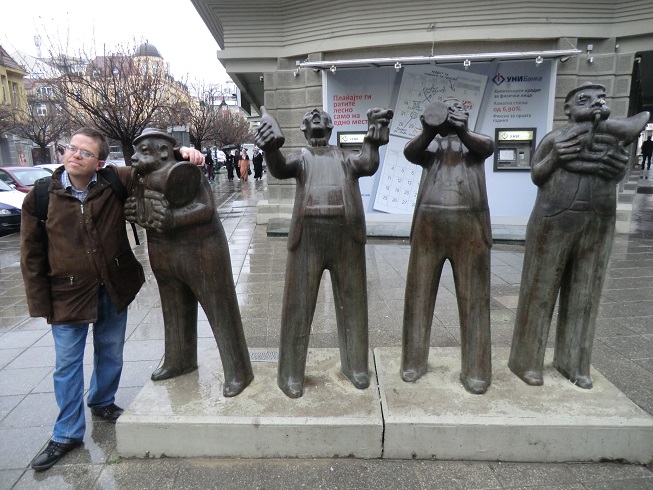 Peter with newfound friends.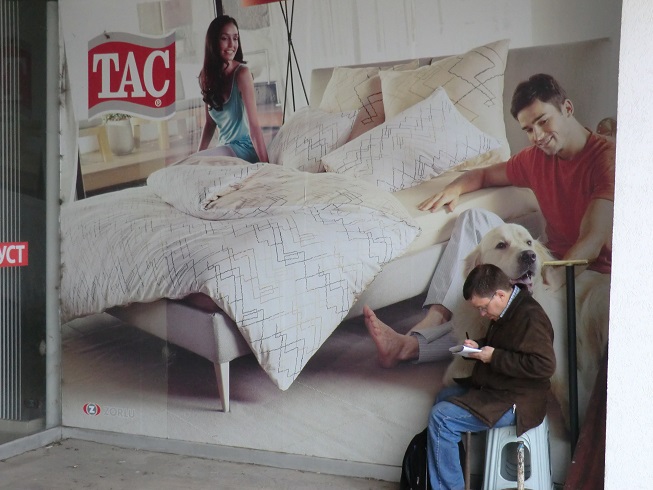 Peter writes in his journal next to the mouth of a Golden Retriever.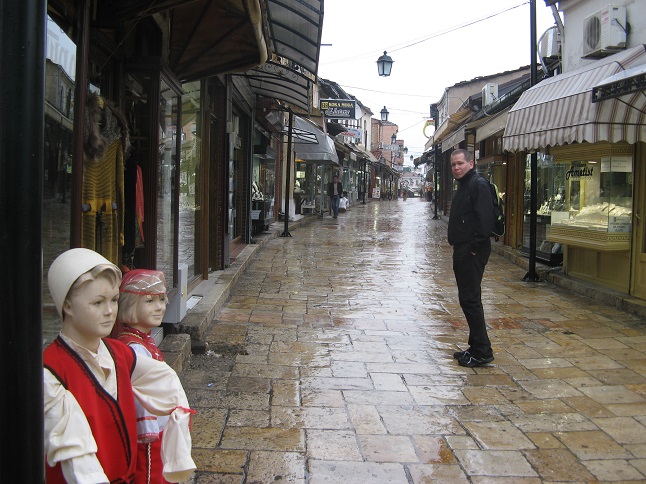 Christer walks through the old Skopje, the district Carsija.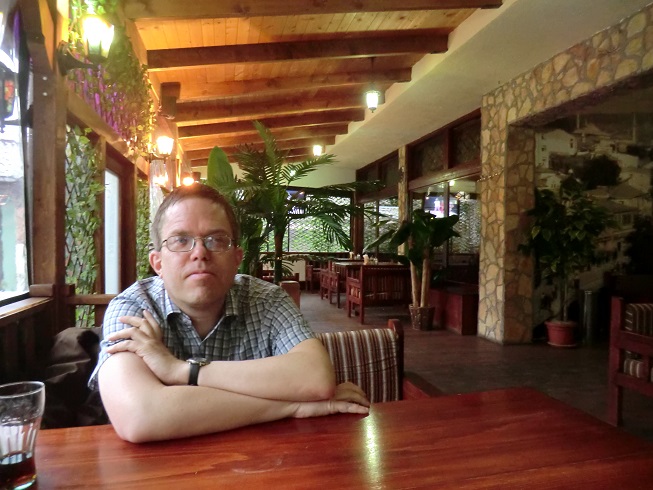 Peter is waiting for dinner to be served at Old Balkan Restaurant.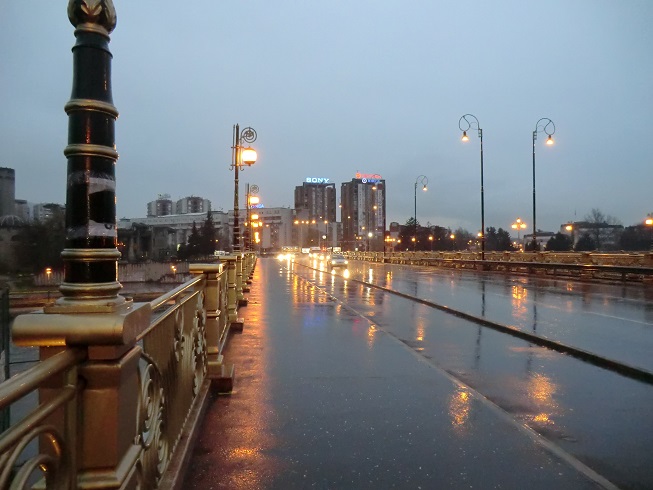 In rainy weather, we walk home over the Goce Delchev Bridge.
19.52 The meal ended and we went out. The drizzle had stopped and turned into heavy rain. But we had no choice; we had to go home and began ticking towards a given goal. On the way home we stopped at the grocery store we were in yesterday. We bought soft drinks and bread for the journey tomorrow. We also had plans to buy cured ham and wine. The wine they had was locked up. Christer wondered if perhaps it was not possible to buy alcoholic drinks after 19.00. The journey back home continued and we found and bought wine in a small corner shop. Now we are home, wet in the hair but excited in the mind.
20.01 Christer has just realized that his mobile phone has made 57 calls to people in his phonebook last night at about 17:45. Some calls lasted for 0 seconds and some a little longer. Was it one of the calls that was the "Hello, hello" we heard in the elevator yesterday?
20.38 Now, everything becomes more strange. First, it seems you can not call abroad directly from Christer's phonebook and now the doorbell just rang. There stood a young man and said good evening and something more. Then he handed over an envelope. It contained a letter that Christer is reading now. He can read the letters there but none of us understand a word. It may be of some political nature.
21.38 The Parma ham and wine, Sun City was consumed. It's always nice to try some tasty things at home as well.
22.15 CNN has reported about the rising concerns on the Korean peninsula and now has a story on youth unemployment in Spain. It lies at 55.7%.
22.48 Yun Byung-Se and John Kerry, foreign ministers of South Korea and the United States, speaks about the two countries' good cooperation during the past 60 years, now and in the future.
22.59 PSG - Barcelona, 2-2 and Bayern Munich - Juventus, 2-0. The results from tonight's Champions League. Right now it's +9º in Skopje, the wine is finished and we are about to pack our belongings.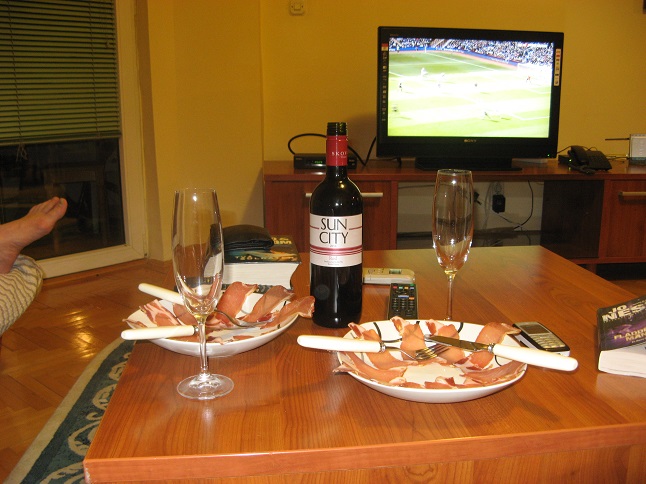 Ham, wine and football end this day.
---
Wednesday 3rd of April
07.10 It is gray skies and overcast today. There is no rain but no blue sky either. Now we are thinking about what we are going to do with the proposed trip to the cross on the mountain. We had planned to take the bus up the mountain this morning before we leave here.
08.15 CNN reports about the small airline Samoa Air, which started to base their fares on the weight of the passengers, US$4,16 per kilo. They promise that those who pay more can expect better legroom and the more area for the part below the hips.
09.56 Now yet another of life's small breakfasts have been completed. We are still not quite clear on how we do before we go on. We do not even know when we travel, but only, perhaps, anyway, where it will be.
10.31 We are for what I guess the last time in the apartment. Before we came here we took the opportunity to mail accommodation in Ohrid and indicate an approximate time of arrival. We have cancelled the trip up to the cross. The decision became easy when we saw that there are clouds around the mountain top. Outside, the sun is struggling hard to break free from the shackles of the clouds.
11.08 We just heard a little jingle in the apartment. Is it the phone, intercom or what? We see it as a start signal for us. Now we will leave.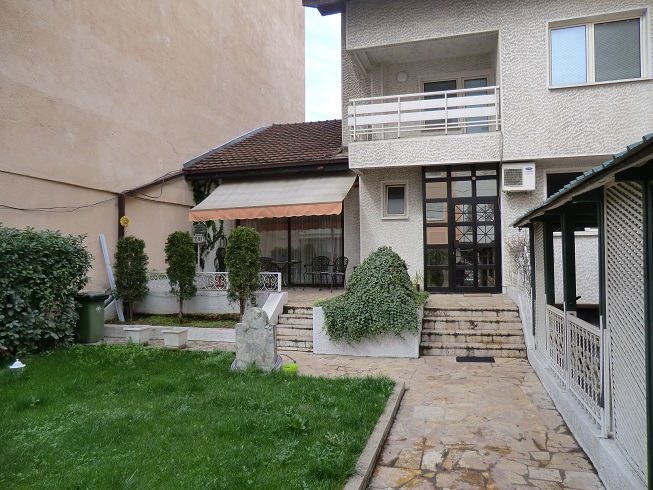 We said goodbye and thanked for our stay at Urban Hostel.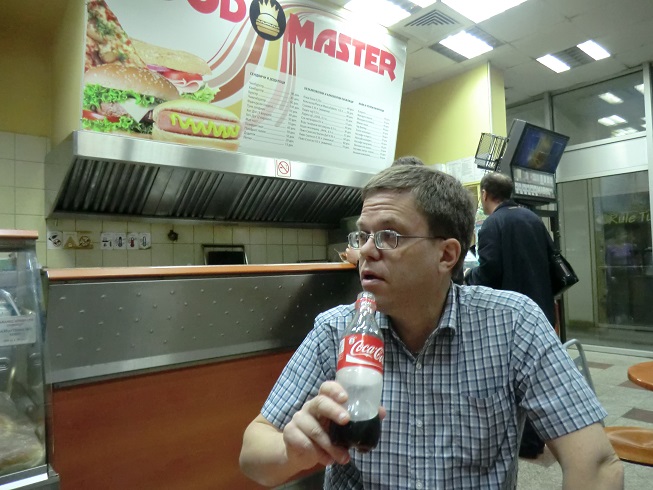 A simple quick lunch at Skopje bus station.
11.43 We are, after a smooth check-out from a brilliant accommodation, in the park outside the GTC Mall. Behind us we have Porta Makedonija. We walked through Skopje and are now resting before we start to sweat too much. We are thinking about lunch. When, where and what are the issues that are raised. Do we eat here in the center or at the bus station?
12.23 The walk continued to the bus station, there both the food and especially the buses can be found. We looked with astonishment at the areas we remember from 2002. Where there stood some Turkish buses parked on some gravel is now a major shopping center. It has been some developments in the passed 11 years. Once at the station, we managed to navigate wrong but got reunited with the ticket booths at railway station we went to 2002. Once we made it right we bought our bus tickets to Ohrid. Now it's time for lunch. What we thought would be a meaty burger became a vegetarian version, ketchup and slice of cheese in bread. The supply was meager, to say the least.
12.46 We have once again entered a minibus. The essence of life is not the mode of transport. What are important are the comfort and the fact that we, and the vehicle will arrive. Today's bus company is called Classic Company.
13.36 The bus has left Skopje behind. Now it is surrounded by round green hills and mountains. Here and there one can see a minaret with its mosque. Here in the country a liter of diesel costs 70 denars, US$1,43.
13.58 The number of mosques has increased. We are near Tetovo, a part of Macedonia with a large proportion of Albanians. A law says that there shall be bilingual signs when a city has above a certain percent of Albanian population. THat is the case here.
14.14 We just drove through Gostivar. Now we meander up the mountains and are greeted by rain.
14.22 We have stopped at a red light here in the mountains. There is a bridge that is being repaired. The only allow traffic from one direction at a time.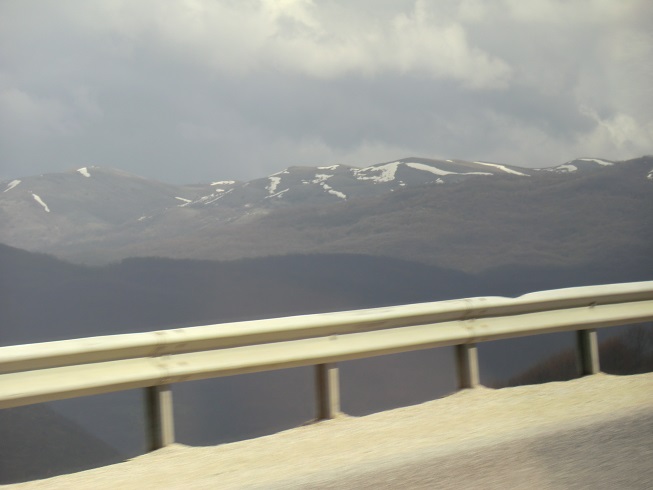 We passed beautiful views and snowy mountains.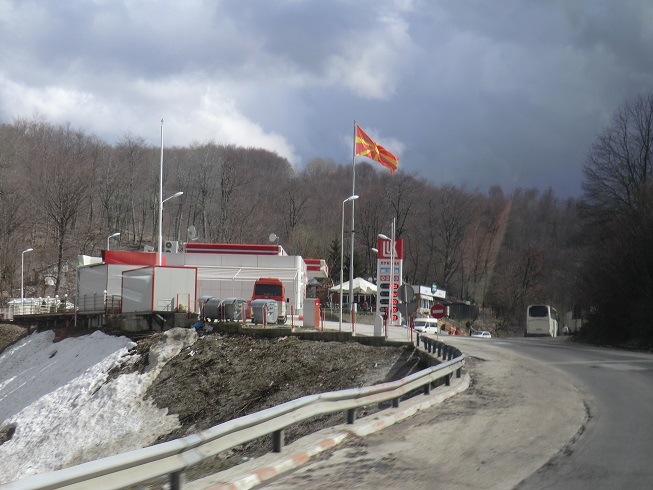 It's time for a stop in Straza.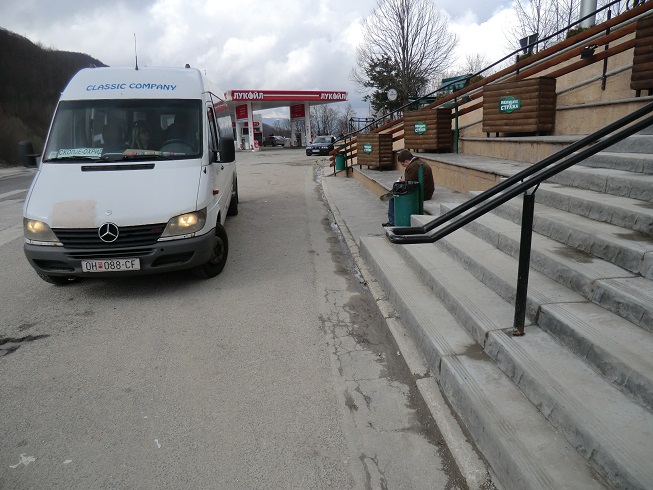 Peter makes some notes outside our bus.
14.42 The bus is stopped at a Lukoil petrol station and we have stepped out in this mountain range. We are given a chance to stretch our legs and make it for a toilet. We are in Straza. In addition to our bus, there is a police car and another bus carrying Asian tourists.
15.11 Some girls have stepped out in Kicevo. The rest of us are traveling on.
15.44 We are not on "The road to hell". It is however the music played here in the bus. We have just passed Botun and a small river is visible on the right.
16.12 Our small bus has stopped along a street in Ohrid. We got out and started our walk towards the center. Some local men turned up at the bus stop and tried to get us to rent private rooms but we explained that we already arranged with accommodation. Now we have come down to the lake that bears the same name as the town. The next questions are where our accommodation is and will it be any people there? Now we got some help to get there by a local man on a bicycle. He first wanted to recruit us into his own accommodation, Di Angolo Hostel. He has had Finns there, Finns that drank too much wine. The whole area around the lake is a UNESCO World Heritage Site.
16.53 The Central Palace (http://centralpalaceohrid.com) is the name of our new accommodation. The room number this time is 2. Once again we have an apartment. It is not as great as that in Skopje but yet a apartment. The view from the balcony is among the most impressive we've ever had. We can look down the street in the town center and we can also look out over the lake and the mountains on the horizon. We have left our passports to the hostess. The fact is that we shall be registered with the police. We also have a piano in the apartment.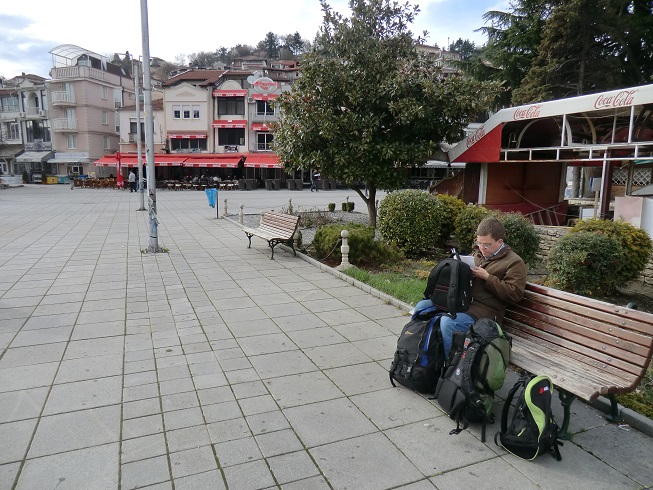 We have arrived in Ohrid.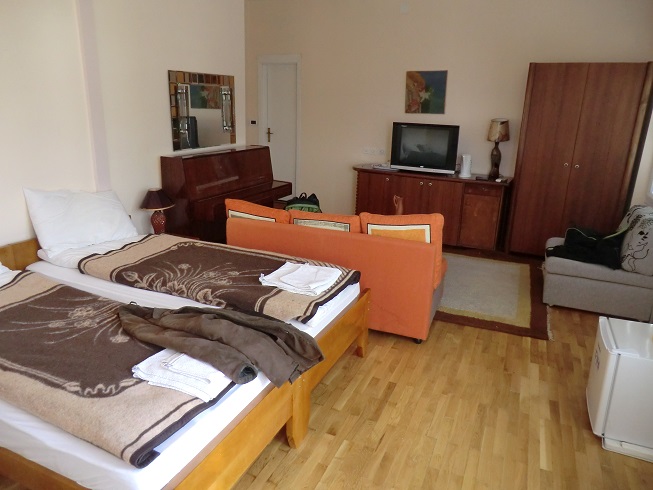 Here is our new home.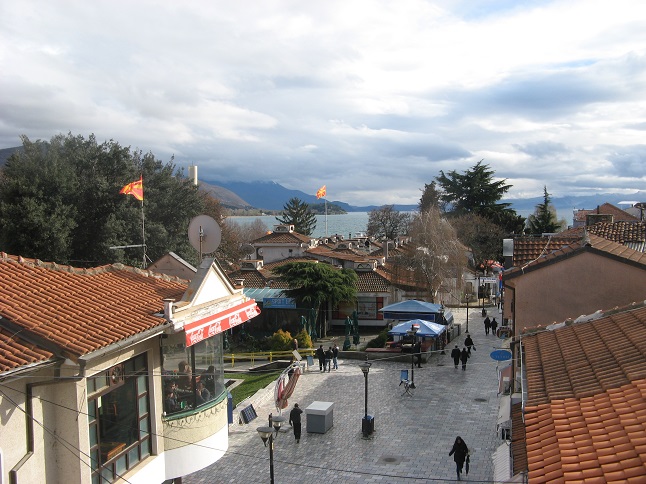 A lovely view from our balcony.
17.45 There is no passport in sight. Though there's no immediate panic.
18.27 We got moving and knocked on room 4. "Come in," was heard from inside and I opened. We spoke with the hostess and got our passports back. We also saw her small, happy 13-year-old dog. Now we're going out to look for food.
18.48 We have ordered dinner. It will be "grilled mixed meat" and what is called home made beer. The restaurant is called Macedonia Sofra. On the TV, it's handball at the moment, Spain vs Macedonia.
19.03 We just got a dish with bread slices, leeks and something that looks like sun-dried tomatoes in oil. I think it will be great to have on the bread.
19.20 Hrm, hah, ah. It was rather chilies and onions in vinegar. However, it was good, despite its spicy flavours. Now we have received a dish with different kinds of grilled meats and sausages.
20.33 It was very good. The home beer was however common Skopsko beers but it is never wrong with this good beer. After dinner we went shopping at the supermarket Tinex. We've bought breakfast for tomorrow and a little for the evening. All alcoholic may not, however, just as Christer divined yesterday, be sold after 19.00. We will get some wine from the minibar in the apartment.
21.06 There is a varied selection of our TV channels. Croatian Teletext shows various sports results. It includes ice hockey from Sweden, in the fourth semi-final between Linköping and Skellefteå the score is 0-0. Skellefteå, however, leads 2-1 in matches. On another channel, a Macedonian politician in Skopje has talked about the streets he'll improve if he is elected.
21.45 A small bottle Makedonsko Cruevo from Skovin opened with a bottle opener! Now we will be an evening enjoying wine and prosciutto. On TV, you see the second half between Real Madrid and Galatasaray in the Champions League football. The score is 2-0 to Real.
23.13 I have just like in Tsumeb last summer cut some yoghurt spoons from a PET bottle. I have also carved to a butter knife. That with our own spoons just proved unnecessary. We've teaspoons to eat with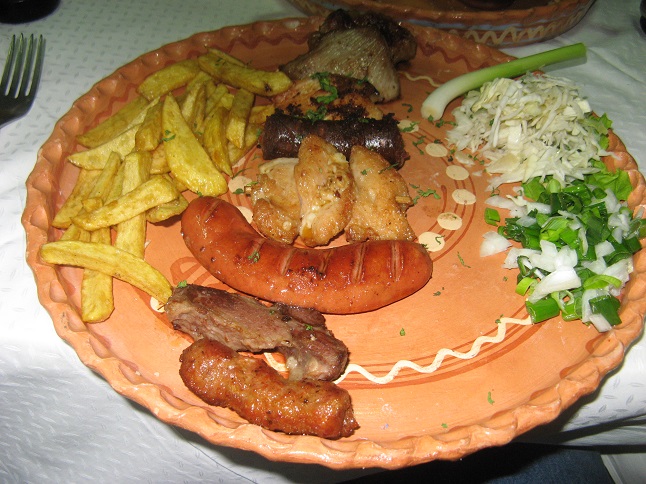 Tonight's dinner was delicious, mixed grill, various types of grilled meat.
---
Thursday 4th of April
08.24 Two different kinds of clouds can be seen in the sky over Ohrid. One is the white, fluffy and nice and the others are black, compact and nasty. Who will dominate today? I guess time will tell.
09.46 Now, we have just completed a self-composed breakfast here at The Central Palace. The sandwiches were buttered with a self-composed butter knife. Ahead are the bathroom chores before we are going out to see more of our new home town.
11.03 We've searched but have not found any kind of information regarding tomorrow's trip to Albania. We first walked up to the place where the bus stopped yesterday because we had seen a sign about tourist information there. When we arrived it turned out to be completely wrong. The sign referred to a street, Boulevard Turistichka. We wandered back through our little town and now we are down by the lake. There are waves on the lake. Some of the waves crash into the promenade. Now a man started a lawn mower.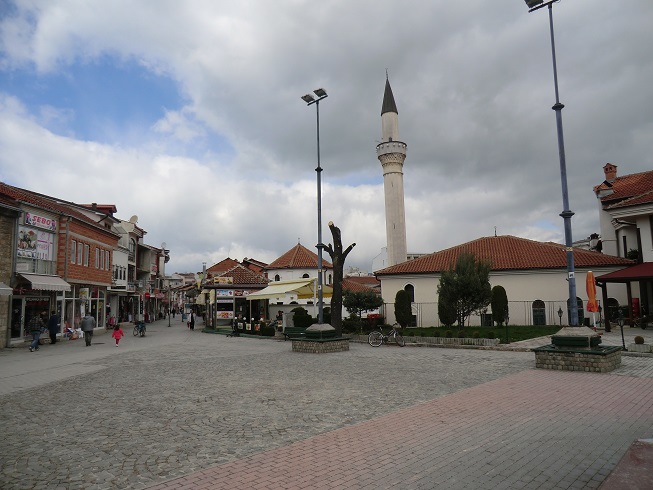 The Zeynel Abedin Mosque in Ohrid.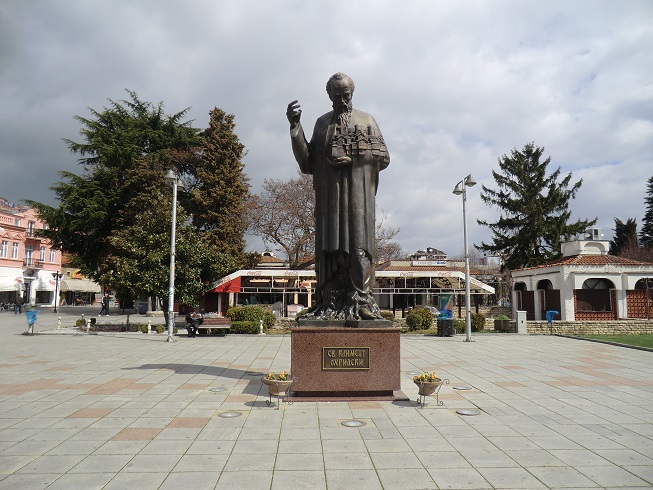 Saint Kliment Ohridski (Clement of Ohrid), one of the men behind the Cyrillic alphabet.
11.23 We walked along the lake to find a cafe but the only thing we found were hotels in various sizes and price ranges. It is noticeable that it is the low season. There is not much activity right now. Lake Ohrid is flooded at this time of year lots of water and the waves runs out on the pavement we walk on. Our walk was terminated because of this. Water over our feet is not so nice.
11.30 We have started to walk back towards the center. The street and promenade is named after the old Yugoslavian communist leader Tito. In Macedonia, they are a little slow to replace old communist street names. In Skopje we also saw the street Leninova.
11.49 Now we're feeling really good. We are at the cafe Millennium and await our cups with espresso and cappuccino. We have positioned ourselves in the corner of the patio and the sun warms our winter cold bodies.
12.21 Now we have asked around in a travel agency, a tourist information and a small white kiosk. We asked them about the transport to Albania. The travel agent did not know anything, but referred us to the tourist information. At the tourist information they pointed out the white kiosk. In the kiosk, we learned that it was possible to buy a bus ticket to the border but nothing more. You might be able buy tickets to Albania in the neighboring town of Struga. Now we will soon decide how we are doing later.
12.33 A short stop in the apartment has been made. Here it is cleaned, embedded and new wine is set in the mini bar. About the Albania journey we will later today catch a bus us to the neighboring town of Struga. We are going there partly to see the town, partly to get more facts about transportation to the neighboring country. It is from Struga that the bus is most likely to depart.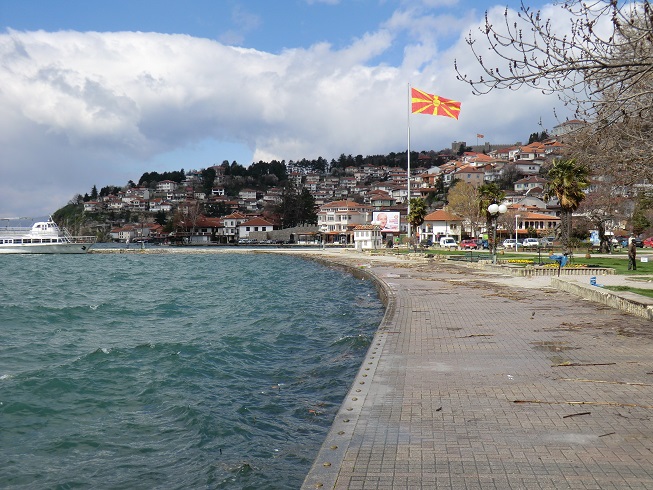 The boardwalk in Ohrid.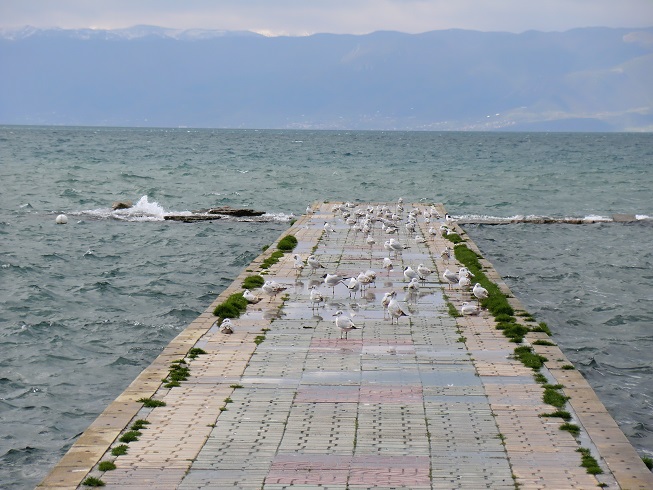 This pier was popular among the Ohrid lake birds.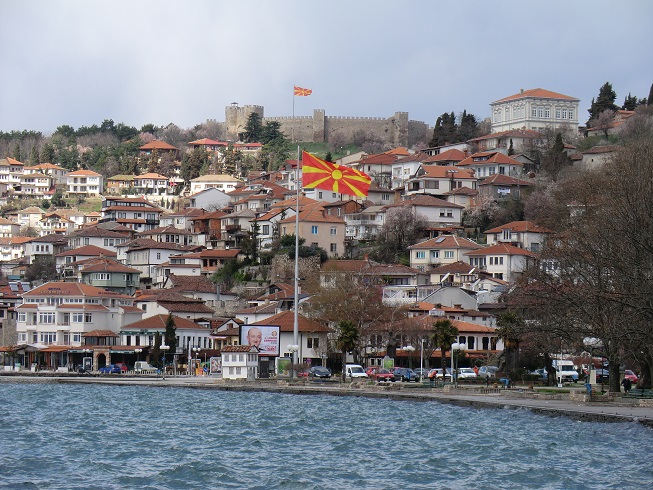 Tsar Samuil's old fort above the town of Ohrid.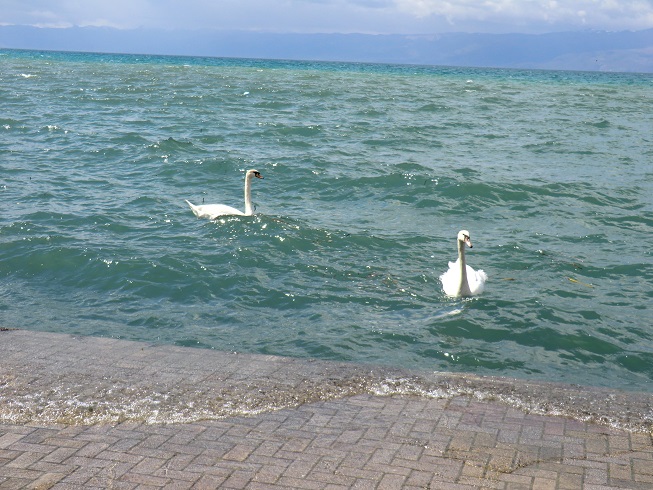 Some swans in the water-rich Lake Ohrid.
13.09 Now we are resting on a bench outside the church Sveta Sofija built during the First Bulgarian Empire for about 1100 years ago. We are out on a new Ohrid walk. We have seen houses that were built across the street we went along. There used to be rules regarding on how high you could build, so instead of height so they built in width. The church next to us is one of the few in the world that has frescoes from the 11th century. It is considered to be the church that has best preserved frescoes from that particular period in the whole world.
13.36 We decided to go into Sveta Sofija and we really have not repented. The walls and ceiling are filled with beautiful frescoes. Keep in mind that all of this has been preserved for so long. It is absolutely amazing. It is forbidden to photograph and film the church. Visiting churches in Ohrid costs 100 denars. The money is used to restore the old buildings.
13.55 We have taken us to the back of the church and continued from there upstairs. We look out over the rooftops and back towards Ohrid. Our walk continues out towards the tip of a peninsula that extends out into Lake Ohrid. Out there on the tip is the objective of this beautiful afternoon walk.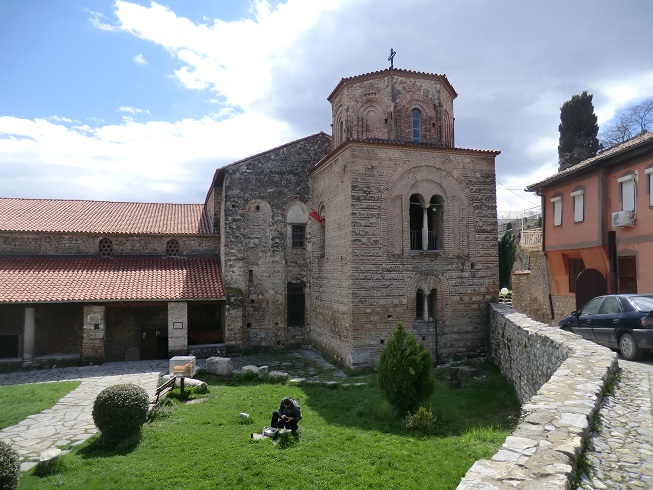 The old church of Sveti Sofija (St. Sophia).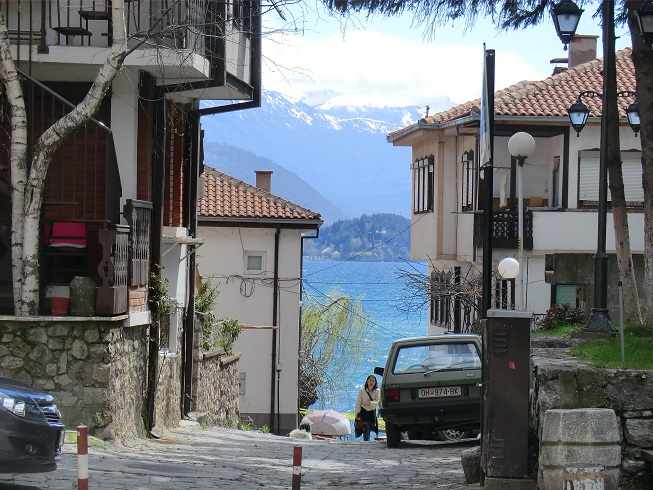 An Asian tourist walks through Ohrid.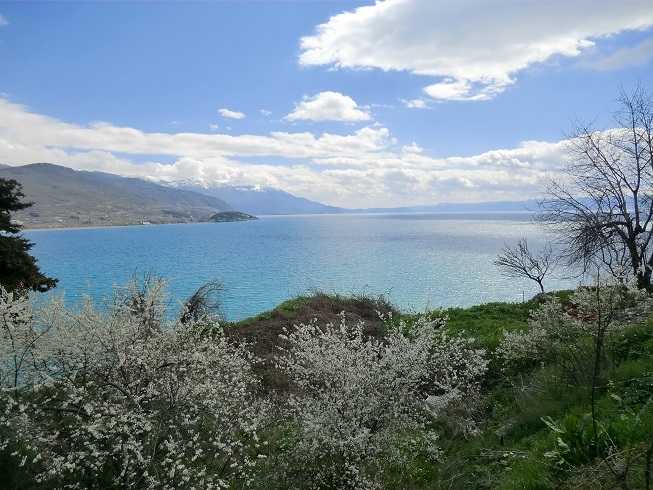 Flowering trees and a beautiful lake.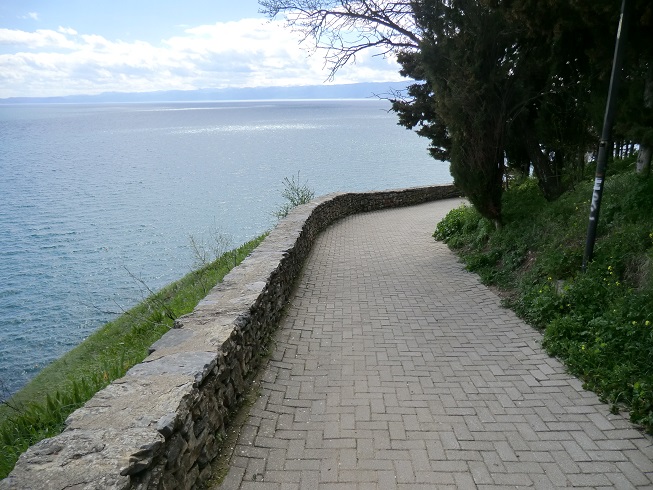 We walk towards Kaneo.
14.08 Yes, so have our trek reached the Macedonian Orthodox Church Sveti Jovan Kaneo, Church of St. John at Kaneo. We are a bit up along the hillside above the town. This place is one of the most photographed in Macedonia and the most common motive photos of Ohrid.
14.26 Now we're far out on the edge with Sveti Jovan behind us and an awesome view of the Ohrid Lake in front of us. We are however about to return to Ohrid. We have taken pictures of the lake, ourselves, and the church which dates from the 13th century and dedicated to the Apostle John.
14.50 After the visual senses saturated now the time has come to do the same for the stomachs. We've walked the same route back, reached Sveti Sofija church again and have found a suitable restaurant next door. There will be pasta lunch at the restaurant Via Sacra (http://www.viasacra.mk).
15.49 The lunch ended and we started walking towards the bus station as planned. On the way, some things have happened. We have heard a begging gentleman who had a sound reminiscent of my dad's old teddy bear. I bought two travel journal books for the upcoming trip this summer and Christer bought a t-shirt. We have also seen one of the city's original, Casanovas, a weathered, scarred older gentleman with two top hoods. He smiled at a young lady and said "I wanna put you in my asshole." It did not work. To another lady, he said "If you have the money, we can have the fun."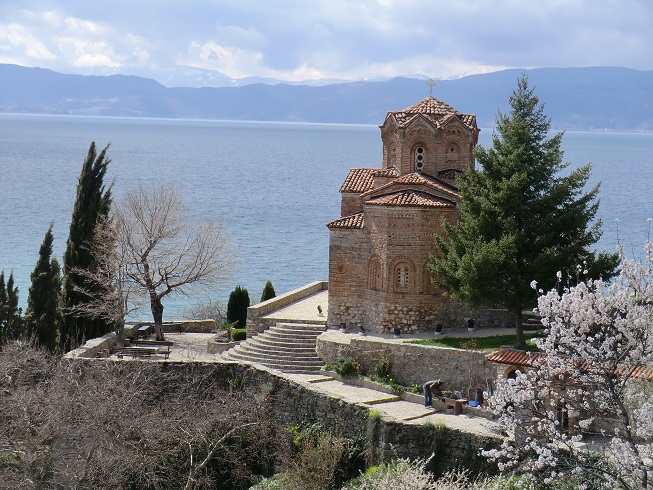 The beautiful church of Sveti Jovan Kaneo, a symbol of Ohrid and Macedonia.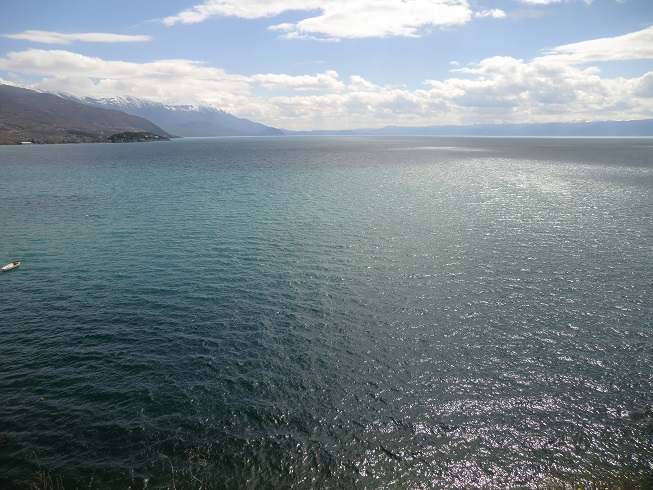 Lake Ohrid.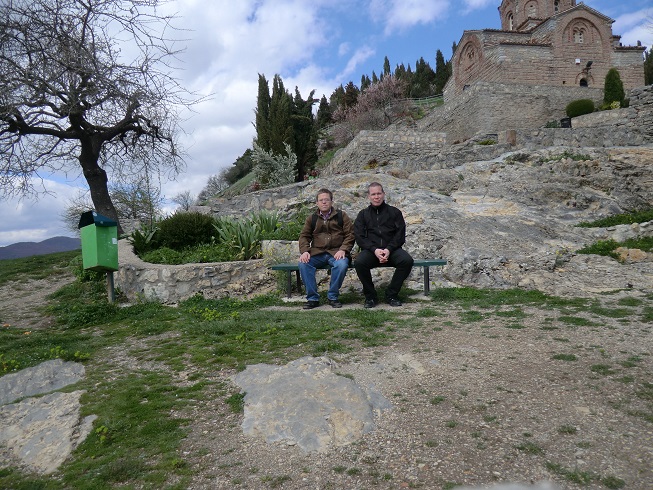 The two travelers on a bench at the Sveti Jovan Church.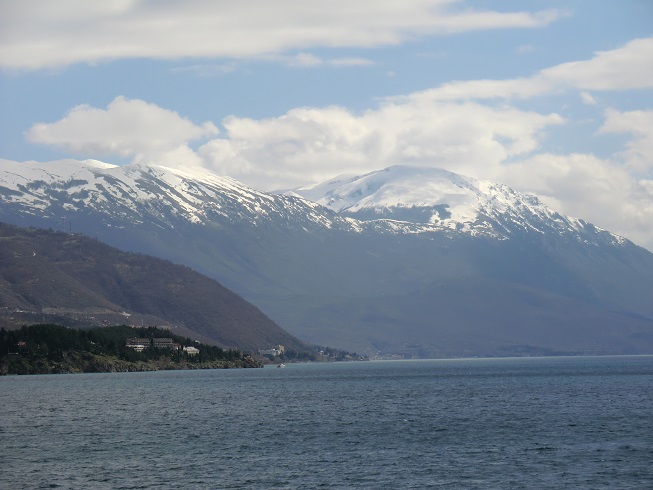 Snowcapped mountain ranges west of Lake Ohrid.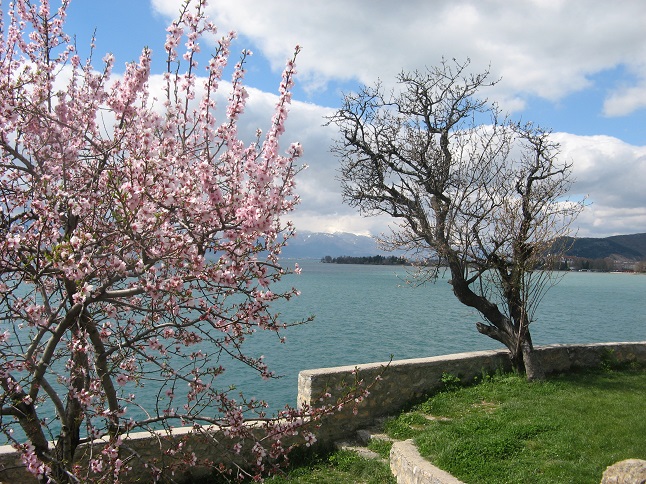 Spring has come to Lake Ohrid.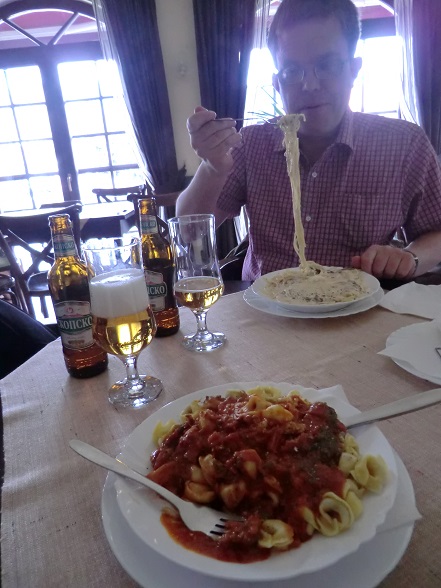 Pasta lunch at the restaurant Via Sacra.
16.20 After a long walk, we are finally at the new bus station which is located in the town's northern outskirts. We are unfortunately not that much wiser. There is neither good service nor information. It is not at all sure where and when the Struga bus departs. The lady at the ticket counter gave us the precise information that the bus goes "from another street." We must reflect upon tomorrow's transportation. Going to Struga this late does not feel like a good option.
16.32 We just saw a minibus travelling the distance Ohrid-Struga. It turned in an intersection. Where it started from is still unknown to us.
16.56 We returned to the center of Ohrid and the white kiosk we visited a couple of hours ago. There you can indeed buy tickets to the Albanian border. It is however not to the border post that we want to. Moreover, there is no guarantee of further transport to Tirana. The girl in the kiosk informed us that "there are taxis, maybe a bus across the border, sometimes." Now we are sitting and doing some thinking at an almost mirror-like lake. In the vicinity of us, we have both children and swans.
17.02 We were disturbed in our thoughts by Hristo, a man who spoke a little Swedish, Norwegian and a little bit of German, plus a lot of English. He offered us a boat ride on the lake at great prices. We declined and told us that time does not exist. We will leave here tomorrow.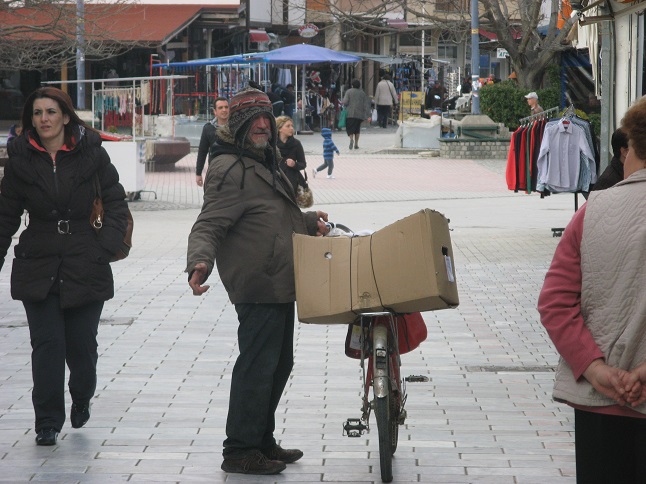 A special man walked through town.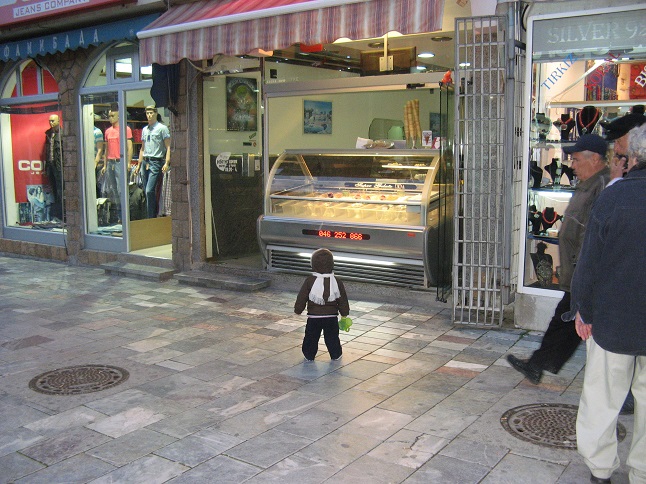 Craving for ice cream.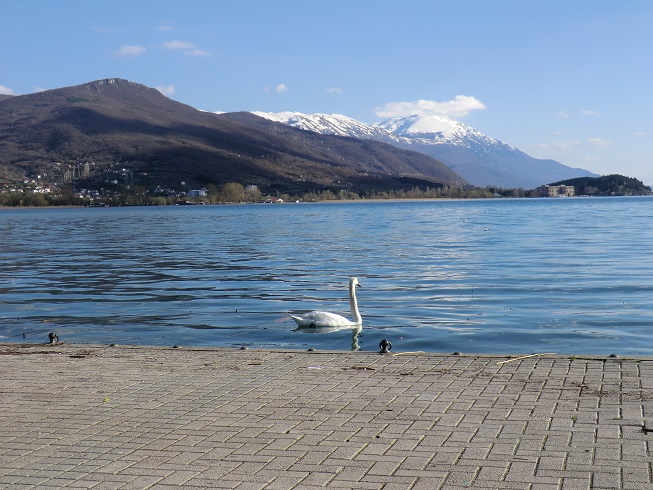 Afternoon in Ohrid.
18.17 Our visit on the internet has given us a little more meat on the bones. We have visited an internet cafe in the basement of the small mall opposite our accommodation. The bus from Struga to Tirana departs at around 09.30. It will start in Skopje at 06.00. Another fact is that it is predicted to rain in Tirana during the whole weekend. Now we have agreed to take a taxi to Struga in the morning and from there try to go with the aforementioned bus. To celebrate this travel important decision, we have decided to take a balcony coffee.
19.29 Now, the last Macedonian souvenirs have been purchased in a store at the top of the pedestrian zone. The question we ask ourselves is how we do with dinner and breakfast.
20.35 Now it's almost time for the trip´s last dinner in Macedonia. We sit at the restaurant Domor, a restaurant we saw earlier today when we were at Sveti Sofija church. When ordering, I tried to order my dish in the national language. It was no use. Poor language, faulty pronunciation led to that the poor waiter thought I wanted another dish.
21.52 The dinner was delicious. When we arrived there was only a young German couple here but at the end of our meal, a company of mixed origin joined. It seemed to be a business trip to Ohrid. Some speak French, others Dutch, and some seem to be from Macedonia. We just had another packing evening. Now, once everything is packed down it is time to wrap up the evening and our stay in Macedonia.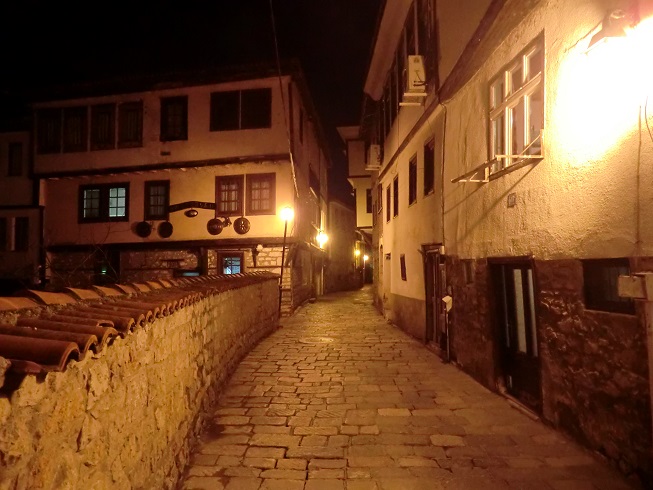 On our way to tonight´s dinner.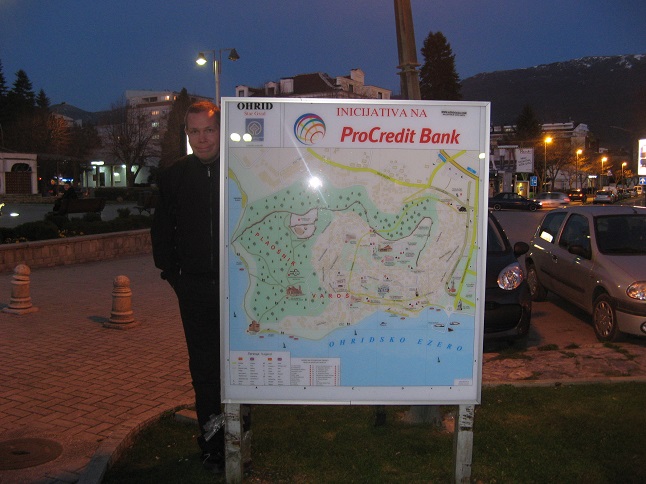 Christer and an Ohrid map.
Postscript: After returning home, I received an email from a Swedish man, Lars Askling. He has read some of our previous travel journals and was in Ohrid at the same time as us. He had seen us and recognized us out at Sveti Jovan and even took pictures of us. What a small world we live in!
---
VIDEOS
---
You can see 93 photos from April 2 in this photoalbum.
You can see 46 photos from April 3 in this photoalbum.
You can see 136 photos from April 4 in this photoalbum.

---
CONTINUE
---
---

---