07.44 We have woken up in yet another hotel, Hotel Imperial in yet another city, Cap Haïtien and yet a country, Haiti. There are still many hotels, cities and countries to wake up in.
08.24 We sit here and get a little poetic. "There is a gap under the door where mosquitoes can get in. They sneak into the slot and bite you in your skin". Enough of poetry it's time for breakfast. We'll see what they offer.
08.35 Now all is set for the breakfast. It was possible to get all that was offered in the menu. We've been through this before. Why do they have a nice menu if they can't serve everything on it? Isn´t it better with a simpler but current version?
10.12 The breakfast was great. After breakfast we got a US$4 bill. I paid with the US$5 note I received last night. Did we order something that wasn't included? The bill soon was back. We should not pay at all. Now we are thinking about what we´ll do next. The swimming pool here at the hotel looks really inviting.
11.03 The inviting took the upper hand. We've headed for and are sitting down by the pool. Soon one of us will be in it.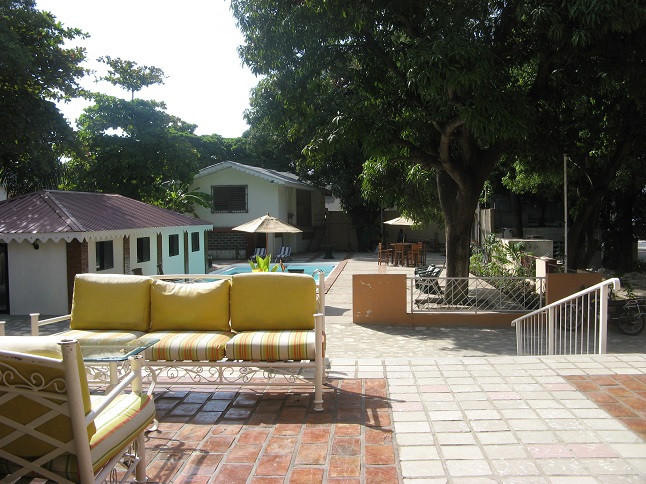 We are gazing appreciatively at the hotel pool.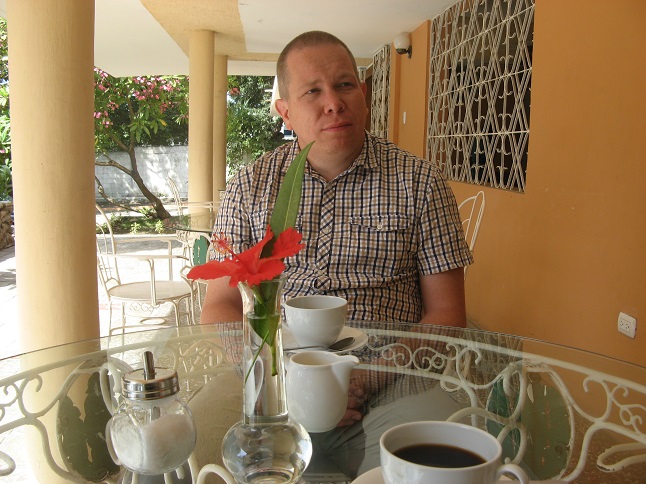 Christer is thinking about what to do this day, the only day we are in Haiti.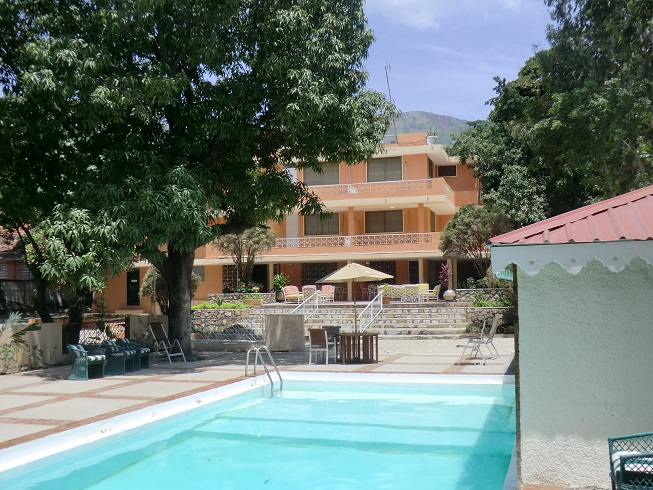 Hotel Imperial seen from a pool perspective.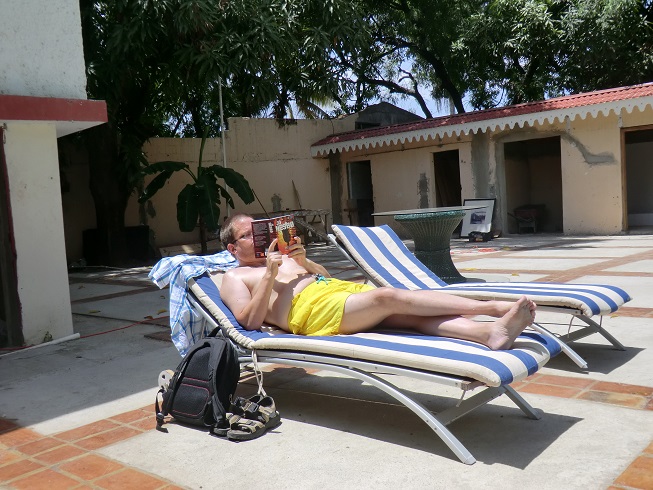 Peter is entering the world of literature.
11.57 We have tried the pool and also enjoyed the blazing sun. The hotel we are staying at is in some sort of changing process and miscellaneous workers/craftsmen passes here and there all the time. The hotel has a female boss who intently watches everything that is going on.
12.43 It is always relaxing with a dip in the pool and to sit and read. That's when you get a sense of the slack holiday that many Swedes back home have. Now the fun is over. Time to shower before the day continues. Well, it will continue whether we shower or not.
14.12 We just had lunch here at the hotel. We took a small hamburger each and drank Coca Cola. The bill said US$13.80 and I gave them US$15. The 5 dollar bill was the one that came back this morning. Soon it came back again. I had missed the drinks bill. I took out a US$10 bank note and changed the dollar bills. Unfortunately I managed to replace the other ten dollar bill but all worked out. Mysterious five dollar bill that keeps coming back! We have decided not to play any tennis here in the area. We had looked forward to it when we read about the hotel and booked our room. The tennis court doesn't seem to, well what should I say, be in good shape. It is hard to understand that it once was a tennis court.
14.46 We decided to leave the hotel grounds for a little sightseeing and to purchase beverages. Hardly had we come out on the street before we met a young man who said, "Hey, give me one dollar. What is it with some people who seem to think that tourists gladly spread dollars around them? We saw a bit of the neighbourhood before we decided that the heat and the clutter was more than we could manage. It was difficult with vehicles and people navigating the road everywhere. In addition, our neighbourhood is on the outskirts of the city not too exciting. Any places that sell drinks, we found neither, just a few pallets with drinks that were about to be carried into a restaurant. The air conditioning in the room that was silent and inactive for a while has life back again. The room is not cleaned though.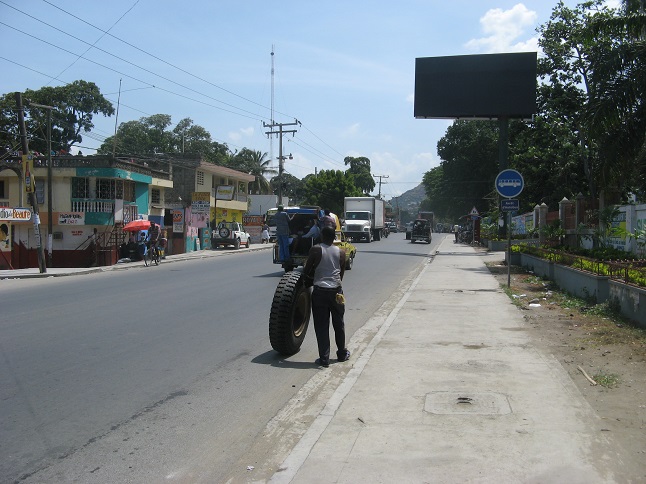 The world outside of our hotel.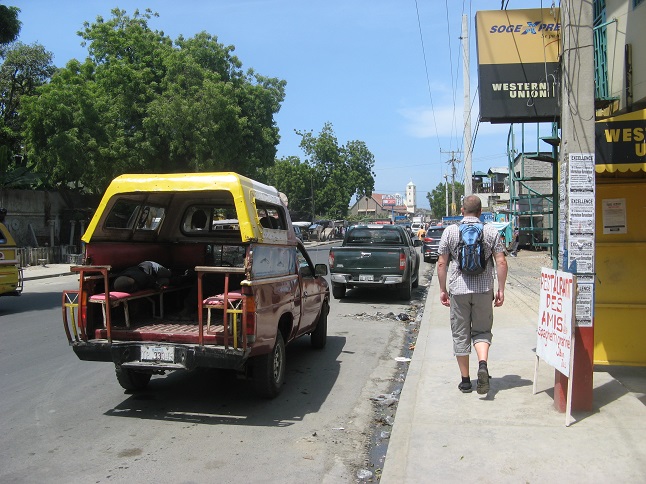 Christer is taking a walk through Cap Haïtien.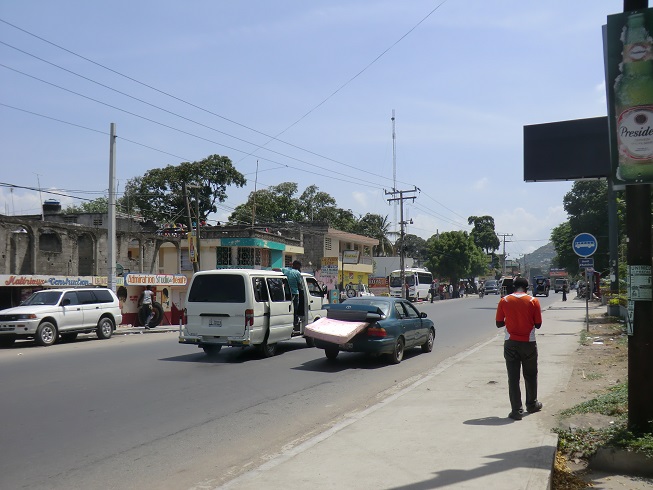 We discovered some interesting solutions concerning transports.
15.40 Now we are sitting on the patio, each with a book and a beer, Prestige again. It feels just great.
16.40 We've been to the reception and asked to have the room cleaned. The lady there misunderstood us and started looking for the room key and argued that we already had it, which was true. Everything solved and we have been promised to get the room cleaned so now we read further in the books. Right now, four gentlemen who carry a washing machine, pass us. It is the second machine they carried in.
17.19 I just checked my e-mail. In the spam I found something with the headline, "booking". In the belief that it was related to a forthcoming booking on our trip, I sent it to the inbox. The mail was checked and it turned out to be from a Debbie who was wondering about the availability of four double rooms for eight people between the 15th and 30th of August. Of course I can arrange it if she wants, but is it really me she wanted to ask?
17.30 We returned to the room where everything was the same. Nothing had been cleaned. We had to go back to the front desk and ask about cleaning again. I got to leave the key this time and now we are sitting here in the chairs at the patio again.
17.58 Just as we sat and pondered over how they actually think and act among staff one of them popped up. He regretted the incident and announced that we were being upgraded roomwise. Now we stay in room 15. The new room also has a patio. We are grateful for the excellent service but find it strange that the cleaning staff had gone home without having managed to clean our room. We wonder if we messed things up for the cleaning staff. Will they be yelled at tomorrow? Will they punish us with voodoo maybe?
20.13 The time has come to leave the room. No, we're not going to change rooms again. It is time for tonight's dinner. I wonder what's offered today.
21.32 The last dinner in Haiti is over, this evening we ate outdoors, much nicer. Now we must unwind so that we can wind up tomorrow. It is tomorrow that it takes place. Tomorrow, it's Christer's turn.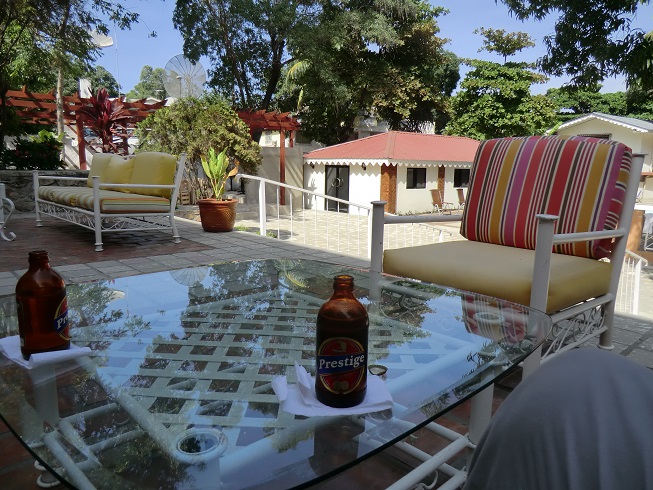 An afternoon beer break in comfortable chairs.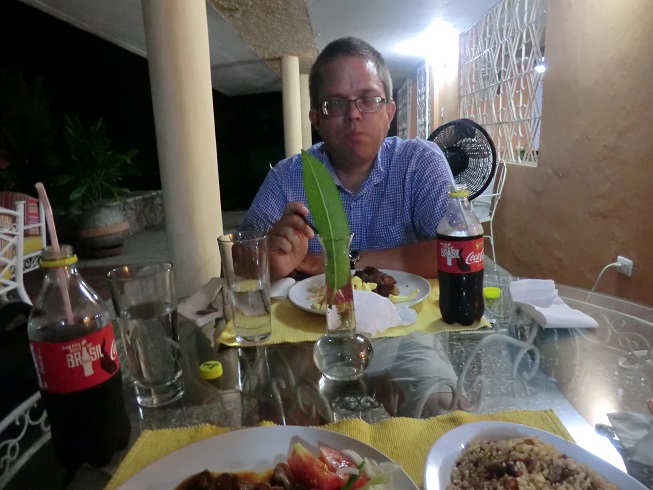 Peter is enjoying this evening´s dinner.
---
Thursday 17th of July
07.11 We are awake after a good night's sleep in our upgraded room with large comfortable beds. Outside a new day can be heard.
08.05 A security guard with a small rifle is patrolling the hotel site. We ourselves are sitting down and are waiting for the breakfast we just ordered. Outside the walls cars and people are passing. It's easy to forget the outside world when most of the time staying in a quiet nice hotel area.
08.35 On the wall outside our room there is a small lizard. It´s unusual to see them during daylight hours. Now let's pack before we check out of here.
08.54 So we´ve checked out of Hotel Imperial. The extremely polite staff did everything for us to enjoy but there is a sense of newly started business over the hotel. The restaurant and the cleaning process can be clearly improved. Now we sit and wait for transport to the airport. Now it's here. It is a local taxi which the staff has arranged for us. The car has clearly seen better days but we will hopefully survive the trip to the airport anyway. The man who rang the taxi explained that we would pay the driver in the local currency gourdes.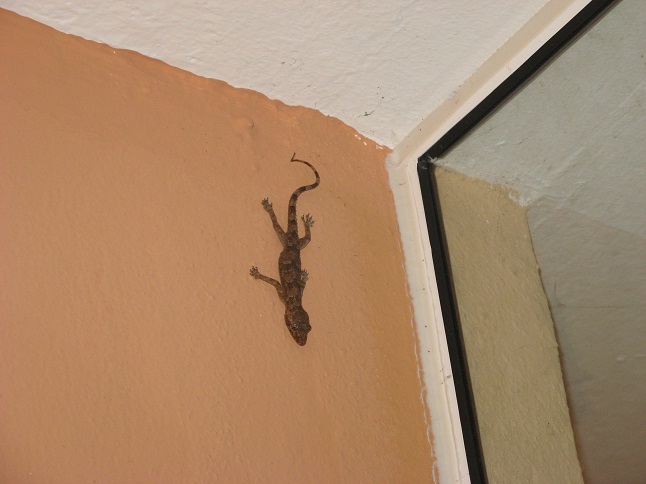 A lizard was up early this morning wishing us a good trip.
09.21 It was a smooth transfer to the airport. A petrol station we passed informed us that a litre of diesel costs 41,63 gourdes or around US$1. At first, upon check-in at the small airport Hugo Chávez International Airport, our backpacks were weighed and then we were. It was followed by an x-ray of both the small and large backpacks, however, no screening of us. Then a black man with a white glove, no, not Michael Jackson, looked through the small backpacks. Now we are sitting in the waiting room and will soon fill in the immigration and customs documents for the Turks & Caicos Islands. That's where we stopover before flying on to the Bahamas. The boarding card says, Turks & Caicos. Do we get new boarding card there? Will our backpacks come with us? When will we pass the passport police? Many questions need answers. The airport has since 2013 been named after the now deceased Venezuelan President Hugo Chávez. He helped Haiti during the country's most difficult time. More than a billion dollars have Venezuela been investing for Haiti's development.
10.25 Now our time in Haiti is over. Passengers on our flight were asked to go to the passport police here in the waiting hall. My passport aroused a certain interest to one of the passport police. He showed it to his colleagues before he stamped the passport.
10.49 We are, after another back pack check, finally on board. It's time to fly in the Caribbean again. This time it will be with the Turks & Caicos Airlines or are we flying with Inter Caribbean? Our plane is an ERB 120 Brasilia. On the seat in front of me it says, "Life vest under the seat," "Fasten seat belt while seated" and "Use cushion for flotation device". It is mostly the usual stuff. The seat can be used as flotation devices are more unusual.
11.35 Now we have landed on the island Providenciales, also known as "Provo". Now what? Will it be transfer here at the airport or we will be let inside the island nation? Turks & Caicos Islands are a British group of islands but has a slight autonomy. It has a population of roughly 31 500 inhabitants.
TURKS & CAICOS ISLANDS

12.01 We are stamped into the Turks & Caicos Islands. We passed through the passport and customs police. Christer was asked about his profession and how it is to work as a teacher in Sweden. Now we are waiting to check in for the flight from here later today. It is dry and hot here on Providenciales. Various tourist passes by, most in expensive vehicles or taxi service. This is not a cheap destination. In fact, we can hardly afford to stay here if we had needed it. We are happy to move on soon.
13.04 Now we and our small backpacks are weighed again. Now it will be lunch at the restaurant Gilley's (http://www.gilleyscafe.tc). Hmm, wonder if it affects our weight?
13.43 During lunch we had the honour/misfortune to sit near an American family. Everything and I mean everything they thought about was uttered. They were never quiet. A beer bottle fell to the floor and one of the daughters said, "Look what dad did!" They talked about, food, travel, security checks, and God knows what. The mother offered one of the kids a banana and immediately the grandmother with a child's voice said , oh a banana! ... One of the kids was really whiny and no food was good enough.
14.36 We sat by Gate B and waited. Suddenly, the guy next to me said that I was sitting on the seat where a girl sat before. I moved and he was very grateful. He then tried to charm her. There was no success with it. She had not been there before either. He saw his chance and took it.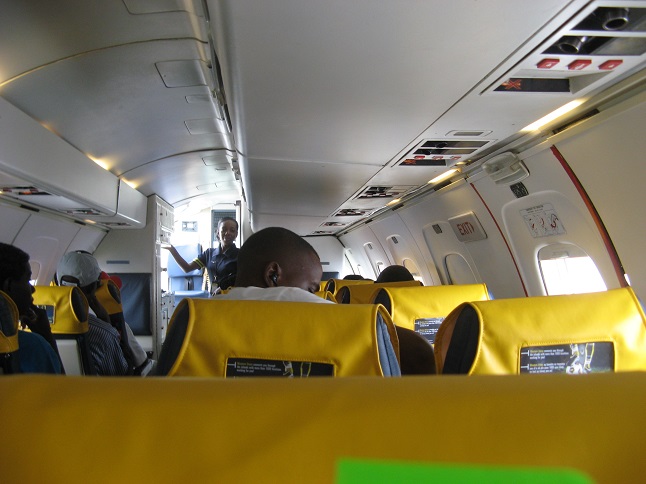 We are leaving Haiti and look forward to new destinations.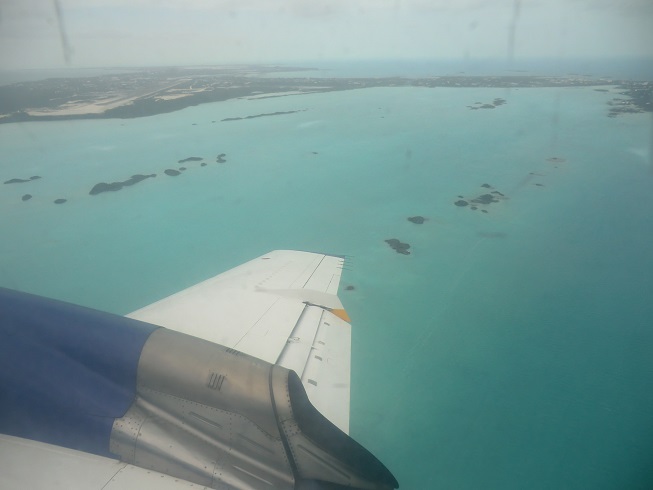 We are soon landing on the island Providenciales in the middle of the blue sea.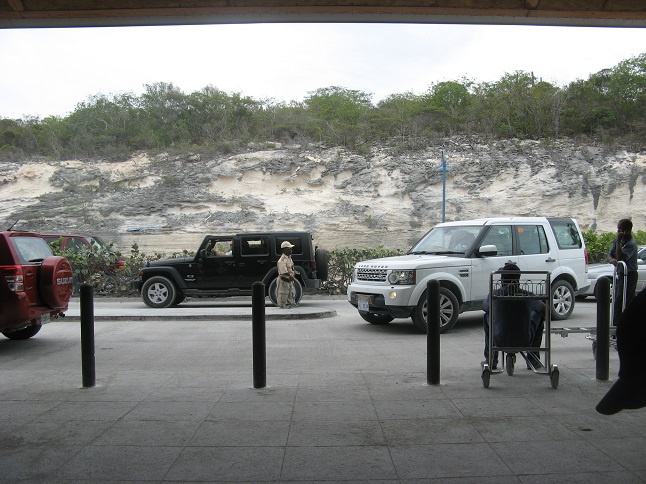 A very short policeman takes care of law and order at the airport.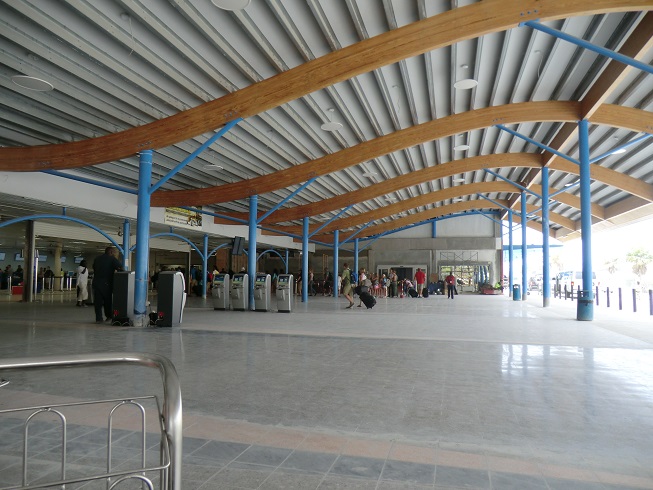 Providenciales International Airport, Turks & Caicos Islands.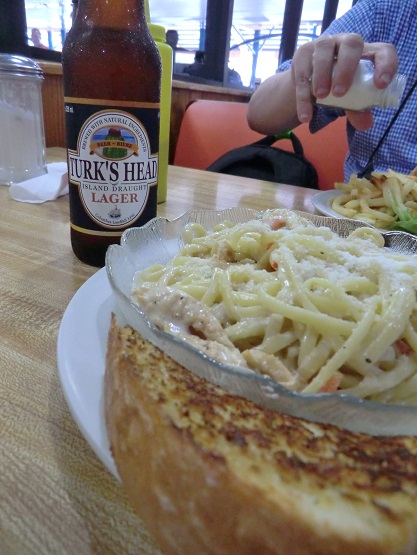 Turk´s Head, a local beer we tried during our short visit here.
15.04 An announcement regarding our flight just came. It is delayed until 16.00. Now we have found some new seats here in the waiting hall.
15.18 It is reported on the internet that an aircraft from Malaysian Airlines has crashed on the border between Ukraine and Russia. There are suspicions that it was shot down. Malaysian Airlines has really no luck now with their flights. Sometimes it vanishes, sometimes it is shot down.
15.58 Not much leg space on the plane to Nassau, Bahamas. The stewardess is probably the same woman who was on the plane we flew in this morning. It could also be her twin sister, you´ll never know.
16.33 The reason why we have been waiting in the plane for a while just got here. A young baseball team from the Dominican Republic joined and now we fly up through the clouds. The aircraft is of the same type as the previous flight today.
BAHAMAS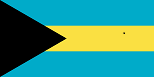 18.18 We have landed at Lynden Pindling International Airport on the island of New Providence in the Bahamas. The airport is spacious, modern, and here it is quiet and nice.
18.23 Now we are in my 103rd and Christer's 100th visited country. Christer has now reached what I reached last year. He has been in a hundred independent countries. He was greeted and welcomed by a polite passport police who wished him a pleasant stay and asked if it was the first visit here. All we are waiting for now is the backpacks.
18.51 We got the backpacks that survived all the way from Haiti and then filled in the customs documents. We filled in how long we would stay in the country and if we were from the country and applied for a job. At customs, I learned that the document was only for locals. Why were there then options for tourists? Why did they want to know when we would be travelling on? Now that we have arranged with the local currency from an ATM, it is time for some java, coffee, that is.
19.27 There was coffee and a snack in the deli Bahamas Blizz. They served Starbucks coffee and we watched TV news about the crashed plane in Ukraine. Now we are in a taxi on the way to the next hotel. A corpulent taxi driver became angry when we went to the lady who was sitting in the taxi who stood at the front of the queue. She took everything in stride. We are, for the eleventh consecutive year in a country that begins with the letter B. In this country, people drive on the left side, the British influence is still here. The Bahamas is an exciting mixture of British and American amidst the stunning ocean. The people here look like the Americans but the country is built in British style.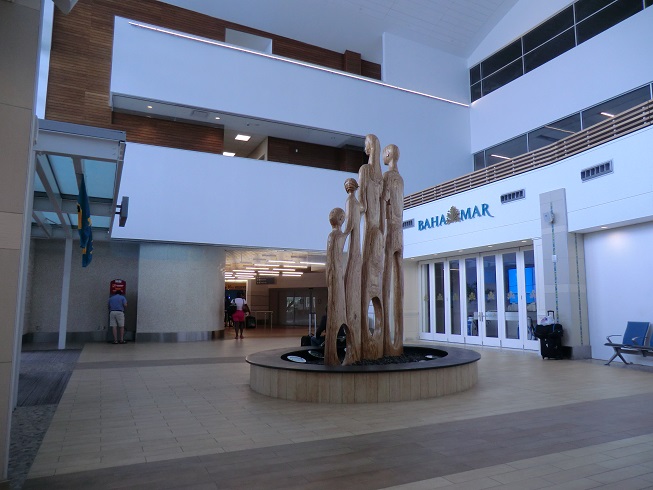 Peter is withdrawing Bahamian dollars from an ATM. Strange beings are watching him.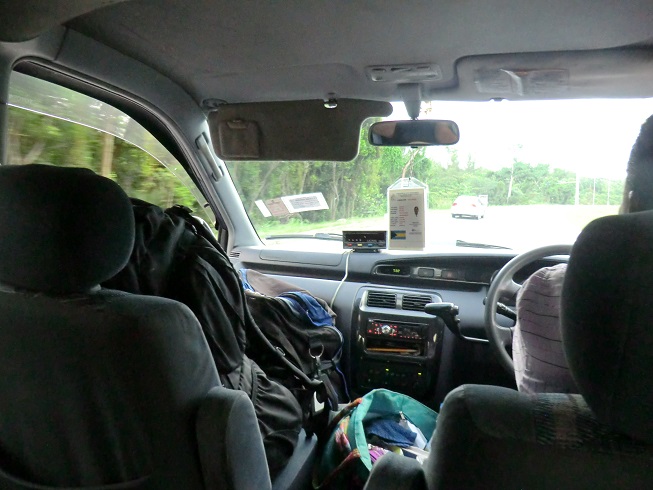 A female taxi driver helped us arriving at our new home.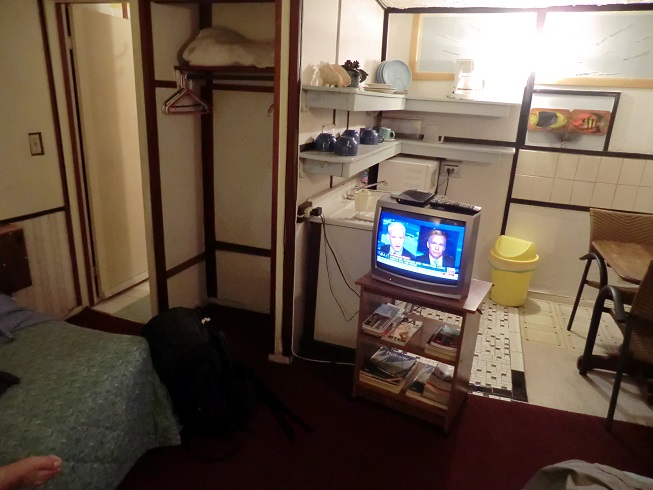 We have moved in here at Arawak Inn.
20.07 The happy woman taxi took us to the Arawak Inn (http://www.arawakinnbahamas.com) on the outskirts of the capital, Nassau. It was more or less the only hotel we found here that both had good price and good reviews. Most hotels in the Bahamas are in a price class beyond our budget. Once we got here we were greeted by the happy Lloyd Gay, an older gentleman with humour and experience. He checked us in, told us about different restaurants and showed us the room that is our new home. Now we watch and listen to CNN, where Anderson Cooper looks at the crash of the Malaysian plane. Was it a missile, who fired it, how they came across it and who taught them how to fire it? It is rumoured that a Ukrainian separatist tweeted that he shot down a Ukrainian transport aircraft. A tweet that later deleted.
20.46 After we showered off the travel dust in the minimal shower, we are now going out and stock up on energy and learn more about the area.
21.04 We have found a petrol station that is open until at least 22.00. Now we are at Bahama Grill (http://www.bahamagrill.com). It's time for dinner.
22.59 It was a good meal with a little to eat and drink. More drinks were bought at the petrol station but nothing more than that. The first thought to buy breakfast was closed quickly. Instead, we´ll look for a cafe, diner or the like during the morning, a morning that is likely to be free from an early wake up. Great!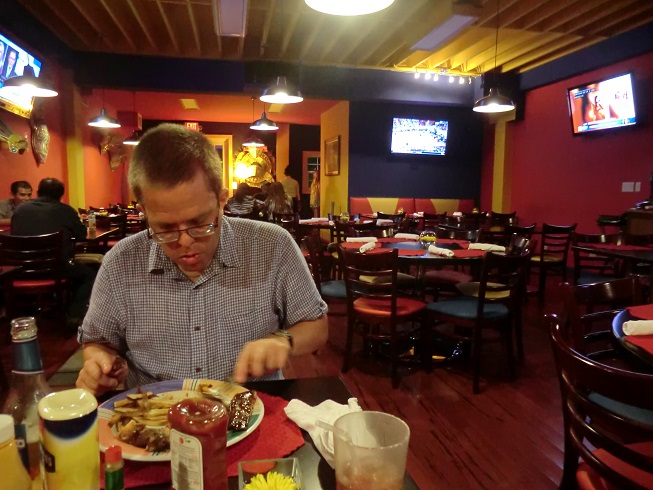 Finally we could eat dinner this day too.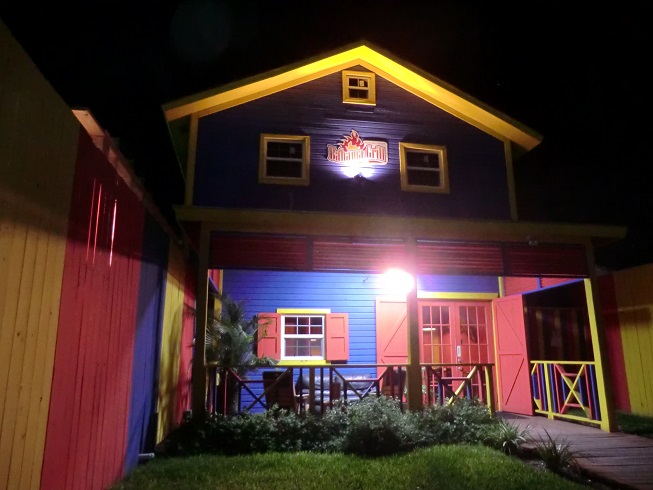 Bahama Grill, a nice restaurant, close and convenient.
---
Friday 18th of July
09.27 Today we had a sleep in. After all, it's holiday time and so you have to indulge sometimes if possible. After that we've woken up at Arawak Inn, we have most of all taken it easy but now we have to sharpen up if something will be done. CNN continues to report and analyze the plane crash in Ukraine. In addition, there is talk about the troubles in Israel-Gaza. We will soon go out to find breakfast somewhere.
10.14 Our plan to find a place for breakfast nearby is not going as planned. The restaurant area nearby, Arawak Cay/Fish Fry does not seem to have a lot of activity in the morning hours. We have been walking along a walkway, seen a dormant, newspaper reading man. Now the hunt for breakfast continues.
10.25 We have arrived at a beach that may be a future swimming beach for us. It's pretty close to our accommodation after all. According to the map, we are at the Western Esplanade Beach but we´ve also seen signs about Junkanoo Beach that maybe starting about here. From here we see a lighthouse, a cruise ship and beyond it is the classic silhouette of the hotel complex Atlantis on Paradise Island.
10.38 We walked past the public beach Junkanoo Beach and have since reached the impressive hotel British Colonial Hilton, impressively large and not the least bit frugal. We have now entered the outskirt of Nassau's central areas.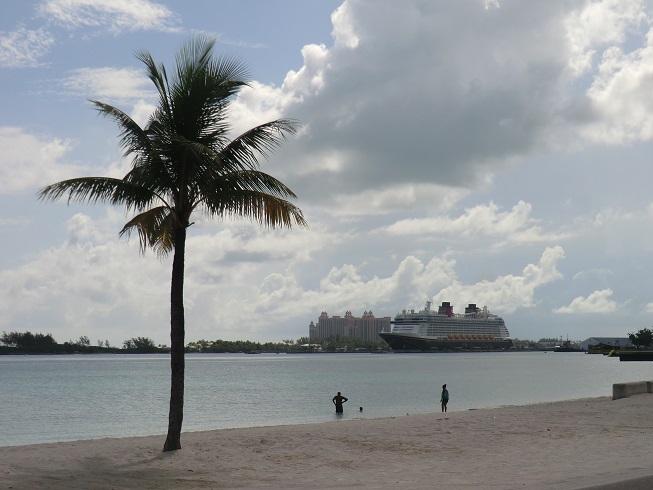 A lovely Bahamas morning, unfortunately without a breakfast.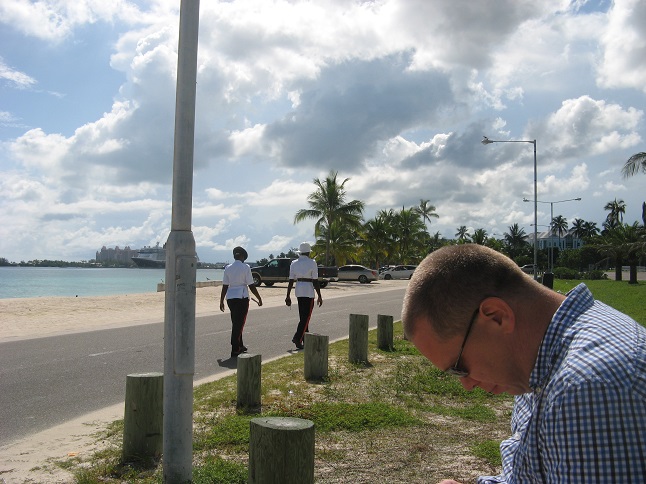 Christer shows respect for the law.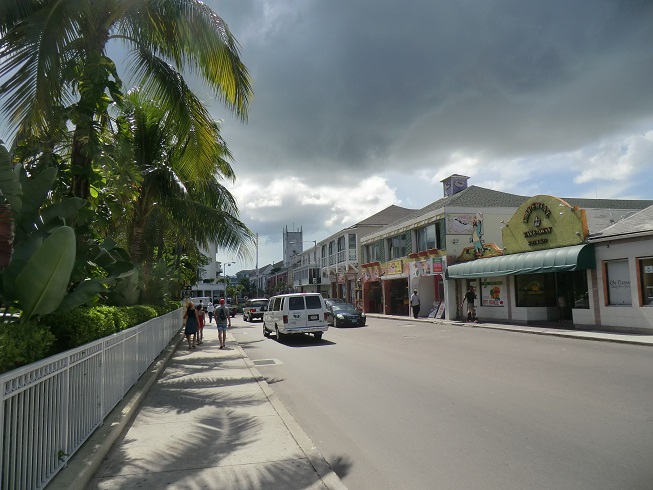 Walking towards Nassau city center.
10.49 The sea does not smell that good. It smells downright bad. We have made it to the more central parts of Nassau and sit by the waterfront near the Pompey Square. It is next to the bar/restaurant/tourist trap Señor Frogs with its own souvenir shop next door. We have so far found bars but no cafés suitable for breakfast. We thought we found the perfect place with a terrace overlooking the street. Unfortunately, they only served beverage at this time. Just to walk on.
11.50 We had brunch at Burger King. We got tired of walking around and looking for something that may not exist. We need nourishment, energy. It's nice to sit down, cool down and fill up with energy. I feel a little worn out today; is it the cleaning staff's voodoo that starts to show?
12.22 Now that we have food and beverage in our bodies, it is time to do what we planned to do this day, to see what Bahamas capital has to offer. One thing is certain. There are tourists here, lots of tourists. Most people have probably come with cruiseships. A gigantic ship is clearly visible wherever we are in the city.
12.51 I´m sweating. We've walked around in Nassau, yet another capital to see. I´m sweating. We have seen the Pirate Museum (Pirates of Nassau), Anglican Church and the Parliament. I´m sweating. Now we are taking a break on the bench Rawson Square and looking at the rest of the day.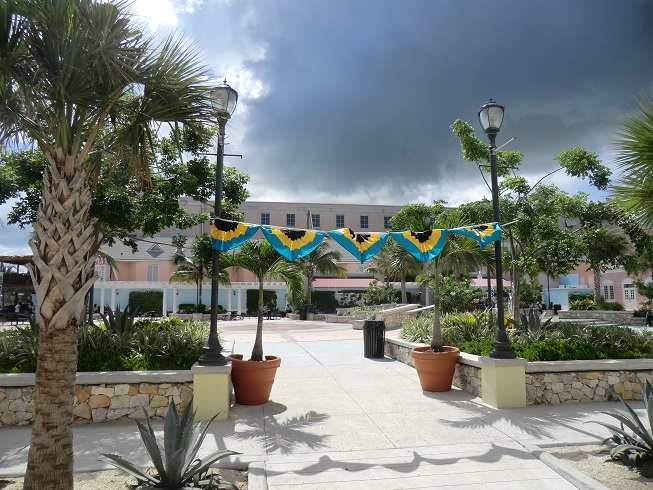 Pompey Square is decorated with the Bahamian colours.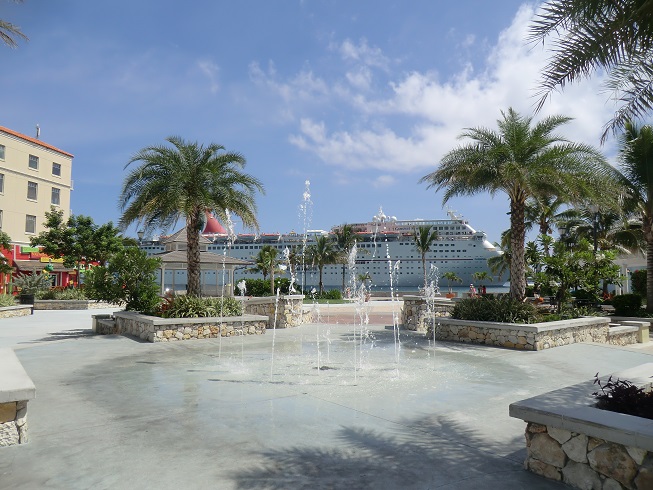 The cruiseship tourists are very important for the Bahamas.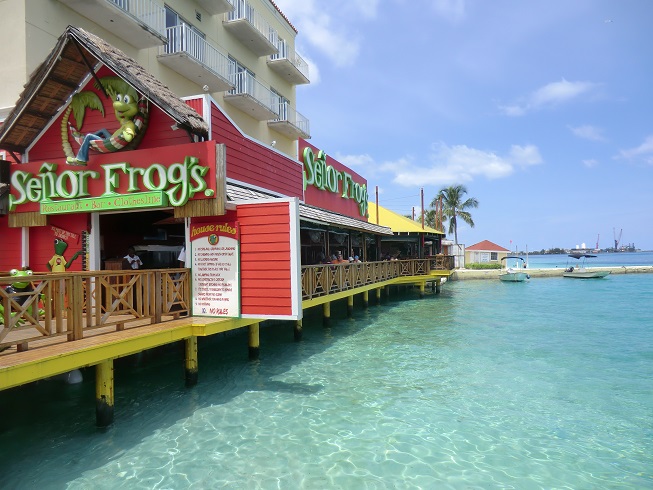 Señor Frog´s, a tourist restaurant we never visited.
13.13 Our plan for a nice coffee stop at Starbucks has been cancelled. No, we have not changed plans. At the address where Starbucks would be was .... nothing.
13.41 We've been inside a grocery store and shopped for future breakfasts here in the Bahamas. On the way home we have made a little stop to catch my breath and wipe off. It does not rain, it's sweating we mean.
14.17 It's nice to stretch out on a bed in a cool, shady room. Now I plan to become human again before a shower. On the way home we saw the newspaper man again. Now he was sleeping. He was in the same place. What an exciting life.
16.48 The humanity in myself is improved. We felt ready and went to the liquor store over at the petrol station to buy some evening beers. Now Christer announced that there will be a hearing in the evening. The beer bottles were carried home in brown paper bags. Just like those you usually see in American movies.
17.23 Now we have left the Arawak Inn and walked to a beach between our accomodation and the urban core. This is the same beach that we stopped at this morning. We have on the way here seen a lizard and that gentleman who read the newspaper this morning continues with it. We also saw some who amused themselves by driving their segways on a patch of grass.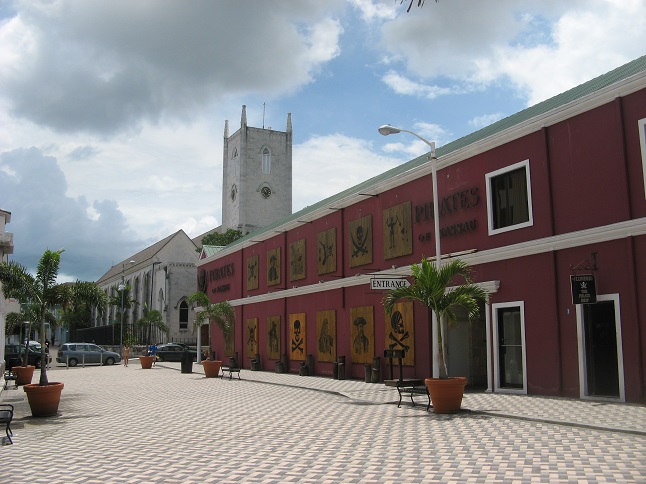 Pirates of Nassau and Christ Church Cathedral.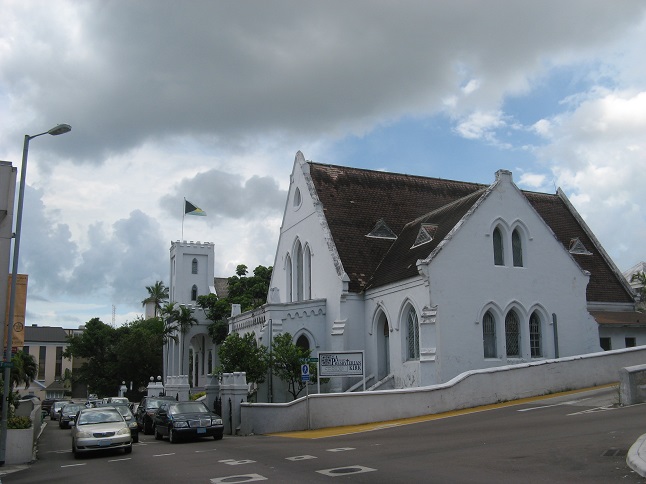 Saint Andrew´s Presbyterian Kirk, a piece of Scotland in the Caribbean.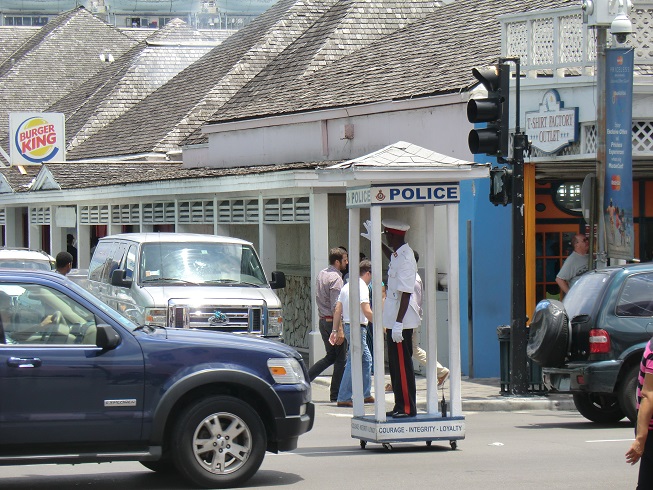 A Nassau police officer in the middle of the street.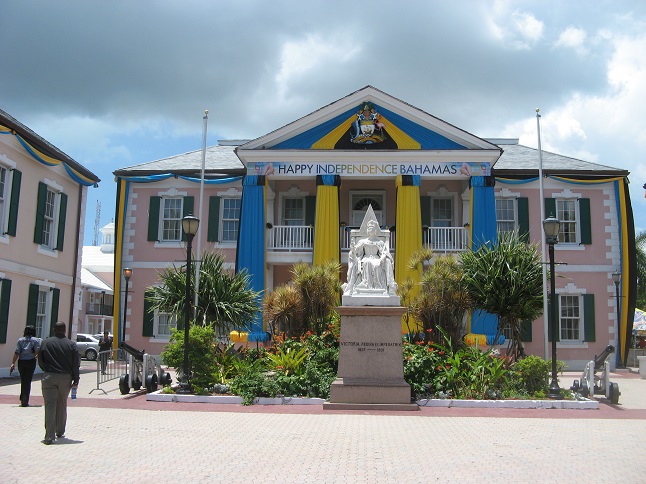 The independent nation of The Bahamas and Christer were both born 1973.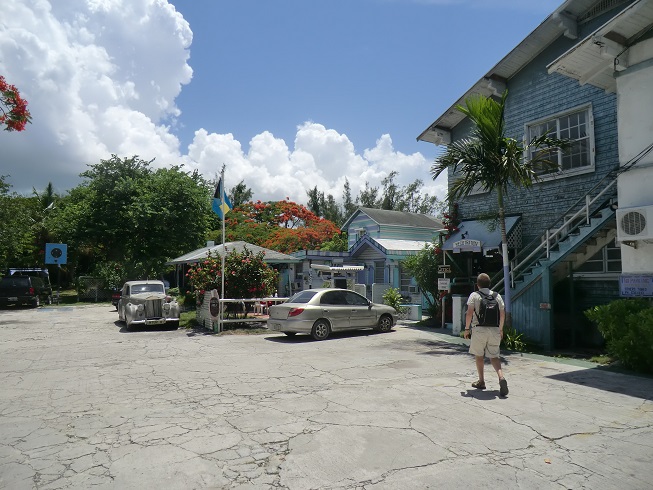 Peter is returning to Arawak Inn.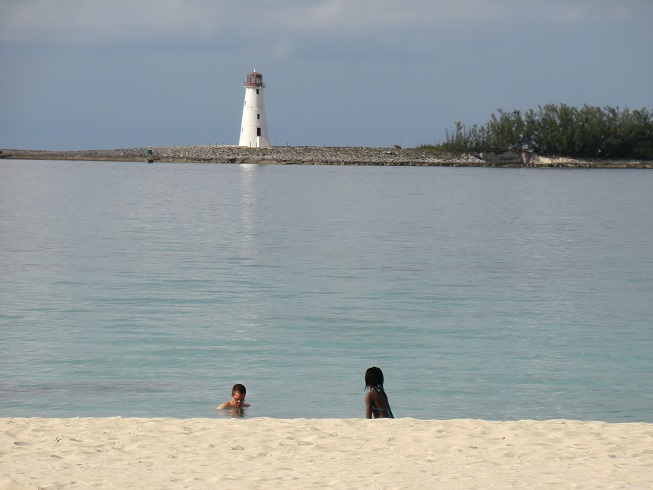 A girl discovers a new type of fish in the sea.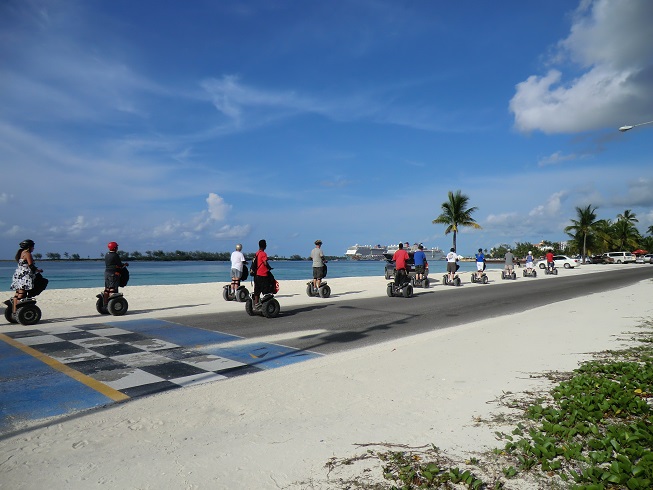 The attack of the Segway army.
18.31 It was nice with a small dip in the sea. Before we went home again, the whole segway gang passed where we were sitting at the beach. It was nice in the water but also nice to come home to rinse off all the salt and sand. There are much better beaches than this on the island but that would require bus trips. We are satisfied with a quick swim today. We'll see what we do tomorrow.
19.48 We have zapped between the channels on our TV room and seen various forms of religious television programs. There was everything from a Catholic mass to televangelists, TV preachers. There has been talk about the contact with the Holy Spirit and how they would react if they found out that Jesus was coming on a visit. Outside we hear the rumble of thunder.
20.50 We first went to the restaurant Oh Andros as our host Lloyd recommended yesterday. Many had made it there before us. It was full. Instead, we went to the neighbouring restaurant Twin Brothers (http://www.twinbrothersbahamas.com) and there they had room and beers for us. Now we hope for food and lower sound level. It's pure nightclub atmosphere in here. Could it be because most of the guests are Americans? They usually do not exactly whisper.
22.18 The volume persisted but we got food. It was pasta with chicken for me and pasta with a fish (snapper) for Christer's part. Now we are back home and will go to bed.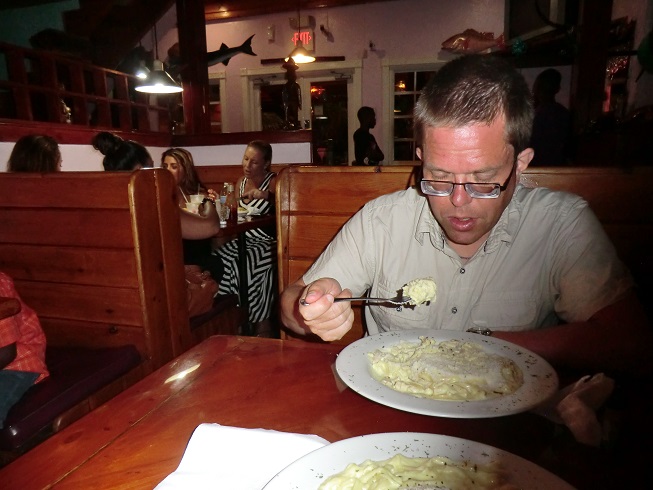 Peter is having dinner at Twin Brothers.
---