---
Text: Peter Johansson
Editing: Christer Lundstedt
Photos: Christer Lundstedt, Peter Johansson

---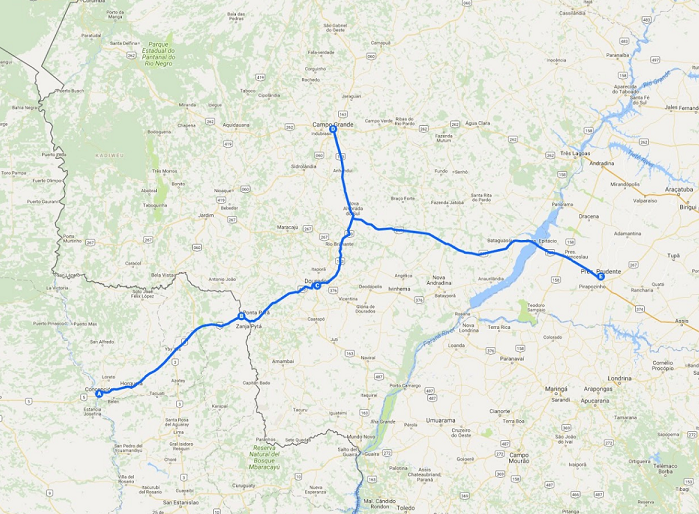 ---
Tuesday 27th of July
07.31 The morning is here in Concepción and Paraguay. We just heard a children's program on the radio. They sung and talked cheerfully. Today is the last border crossing on this South American trip. That is great. I do not have much room for more stamps in my passport.
09.11 Nothing dangerous about these numbers, this time. A refreshing walk took us to the bus station. There are plenty of people waiting. There are also a number of chickens and a handsome rooster. Our bus will depart at 09.30.
09.27 Before we boarded the bus, a man stood behind us. He was speaking to another man in Spanish and said that we were Americans. Now we´re sitting at the back of the bus and our backpacks are in the front of this bus which is of a smaller model. We travel with TTL, Transporte y Turismo Ligero. Their symbol is a running bird. It resembles an ostrich, I think they are called rhea. The tickets say that we have seats 9 and 10 but no seats are numbered. Out of curiosity one might mention that the company that took us from Brazil to Uruguay also is known as TTL.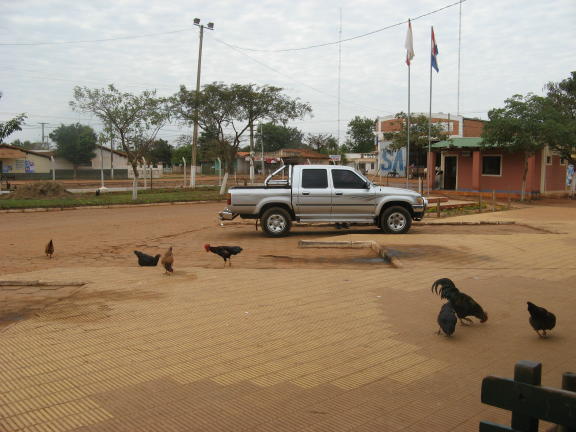 Chickens at the bus station in Concepción.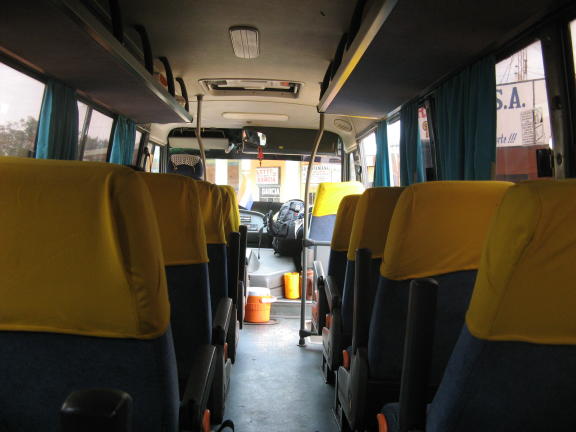 Stowed in a smaller bus than we had expected.
10.00 Slowly, so slowly we travel along the red dirt roads of the city. Slowly, so slowly the bus is filled with more passengers. We are currently in the marketplace. Now we roll again. OK, now it stops immediately, more to be loaded. Could it not have been added recently? At several of the stops we can see the city's taxi drivers, they have come by horse and cart.
10.08 Today it's the 27th, hopefully it means that new money has been deposited into our accounts. One of the advantages of long trips is that you can use an entire month's salary (except bills) during the trip.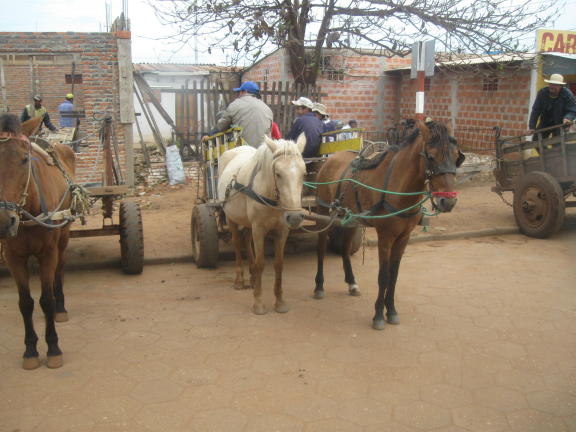 Sometimes the taxi drivers don´t have cars.
12.09 It is short of both space and fresh air in the small bus. There is however no shortage of passengers. Horqueta has been passed and we move eastwards through the country. We have made a bus stop in Yby Yau. Vendors are moving in and outside the bus. There is another 100 kilometers left to this day´s first destination.
12.25 No sooner had we left Yby Yau behind us as a rock formation rose to the sky. It looked like a cake or a giant tree stump. What forces created it?
13.13 The distance to the bus (but not our) final destination is shrinking. The landscape is impressive. It is a slightly undulating savanna area. The man in the seat in front of me seems to look for something under his seat. Others are helping him in his search.
13.13 We rolled quickly into the border town of Pedro Juan Caballero. Now a man sneezed a bit further down in the bus and the searching man still hasn't found what he is looking for.
13.57 I am standing in the shade and sun at the small bus station in Pedro Juan Caballero. On the way through town we saw signs in both Spanish and Portuguese. Next we somehow need to take us to an immigration office that can stamp us out of Paraguay and later another who can stamp us in Brazil.
14.17 Christer found the only taxi at the bus station and a nice driver took us to the border police building in the outskirts of town. We are now stamped out from Paraguay. Now it's off in the taxi on to the Brazilian office. It is difficult to determine where the border is here. Pedro Juan Caballero and the Brazilian town of Ponta Porã have grown together and there is no real border anymore.
BRAZIL

14.29 We arrived to the Brazilian police office, took a ticket and was almost immediately served. Now we are going the taxi to the bus station here in Ponta Porã. Conveniently, this Brazilian state, Mato Grosso do Sul, has the same time zone as Paraguay. We don't need to set our watches to a new time.
14.43 Yes, we are in a Brazilian bus station again, a rodoviária one might say. This is small but modern and situated a few kilometers outside Ponta Porã. Christer is away to buy bus tickets from here. We want to give a big thanks to our taxi driver who got us here. He cruised between the two countries, two police stations, waiting for us and took us away to the bus station for a small amount of money.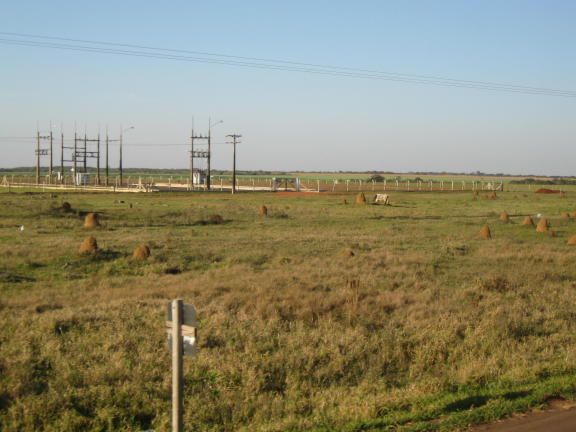 In the interior of Brazil, they show up everywhere, the termite mounds.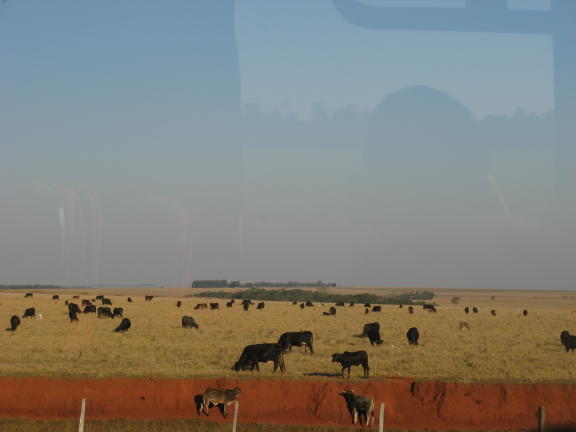 Cattle on the vast expanses of Mato Grosso do Sul.
16.06 Crops, termite mounds and grazing land spread out along our route. The bus company is called Expresso Queiroz (http://www.expressoqueiroz.com.br). A herd of cattle graze. This is probably the reason to all the good meat we tasted. It is free-range cattle, outside all year round. Can a cow be better off? On this bus, just like the last, we have seats 9 and 10.
17.13 The sun is going down far to the west. We stopped for a police check. Is it the bus driver or us they want to check? The control is at a roundabout where two roads meet. Probably they want to keep an eye on who enters the country from Paraguay.
17.24 The police would most probably see if anything illegal was on board the bus. Now we have passed some simple houses. Can such be known as a shanty village? We also passed a roadwork. I´m happy that there are jobs to many. Someone in the back of the bus is packeting something.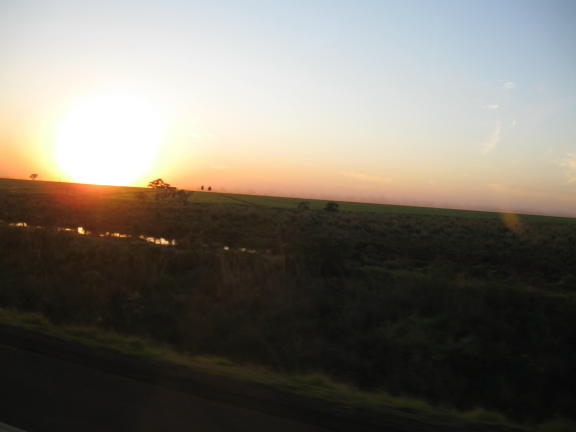 Sunset west of Dourados.
18.01 We finally arrived at the bus station in Dourados. Soon, we set off towards our hotel, which will be a bit farther along the Avenida Marcelino Pires, the same street as the bus station is located at. Unfortunately, it is already dark outside.
18.38 It is rather far to walk to Turis Hotel (http://www.turishotel.net). Once again, we have misjudged the distance considerably. The hotel is on the same street as the bus station but that's no guarantee that it is close. However, it is not our fault entirely. It has been more or less impossible to find good city maps for some cities in Brazil. It has not been possible to find in guidebooks or on the internet. It is not easy to check in either. They are making a call to Juliane who has confirmed our booking in an email. We do not seem to be in the computer or in their book.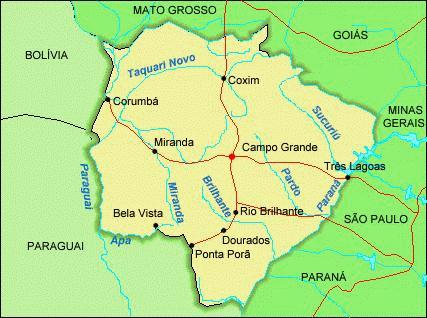 18.55 We ended up in room 201. It is strange that there can never run smoothly on a whole day of travel. The buses ran on time and no border problems. Now it was far to walk to the hotel and not much of a choice of restaurants in this part of Dourados, either. Here there are mostly repair shops, gas stations and car dealers. A guy from the reception (a son of one of the employees?) asked very curiously what we did here in the city. I replied that we were tourists and he looked surprised. He did not understand why anyone would want to travel to Dourados. However, he spoke good English. No one in the reception staff did that.
20.55 Yesterday's dinner was pure luxury. Today it is the simpler kind. We have been on a BR gas station and bought an ice cream cone and a soft drink each. In addition, Christer bought biscuits and I bought some peanuts.
21.07 We have just come to realize that the next accomodation that we have chosen because it is near the bus station certainly remains, but the bus station doesn´t. It has moved 6 km. From the bus station we´ll depart at 06:00 this Friday. It will probably be a little change of plans.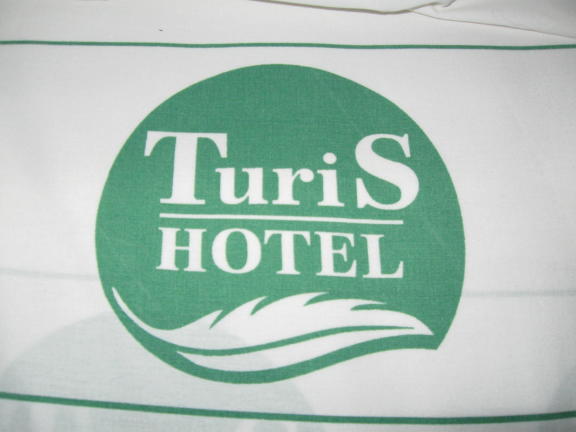 The hotel has its name on our pillows.
---
Wednesday 28th of July
07.11 It's dark in a room with shutters instead of glass windows. We suspect that we were a bit tired yesterday. Sleep has been long and intense, yet we are still tired. Well, we´ve got a time schedule and we must stick to it.
09.40 The day started good. There was plenty of tasty stuff on the breakfast table. It went smoothly to check out and to take a taxi to the bus station. The long stretch we walked yesterday was quick when traveling by taxi. Now Christer is away to buy bus tickets for today's trip.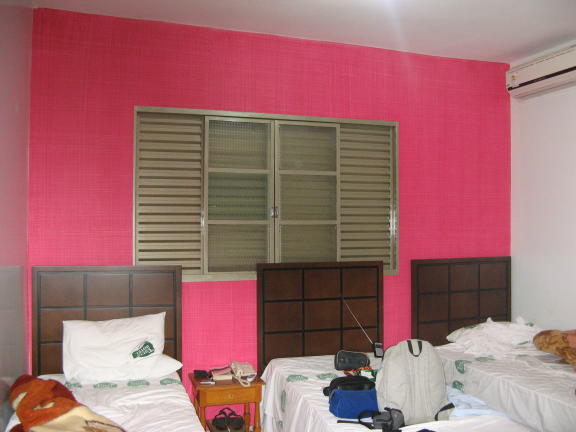 Morning in Dourados.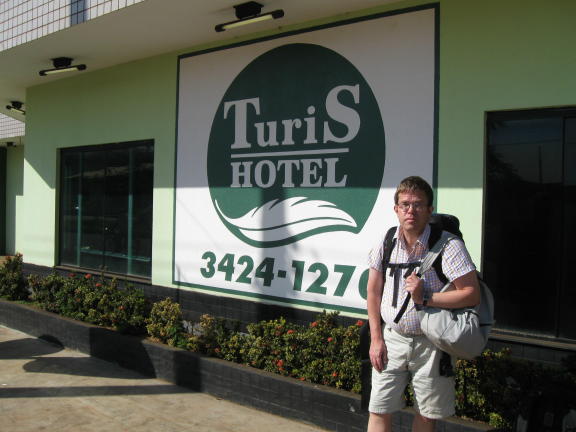 Peter is waiting for a taxi outside of Turis Hotel.
09.51 Once again, the seats are 9 and 10. It is becoming a trend. Now Christer has left to look for an exchange office in a nearby shopping mall. We no longer need our Paraguay bills.
10.09 Christer is back with mission undone. First, he had to wait for the mall Avenida Center (http://www.avenidacenter.com) to open at 10.00 and then he discovered that some bureaux de change did not exist there. He has however purchased some beverage for the trip at a pharmacy. Now we move to the outdoor benches here at the station.
10.35 Without having changed money or obtained solid food for the journey, we are ready to go with Expresso Queiroz north to Campo Grande, the state capital. Let just hope that we stay alive nutritionally with our drinks.
11.00 The bus has been driving around in Dourados and reached the outskirts of the city. There we drove pass the pig truck. It was a long open trailer on several levels. Yes, open and transparent, it was more like a big steel cage.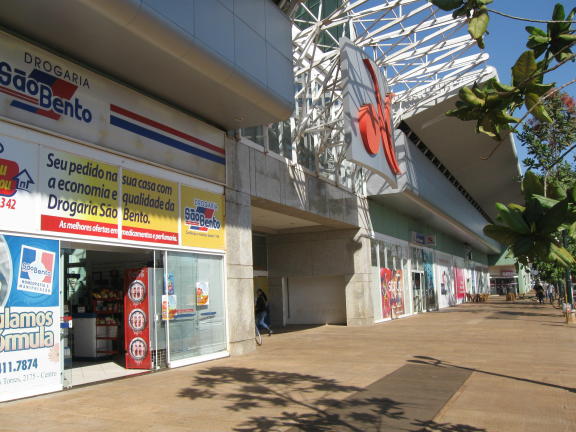 Avenida Center, a modern shopping mall.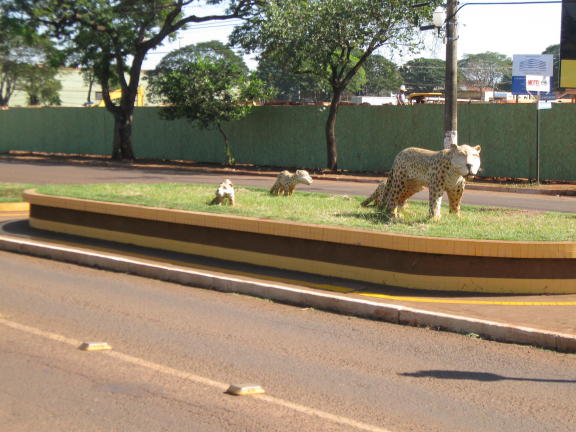 Stone jaguars along Avenida Marcelino Pires.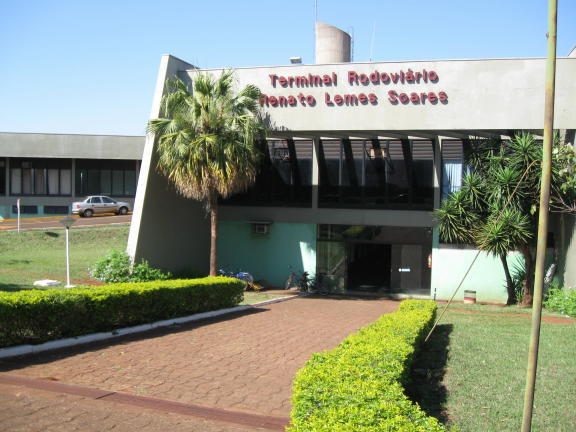 The bus station in Dourados.
11.48 We are heading north in a comfortable bus on good roads. There is a huge difference in comfort and standard compared with Paraguay. As soon as we crossed the border yesterday the difference appeared immediately. It's almost time for a fifteen minutes break, time to stretch legs, buy something to eat and who knows?
11.59 There was at least a stretch of legs at the Rio Brilhante bus station. Now we are back in our seats on the bus.
13.41 The surrounding countryside is flat and green. Here and there you can see trees and termite mounds. Everything feels good and now I see a few grazing cows. Imagine how great they have it. They are out in the open that it is the winter. Previously, Christer has seen an ostrich-like animal. Was it a rhea?
14.50 We have finally reached Campo Grande. Talk about fresh and new bus station, brand new and cutting edge! We are in the city outskirts. I firmly believe that my ears are blocked. We'll see if it is possible to exchange our money here. It is in any case, really hot here.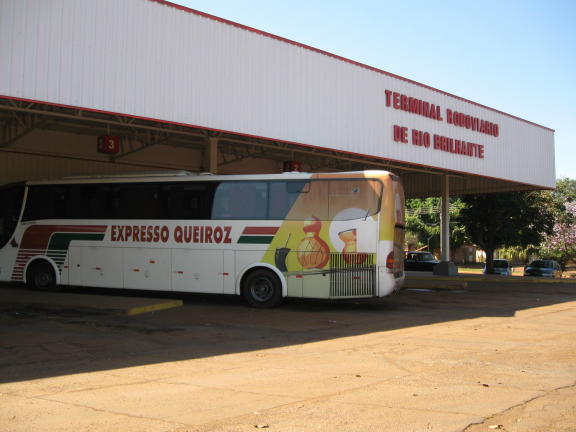 A short stop in Rio Brilhante.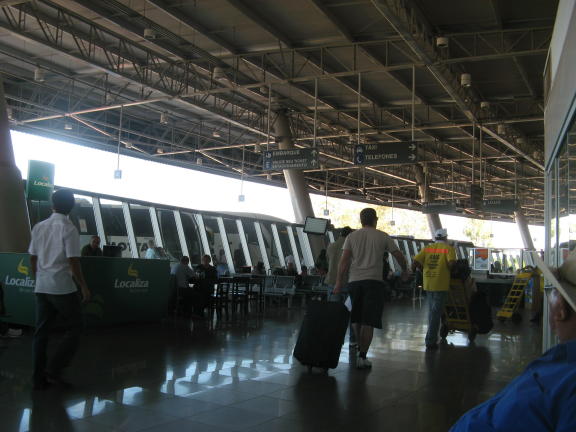 Arriving at the brand new bus station in Campo Grande.
15.46 There was no exchange office this time either. There was, however, a new taxi trip. Now we are sitting in our room. We have a view of a pink concrete wall. The new home is Hostel Campo Grande. The new room number is 37. On Friday, we´ll travel by bus to Presidente Prudente. On our purchased ticket it says that we have a ticket to Assis. The ticket seller claimed that Assis was just "a code". Wait, is the ticket perhaps to Aziz?, the poor man we saw on the flight to Frankfurt last year?
16.26 Now we´ve both had a shower and we are ready to hit the streets. Our hostel was formerly a hotel and has lots of rooms. We have also rejoined the backpack tourists worldwide. There are many Europeans and North Americans here. Most are attracted by trips to the wilderness area of the Pantanal, which is located some distance away towards the border with Bolivia. Unfortunately we have neither time, money nor clothes for an expedition there. Now we're going out to see what this city has to offer in the way of food.
17.59 After endless trotting through a restaurant free city center we´ve come to Antigamente Restaurante & Choperia. The other options we've seen are ice cream bars, hole in the wall places, and God forbid, McDonalds. Now we are sitting here with a menu which a waiter brought us and we are ready to order. However, it seems the waiter right now prioritizes sorting of cutlery.
Campo Grande
18.05 He, the waiter, came with news that the kitchen does not open until 18.30. No food for us yet, duh! Why give us a menu before the kitchen opens?
18.44 We left the restaurant in bad mood and wandered around the nearby area. First, we were determined to find another restaurant but we thought about it and are now back at Antigamente. We have ordered. It is almost two days since we last had some proper cooked hot food. Now the beer came. Great! Imagine, horrible thought, just for a short while ago we were thinking of having dinner at McDonald's instead.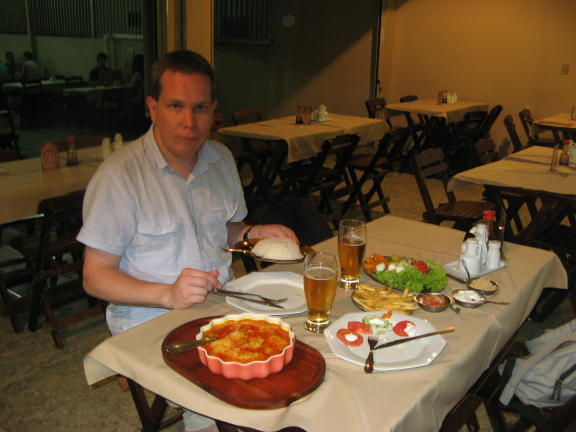 Christer is having dinner at the restaurant Antigamente.
20.10 We walked home with full stomachs and happy faces. On our way home we saw an elderly gentleman who sat on a couch and talked on a mobile phone. It was outside a newsagent. Before returning home, we passed the local Pentecostal Church. We heard singing and music from within. Now we will rest our weary bodies.
22.08 Twelve days ago we had only +7˚C in the room. Tonight we have the seven degrees plus nineteen more. It is a full +26˚C hot in here although we have tried to air the room out. I think I prefer to sleep in a seven degrees room. It is time for a summary of the day. Well, not everything went straight to hell. So I guess it was a pleasant day. However, it seems that the city's restaurants avoid the city center. There are plenty of places but far from where we are.
---
Thursday 29th of July
08.00 A month ago we were sitting on a train heading for the airport Arlanda home in Sweden. Now we sit in our room in Campo Grande. The day is planned and much is to be done. Right now, we listen to the radio before we get started.
09.05 Today we were able to have breakfast by the pool. It was also a hearty breakfast with coffee, juice, bread, jam and fresh fruit, banana, pineapple, papaya and watermelon. Now we studied the city map and today's walk is planned.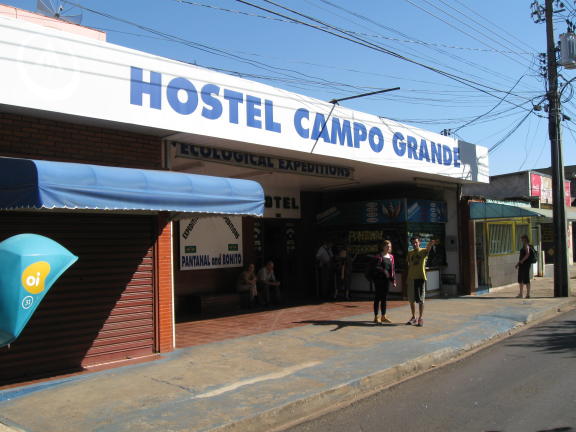 Here is the place we´re staying at, Hostel Campo Grande.
10.11 We've walked past the bank to exchange our Paraguay money but it would not be possible to do so until later today. Instead we went to, and took a bench break at Praça do Rádio Clube. A short distance away from us stands the monument to the 70th anniversary of Japanese immigration. A bit further away a girl in red is standing. She will be filmed/photographed by a guy dressed in white. He has a camera with a tripod. A happy man in white asked me something in Portuguese, presumably he wondered something about the photography going on.
10.55 First we went back to the bank Banco do Brasil to exchange our money. It didn't work at all. They didn't want any money from Paraguay, but we had vaguely been directed to a place farther away and marched away. Now we have reached the exchange office and are just about to enter.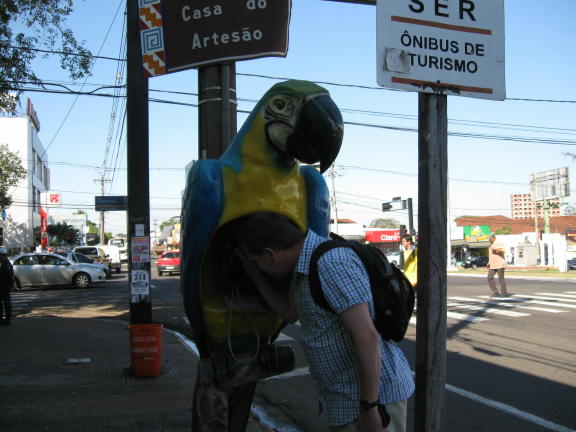 Christer is checking if you can make phonecalls from a parrot.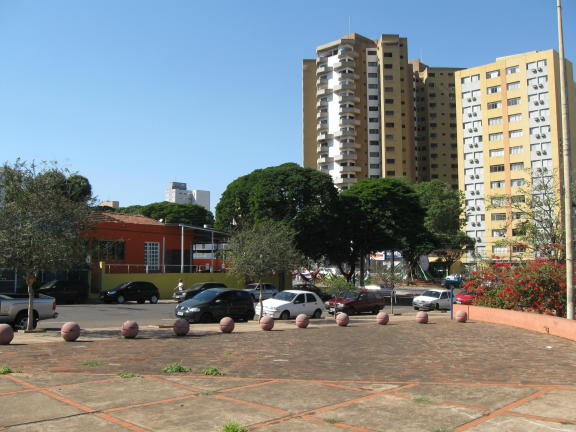 Praça do Rádio Clube.
11.40 The man in the exchange office was skeptical of our Guarani bills but in the end we got rid of them. After exchanging our money we did some shopping at a grocery store and we went to surf the web. Here at the cybercafé, we showed our passports and were photographed before we got access to computers. We´re checking if it is not possible to catch any later bus on Friday. The place is called Cyber Central and is next door to yesterday's dinner place.
11.56 We have continued walking here in Campo Grande and have just seen four girls who act like walking billboards. They walked around with a big sign each on the back and showed off their backs when their cars while waiting at a red light.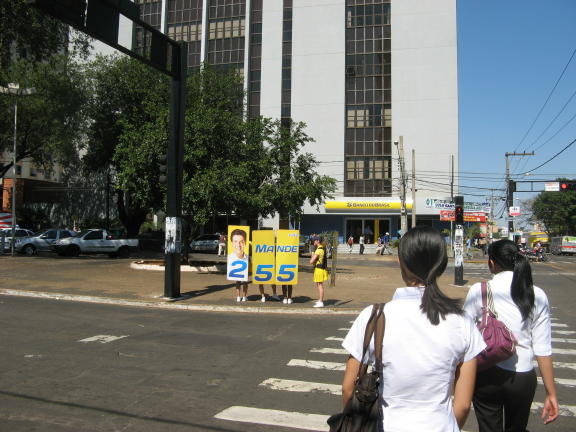 Promotional Girls with signs on their backs.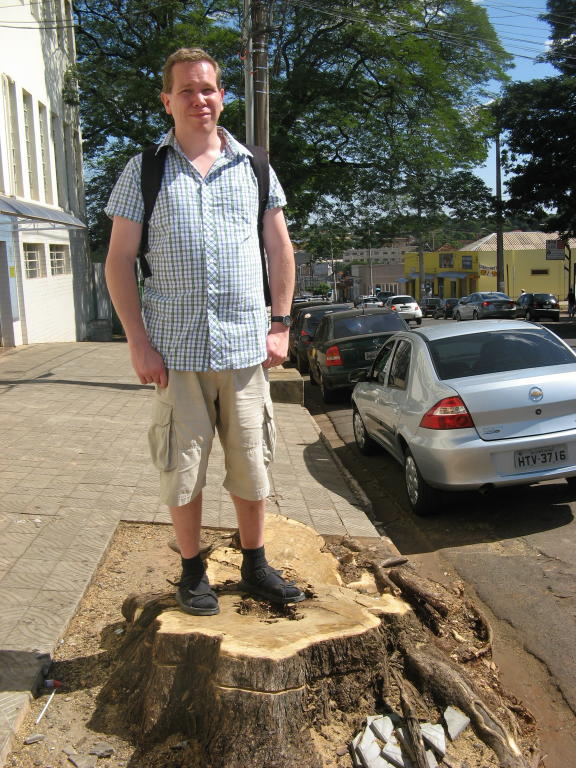 Christer is posing on a tree stump.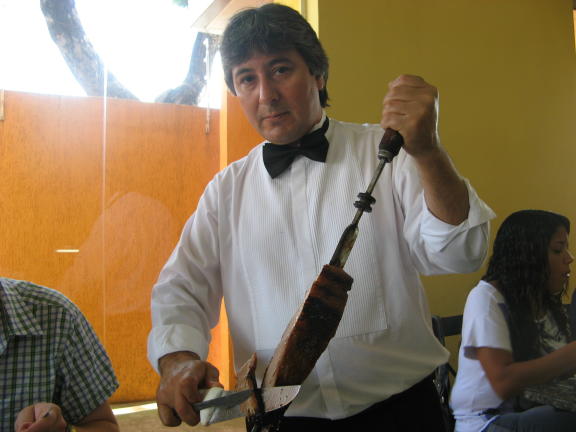 Grilled meat served at the table. We tried a "Rodizio" at Churrascaria Nossa Querência.
12.51 Now we've entered yet another eatery. This time it´s Churrascaria Nossa Querência which we´ve chosen for lunch. There is no problem having lunch in Brazil. There are plenty of lunch restaurants. Unfortunately, many are closed once it is dinner time. Here they have the buffet and pick meat on skewers. The later served at the table on a separate plate. It's just like what we had it in São Paulo.
13.25 It was really delicious at a price of 30 real, US$17 per person. Now we have returned to our room. Here we will think through what we must not forget in the upcoming trips.
14.12 Now I have written postcards by the swimming pool. It's been a while since we had lunch so now I can do that we have done in Thailand, Israel, Vietnam and Brunei and on the Philippines and Tobago. I should take a swim in the pool. Why are there no people in the water?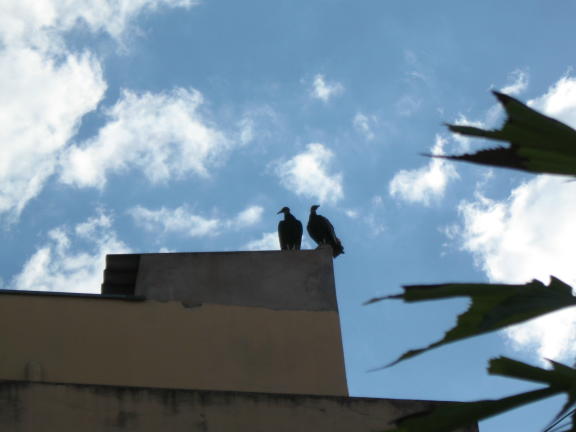 Our pale bodies had caught the attention of some vultures.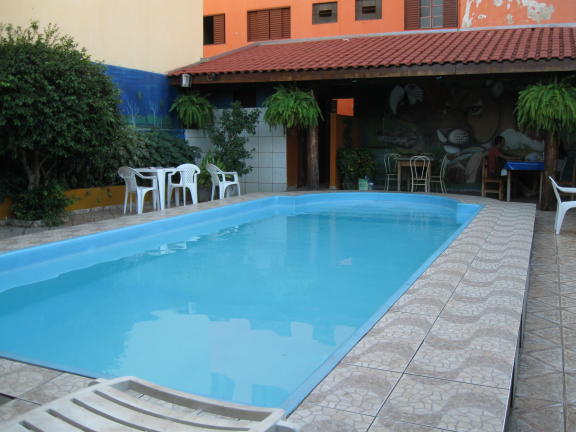 Our cold swimmingpool.
14.36 One reason for the few swimmers may be that it is cool, almost icecold in the water. On the roof behind me there are two vultures. Have they mistaken our pale bodies with dead flesh? Now we are moving out into the sunshine.
15.28 The sun went down behind the building and we ended up in the shade. It doesn´t matter to us. It's nice to do nothing. It is known as a holiday.
16.41 You become lethargic on days when everything flows and you do not have to be on the edge. However, we must strengthen ourselves and bring the newly-written postcards to the post office around here.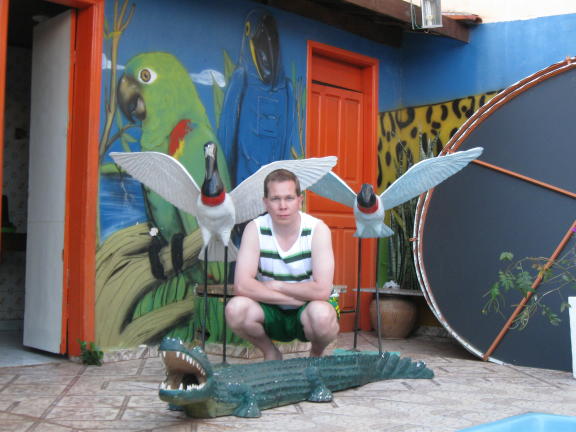 Christer and a peaceful cayman.
17.34 The postcards are sent and we have seen more of the neighborhood. Now we are sitting by the pool again. Right now Christer is reading in the daily newspaper Correio Christer Do Estado that it was +30˚C here yesterday. The newspaper in question was founded on seventh of February 1954. See there, one learn new things every day.
19.02 Now enough is enough room. It's time to go out to get us something to eat.
19.20 In one corner we can see a screen. On it we see bands and music come from a loudspeaker. We are at Teka Choperia. It is time for a two man pizza with chicken and catupiry, whatever that is?
20.25 It is still warm in the room. However, we are full and content. I've just paid my debt from the dinner to Christer.
21.37 It is evenings like this that you should enjoy. However, it is difficult to do so when it is +27˚C warm in the room. Windows and room door is wide open. However, it is no draft.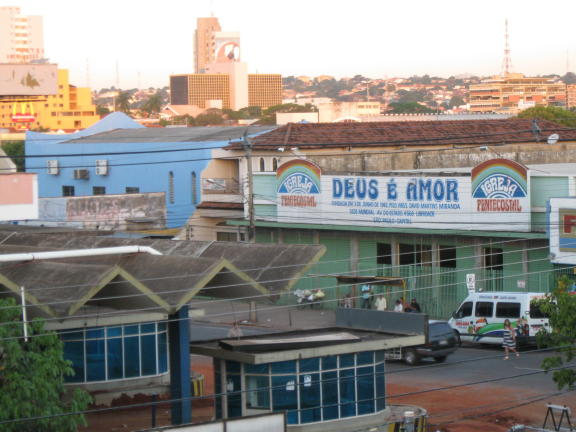 "Deus é Amor (God is Love) is written at the Pentecostal Church, and perhaps it is true?
---
Friday 30th of July
07.47 There is sound, movement and sunshine outside our window. Today we will once again do something we rarely ever done before. We're going by land to go into another time zone. Wait, we've done it before. We went into a new one as we entered Paraguay. But it is the first time within one country, I think.
08.56 Breakfast was good also on this day. This accommodation has been really good and can be recommended. On the down side are the room temperature (high) and pool water temperature (low).
09.18 Packed and ready! Well almost done. We'll just need to write down various information about ourselves on the bus tickets.
10.07 There was no need for calling a taxi. There was already one parked outside the hostel. The guy at the reception just had to go out and ask if it was vacant. The female driver took us to the bus station. She wanted to have 23 real for the trip. I gave her 54 real but she had no change. Christer saved and arranged everything. He stuck a tenner to the lady and so did I. The 50-bill was returned and everything was OK.
11.09 Before we went out on the platform we had to pass through a turnstile. You tuck in a small pink patch in a slot and are allowed to pass. A booking fee had been added to the price as we bought our tickets the day before yesterday. It was that fee which was controlled using the pink patch. After that had got the backpacks tagged and shown our passports and tickets, we came on board. We soon took off. Recently, we passed a small grass fire. Planned or not what do I know? What I know is that the bus will in about 22 hours to reach Rio de Janeiro. Then we hopefully left it and are perhaps boarded on another bus. We'll see.
11.40 Today we travel with the bus company Andorinha (http://www.andorinha.com). From our window we constantly see new things. It is an agricultural landscape with small red slopes with holes in it. Who has made the holes, and why? Who lives there? Moreover, we see many trees with beautiful yellow flowers on bare branches.
12.31 It's time for a lunch break. Some of the passengers have walked in to eat a buffet at Restaurant Paradouro here in Nova Alvorada. We are, however, in the shade on a stone bench.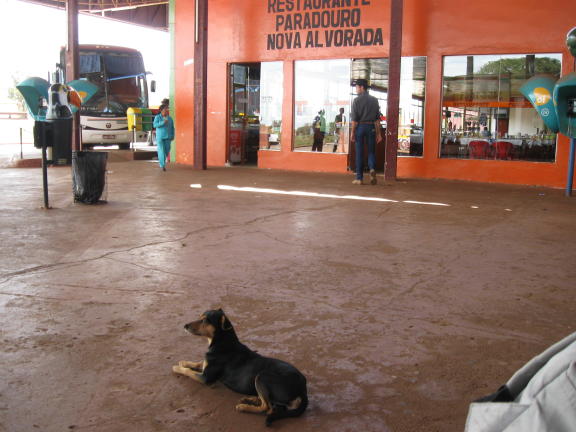 A dog is resting at the bus station in Nova Alvorada.
Peter seems to be afraid of the big buses.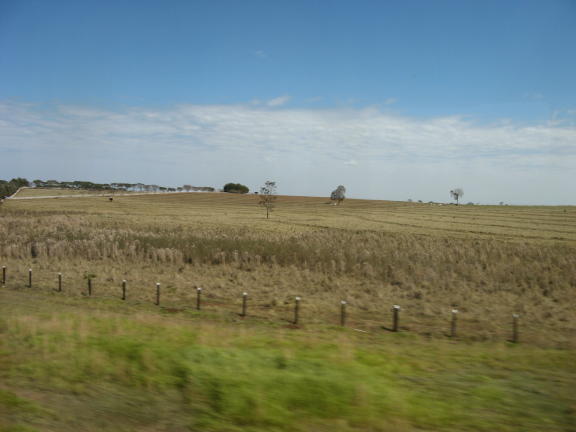 View from a bus.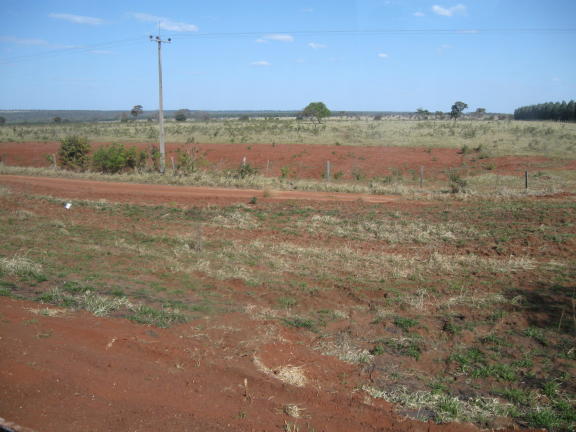 The red earth in Mato Grosso do Sul.
12.50 When we got back into the bus a guy was sitting on my seat. He had a ticket, which confirmed that he would be sitting right there. Has he taken the wrong bus? Have we taken the wrong bus? Has anyone else done wrong? Well, anyway the guy moved backwards. While we sat on the bench a black car from the Policia Civil stopped here. Out of the car stepped two young happy plain clothed young women.
14.38 It's time for a new stop, such a short one this time. It is just ten minutes. We are at Churrascaria Gabriely in Nova Casa Verde.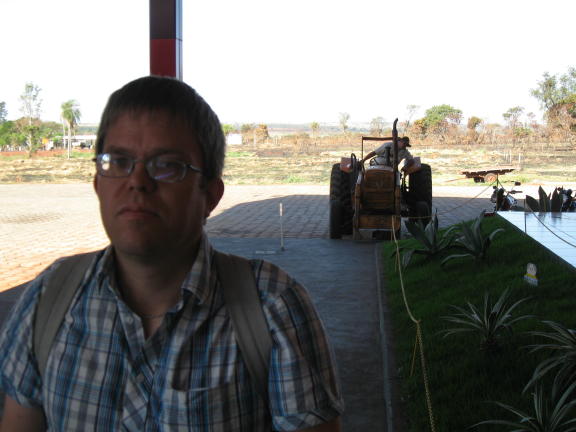 Peter and a farmer who temporarily left his field in Nova Casa Verde.
16.32 We are approaching the Paraná River. Alongside the road the termite mounds have changed colour from reddish to more gray. There is probably no difference in the thoughts of the termites, it all depends on the colour the earth have. Soon, there is a new change, once we reach the bridge crossing.
17.42 The crossing and the change is over, finished. The switch of time zone is done and the clock is set forward one hour. We've also changed to the state of São Paulo. The river was very wide right here. Actually it's wrong to call it the river as a hydropower located downstream done to the swelling out to a rather large elongated lake right here. The world's largest hydroelectric plant, Itaipu, is also in this river further south.
18.48 New stops, new break. We are on Rodoserv Prudente for a 30-minute stop. We are very close to our final destination. Well, the bus ride is just fine but I want to end it now.
18.56 We and our luggage have changed vehicles. We´re now going with a minibus with the local bus station as our destination. Our bus up til now just left. Is it for good or for petrol? Some of the passengers are inside eating dinner. It is clearly so that the regular bus is not running into Presidente Prudente. It´s important to be alert and attentive. Who knows where it had ended otherwise?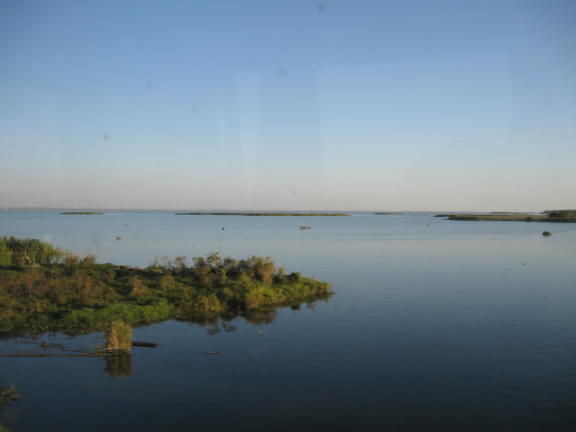 We´re changing state and time zone when we cross the river Paraná.
19.09 We are at the local bus station in the city center here in Presidente Prudente. On the way here with the mini bus, we passed "our hotel". However, we will not go there. The name of the hotel is Nosso hotel and it means "our hotel". Now Christer went to buy bus tickets to travel from here tomorrow.
19.33 A short walk from the station took us to our hotel, it is true this time, the Avenida Hotel (http://www.avenidahotelpp.com.br). A short walk up some stairs took us to our room, number 37 How far will it take before we can sit and eat?
20.56 It sure took some walking. Up and down our home street Avenida Brasil. The only thing that was offered was a simple buffet places with food that had remained in front for a while. Christer was able to enter a store and buy drinks but I wasn't let inside. Backpacks are not welcome. The guard had missed the fact that Christer had his on. I left my backpack to Christer later and went in and did my shopping. Christer saw a young lady in small outgrown clothes while I was in the store. She showed a great interest to people in passing cars. The passing people did not show her the same interest.
21.18 There was once again a light dinner this evening. We had three small yoghurts, strawberry flavor, two small pieces of bread, bread and butter flavor and juice with a citrus flavor. It is hard to have to skip dinner because of restaurant failure. Lack of money had been a more reasonable cause.
22.07 We are zapping between TV channels. We have seen the news about flooding in China and Pakistan, forest fires in Russia and the United States. In addition, we went to a program about silicone implants in the buttocks. Right now we are watching some commercials.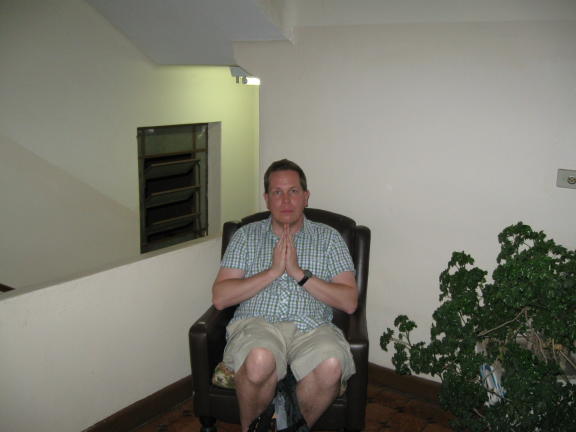 Christer is happy to have arrived at Avenida Hotel.
---
You can see 11 photos from July 27 in this photoalbum.
You can see 13 photos from July 28 in this photoalbum.
You can see 21 photos from July 29 in this photoalbum.
You can see 13 photos from July 30 in this photoalbum.

---
CONTINUE
---