Spain-Andorra-France

3rd-7th of January 2006
---
Text: Peter Johansson
Editing: Christer Lundstedt
Photos: Christer Lundstedt, Roberth Nordin
---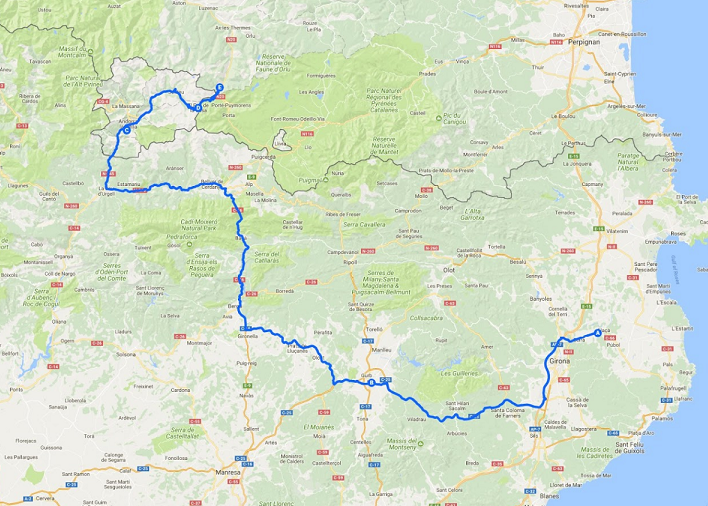 ---
Tuesday 3rd of January
10.32 After a hectic morning, I´m sitting on the bus going south. New places to see with all that comes with it. I am first going to Sundsvall.
12.23 We are on the X-train. The destination is Gävle. It is cold outside!
14.50 We just switched train. The train stood and waited for us in Gävle. Now we are heading for Nyköping. In Hudiksvall a broken thermometer showed – 71°C.
18.11 We reached Nyköping and the youth hostel there. We´re sitting in room number 9. The room was booked ahead and the key card and a greeting waited for us by the door. We had some problems to get here. A map of the town is always wise. We tried to follow some Germans but had to ask for the way instead.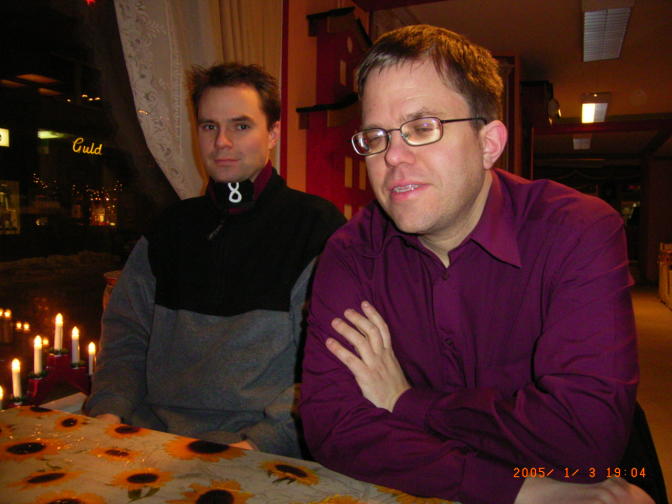 In a pizzeria in Nyköping, Roberth (nr 8) and Peter in the picture.
21.23 We are sitting and relaxing in our room. We have earlier in the evening located the bus station for tomorrow´s trip to the airport and later ordered and consumed some food; Viking kebab and Pizza Hawaii. We.. that is I, Peter and also Christer and Roberth.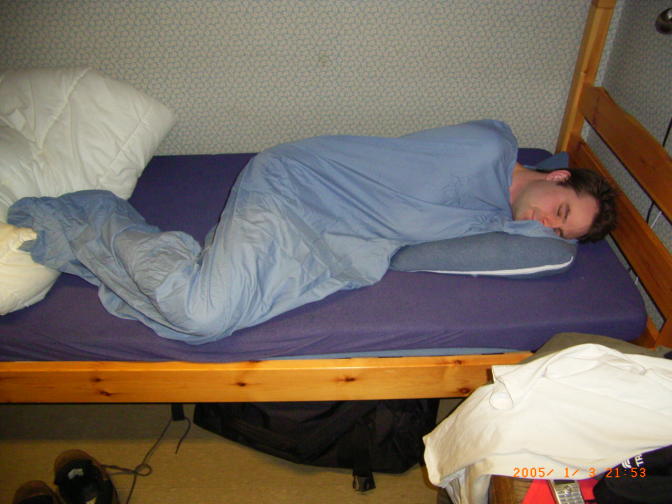 Roberth sleeping at the youth hostel in Nyköping.
22.00 Time to sleep. We have to get out of bed at 04.30.
---
Wednesday 4th of January
04.30 New day, new ways. We slept partly. Time to prepare for a long day´s journey to Andorra.
05.21 We are on bus 715 towards Skavsta airport.
06.42 We´re heading for gate 2. It went smooth to check in. Christer and Roberth was thoroughly checked by the security guys. It seems like they had too much metal in their shoes. We don't travel as Peter, Roberth and Christer but as Olof, Nils and Ulf. Our second names are written on the boarding cards.
07.00 It was up to us to decide where to sit. We chose 14 A-C. In front of us are row 12. Row 13 is missing. There is very little leg space, but after all it is a low-fair flight. The stewards are from Ireland and so is the company.
09.29 We had breakfast, dozed and will soon begin to prepare for landing at Girona airport. We have seen some mighty mountains through the window.
SPAIN

10.25 We landed at 09.50. We are still waiting for our luggage. During our waiting we amused ourselves by listening to the calls. They are in English and Spanish. The only thing that differs is that the airline company´s name "Ryanair" and the number to the gate is said by another guy.
10.49 We got our luggage, walked away and failed to find a working ATM. Roberth had some euro and we bought a ticket to the city centre. As of now Christer and Roberth has gone away to buy us all some coffee.
11.29 We´re sitting on the bus on our way to downtown Gerona.
Small "Santas" climbing on the walls in Girona.
12.26 Our luggage has been placed in a security box at the bus station, money has been withdrawn and we are on foot towards the city centre. Will we find our way back? Here and there "Santas" are climbing the walls.
13.03 We are up in a tower. Roberth hurried up before us. The tower is a part of the city wall. Somewhere in this area is the youth hostel that we booked for the day before we´re going back home.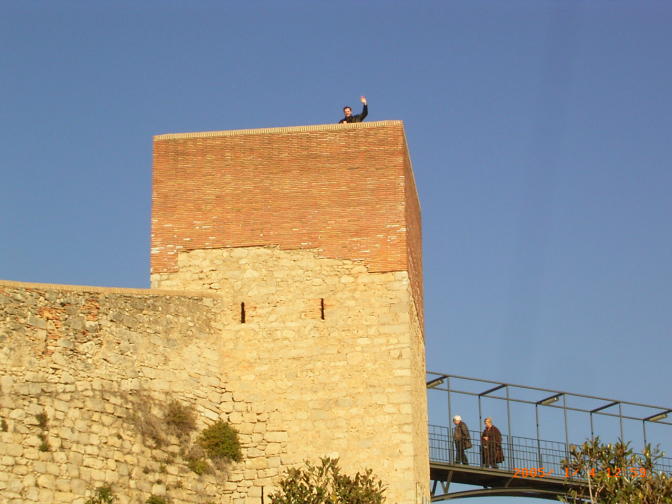 Someone was in a hurry to climb this tower.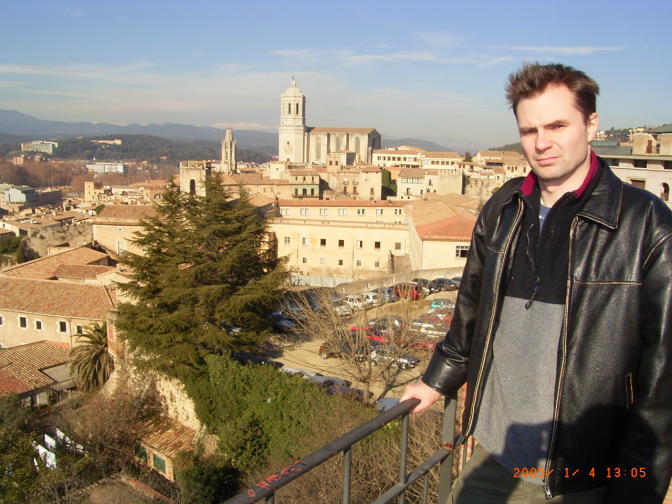 Roberth and a view of Girona.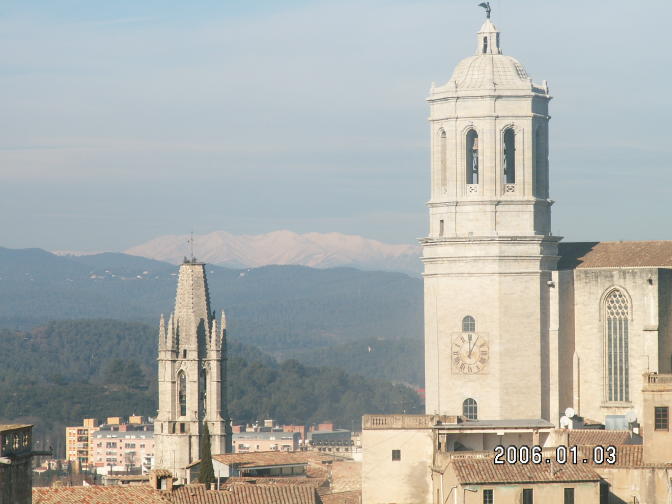 Beautiful view of Girona and the Pyrenees.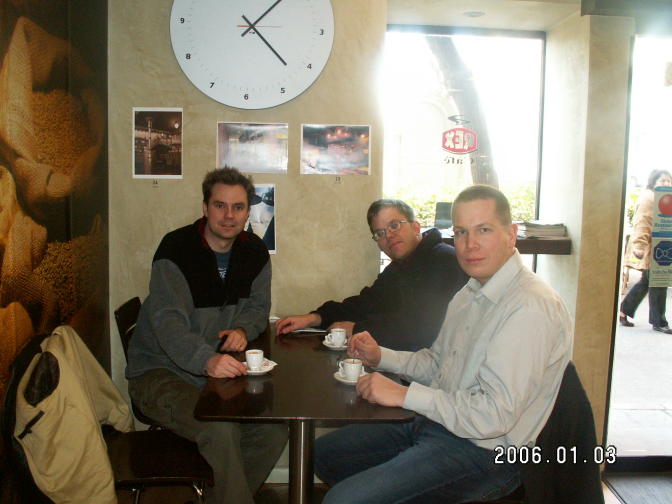 Sitting at Rex Café in Girona.
13.23 Time for a coffee break at Rex Café. The waitress just brought us three espresso. We asked her to take a picture of us.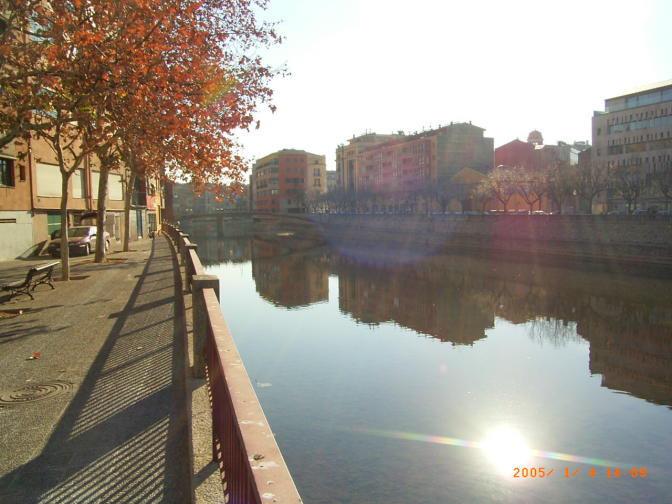 River Onyar in Girona.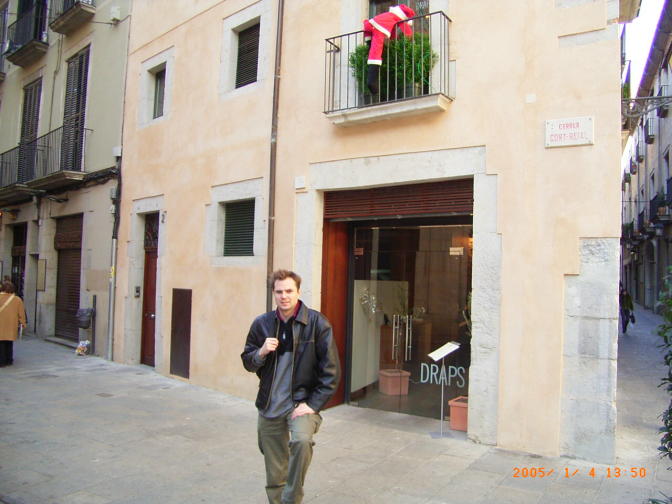 Roberth and a climbing little red man trying to get out of the picture.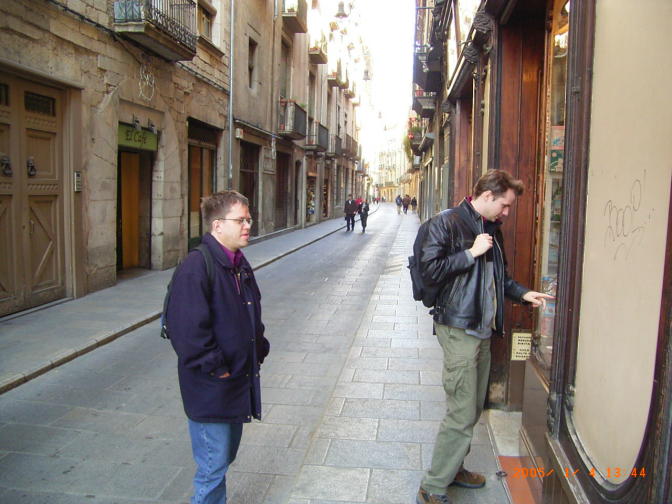 Peter and Roberth walking around in the old town in Girona.
14.20 We are sitting on a bench in the sunshine. We just bought some postcards and Christer also bought a calendar. We made our purchase at the book store Ulysses in the old town.
15.02 Time for dinner at "Museu del Vi", www.elmuseu.com. We ordered a 2-course meal with beer. Hey here comes the food, speaking about fast food :-)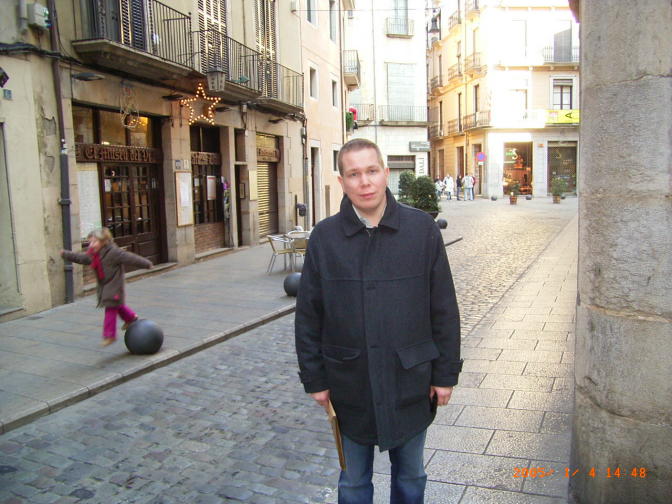 Christer and a jumping child outside our dinner restaurant in Girona.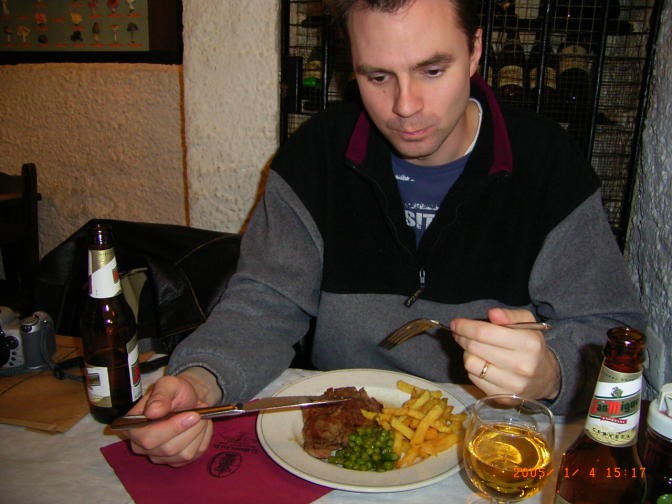 Roberth having dinner at "Museu del Vi" in Girona.
16.50 We ended the dinner with a small pastry. The walk back to the bus station went past a liquor store that sold 85% Habsburg-absinth and some Chinese liquor that contained dead rats and lizards. Right now we are sitting and awaiting the airport bus. It´s from there our bus to Andorra leaves.
Two travellers have found palmtrees in the winter.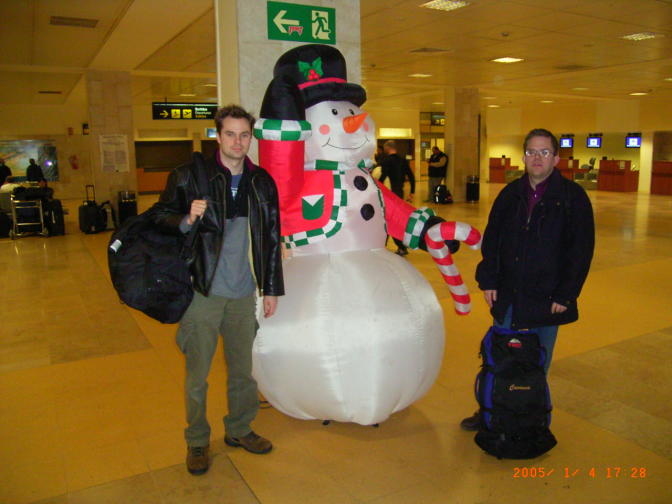 Three men at Girona airport.
17.38 We have reached the airport, I posted my postcards and Roberth has checked where our bus departs from. The bus is his responsibility. Shall we buy something for the ride or?
18.43 We had hoped for a bus departure at 18.30. It just got here, Roberth seems relieved and we are rolling towards Andorra. The bus is a mini bus and the company´s name is Novatel. We are the only passengers. I wonder if it is time for a little nap?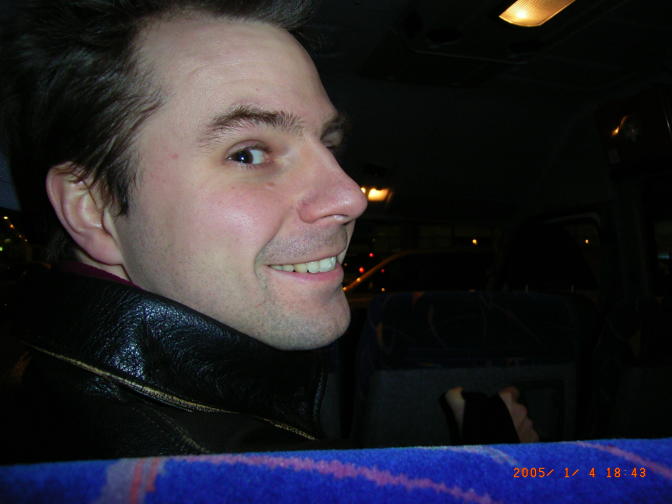 Roberth is relieved when the bus finally arrived.
19.15. We just reached the town Vic and here we will make a short stop. On the radio we can hear love ballads and football commentary of a Spanish cup game.
ANDORRA

21.49 We just rolled into Andorra. It is 8 kilometres left for the capital Andorra la Vella where a hotel room await us....hopefully.
22.29 We just checked in at Hotel Valmar in Andorra la Vella. Time to return back on the town to get something to eat.
23.51 We just came back from dinner. Pizza, pasta and squid with salad. As we were about to leave the waiter said "Spasiba" in Russian. Did we look Russian? Or was it because that Roberth kept talking to the staff in Swedish? On the way home we did some window shopping. They offer a lot of electronic gadgets here. Next, sleep. Tomorrow maybe some technique-shopping and a trip to France.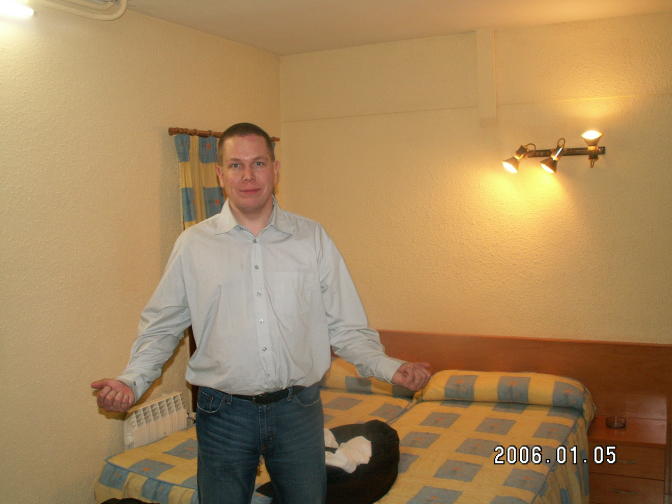 Christer in the hotel room in Andorra la vella.
---
Thursday 5th of January
09.10 Christer is in the shower, Roberth is in the doorway and I, well I am writing this. Soon we will have breakfast before we head for France.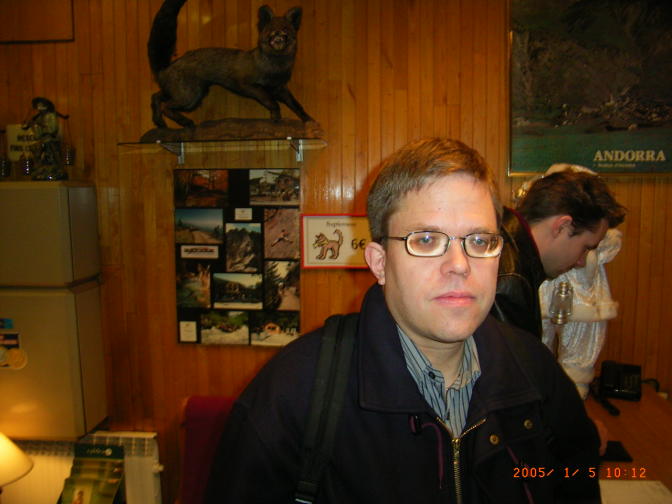 A dead fox, Peter and Roberth paying our hotel room.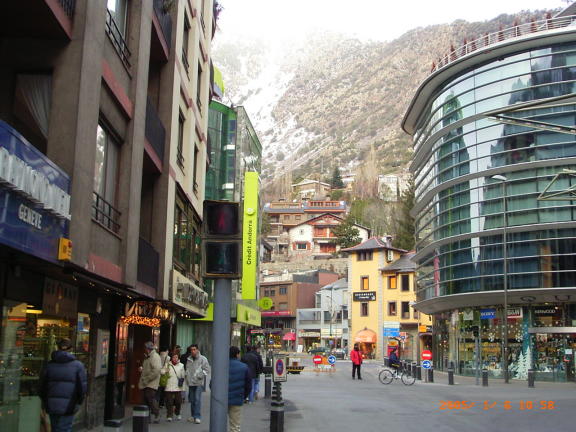 Andorra la Vella at daytime.
10.38 We just bordered the bus to the French border. There we will change bus. We are about to go abroad, again. We are going with a large blue bus on winding roads through a small country.
11.36 We are entering uninhabited areas. Almost no trees but plenty of snow. Rather amazing!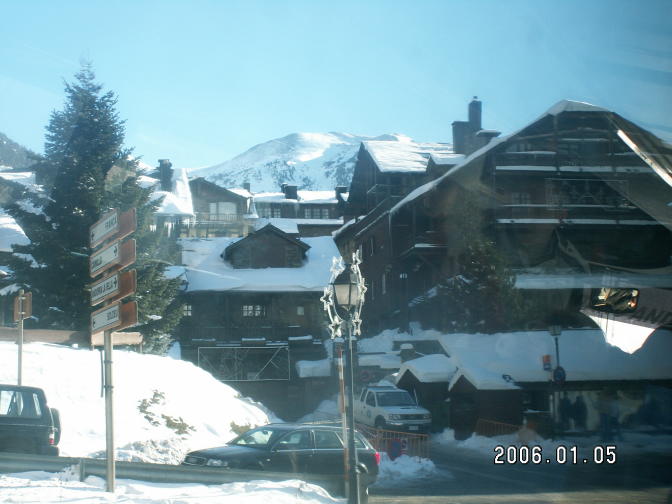 Travelling through ski resorts on the way through Andorra.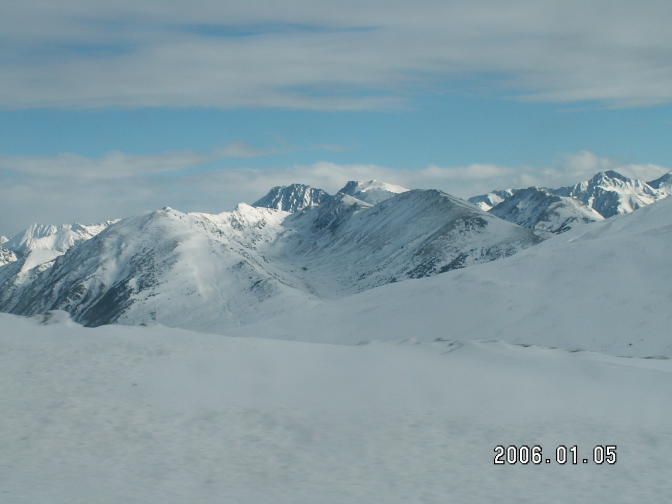 The Pyrenees in wintertime.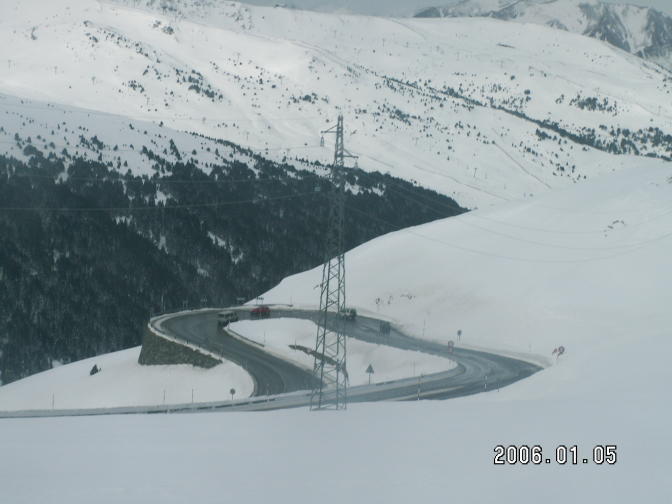 The road takes us to high altitudes, 2400 meters above sea level.
11.50 We switched bus in the small town of Pas de la Casa at 2075 metres above sea level. Soon we´ll travel to the border and later L´Hospitalet.
FRANCE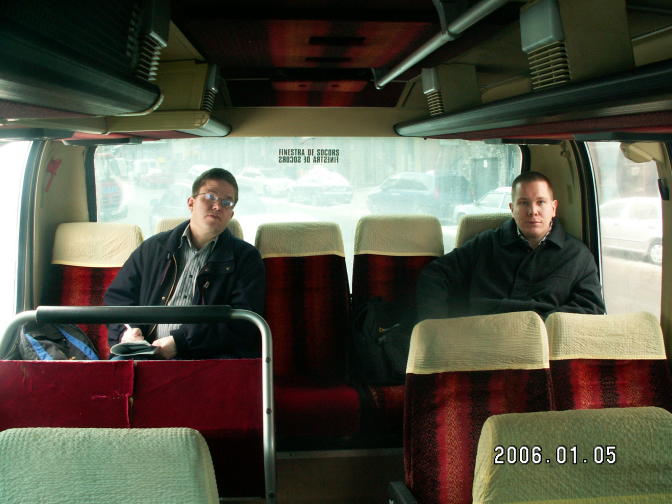 Peter and Christer in the bus to France.
12.45 We reached and quickly walked through L´Hospitalet. Not many houses here and few people as well. After our walk on the town/village we decided to enter the only hotel here. In the restaurant sat some people, maybe everyone that lives here? Here I did my best to order in French. I said that we wanted a sandwich each. It turned out that sandwiches are bought in the bar so we went there. Here we sit and will soon order.
13.45 Our lunch consisted of ham sandwich and a bottle of wine without a label. Since then we have walked to a combined café and shop. I tried to buy some postcards but they didn't sell any stamps. Stamps are bought on the post office and opens at the same time as our bus departs. I had to settle with a cup of coffee instead. In fifteen minutes we will go back to Pas de la Casa and later further on to Andorra la Vella.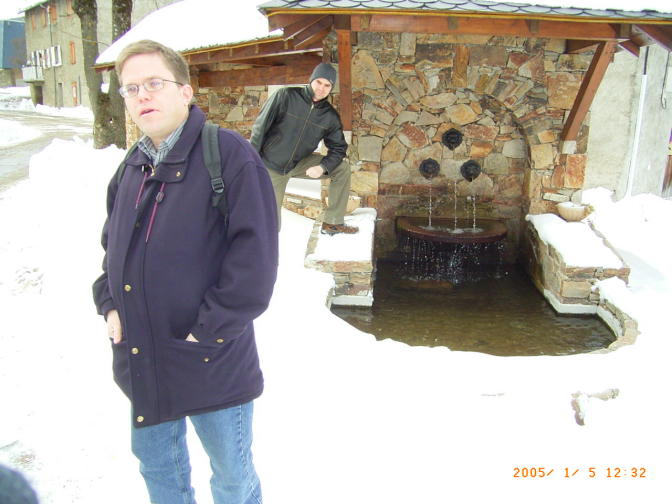 Downtown L´Hospitalet.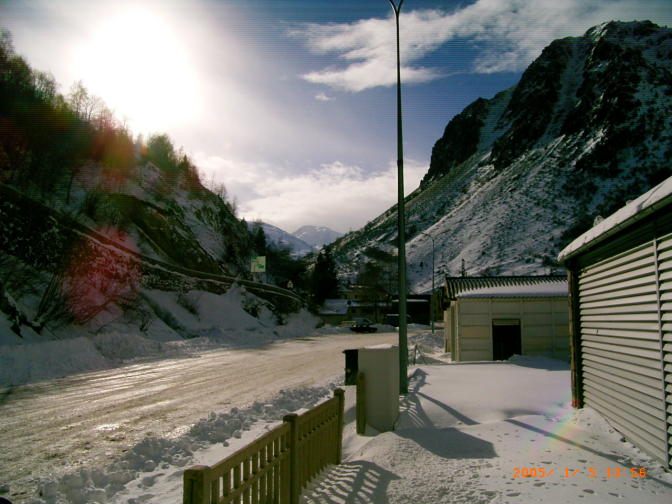 L'Hospitalet-Près-L'Andorre, France.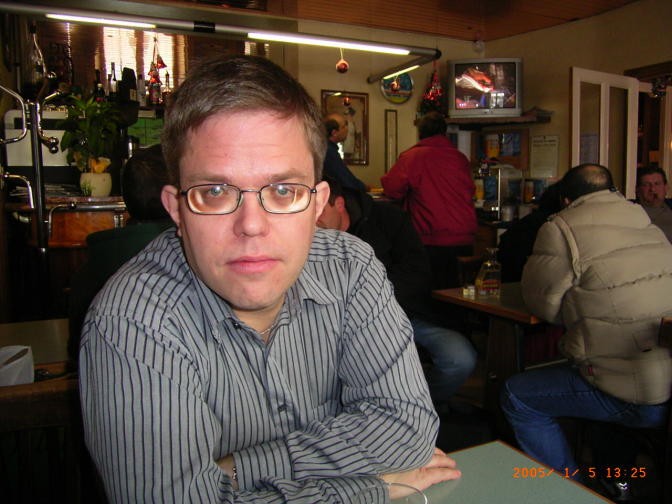 Peter in the bar at Hotel Rouan, L'Hospitalet-Près-L'Andorre
14.22 Still no bus. The railway station is closer due to illness!?! Now I will go and buy that postcard. The post office is open.
14.49 No bus appeared so we took a taxi. The driver had no knowledge about the bus but he was willing to take us to Pas de la Casa. We jumped in and now travels up hill to our next stop. What will happen there?, well we´ll see about that later.
ANDORRA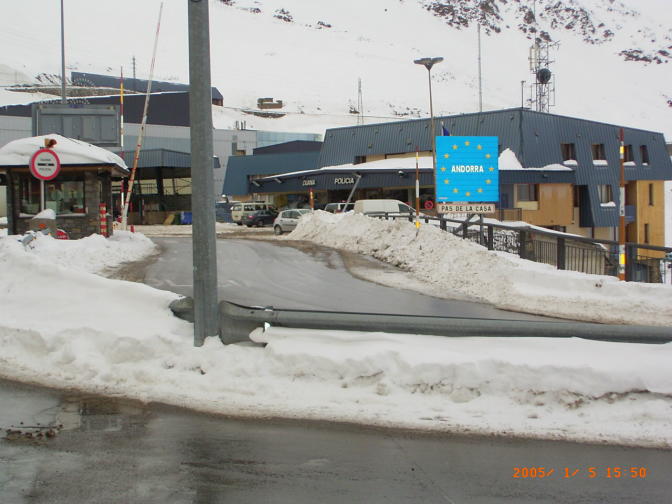 Walking into France to take this picture.
16.25 What we did in Pas de la Casa was walking around in the small town. I bought a souvenir glass and Christer bought an electric razor. Soon we will go "home" by bus. We expect to be back home at around 18.00. Roberth and I just went into a church to get warmer only to realise it was colder inside than outside.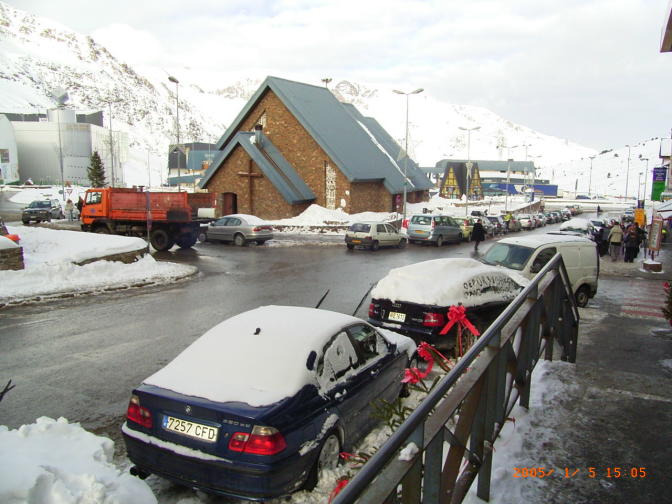 Pas de la Casa, Andorra.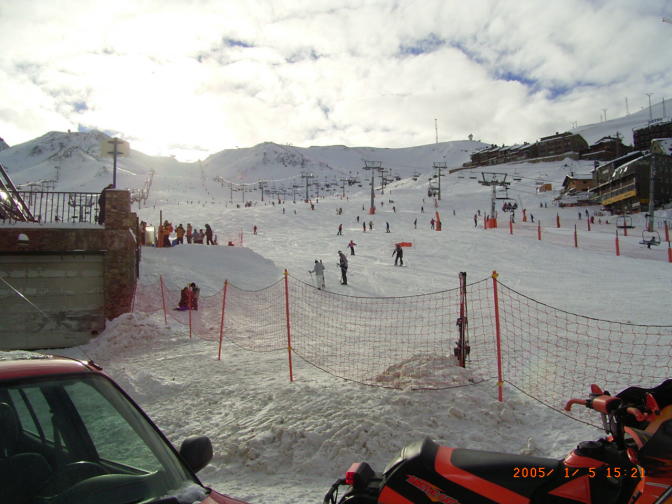 The ski resort Pas de la Casa.
18.00 Back home! We were lucky to be able to jump out from the bus in front of our hotel. We were luckier than some Russians who desperately screamed to make the bus stop. I guess they had a long walk home from where the bus stopped.
19.00 We are having a coffee and pastry at El Forn De L'Avi. There are hords of people in the streets. What is happening?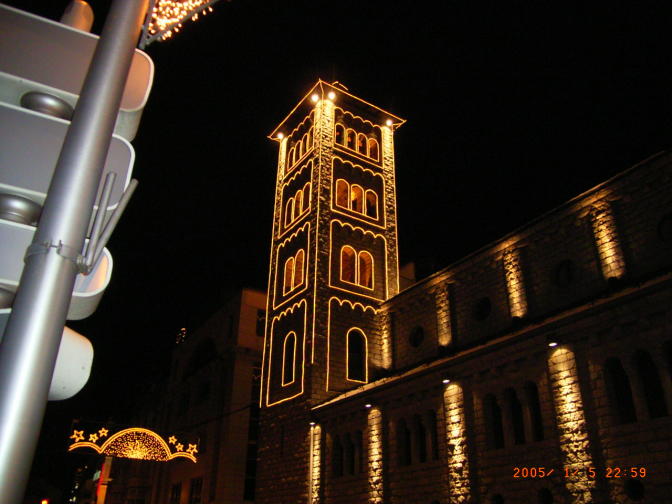 Beautiful church in Escaldes, Andorra.
21.05 We fled back to our room. A lot of things has happened this evening. We bought some postcards, but no stamps, and Roberth has bought some souvenirs, four thimbles for his colleagues. After that Roberth went to an Internet café and Christer and I kept searching for stamps. The only thing we found was some stamped envelopes. Next catch was soon to follow. Christer's postcards were to big to fit in the envelope and he had to fold it. The stamps by the way dates back to 1992, will our envelopes make it home?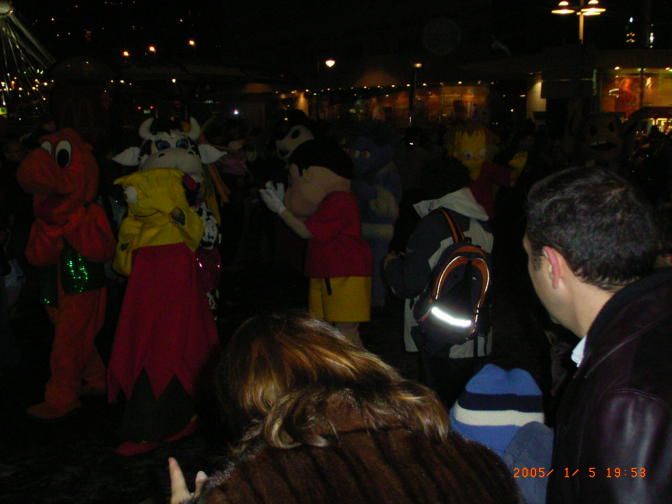 A parade through Andorra la vella with lots of characters from Disney and other different carooons.
This celebrates the end of Christmas.
The reason behind the crowds in the streets were a carnival parade. They are celebrating the end of Christmas. The parade tossed out some candy that we and the other bystanders gladly accepted. After watching and munching we decided to rejoin with Roberth. The grand final was a visit to Hiper Andorra, a huge supermarket. Here we bought beverage with and without alcohol and some candy. Now it is time for dinner. One of Roberth's thimbles is dead. It fell from the side of the bed down on the stone floor and got crushed. Pity!
23.23 We just came back from a dinner at restaurant "Casino". Different levels of pleasure were reached. Now we´re eating some candy before we go to sleep.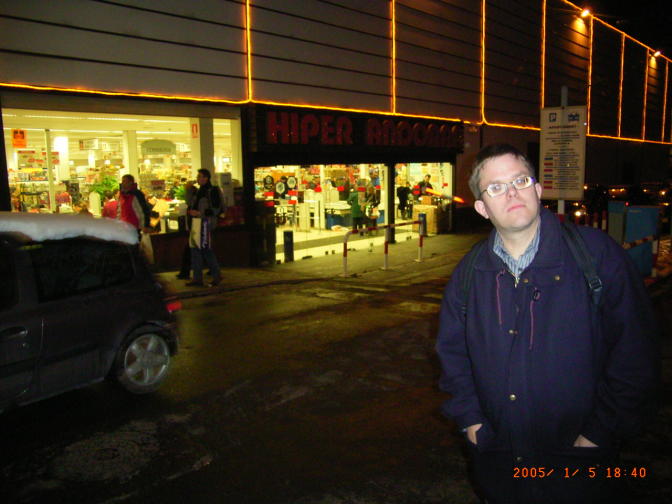 Peter in front of the supermarket "Hiper Andorra".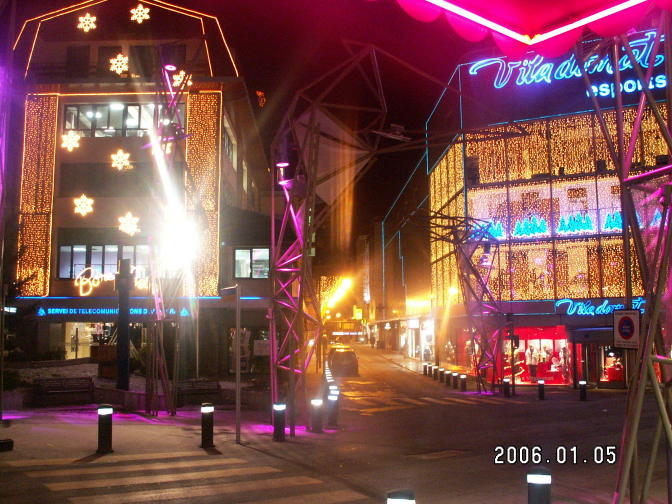 Beautiful nightlights outside our hotel in Andorra la vella.
---
Friday 6th of January
08.59 We decided to shape up. Within an hour the breakfast restaurant will close. Today it is time to go abroad, again.
10.27 We have begun to gather our belongings. The main part of our luggage will be left in the reception. Among the things we have left to do here is to buy a new, whole, thimble.
12.17 First we or Roberth bought a new thimble. After that we or I got us a map of the town from the tourist information. Later we walked around in the old town. There we looked at the parliament. On the way out of the old town Roberth popped in to a store to look at some cameras. He soon came out and was followed by a salesman. The man in question was not so pleased that Roberth just had left. Now we ended up at "Charlot" a restaurant full of Charlie Chaplin stuff. Soon we will have lunch.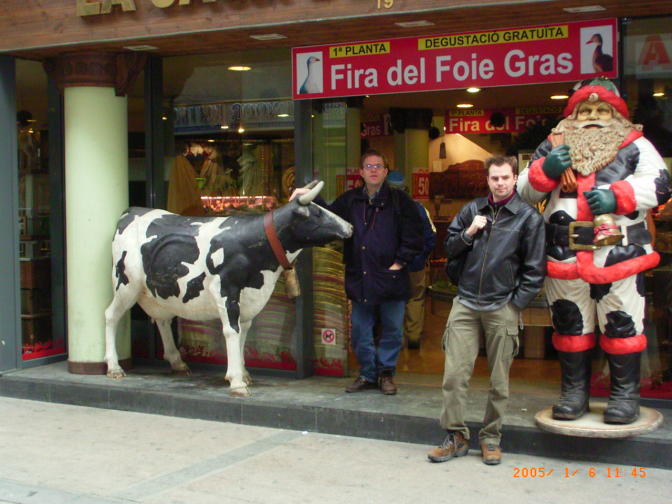 Peter, Roberth and a fake cow outside a store in Andorra la vella.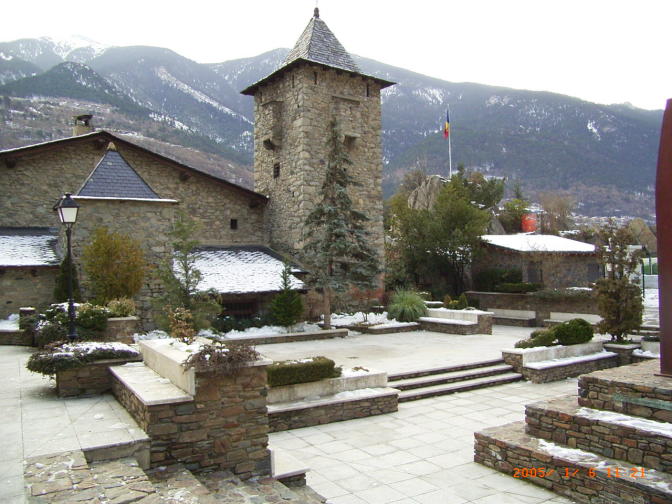 Casa de la Vall, the parliament in Andorra.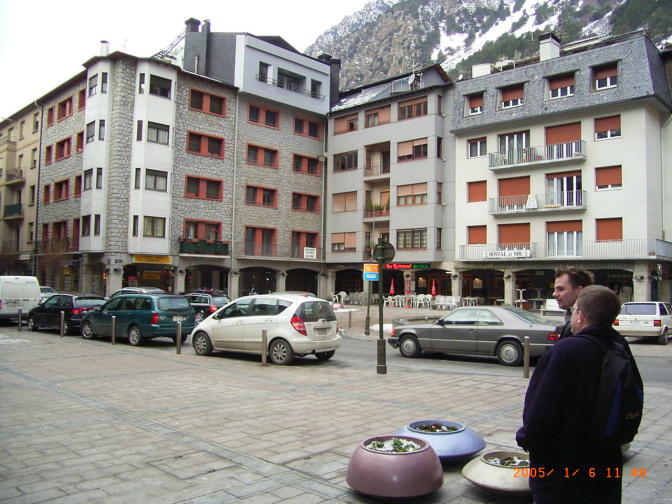 Placa Guillermo in Andorra la Vella
13.00 It was tasty, it was wonderful. Now we have to gather strength before we head back to the hotel and our luggage.
13.50 Before we left the restaurant they offered us snaps each, strong stuff! After that we picked up our belongings and went to the bus station. Here we are, back on a bush. Same driver as on the way here. But this time we got a fellow passenger with us.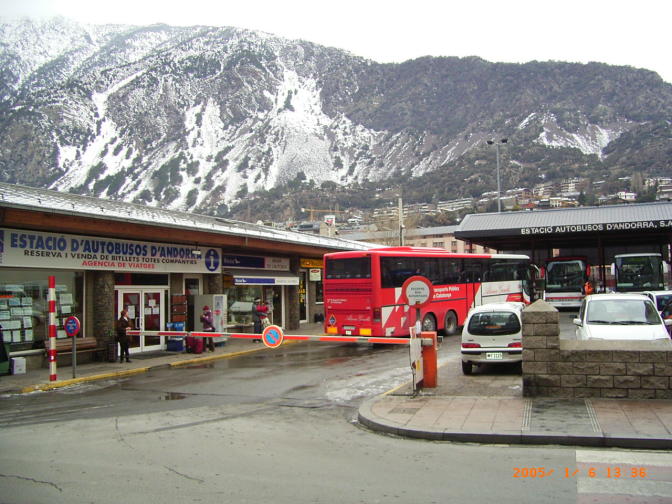 Departure from Andorra la vella bus station.
SPAIN
16.59 We just returned to Girona airport. Next is a trip back into town with our mini bus. This trip will cost us nothing.
18.00 We are in/on/at room 47 at the youth hostel in Girona "Cerveri Girona". We´re relaxing and gaining power before we head out on the streets again. The room smells of new paint and we have opened the window to rinse it out. Freshly painted? The room must be left in the same shape as we found it. How shall we act to get the paint smell back?
22.18 The evening began in an Irish pub for Guinness and coffee. Later we walked around in a calm and quiet city. I guess most are home and celebrating the twelfth night. The fact that it rains might be another factor. Anyhow we found a Chinese restaurant "Deng Xing". Mouth watering and stomach filling food.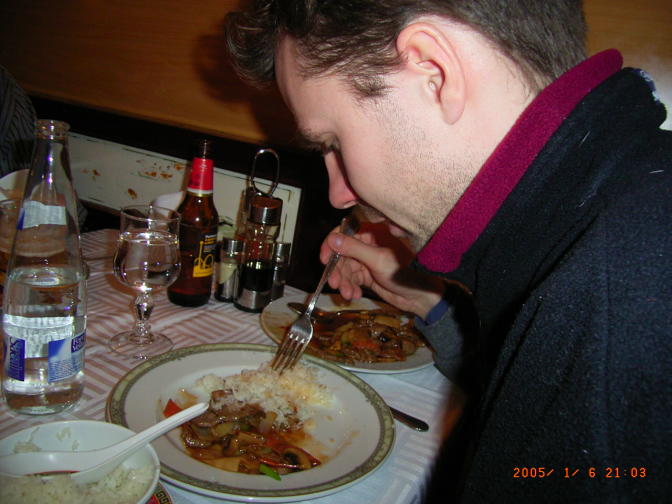 Roberth eating at the Chinese restaurant "Deng Xing" in Girona.
---
Saturday 7th of January
06.43 We all have different levels of tiredness. Soon gathering, marching out of here and breakfast. After that a stroll in rain to the bus station.
07.35 It wasn't mouthwatering nor stomach filling. But still it was breakfast and that is always something. After that we said Adios and walked here. Here, that is the bus station. In twenty minutes we will be sitting on the bus to the airport.
08.19 We reached the airport. Time for a visit to the men's room. After that I guess we will have to check in.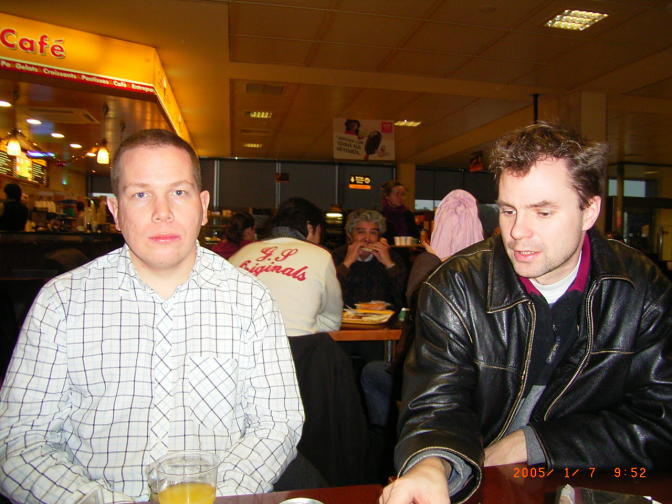 Christer and Roberth in the café at Girona Airport.
09.49 We arranged with something to drink. My coffee was supposed to cost 1.10 euro according to the menu instead cost 1.25 euro. I only had 1.20 and thought I could "borrow" 5 cent from a small saucer. I thought it was a take cent/give a cent saucer. It turned out to be the tip saucer. Final result, a less pleased man behind the counter. Roberth bailed me out.
10.47 Today we choose 19 D-F. This plane as the one we came with lack row 13. We realised it is a time to go home. It´s raining in Girona today.
SWEDEN

13.50 We just landed. The ground is covered with snow. Next we have to get out of here with all our belongings and find the bus to Stockholm. Soon the aeroplane will stand still and everyone will get up.
14.32 We are outside the terminal, waiting. The first bus was full. Next bus will be here in twenty minutes.
14.46 Our luggage is loaded in the back of the bus and we just sat down. Soon we will begin a new journey.
16.24 It is time for dinner. We are at "Asian Station" in the Central station in Stockholm.
17.15 Here we are, in the back of the last bus, ready to go back home. An intensive but in all ways a wonderful trip has passed and the sun and rain in Spain has made us remember how spring and a lousy summer day is.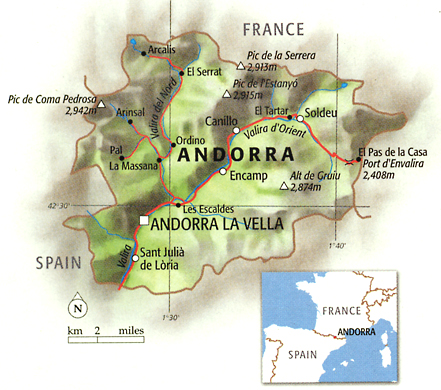 ---
You can see 6 photos from January 3 in this photoalbum.
You can see 60 photos from January 4 in this photoalbum.
You can see 55 photos from January 5 in this photoalbum.
You can see 28 photos from January 6 in this photoalbum.
You can see 2 photos from January 7 in this photoalbum.

---
---