---
Text: Peter Johansson
Editing: Christer Lundstedt
Photos: Christer Lundstedt
---
26/6 - 29/6 Sibiu - Bacau
---
Thursday 26th of June "Reunion"
09.00 From 08.30 until now I have, woke up, had a shower, ate breakfast and got the diary to write this down. From now on, the following - final packing, relax awhile then walk to the station. There, ticket to be purchased, train finding, climb in and depart..
11.29 Once again in a compartment, this time with the destination stated as Brasov. We saw the movie "Puckoon" before leaving, a funny movie that was filmed in the north of Ireland. Our host and hostess gave us a warm farewell. I am afraid that wasn't the last warm thing that we experience today. Today's trip costs 74 000 lei and with it, a later and slower train then we planned.
12.05 The train just shook and we are on the move, towards new adventures and fun
13.20 Warm day, but it could have been worse. Spectacular views of the mountains, really spectacular with peaks over 2000 metres.
15.23 We travel through an agricultural landscape. Short stops in different villages. We can see people travelling by horses and carriages.
17.08 We barely got off the train when our old friend and host from last year, Eugen, popped up (see July 25th 2002). He offered us a place to stay, not at his place but with an old lady that he knows. We are currently at Dobrogeanu Gherea 39 and relaxing. Our hostess is a nice lady that has a German sheepdog. She wants 380,000 lei per person per night.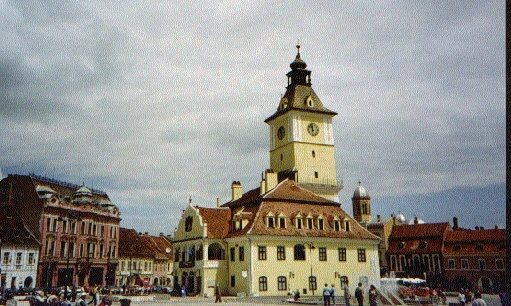 Piata Sfatului in Brasov.
18.42 Reporting live from the terrace on a rooftop. We just ordered pizza. The place is really cosy. With the pizza we will have a blonde and a brunette. That's what they call light and dark beer here, Blonde, Bruna. Our restaurant is called Sidul Vamii.
20.50 We bought some evening beer and breakfast food. Next washing and easy exercises to relax..
22.05 For the third time in different places we are able to watch TV. Many channels to choose from. The most genuine one must be "Etno TV". People in national costumes singing to folk music.
---
Friday 27th of June "The day we peaked"
09.10 I just woke up. I will eventually get moving. Today we will see the town and perhaps go by cable car. We will also have time to search for information about other towns in some Internetcafé.
09.45 A much needed shower. Soon some breakfast on our terrace or perhaps in front of the TV in our TV-room. To make a long story short, we have two rooms, a kitchen, a bathroom and a terrace.
12.36 Time for postcard and coffee break at Mado. Soon we return back to the streets. Next to us a band playing music inspired by the South Americans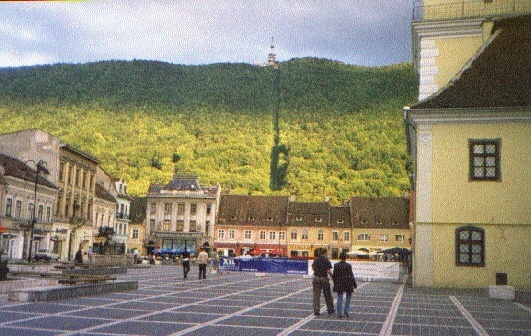 Brasov and Tampa mountain.
13.42 Hello again! Since then we have been searching for the post office but found none at first. What we found was a man sitting on a parking lot/backyard with a jigsaw puzzle. Apart from this we have seen solar powered parking meters. Finally the post office appeared and the post cards got sent. Currently we are at the foot of the mountain, resting on a, guess what, bench. Soon time to head up the hills.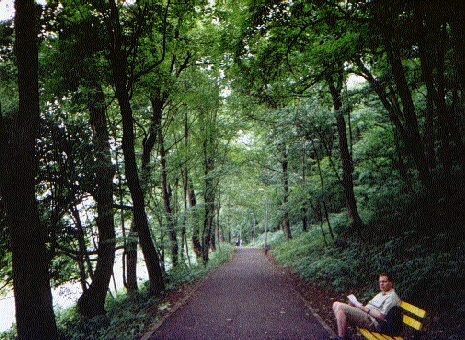 14.09 Cable car tickets for a back and forth trip are bought. We are aiming to be at the top of Mount Tampa.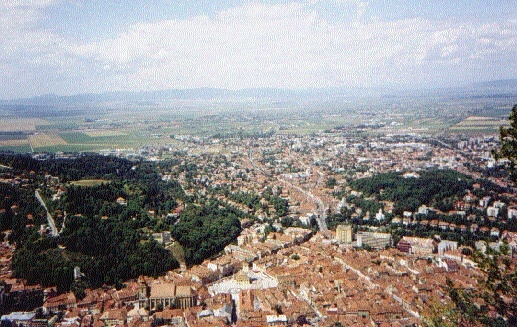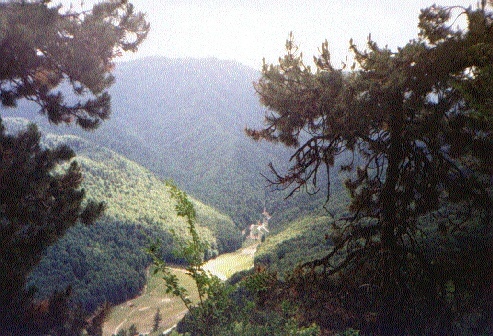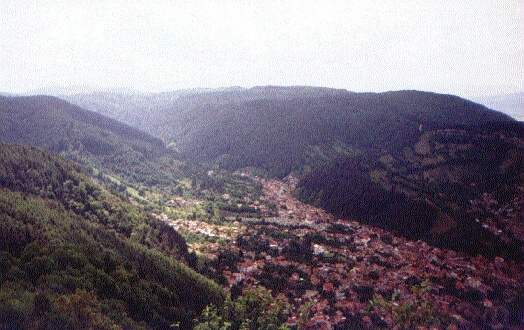 From Tampa mountain in Brasov.
14.54 Standing at a look out point with a magnificent view over the town. All seems so small, so calm and so still. One can hear the cars honking but can barely able to see them. It is breathtaking.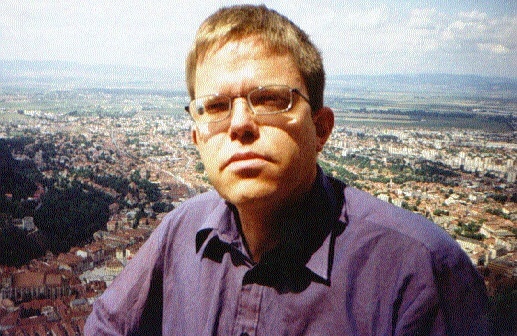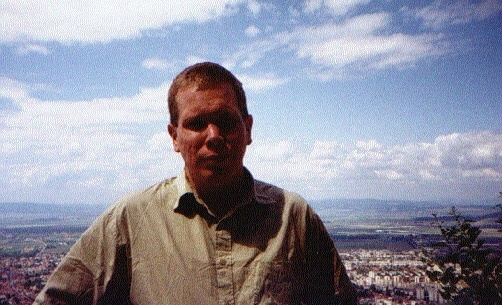 15.42 Just got down from the mountain, without any stone tablets with new commandments. Gathering strength before dinner. We are planning to order bear meat. With that, it might be beer. After dinner, despite how it tastes coffee.
16.07 It won't be bear, it will be boar. Bear meat, "urs" as printed on the menu, is out. As I ordered the beer, "Ursus" to the boar, the waitress replied – No urs. She thought I wanted bear after all. The little mistake was solved.
17.14 The food at Casa Padurarului was consumable but not great. Got satisfied without satisfaction
19.30 Back at home with tonight's beer and tomorrow's breakfast. We found out we got ourselves a new neighbour. A guy from USA, came to Romania to find his roots. He got a thorough instruction from Eugén about the town and the area around and then, poor guy, brought to McDonalds for food.
23.31 The BIG adventure started a little more then an hour ago. Eugén picked us up for bear watching. The trip had just begun when a man popped up at the side of the road. It was Viorel "The Bearwhisperer". We went to a part of town to a mountainside with a forest. There, after some driving, we saw a big, powerful she-bear with three cubs. The she-bear and one of the cubs are having a late dinner in one of the small containers/big dust bin. The other cubs sat on a concrete wall and looked at the view. Other viewers were some other people, and us some with cameras. One photographer took a step towards the wall and mama bear got up from the container. He jumped like a tiger, making a two-metre side step. This was the soirée of my life. No bear meat to eat but four live ones to look at.
---
Saturday 28th June "The long walks"
08.30 Just stepped out of the shower and I am still tired. Next, time to find the shirt I washed last night and which our hostess hanged in the garden, I wonder where.
09.11 The shirt is found and packed. The breakfast found and eaten. Soon a new station walk.
10.07 Our little walk to the station has brought us to Bucaresti Street. The sun is shining and all feels good. A little aching knees though, all to blame on walking down a steep hill with heavy backpack on our back.
10.36 We reached the station and I am sitting on a bench enjoying the sun. At this time last year it was raining here.
11.15 A lot has happened since the latest report. Christer has bought tickets. In the queue people tried to cut queue to be the first. Some even begged. He also saw a wrestling game between the female toilet guard and a man that had a little too much to drink. I, on the other hand met Eugén again. He is here for some more guests. I got myself some espresso for 10,000 lei. Christer gave me my ticket. It costs 48,000 lei but I thought he said 4,800 and considered it dirt-cheap.
14.50 We reached, after a traditional wrong walk, hotel Sport in Miercurea Ciuc. In a three bed room with number 14, TV (Etno TV ?), a red carpet and a balcony. For this we pay 260,000 lei each. There is a restaurant at the bottom floor and an ice hockey arena as the closest neighbour.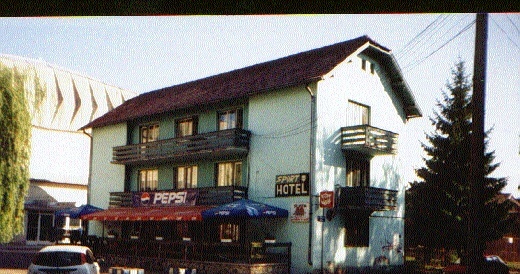 Hotel Sport in Miercurea Ciuc.
17.09 Sitting outside restaurant Alzo. Just ordered and got Ciuc, the town's contribution to beer culture. An excellent contribution I may add. Menu in several languages. The town is small and cosy with signboards in Romanian and Hungarian .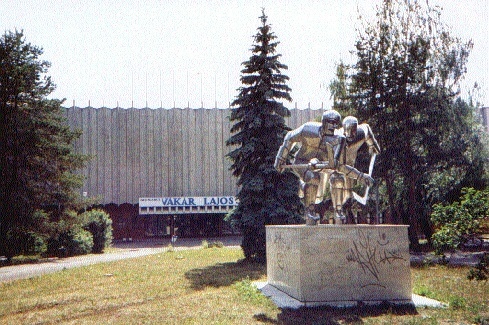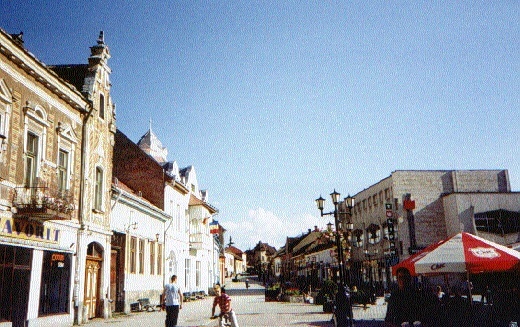 Pictures from Miercurea Ciuc.
19.00 What I had and what it cost me. Gordon Bleu 110,000 lei Ciuc 15,000 lei bread 2,500 lei espresso 10,000 lei Total 137,500 lei or US$4.30
---
Sunday 29th of June "From hell to the sweet life"
06.09 This has happened since the alarm clock went off at 05.36. Woke up, turn off the alarm, got out of bed, had a shower, came back, had breakfast, opened my name day gift, got a card, a lottery ticket, checked it, didn't win, took the diary and wrote these down. I am not in the least tired, slept like a baby.
07.04 On today's first train, but I think and know there will be more. Because if we just do one trip, we won't reach where we want to be. It is a cold morning, mist on the car's windows.
08.23 It's been an hour since we left. Beautiful scenery, steep slopes covered with grass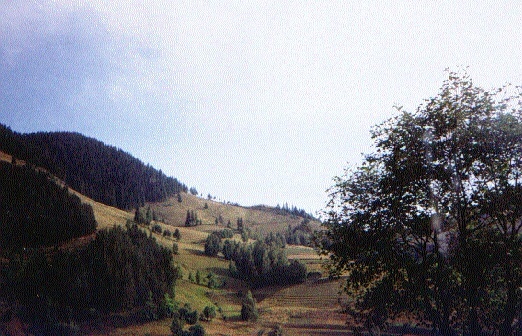 09.50 We are only a station away from the end of the first trip, Comanesti, and we are standing still, dead still. Some others, including us are waiting. We have during the trip seen horses and carriages, small sawmills and houses with roofs like the ones on a pagoda from Thailand. A meeting train just arrived and we are now on the move.
10.08 The train arrived and we got of. What ever will happen now and will we travel on? Research is undergoing. What ever might happen next?
10.10 We are supposed to carry on with the train we came in. Departure in two and a half hours.
11.07 A station police spotted us. He wants to know where we came from and where we were heading. It took a while to make him understand where we came from and he left as soon as he found out. But he wasn't gone for long and soon came back, together with another man. They looked at us and left. We did the same, in search for a restaurant. None was found but we found this bench that we are sitting on.
12.22 Back on the train again. I had a hotdog for lunch before embarking. In half an hour departure to Adjud.
14.48 We are now on the top floor on the train from Adjud. We "spoke" with some men on the train to Adjud. They seemed amused. They wondered about our language, manners and if they could buy/have my watch. I wonder if it were our attempts to answer that amused them or what.
16.42 We reached Bacau, looking for a place to stay. Decebal wants 1,5 million/person per night. Christer has gone to find an alternative.
17.20 All those that we are looking for, either don't exist or under reconstruction. So we chose Decebal and got room #508. A wonderful room, wonderful beds, bathtub, balcony, leather armchairs TV and refrigerator. On top of that a remote controlled aircondition.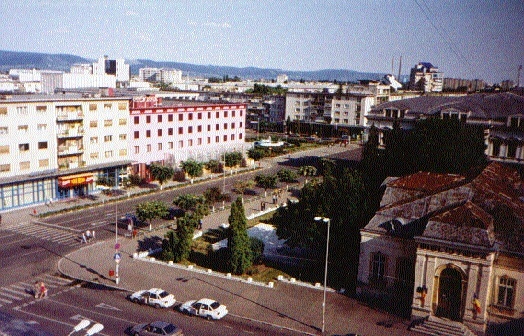 View from Hotel Decebal in Bacau.
20.15 After a heavenly bath and some calmness our feet brought us to La Dolce Vita. This sure describes how we feel. After what seems like an endless train trip we have now reached "The sweet life".
---
You can see 5 photos from June 26 in this photoalbum.
You can see 27 photos from June 27 in this photoalbum.
You can see 11 photos from June 28 in this photoalbum.
You can see 8 photos from June 29 in this photoalbum.

---
---

---