---
Text: Peter Johansson
Editing: Christer Lundstedt
Photos: Christer Lundstedt
---
Monday July 29th
08.05 Once again a morning in a room we call our home. Soon a little to eat. Before we once again walk the street.
08.51 To be asleep is just round the bend, but for each minute our trip reaches for an end. But more will happen rest assure, before we leave for home shore.
12.07 Just got us ticket for tomorrow's trip to Hungary. We are resting in the sun. Sitting on a bench in red, yellow and blue colours, the colours on the Romanian flag. The mayor of the town is a little?! nationalistic. The colours can also be seen on waste baskets, posts along the pavement and in flowerbeds. What's next, zebra crossings and traffic lights?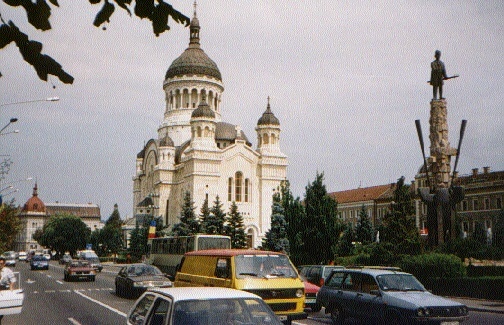 Cluj, also known as Cluj-Napoca.
12.58 Back at Pizzeria Y. Now for lunch, for both of us, spaghetti. Just as our beer arrived two more were served, once again on the house. What is this? We haven't seen anyone else been served extra beer.
16.10 We were, after our siesta, ready to return out. Then it happened, our Lord turned on the tap, in other words, it's raining.
21.19 Back home after a last look at the town. We had dinner at a cheap place, one waitress and a hole in the wall into the kitchen. But they served ten-centilitre cognac for under $1. Our waitress took our tablecloth, shook it, turned it and put it back. On top of that she spilled beer on the cloth. On our way home the rain began again. We searched shelter under a roof. As we stood there we saw a crossing with a timer counting down go/don't go.
23.27 Time to head for bed.
---
Tuesday July 30th
05.11 It's here again, the early morning. We are happy the station is so close. There are lots of phrases to describe how I feel now. Great is not one of them.
HUNGARY

10.40 After passing the border are we now at the station in Püspökladny. Next get a ticket to Debrecen.
12.27 Our new home is hotel Fönix in Debrecen. The room is great and has a balcony. Next shower and washing the clothes before we go and get us a lunch.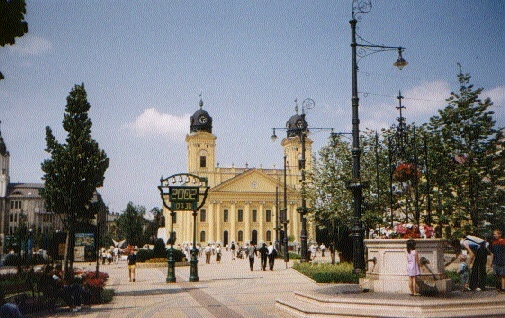 Debrecen
14.42 A stop for a beer on a small square. The town is much prettier than last time we were here in 2000.
18.59 Sitting on the balcony in a splendid evening sun. Drinking beer and taking it cool. We are wondering on what day we will be back on Swedish soil.
21.47 Home again after a marvellous dinner at Lucullus. I had flambéed rump roast, baked potato, rice, carrots, peas, corn and delicious sauce, to drink a beer. After the dinner espresso and Unicum, a Hungarian liqueur with a bitter taste.
22.25 We are aiming for the later train tomorrow. One reason is that we need to sleep, another is that we wanna have lunch in Miskolc.
---
Wednesday July 31st
07.50 Out of bed and I slept, well, well. Next a shower and then breakfast. I am ready to travel on.
09.13 OK or is it O No. The train we planned to go with, changes direction, a wrong direction, in Nyíregyháza. But I guess this will be solved.
09.17 We got a ticket. All seems Ok, I hope.
12.01 On our way to Miskolc and our lunch, after or before that we will get us a ticket to Košice. It is a little warm today. I am still in a good mood and some small girls have watched me and laughed, I just smiled back.
12.35 Back in Miskolc. I don't think it is as warm as last time (Jul 6 12.49). Next food and ticket.
13.49 Resting on a bench in the shadow. We just got from the station restaurant. There we had pörkölt (meat), galushka (dumplings), strong sauce and beer. To end the lunch we ordered espresso. The cost for it all was below $3 per person. This cool day is it only 32 (89.6).
14.36 Sitting on a bench on the platform. Waiting for the train. It is a little rain and a thunder far away.
14.52 Onboard the train. We are wondering if we are in the right wagon. Outside is it raining.
16.03 We took the safe for the unsafe and changed wagon. On our way here we saw a bed leaned against the wall between two compartments.
SLOVAKIA

17.22 We are now under the roof, in a gate in Košice. Out in the streets the rain is falling down. We wait here before we move on to the tourist office. They close at 18.00 I hope we get there in time.
18.32 We got to the tourist office in time. There we got a place to stay close to the city centre and the station. Next we will relax and get dry before we once again walk the town. On the way here I managed to step into a small creek that the rain had made on the pavement. My sandals got wet and I hate this rain that keeps following us.
22.20 We have returned. After strolling the town we went to our favourite place, The Farm, for dinner, a delicious meal and one litre of beer.
23.10 Back from the shower and I have set the alarm clocks at 07.00. Next sleep. On the radio "Senza una Donna" or however it's spelled. I hope my sandals have dried until tomorrow.
23.20 We have a funny shower. If you turn off the taps, the hot water keeps pouring. If you then turn on the cold water, the hot water stops. So it takes a lot of turning to make it stop. This has happened to both of us.
---
Thursday August 1st
07.30 A morning one more time, I had breakfast, sausage and yoghurt. Next the shower, I wonder if the water can be turned off.
07.48 No problems with the shower were I lucky now or tired yesterday.
08.51 Ticket bought and we have boarded the train to Zvolen. There we will change train and travel on to Banska Bystrica.
10.03 Just before we left the station, an old man with white hair entered the compartment. He put down his cup of coffee on the little table by the window. He then put his bag on the shelf above us and sat down to read by the door. Suddenly he went out in the corridor, came back and left with his belongings, well not the coffee. We assumed he wanted to get of. Later the guard came, could that been the reason? We soon had an answer to our question. He hadn't left, just moved to another compartment and soon returned for his coffee.
10.10 Mountains are rising around us.
10.23 We have just gone through a long tunnel. It took a couple of minutes. A subway feeling to say the least.
13.12 The train arrived at 13.00. We got of, went into the station, wondered, checked and fixed new tickets. We are now seated for a new journey.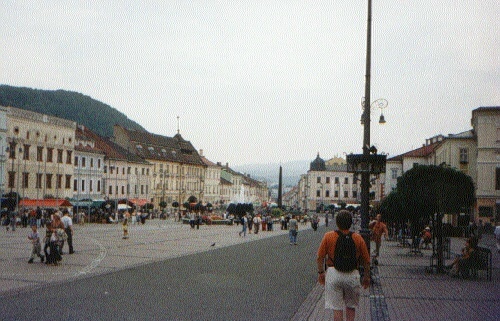 The main square in Banska Bystrica.
14.47 We have a place to stay, and what a place. We got access to a big TV-room, a full sized kitchen and super room to stay in. This dream place is named Stavoprojekt Ubytovanie. At the station the train had a SHORT stop, just in time for us to get of. We were met by rain. The room was fixed by the tourist information.
18.58 Our journey of photography is over, next on our schedule, dinner. I have tried to phone home but no luck. Not only to we live great, our lift takes is straight down to the reception as soon as the doors close, no needs to push any button.
20.15 The beers are here and the food is ordered. I will go for pork and something to it. According to the waiter is my pork "piquant". I tried to phone home again before we got here. It failed the first time; I had inserted my cash-dispenser card. I switched cards and tried again. This time I was able to talk with the ones at home.
21.29 Our food was superb. On the square is it first class entertainment. A lights and water show from the fountain. The way home was amusing. Three drunk guys stood for the fun.
23.05 We had some beer and nothing happened. Then Christer had some juice and tipped his glass. The juice here is strong stuff.
---
Friday August 2nd
10.00 A wonderful and well-earned sleep is over. Next breakfast in the kitchen. Later we will walk the town and buy some stuff.
13.13 We found the main station and bought a ticket. Next a walk to a store to buy food.
13.47 We are inside all quiet. The thunder is outside not at all quiet. Short break before we have our lunch at Perla a place with a homebrewed beer.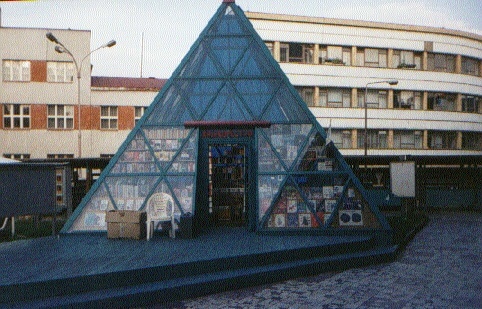 Strange bookshop close to our hotel in Banska Bystrica.
15.10 It will be lunch but not at Perla. It will be at pizzeria Copaline at the end of the square. We will try the beer of that place later and the beer here as well. Something is wrong.
15.37 The pizza was tasty and we just got our beer. Christer on his hand had spaghetti for the fourteenth time this trip.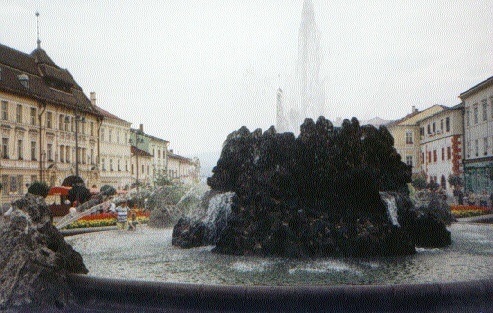 A volcano on the square. This fountain looks amazing at night.
19.37 Short break on out way to a restaurant for dinner. Before we got here we stopped at Perla. Their homebrewed Zlata Perla(Golden pearl) costs 30 cent for half a litre.
23.25 After we returned from dinner, which was great, we have just chatted on and had some beer. Next we will try to sleep. There are essential things one must do on a trip one is to make sure to drink a lot of liquid, the other is to sleep enough.
---
Saturday August 3rd
08.27 So a new travel morning has broken. Most is packed and I am not all that tired. The trip of today is to Martin. I just hope we will find a place to stay.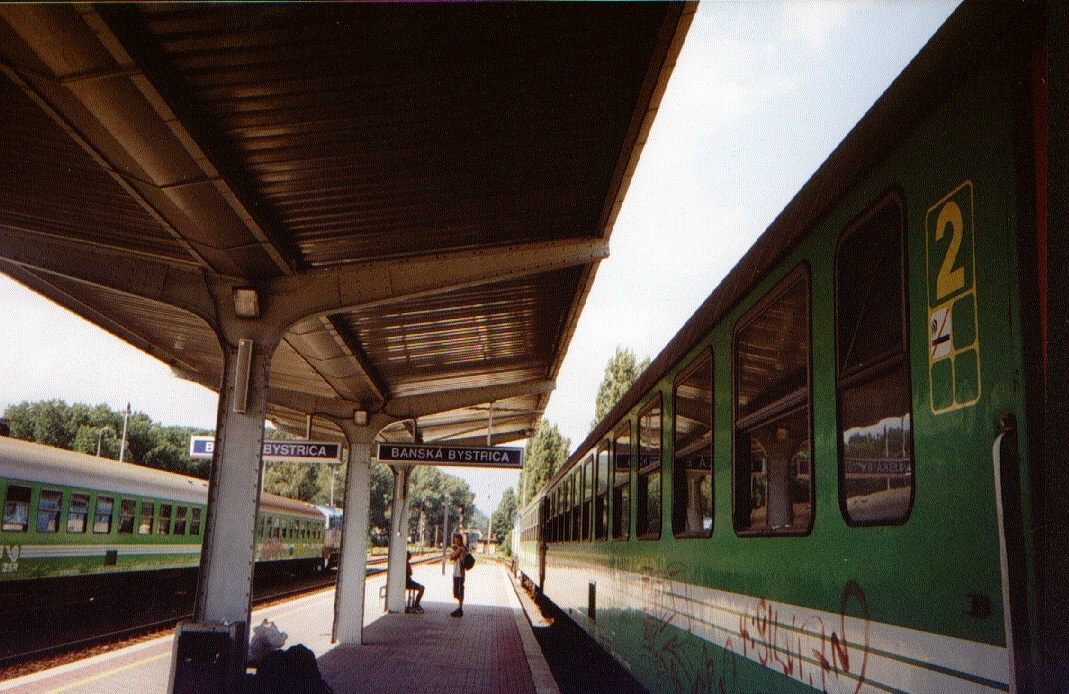 On the platform in Banska Bystrica.
09.24 Breakfast is eaten. Last check about Martin. Departure at a quarter to eleven.
10.17 We are at the station. It is a sunny day and I hope we won't meet rain on our next stop.
11.03 What a comfortable trip, we are sitting in soft seats in a wagon-sized compartment. The wiev is extraordinary, rivers deep, mountain high.
12.17 Penzion Cierná pani was full. Now we are staying at Slovan and we don't suffer. We have a bathtub, a TV, a balcony and an electric radiator. To make the lift move we must turn a key.
14.25 Lunch at pizzeria Pizza We have walked the town, not much but cosy.
15.25 Great pizza. A funny thing happened to me as I got my pizza. I lifted my knife and fork and the napkin blow away. As I tried to catch it, the fork fell to the ground. Now we will head for the station and buy a ticket for tomorrow.
16.53 We just seen Ricky Martin, sorry Rocky Martin, the mountains around here are great. Later we saw the amphie-theatre. It was crowded so we head for a park. Right now we are lying in the grass and just enjoy.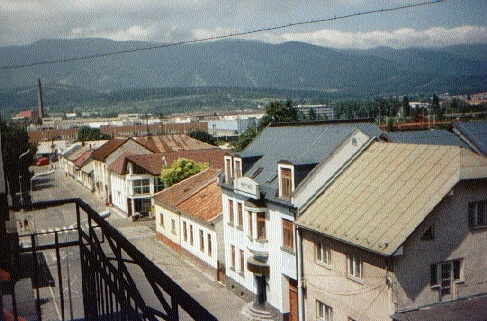 Martin
17.31 We were not alone in the grass. There were ants that just loved to explore the newly arrived ones in their district. We are now by a fountain with several beams out of the ground. This seems to amuse the little ones. A little girl just reached one of the beams and she is fascinated.
17.55 The little one wasn't allowed to play and we went home. We have decided to try the tub.
18.37 Just got out of the tub, it was great and I needed it. While I was soaking up, Christer saw a wedding couple enter the house opposite to our hotel. They came in a car.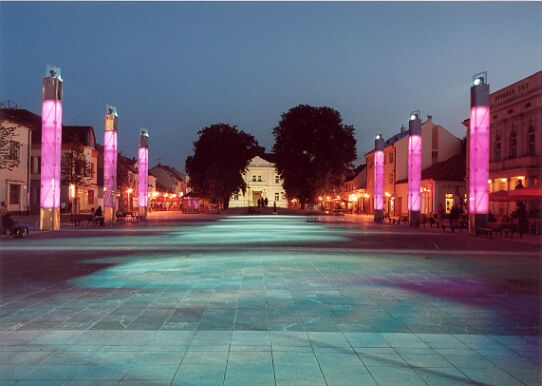 Wonderful pillars of light in Martin.
21.56 Back home after a great dinner. Fried pork chops of wild boar, chips, beer and espresso. This feast cost us $3. Before we went home we saw a spectacular lights show at the square.
23.40 We have nice and easy packed our stuff. The remaining stuff we will need tomorrow morning.
---
Sunday August 4th
06.33 I am hungry and tired. The hunger will be cured with breakfast. I have to live that I am tired. Soon a new trip today is the BIG train changing day.
08.01 Sits and wait for today's first train. It is a cold day 17 (62.6) degrees.
08.13 Onboard the train between Martin and Vrútky. It will just be a short trip.
08.29 After a nine minutes ride we are now at a new station. We await a new train the 09.16 to Žilina.
09.03 We are on the train to Žilina; we caught an earlier train.
09.44 On the station of Žilina with a ticket to next stop, Ceský Tęšin in the Czech republic.
10.09 On our marks in a wonderful compartment. We get set to go to a town with a Polish "twin town". It was ones one town. But after world war one and the fall of the Austro- Hungarian empire the town was divided. The river in the town marks the border. It would be nice to see this but we shall travel on.
CZECH REPUBLIC

11.12 Since a couple of minutes we´re in the Czech republic. Soon will we stop and will get some money and buy ticket. How much time will we have?
11.52 No chance to exchange at the station. I ran out, found an ATM, hurried back, bought ticket, rushed out on the platform and got stopped by a zealous police that just had to see the passports. While he looked at the passports, the train left. I am tired and really mad. But I assume this is just another reminder of that we are supposed to die one day.
12.58 My anger is over and we are working from three alternatives.
1. Walk over the border and perhaps sleep in the twin town Cieszyn before we catch a train to Lodz
2. Take the train to Katowice, sleep there and then Lodz
3. Sleep at a hotel here and tomorrow go to Bielsko-Biala, there our tickets take us and then Lodz.
14.05 We choose alternative three. Staying at hotel Central. Our hall is our bathroom.
16.28 We have strolled the city, bought breakfast, seen the border river and had pizza and spaghetti and Verdi. The dinner was ended with some espresso.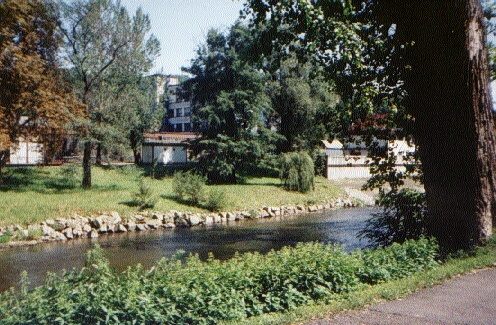 This river is the border between Czech Republic and Poland.
20.03 Back home after a short walk in the town. As we got back, we didn't get into our room. We had been given the wrong key.
21.41 Back in bed. Just had dinner at the hotel restaurant. It was really tasty. Next one of the last packing of this year.
Monday August 5th
06.05 Outside some activity, they might be sweeping the street. In here far from as much activity but I guess there will be. Today we will enter Poland.
07.00 For one of the last times we have written down on a note the place we wish to go to. If we show these notes to the ones selling tickets don't we need to master the language. I hope this note will help us to Lodz our last stop. I hope.
07.20 We got out of the room. We got into the station. We passed the house of the passport police. But we didn't get onboard the train. The doors are locked.
07.38 A Czech policeman has checked us on the platform. We walked to the little house and been checked by his Polish colleague. Now we are sitting on hard plastic seats. I sure hope we will make the trip this time. We are all alone on the train.
POLAND

07.52 First stop today and the first stop in Poland for a while. More people are boarding.
08.53 We are travelling through an open landscape. Here and there woods and we prepare our arrival to Bielsko-Biala. There we will get us some zloty and tickets to Lodz.
09.54 We are onboard. Heading for Sosnowiec, there the last switch of the day will take part. All is well but it is a bit warm.
11.17 On the platform by the station of Sosnowiec, in a couple of minutes will the Lodz train be here.
14.42 We are in Lodz and sit by a wall. We have just checked places to stay. It must have a decent price and be close to here and the station we will be leaving from tomorrow.
16.22 First we went to the hotel we planned to stay at. It was renovated and expensive. After that we went to a youth hostel, that was cheaper but closed. Finally here at Szkolne Scronisko Mlodziezowe w Lodzi. The trip and the walking have made us exhausted. Next shower and rest before food. As I was writing this, the rain began to fall. I am glad we got inside in time.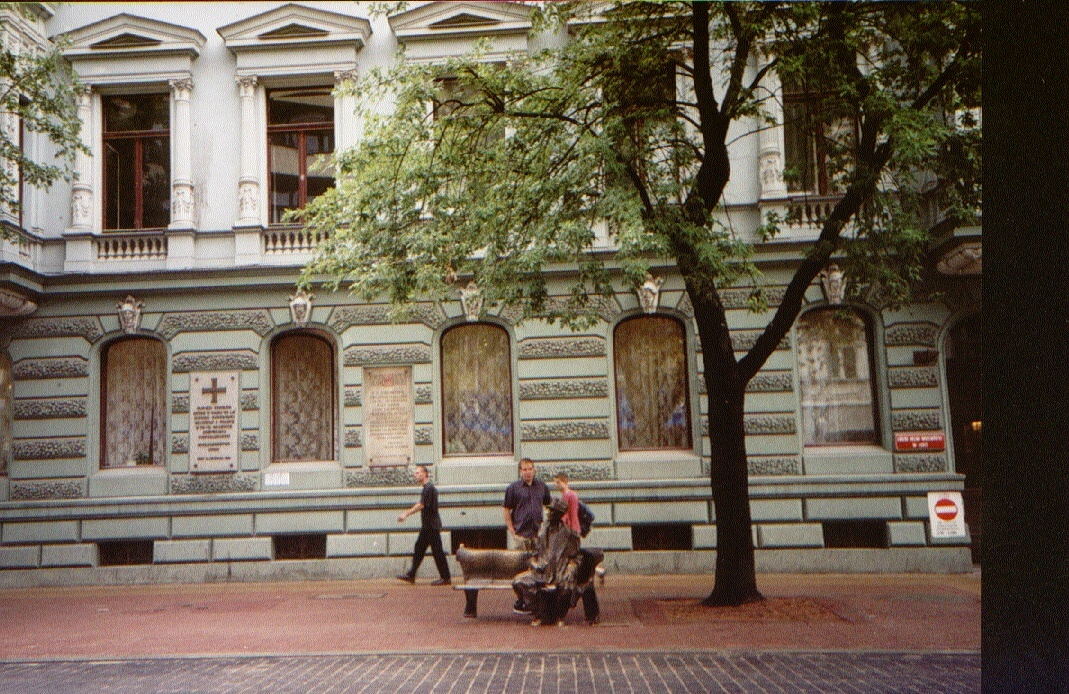 Christer with a man of stone in Lódz.
17.00 I did after some searching find our shower. It is on the floor above is.
21.55 Home again after have tried and failed to reach the station. We were in a hurry cause they have a curfew here from 10.00. But we know now after closer examine the map, how to get to the station. Tomorrow is the day, I hope nothing goes wrong. Something that went well earlier was the dinner. It was huge and delicious. I had barbecued meat with chips.
23.00 Time to fall asleep for the last time on foreign ground for this trip. Tomorrow the grand finale. I really hope all goes well in Gdansk I don't want a replay of last year (See last years journal, Jul 23).
---
Tuesday August 6th
06.30 The last morning on Polish ground is here, next a shower and the final packing.
07.12 Back from the shower and just had some yoghurt for breakfast.
08.32 Sitting on a bench and look at our train. I bought the ticket and had coffee. All feels well. We are planing about the trip, what do to on the train and so on.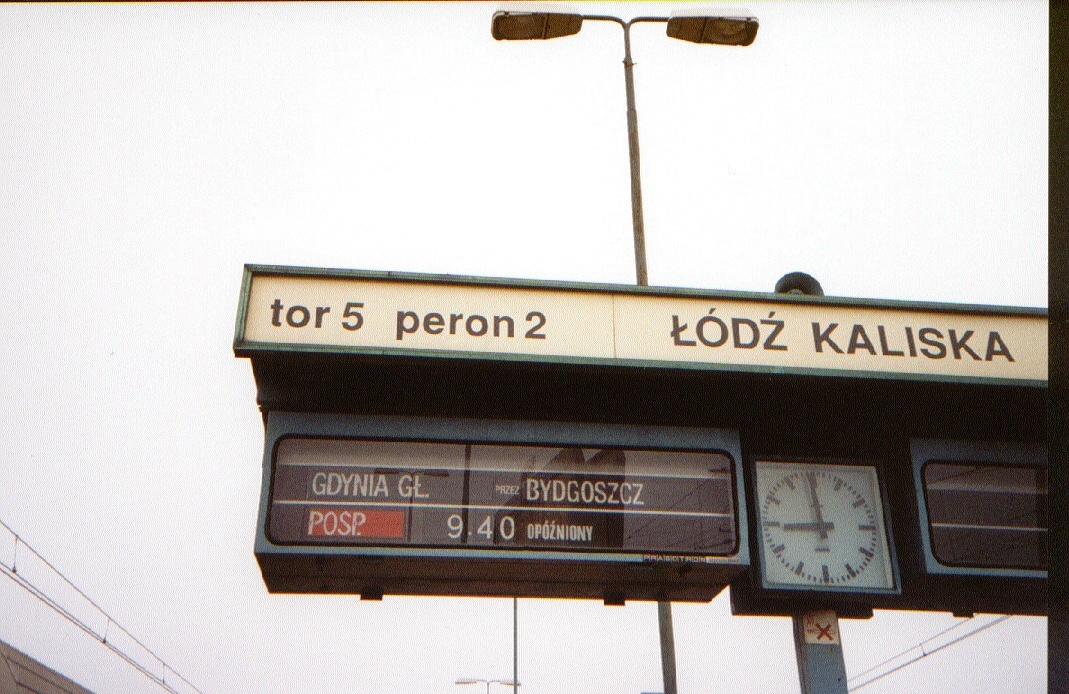 Waiting for the train heading north.
09.01 Onboard in the last of compartments, in an hour we will leave.
11.20 Just had some crackers. Our train passes through a farm filled area. Here and there house like piles of hay. It is raining and for more hours before Gdansk.
13.12 We have in a short while, drove in, drove out and backed back into the station of Bydgoszcz. We are supposed to be in Gdansk in two hours.
15.57 Back at Gdansk Glowny. As we were at the station of Tczew some guys did try to jump onto the train embarking from the wrong side. They were caught by guards/police.
15.48 Onboard the train to the Nowy Port and the ferry. Last year we missed this with just a minute. Soon we will leave and then the ferry terminal. I hope we get a cabin cause we already got the ticket to ride.
16.43 We are onboard the ferry and in a cabin, number 130. Now we will relax and adapt to sea life on M/S Rogalin.
20.32 Back after dinner, barbecued fillet of beef with rice. To this excellent service and a great salad. We have also bought some sweets. Next relax, we sure are happy that we slept long this morning.
23.17 Back after a traditional kielbasa (grilled sausage). Next sleep, a long, wonderful sleep. Tomorrow will we be back on Swedish territory. It sure has been a while since last time.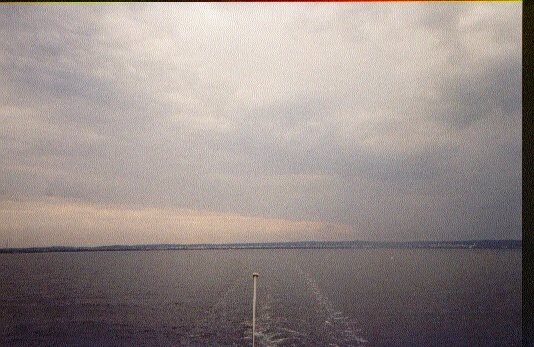 Goodbye Poland!
---
Wednesday August 7th
10.30 I woke up, took a shower, went back to sleep and woke up again. Soon breakfast.
12.21 The most is packed and in forty minutes will we reach the harbour of Nynashamn. There we will have lunch and travel to Stockholm.
SWEDEN

13.15 The train for Stockholm leaves at 13.15. Next pizza at Moulin Rouge.
14.11 The pizza was, OK. Now we are on the train to Stockholm.
14.47 In twenty minutes we´re at the Central Station. From there we will walk to the main bus station, Cityterminalen and get our bus tickets home.
15.38 We got our bus tickets. We just had something that they call espresso I call it strong coffee. Nothing of the kind we had during the trip.
17.00 The bus starts to leave Stockholm. Christer is on another bus.
---
You can see 21 photos from July 29 in this photoalbum.
You can see 12 photos from July 30 in this photoalbum.
You can see 1 photo from July 31 in this photoalbum.
You can see 11 photos from August 1 in this photoalbum.
You can see 12 photos from August 2 in this photoalbum.
You can see 14 photos from August 3 in this photoalbum.
You can see 11 photos from August 4 in this photoalbum.
You can see 4 photos from August 5 in this photoalbum.
You can see 11 photos from August 6 in this photoalbum.

---

---