---
Text: Peter Johansson
Editing: Christer Lundstedt
Photos: Christer Lundstedt
---
Monday July 1st
08.45 I woke up at 04.00. Outside the window there was a guy singing and playing guitar. He was great at the playing.
09.25 We just had breakfast in the restaurant I was at yesterday. Christer had some Chinese food, I had coffee. Now it is time to get a train away from here.
11.11 Back in the room or shall I say home. The train we planned to catch only departs on even dates.
14.36 We are on our way to the centre of the city. Right now a short break.
15.13 Time for a new break.
15.52 We are sitting in a park, having a little to drink. Christer's bottle contains wstrzasnac, How is it pronounced and what on earth is it?
16.42 Dinner time. We are sitting at restaurant Atrium in the heart of the Old Town. I have ordered lasagne and Christer, spaghetti.
17.24 I just had some espresso. A perfect end on a wonderful meal. Now we will head on towards……?
18.02 We are resting next to the castle. Down on the square, we just saw eight monks, six of them were eating ice cream.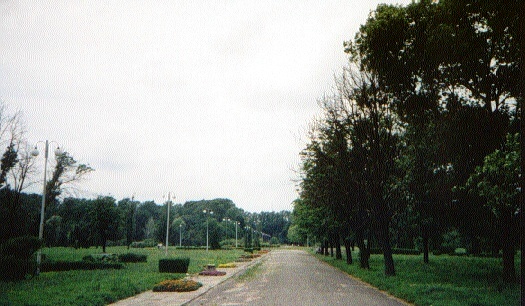 Taking a rest in a Lublin park.
20.38 + 22º Celsius (71,6 º Fahrenheit). We are back at home again. As I just bought breakfast didn't it go all that well. I had just got some yoghurt and went to get a sausage. As I did so did I "leave" the store. The meat although under the same roof seems to belong to another place. But I paid for all of the food.
---
Tuesday July 2nd
06.42 Just got out of bed or shall I say up from the floor. I hope this is the last morning here. It is now time for breakfast and packing.
08.04 We are on the train to Stalowa Wola. We are back on "Old Grey" a double decked train from..well long ago. We travelled this line two years ago as well.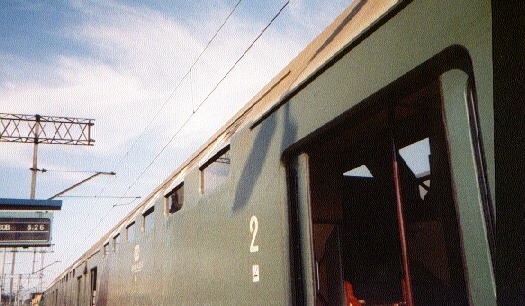 The old train from Lublin to Stalowa Wola.
09.20 +26º Celsius (78.8º Fahrenheit) in our compartment. We are passing an agricultural landscape. We have seen cattle and some small farms.
11.08 Back in Stalowa Wola. I am gathering strength in the shadow. Christer just went to look for a place to have lunch at.
12.01 Our lunch is served at the station. We are sitting on a bench. I am having two apples, some juice and some candy. It is 29º C (84.2º F) here and the platforms toilet is worse then an old outhouse.
13.44 The ticket inspector was just here. He looked at the tickets, shook his head, said something, looked in a book, wrote 33.00 on a note and went away with the tickets.
13.58 We are standing still in Przeworsk. In here it is 30º C (86º F) and no wind at all. I wonder if that man will return with our tickets.
14.17 All is solved. The ticket inspector wanted 10 more zloty from us each. But he didn't gave us any receipt.
15.53 After lots of walking we are now in room 9 at hotel Krokus in Przemysl. Shower time!
16.26 I sure needed that shower. Now we will head downtown.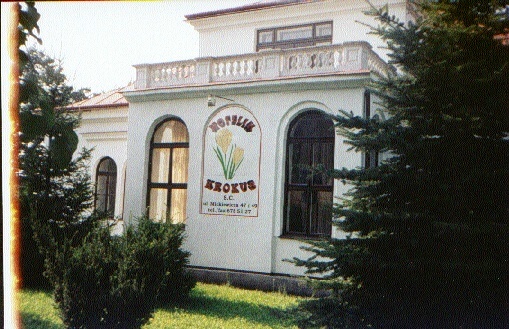 Hotelik Krokus, Przemysl.
19.48 Back at Krokus again. We have walked around and took some pictures. As I was taking some pictures, a little fellow named Kaspar kicked my bacpack as it stood on the pavement. A bit later he did slap the back of my right thigh. To say that his mother was pleased would be to lie. Our next stop was for dinner, pizza and pasta. On our way home we stopped at the bus station and later bought some breakfast. Now we are wondering if we can take two hours on a bus tomorrow. There is no McDonalds in town and we DON'T miss it. Tomorrow we will leave this town by bus. I hope we will make it.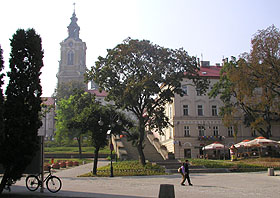 Przemysl
---
Wednesday July 3rd
09.30 After a good nights sleep and a small breakfast it is now time to move on. No panic today we will take the afternoon bus. It seems to be another warm day.
11.13 Most of our stuff is packed. Soon we will get into town for some lunch and later buy a ticket. We wear nothing but shorts, in a room with the blinds down and we are sweating. Soon we will be out in the sun, dressed and with our backpacks.
12.14 Just had a quick lunch, a bun-sized pizza and a soda. The place we dined at was nice. Irregular walls of cement with pieces of glass, metal and stone in it.
12.31 Christer's mission, to get us tickets. My mission, wait here at the train station on a bench. I am almost alone, there is a man here, sleeping on a bench. Dèjà vu ?!
13.44 Pause for postcard writing and some beer.
15.45 Just had some pasta and we are currently at the bus station waiting for the bus.
16.35 We are driving on winding roads through a fertile landscape. It is mighty and beautiful.
18.56 In a room at hotel Pod Trzema Rozami in Sanok. Our first stop in this town was at hotel Jagiellonski. The lady in the reception said "Sorry no room, all hotel are full" For a moment did we think she meant ALL hotel in town but soon realised she talked about that hotel. Now it is time to wash the clothes and have shower.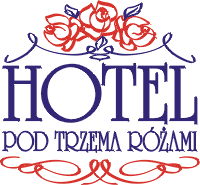 21.07 Just strolled around the town. It isn't the centre of the world but not so bad. For example they don't have a McDonalds. We bought a little to chew on. Tomorrow is it time to head for Slovakia and by train.
22.03 Just got in from the balcony. It is a wonderful evening, fresh air and we hear grasshoppers/crickets.
---
Thursday July 4th
06.40 Just got back from sleepy land. Outside we hear the birds sing in here breakfast is the thing. We will pack our things in the bags for our backs and visit the Slovaks.
08.10 Right now we are on a bench at the station. The ticket for Humenne is bought.
SLOVAKIA

10.40 Back in Slovakia. Around us a forest. The Polish passport police have checked us, he looked us up in a big book. His Slovak colleague used a hand computer.
12.43 Our new home is in room number 204 at hotel Karpatia. Now it is time to unpack.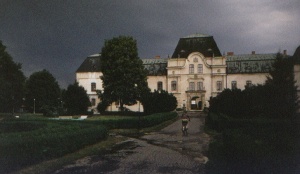 Humenné castle
15.07 Just had a splendid meal at Gastro Centrum. Garlic soup, pork chop with mushrooms, ham and cheese and to that salad and bread dumplings, to drink beer and espresso. The price for all this 100 Slovak Koruna ($ 2- $ 2.50).
16.03 Resting in city centre. Rain in the air and thunder far away. As of now the playing fountain did start. It is nice but not as nice as the one in Košice.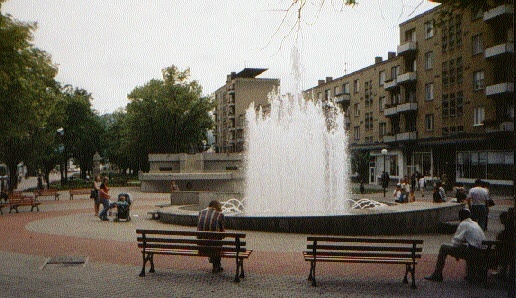 A fountain in Humenné
16.56 Back in the room. We have bought breakfast for tomorrow and little to munch on. Outside is it thunder and lightning.
21.20 Back home after a pizza. On mine Edam cheese, sausage, peppers and PEAS. Time to slow down.
22.00 While slowing down we are looking at the TV. One of the Slovak channels has a recommended lowest age for the program in upper right corner.
---
Friday July 5th
08.30 I just got out of bed. The sun is shining from a clear blue sky. We will slowly close the books here and in a couple of hour's head for Košice.
11.14 Our mission here in Humenne is over. Next stop on our voyage Košice.
14.40 Back in good old Košice. Metropol that we stayed at last year has become K2. On top of that the place was full. We will now head for hotel Hutnik.
The musical fountain in Kosice
15.24 Dead-end street. Hutnik is being renovated. The lady at the reception gave us a folder over the town. We have looked for possible places and Christer has gone to check on a big map for the streets.
15.35 Possible place to stay found. We are aiming on Krmanová and Gloria.
16.02 Gloria way too classy and Krmanová was full. But we have a tip about a place at the restaurant Caligula.
17.06 We didn't found Caligula but we found Golden Royal Penzion at Vodna 8. I never stayed in a more luxurious room. In the first room that we share with our neighbours, refrigerator and mini-bar, in here TV, beds and classy furniture. In our bathroom a bathtub made out of marble. It cost us 1155 Slovak Koruna ($25) each.
19.33 Back in our room? no suite. In the restaurant down below a small violin orchestra is playing. We just got back from dinner at Sedliacky Dvor (The Farm). I had Tatrafilé (chicken, ham, pork, corn, rise and fried potatoes) to that 1 litre of beer. After the dinner I had coffee and cognac. Totals price around 200 Koruna ($5).
20.30 I just got back from the bathtub. I feel like a prince. Life is wonderful.
---
Saturday July 6th
06.40 Our alarm clocks have just rung. Now we have a little to do before we travel on to Hungary and Budapest. I slept well and am loaded for more. Next dressing and breakfast. After that pack, check out and get some stamps.
08.46 Back from the breakfast. A great breakfast in a wonderful room. Glazed tile on the floor, fountain and birds in cages. The food was a kind of buffet. Just pick what want from the plates and sit down and eat. The staff "corrected" the food that got in the wrong position on the plates.
10.14 Sitting in our compartment. It feels kind of sad to already leave Košice. We are on our way to Hungary and Miskolc.
HUNGARY

12.12 Miskolc coming up. What might happen here? We´ll exchange the Koruna that we have and buy a ticket to Budapest. If possible a fast, small lunch.
12.49 We are in Miskolc. Been looking for a place to exchange without any luck. We still need to get a ticket and lunch. It is all but cold today. It is 35º C (95º F) according to my thermometre.
13.24 "Back in a T.R.A.I.N, this time towards Budapest. I just had a fast lunch. Two sandwiches, one with salami one with veal, to drink 1 litre of Coca-Cola.
13.34 We just past a breathtaking field of sunflowers.
14.01 I can handle the travelling. If we and the air in the compartment are standing still one gets exhausted. As of now we get fresh air through the window since we are moving again.
14.26 We stood still for ten minutes, why aren't we moving.
14.30 Finally on the move again.
17.50 After arrival all went well. We exchanged money and bought the "Budapest card", with which we can ride with bus, tram and metro. After that, metro and above ground to await the tram. At this point the fun was over. We waited but no tram,, reason repairing of the tracks. So we walked for 3 kilometres (1.8 miles) in blazing sun. It was at this point we remembered what slaves whispered to the Roman emperors "Don't forget that you will die one day". ALL can't be well, there is always something waiting out there. During our walk we did see a bridal couple in a car. Now we are staying at hostel Vasarhelyi and have a view over Donau.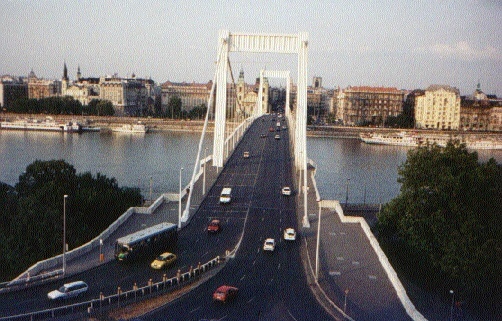 One of the many bridges in Budapest.
18.10 I had my head elsewhere as I paid for the room. The cost for it was 8100 forint. To get the 8000 were easy. The last 100 forint I did get from gathering five 200-foring bills. There is something spooky about such bills. Last year Roger also had problems (See Jul 7 in last years journal)
20.37 Our old dining place "The Chinese restaurant" is no more. We went to another Chinese restaurant we ate at last year and here we are.
22.03 Back after a delicious dinner. First course soup for 160 forint (70 cent), main course pork with sweet and sour sauce 640 forint ($2.80) beer 300 forint ($1.33) and rice 150 forint (66 cent). Total price for our dinner 1250 forint ($5.55). After that we did buy breakfast. Christer also bought a toothbrush. It cost 710 forint ($3.15). It was more expensive then the main course and half of the total dinner price.
---
Sunday July 7th
08.15 Just woke up, It still isn't time to get out of bed. The night has been,, different. I sweated under the blanket and as I removed it did the mosquitoes attack to eat.
09.00 Thoroughly rested. Now starts a new day, but first breakfast. After that a life giving shower before we cruise out into the blend of the city. It is cloudy outside, great. A sunny day in Budapest means, heat.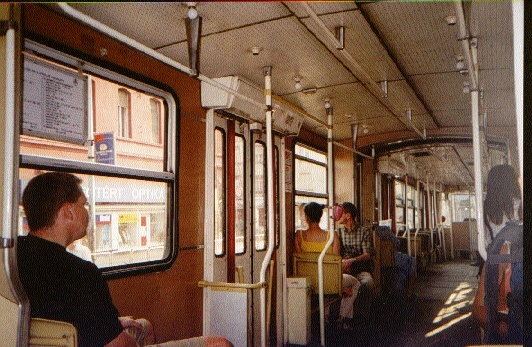 Inside a tram in Budapest.
11.09 We are on the move. Outside is it cloudy and yet 27º C (80º F).
12.59 Break at the Pest part of the town. We have been to a Internet café and checked about places to stay in Belgrade. To get here we did take the tram and I hope that line will run tomorrow as well. It is our link to the train station and further travel.
14.39 Time to eat. Sitting at Két pisztoly sörözö at Ferenc krt 25. We are slightly peckish and also thirsty. Outside the temperature has reached 30º C (86º F). Our favorit place by the market-hall was closed and so was the market-hall as well.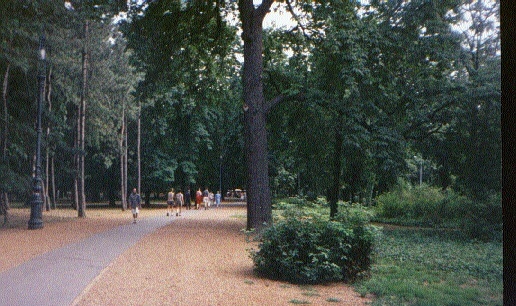 On the wonderful Margaret Island in the Danube.
16.46 Back on a tram. On our to Margaret Island. We have earlier gone to the station, had our Budapest cards checked and bought a ticket to Belgrade. Here we are thirsty.
17.11 Currently we are on a bench at the Margaret Island. Here it is, as usual, peaceful. The only thing that has happened is that we come thirstier.
17.33 Break by the Palatinus bath and we got something to drink.
18.48 We are after some travel by tram and metro at station Dely Pu for an attack on higher grounds.
19.40 A stop to take pictures of the statue of bishop Gellert. He tried to christen the Hungarians, he failed and they killed him close to this spot.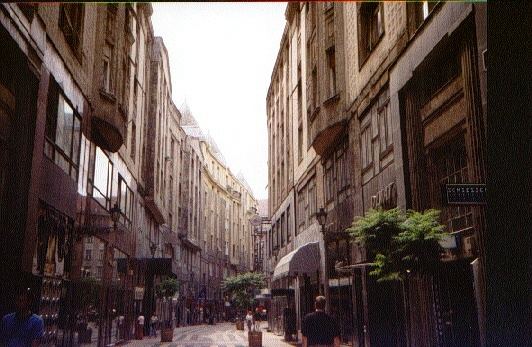 Taking a walk around Pest.
20.27 Back in the room for a short break before we had out again for dinner. We are worn out after the walking.
23.00 Back home after dinner. As Christer ordered a beer he said – "I have the same beer as him". I replied that I wanted to keep my beer to myself. The waitress smiled and went away. But she returned soon, she had forgotten to write down Christer's order. Right now it is time to clean the place, Christer is sweeping the ceiling from insects.
---
You can see 10 photos from July 1 in this photoalbum.
You can see 8 photos from July 2 in this photoalbum.
You can see 6 photos from July 3 in this photoalbum.
You can see 13 photos from July 4 in this fotoalbum.
You can see 15 photos from July 5 in this photoalbum.
You can see 5 photos from July 6 in this photoalbum.
You can see 32 photos from July 7 in this photoalbum.

---
---

---