Text: Peter Johansson
Photos: Christer Lundstedt
---
Friday 22nd of June
10.15 On the bus towards Sundsvall and the train to Stockholm.
12.10 On the train in Sundsvall, soon ahead towards Stockholm.
16.00 In the bus towards the harbour and the ferry to Tallinn. We are so ready.
16.50 In the cabin, on my own and my friends Roger and Christer in a cabin of their own. I have unpacked what I need tonight and will take my backpack to their cabin.
23.23 Back after a big dinner. After dinner did we stroll the deck and played on some slotmachines. Now I will head for bed.
---
Saturday 23rd of June
09.50. I slept well, had breakfast and will soon visit the first country on the trip.
ESTONIA

10.45 We are on a bench by the town wall. Sitting here not sad at all. We are looking at the monument for the ones that died as the ferry Estonia sank in 1994.
12.04 We have just checked in at hostel "Helke" on Sakala 14 in Tallinn. We will soon head out on the town to buy coachtickets. The doormats have small red houses and Swedish flags. A home away from home.
14.43 A small lunch close to the parliament. Having a soda and some bread. We have bought the coachtickets to Riga in Latvia. We have just fed the sparrows with some bread. One of the sparrows snatched some bread from Christer. He is a friend of the animals, but are they his friends?
15.36 Short break and rest of feet by the pond Snelli Tiiki by the citywall. Soon we will carry on towards ………
17.05 New break, now at town-square sipping on a dark Saku (the local beer).
22.00 Home after a tasty dinner at Illusioon. It cost 110.01 Estonia Krooni. I wonder if the .01 was for the service? Cheers = Terveseks, Beer = Olut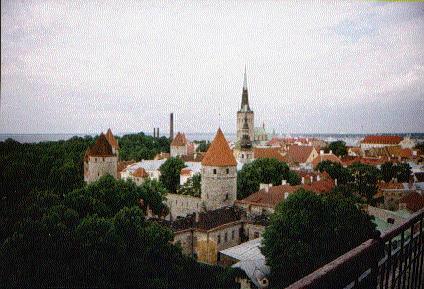 ---
Sunday 24th of June
07.15 Woken after a night on a thin mattress. Now will we pack the last and have breakfast before we head for the busstation.
09.30 We are currently at the busstation, the breakfast was great and in half an hour will we leave for Riga. Goodbye Tallinn.
12.00 Stop in Pärnu to stretch the legs.
LATVIA

14.00 At the border. Our passports have been picked up; will we get them back?
16.34 In our new room at Aurora on Marijas 5 in Riga. The trip here sure made us worn out.
17.34 Our bathroom has the size of a phonebooth. The toilet has the size of a bidé.
21.00 Back after pizza at Pizza Jazz at Raina 15. All is well besides it is raining.
23.40 Christer just came out of the closet. He had been in there to check if his camera had rewinded the film. Cheers = Prieka, Beer = Alus
---
Monday 25th of June
09.06 Time to leave the bed and for a walk in Riga head.
09.30 Breakfast. For me bread and juice. For Roger, NOT yoghurt but Sour cream.
12.45 In a pub for a cold beer. We have walked the town, its charming with beautiful buildings. Postcards are bought and after a while stamps to go with them. We had to pay an overprize on the stamps, the lady that sold them told us that the sum on the stamp was for where we would send it, not the cost. Another thing we bought is the coachtickets to Vilnius.
15.00 Break by the castle.
16.35 Back in the room, counting the money we spent. Relaxing having a beer, Aldaris Stiparis and some of Rogers sweet popcorn.
21.07 Back after dinner at Dzirnavas at Dzirnavu 74/76. Pork, potato and beer for under 5$ After dinner we did stroll the town and some "Black balsam" a local brew with herbs.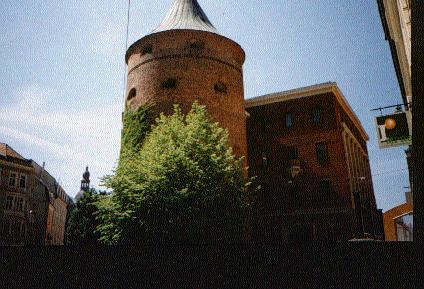 Pulvertornis in Riga
---
Tuesday 26th of June
07.30 After a night with strange dreams and a gull that tried to steal my bread, stopped in time by Roger, it is now time for a shower.
09.05 We stopped the gull from taking my bread, but he managed to steal my sausage.
LITHUANIA

16.57 After a rough trip with two dubbed movies, a wonderful nature with cows walking freely close to the road and two talking Russians we´re now in our new home. We will spend two nights at Teachers university hotel dormitory number 7 in room 73B at Vivulskio 36 in Vilnius. The Russians in front of me on the bus was really something extra. They managed do share a bottle with 75 centilitres of vodka and after that beer they bought as the bus stopped at different places. At the busstation it was time for me to head for the restroom, I didn't even have time to change the money so I had to come back later and pay.
19.45 After a stroll on the streets of Vilnius we will now have dinner and the local brew.
23.30 The dinner was delicious; meatroll filled with ham, mustard and pickled cucumber. We were really hungry and ate all the bread that we had on the table. The waiter Looked surprised at us and wondered "Where is the bread?". Right now we are sitting on the balcony close to our flat and have drinks and beer.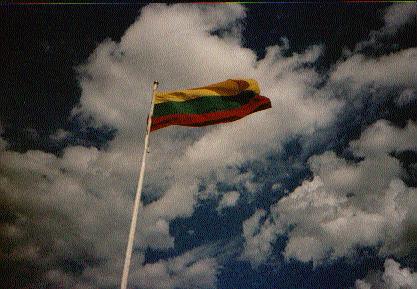 ---
Wednesday 27th of June
09.25 Just woke up and are planning where in Poland we shall head.
10.47 Back after breakfast at the hotel. I had chips and coffee, Roger pancakes with cheese and vegetables. As we got back to the door we found it locked. We belief that it was locked by the couple in room 73A. We share the door out in the hallway and it was that that we found locked. We knocked and shouted and suddenly did Christer open the door and looked surprised at us. He hadn't heard us since he had listened to the radio.
12.18 We got seven minutes too late to the ticketwindow. We have to waituntil after 13.00 and the end of their lunch. Until then we will spend our time having some excellent beer, Ragutis pils/bock at Vab Orista at Sadu 21-4. Cost well 75 cents.
13.47 Tickets bought. Resting in a park close to the Old Town. We are on our way to get some more money for food, postcards, stamps and souvenirs. The sun is shining and we enjoy it.
16.32 At the top of Gediminastower at the top of a hill high above the city are we now. The view is breathtaking.
19.30 Dinnertime at Cafe Zaltvyksié at Pilies 11. I will have an Argentinean steak.
20.10 The dinner was delicious. As I had finished it did an old lady appeared and begged for money. All of a sudden did she snatch Christer's plate and sat down a table next to ours. As we sat and ate did a man in a wheelchair pass, he moved by moving two handles back and forth.
21.48 Finally back home. Just before we would pay for the dinner did a guy appeared and offered us cheap ladies and a great stripclub. The waiter rejected him and really kicked him away. Now will we pack and sleep.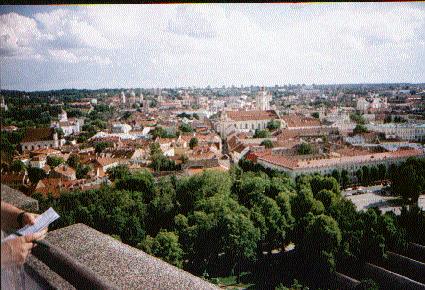 ---
Thursday 28th of June
07.00 Just got out of the shower and now will I have some breakfast, some slices of bread and a soda. In an hour will we walk to the station and catch the train to Suwalki and after that Bialystok.
09.12 In the compartment, soon a long journey will begin.
09.29 I just saw a dog here in the stationarea, was it looking for tracks?
11.07 We have just left Kaunas, still all alone in the compartment.
13.05 It is never wrong to change things; we have just changed train and are now on our way towards Bialystok in Poland. It is warm outside and HOT in here.
13.18 It is hay-harvest time. Not a tractor in site, just true horsepower's.
POLAND

14.37 We have had our passports checked so why on earth aren't we moving?
17.04 We are still bumping around but soon are we there. Christer is almost sleeping and it is HOT. Earlier bugs did attack him. The animals seem to have something against him.
19.26 In room 22 at Rubin at ul Warszawska 7 in Bialystok. The walk here was long and we all need a shower.
20.57 Breakfast bought, dinner ordered. We will have pizza at Paradiso.
21.57 Home again after some coffee I will know have a beer before we go to sleep. Tomorrow we will enter capital number four on the trip.
22.49 Christer has just found out that he have toothpaste all over his dressing-case. Cheers = Na Zdrowie Beer = Piwo
---
Friday 29th of June
06.10 Just woke up, 2 hours before the alarm clock will ring. I am just gonna sleep more.
08.56 Breakfast eaten, making up plans where to head after Warsaw.
12.04 Lunch at Sphinx at Lipowa 37. In 2 hours the train will leave for Warsaw.
19.06 At the home of Christer's e-mailfriend Ania. Now we will have a shower before we head back into town for dinner. At the station did we walk many rounds before we found the way to the upper areas and Ania.
---
Saturday 30th of June
00.35 Back home after a tasty dinner in the Old Town. After dinner did ALL went wrong.
 The last bus home had went- we took a cab.
 Got to the door and found it locked, with Anias keys and mom inside.
 We rang- no reaction.
 Got the bright idea to use the cellphones - that was inside aswell.
 Next plan; use a telephonecard- that was inside with the cellphones.
 Ania went to a friend and called home – we got inside.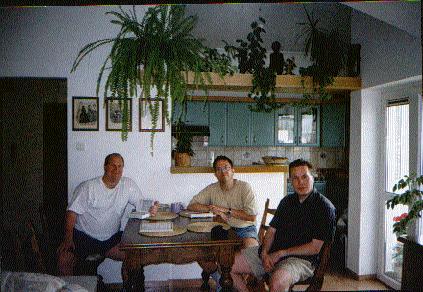 13.30 We have bought tickets to Czestochowa. Now it is time for beer.
16.56 After a walk in the Old Town and all the beautiful houses and a look at the wall that surrounded the ghetto during the World War II are we now at "San Marzano" for pizza and beer. Some strange stuff has happened today, I had to use French to be able to find a toilet and we seen two weddingcouples. As of this moment did Christer just got bitten by ants.
---
Sunday 1st of July
00.51 Home after an evening at a pub with the gang, Ania and her cousin. Great pub, excellent beer, splendid band but lousy singer.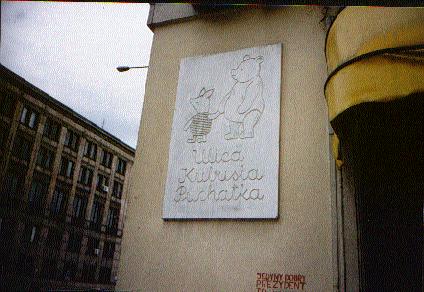 07.47 Just got out of the shower soon breakfast and a trip to the station to carry on our odyssey.
12.23 On the train an hour left. Our curtain just almost blew out of the window. Roger is sleeping, Christer checking a possible future route.
15.30 Our backpacks are at a hostel?! We in a grillbar. The guys at the hostel was no experts in languages. After trying Polish did one of them say "Sprechen Sie Deutsch?" As we answered "Ja" did he just gave us the same silly face as before. We guess he only knew ONE line in German. His colleague told us in poor English that at 17.00 will his friend Marek appear. At that moment I do hope we have reunited with our backpacks.
17.18 The backpacks and we are one again. We have walked the town, seen the monastery and a lady that must have had her knees the wrong way. Now will we pay and head for the station to buy tickets. Marek wasn't here at 5.00 but he is said to be here in 10 minutes.
18.05 Not a Marek in sight, will we have to wait until night? He is said, for God knows what time in order, to be called for.
18.54 Marek is here. We have paid him for the room. As we asked him if the front-door would be locked did he just smiled and said "No problem, no door". We are staying at Schronisko Mlodzie´zowe at ulica Jasnogorska 84-90.
22.18 Home again after buying a ticket to Katowice. At the station did a beggar appear, he stank of urine, but was taken care of buy some guards. After the ticket was bought did we have pizza at "Paradiso" (déjà vu).
---
Monday 2nd of July
09.00 This night we did sleep really well. Wonderful bed and a gigantic pillow 60*60 cm. Now will we pack and get ready to travel to the Czech republic.
11.04 Our shoes smell worse then something that died and laid in the sun. To try to prevent is Roger pouring after-shave in his shoes.
12.16 Postcards sent. Sitting and sipping on a beer. In an hour will we head for Katowice and lunch and later to the Czech republic.
CZECH REPUBLIC

21.54 Our home for the next days will be Ubytovna Betánie at Warmova 5 77/11 in Olomouc. We had pizza for lunch and shared compartment with some guys from Mongolia on our way here. They had all bit good control. Their visas were in another compartment and almost expired and in need to be updated. To top it all they did almost miss to get of in Ostrava. We got of here in Olomouc, found a hostel near an aeroplane, but the hostel had no room for us. We found this place just some minutes before the reception closed. Now we will head downtown.
---
Tuesday 3rd of July
01.01 Home again after some pizza. We decided to do some washing. After we had hung all the clothes on a string did it happen. Down went, string, laundry and curtain. After some thinking and mending is it fixed, at least we hope so. Cheers = Na Zdraví Beer = Pivo
10.30 Finally a morning without getting up early. Breakfast eaten and the stuff we mended are still OK. Now will we go and look at the town.
11.45 The shoewar is continuing. Roger have had his in the sink with water and washing- material, Christer placed his in the window and just added spray-deodorant.
15.35 WE have walked the town, had lunch, soup, pasta, meatballs, 2 beer and coffee with Becherovka (Czech herdspirits). The cost for the lunch 3$. During the walk after lunch we did meet the 74 years old teacher and tennisplayer Josef Ruzicka. He bought us beer, gave us pennants and talked like hell.
16.13 Beerbreak will try a Pilsener called Maestro. As it was tapped was the glass filled with foam. I wonder how this will taste.
16.17 Not that much taste but the foam, 7-8 cm floating on top during the whole time.
18.58 Home again, we have bought some pasta and sausage to have for breakfast tomorrow.
22.50 Home again after a late dinner at Big Ben.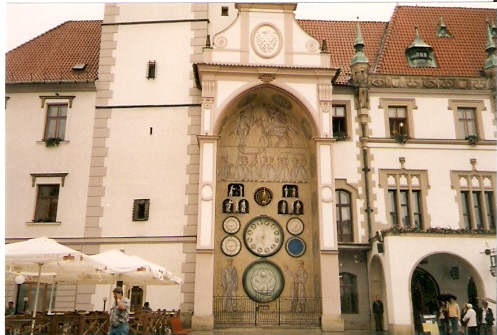 ---
Wednesday 4th of July
09.03 Risen from bed and out of the showers stepped. It is breakfasttime pasta is boiling. For the pasta will it be sausages and bread.
11.46 On the train towards Brno. WE will travel for 100 kilometres at a cost for us less then 2$. You don't only eat cheap here; you travel for a low cost as well. The breakfast was just too much. You sure get a lot of pasta if you boil 1 kilogram of it.
13.59 At the station in Brno. We are checking about tickets for Bratislava.
15.44 After a visit to a tourist-agency to find a place to stay we did walk to a tram-station. After a short tram-ride and a little walk we did find our latest home. Today did Christer choose to wear a black sweater. NOT a good choice, it is ever so warm outside.
21.49 Home again at Tkalcovska 5. We have walked the town, taken picture, ate a sausage, bought some stuff and had 3 beers each for 1,5 $ for all 3. The stuff we bought is necessary, breakfast, beverage and a bottle of chlorine-based cleaning-liquid. We hope this will stop the smell from our shoes. All this made us hungry and we walked to a restaurant for dinner. And what a dinner it was. Garlic-soup, Farmers-plate (ham, Sausage, 3 pieces of meat, 2 kinds of dumplings and sauerkraut), caramel-tasting beer and coffee with Becherovka. For this I had to pay around 6$. I really love this country. Before we went home did Roger and I try another kind of caramel-tasting beer, "Cerna Hora" (Black Mountain) and also a half a litre of Becherovka to have on the trip. Now we will taste some of it and head for bed.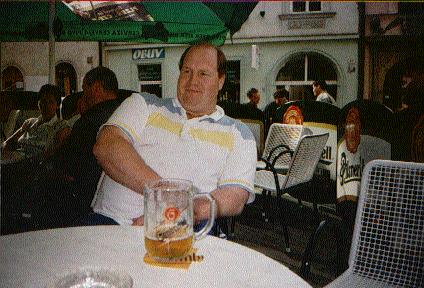 ---
Thursday 5th of July
08.00 Someone has drunk from our bottle and not just a sip; all of it is gone. He who drank it all is drunk for sure. One of us has red eyes and it isn't Christer or I. Soon will our journey carry on towards our sixth country Slovakia.
SLOVAKIA

11.04 Since a while we are in Slovakia. In the shoe-war has this happened, Roger and Christer have added the chlorine-based cleaning-liquid to their shoes. It has beaten Roger's shoes but Christer's are still going wrong.
13.12 Back at the hostel Svoradova at Svoradova 13 in Bratislava. We are staying here for less then 5 dollars per person and night. Before we got here we did buy a little to chew on. Roger bought an ice cream and a Coca-Cola. He got the wrong change back and had to pay around 12$ for it. The lack of toilet paper is total. Cheers = Nazdravie Beer = Pivo
15.08 Beerbreak, having a Zlaty Bazant (Golden pheasant). Walking in the Old Town and just enjoying. Sitting at restaurant Lyra and just had a late lunch.
18.29 Just had another Zlaty down the throat. It sure makes one dizzy.
19.17 Home for a short pitstop. We will soon head for the castle and a dinner in the town.
23.00 Back home. WAY far from hungry. We ate until we almost choked and still had to leave some. The place for this feast was Minerva at Michalska 3. I had rump-roast with Roqfourt-cheese on top, rice and beer.
---
Friday 6th of July
10.00 We slept out this morning. Our plans of a trip to Vienna were cancelled last night.
12.26 A tasty, quick and solid brunch, spaghetti at Sibyla, Now just some coffee before we walk further.
14.18 Break outside Tesco. In this SUPERmarket have we bought breakfast for tomorrow and snacks for now. Earlier this afternoon we have showed Roger the National Theatre in town. The theatre can be seen in the James Bond movie "The living daylights".
19.19 Short stop by the castle. Planing for the dinner. It might be Chinese food. During this break have we tried Borovicka, local spirits with a taste of, well hard to tell. One thing is for sure, the further south we get, the warmer it gets. Today we did have 34° Celsius. That is 93.2° Fahrenheit. But we found an oasis in the heat. A place that served Zlaty, for less then 50 cents.
22.10 Back in the room. Will now find a place to go to tomorrow. All we know is that it will be in western Hungary. The dinner with wine was excellent.
---
Saturday 7th of July
01.05 "The fourth man" is here. Roger's friend Ante is with us. He flew to Vienna and hitchhiked here.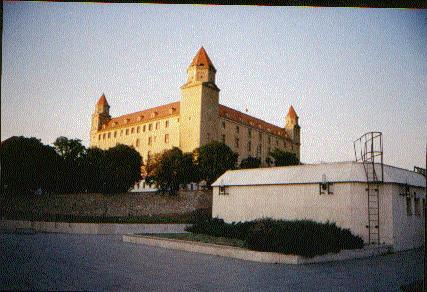 08.24 Last things being packed soon we will walk to the station.
HUNGARY

14.00 We are in Hungary. In a town called Györ.
20.00 Enjoying a beer in Szombathely. ALL the places we been to or in contact with is fully booked. The reason for this, there is a Bartokfestival in town. We have had serious thoughts to spend the night under a bridge here in town. Lets hope we find a better place.
21.05 We got a new home, at Hotel Savaria at Martiok tere 4. It will cost us 5500 forint (20$). I couldn't care less. As we checked in Ante did try to seduce the lady in the reception. Roger asked me about the price and I said to 5500 forint or around 200 Swedish crowns. With a BIG smile did he pay the lady 200 forint (less then 1$).
23.59 Home again after food but most important, something to drink. We are in a big need to drink. Our bodies have lost lots of water today. It is ever so warm here in Hungary. The food was great the service lousy, Christer got the wrong food and the waiter refused to admit his mistake. Cheers = Egészségedre Beer = Sör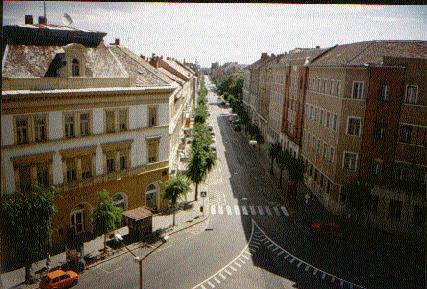 ---
Sunday 8th of July
08.05 We have slept well. Will call Roger and Ante and ask if they are in the mood for breakfast here at the hotel.
12.50 In less then an hour we will have around 15 minutes on us to get tickets, find the right platform and the train to Zagreb. The bugs of Hungary know their call. They as other animals on the trip keep on bugging Christer. Before we jumped on the train did Roger realise he had left his shorts and belt in the closet in the hotel-room.
14.10 WE made it. On the train to Zagreb, with hand-written tickets.
CROATIA

17.24 Our new home is called Omladunski hostel at Petrinjska 73 in Zagreb. Now its dinnertime.
20.13 We had mixed grill for dinner. My stomach is ever so happy. Cheers = Nazdravje, Živjeli Beer = Pivo
---
Monday 9th of July
08.30 Morning again. Roger just went down to pay for another night here. The heat here have made us decide to cancel the trip to Split and further on to Bosnia.
12.20 Relaxing adding liquid to our bodies. Enjoying a local beer, Ožujsko.
13.20 Short stop in the Old Town. I just had a strong espresso.
16.53 Back in the room. We have walked the town, had spaghetti and seen Goran Ivanicevic win the Wimbledon. The place there we ate and saw the match was crowded. On guy was ever so happy every time Goran won a ball in Patrick Rafters serve the guy screamed "Break". Every lost point was commented with "Shit". As all went against his plans did he smash am ashtray. This wasn't the only time glass was smashed. As Goran had won did ALOT of guys smash their beer-glasses. The waiters just smiled.
18.33 Tomorrow will it be train to Rijeka by the coast and then bus towards…….
23.25 Time for bed, more grilled for dinner. This time close to the city centre. Tomorrow will we see the sea.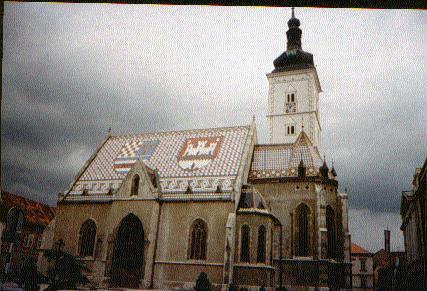 ---
Tuesday 10th of July
07.06 Ones again an early breakfast, bread, yoghurt and Fanta.
10.51 We have switched train in Moravice. Some of the chlorine-based liquid have left the bottle and run out in Roger's backpack. The area next to it smells like in a pool-house.
13.41 Lunch in Rijeka, pizza and hamburgers.
18.46 We are currently staying in the town Krk on the island Krk. Now will it be days of rest and recovery. Roger's T-shirts have lost some colour in some areas.
23.53 After dinner, lasagne, did we see a music-performance and later a glow-worm. We topped it all with some beer.
---
Wednesday 11th of July
07.50 I woke up 20 minutes ago and just stepped out of the shower. Now its time to get a little to eat.
11.30 Postcards bought. Now we will head to pay for the room. After that lunch and a bath in the sea. Roger and Ante went for a pub and disco-session this night. As I tried to speak with them was Ante ever so bright. Roger on his hand spoke something about a fire and the need to raise a platform. As I told him we had changed plans and needed to go by bus in an hour did he just smile and said "I rather place a fish up my ass". On my latest check with the guys was Roger OK Ante out of reach, impossible to contact.
17.50 Home again from the beach. I sure am tanned, red all over the body and dizzy in the head.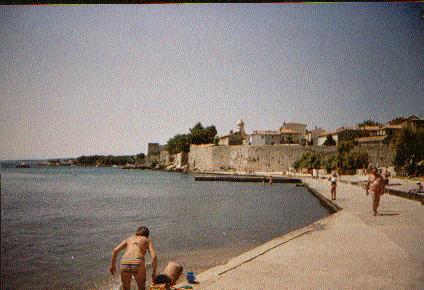 ---
Thursday 12th of July
08.30 Morning again. Outside the sun is shining, inside my body is glowing. Tonight did Roger according to Ante snore so much that people outside on the street stopped and looked up towards the guy's room.
16.20 Home again from the beach. We have also bought coach-tickets for Zagreb. Today is it HOT again, according to the thermometer in the harbour has it been above 38° Celsius (100.4° F) in the last days.
22.40 Sleeping-time. Tomorrow will it be an early morning. Christer just stepped and broke his alarm-clock.
---
Friday 13th of July
05.45 It's been 15 minutes since the alarm-clock rang. Tired, ever so tired. In an hour will the coach leave for Zagreb The question is not if but when I will fall asleep on the trip.
06.50 The bus has just left the station. Roger strolled outside the bus until the last second. He thought that the bus would leave 15 minutes after 7, instead of15 before. Our driver is one funny guy. He wanted money to take our backpacks and if we hadn't the correct amount did he just told us what he wanted instead of handing us change.
14.09 After 4,5 hours on the bus, with sleep but without a toilet did we reach Zagreb. There we ran to the train-station and had a quick lunch. After that we did buy a ticket to Osijek and had to stand for the first hour before we got these seats.
18.29 At hotel Royal in Osijek. A waiter at the restaurant showed us to our rooms. His English was poor but he sure was quick to charge us for the room. The room is worn out, the toilet impossible to flush but wouldn't help since something is plugged in the drain.
19.15 The cold-water is cold, the warm-water elsewhere. We seem to be the only ones at the hotel. I checked around and realised that most of the rooms are in different stages of being tarred down. It wasn't possible to get to the top floor cause the stairs were blocked by furniture.
22.43 First we had dinner in town and went back to the hotel and found toilets in the basement. After that Roger and I also found a bat in the reception. We told about our new friend to Christer and Ante, they didn't believe us. Soon did they find out how it was. Christer went for the toilet and met the bat. Later to top it all did the bat enter the room we sat in. As the bat went in, Roger went out knocking the bat to the floor with the door. As I tried to pick up with a waist-basket did it fly and landed next to Ante. He went out and I caught the bat and tossed it out. This is not a hotel, it is the summer- house of the Addams family.
---
Saturday 14th of July
06.30 Awake and no more animals in sight. Now will we pack and carry on our trip towards Hungary.
HUNGARY

09.19 Back in Hungary, out passport has been checked and since then has nothing happened.
11.34 New town, Pecs, new room, staying at the home of a lady in a cool room.
15.33 Have walked the town and had lunch, It was served on a large wooden plate. Outside is it not warm it is hot. To top this is it no wind at all.
19.48 Back in our cool room. We have bought breakfast, cheese, crackers and wine. We have also bought a bottle to the wonderful lady. She has hand-washed and ironed Roger's clothes and mine.
23.00 We have eaten cheese and crackers and to that wine (Bock Villányi Kékoporto). Tasty but now am I ever so tired.
---
Sunday 15th of July
08.45 Just got out of bed after a wonderful night. I am currently thinking of I shall go back to sleep or have breakfast.
10.05 Just had breakfast, bread, Hungarian sausage, yoghurt and Coca-Cola. Our landlady Judit gave us coffee. High remarks for this lady.
11.53 Sitting in a really hot compartment. Our seats are made of galloon. This will be a tough ride.
13.57 Our wagon was the last to reach the station in Dombóvár, after that were we the first to leave. New train had been hooked to our wagon. After that did it back, back and here we are wondering what will happen next. To make us even more confused is are two guys screaming their lungs out, one guy on the train the other on the platform.
13.59 We are moving.
18.44 Back in hostel Vásárhelyi in Budapest. The same hostel as last year but now in another room. Now will we shower away all the sweat on our bodies and walk the town to buy stuff and just see what the town has to offer.
01.05 Back after Chinese food and a climb of the Gellertmountain. It is tropical hot in the room.
---
Monday 16th of July
09.55 Showertime to cool the heat of. Later we will head for the town and buy stamps, a 3-day ticket for all the local transportation stuff and have brunch.
15.26 Break at the castle-area. We have during the day got us all that we planned about. We had lunch at the Pest-side and also saw the BIG market-hall. The sweat is dripping from our bodies, beside from Roger's. From him it is floating, running. It is at least 35° C (95° F). But Budapest is breathtaking beautiful.
17.04 Back on Margaret-island in Donau. As we walked the Fisherman's-bastion in the castle-area did a man wonder if we wanted to buy a painting. As we said no did he look at Roger and said "Nice beer-belly", this made me laugh.
21.03 The shoewar is was from over. The next step from Christer is to wash them in the washing-machine.
23.41 Back after a late dinner, Chinese food again. The waitress asked me if I wanted lice. I assumed she meant rice and said, "Yes I want RICE". Outside is a thunderstorm.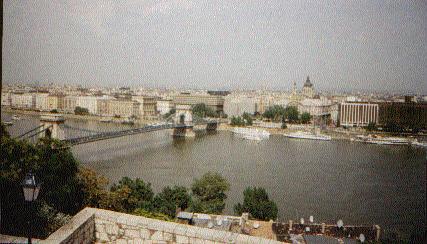 ---
Tuesday 17th of July
09.39 Preparing for a trip to the Gellert-baths. Outside is it raining, we guess it won't be so warm today.
12.56 Back after a bath something for all senses. Beautiful bath with a labyrinth-way there. A small pool with warm water and a big one with a bit cooler water. They have a smart system with the changing-booth. One number on the door, another number on the small badge you got. The guard wrote the badge-number on a blackboard in booth. Later as you wanted to get in the room did you tell him what door you needed open, he looked at the badge and on the number on the black-board and let you in. With this system you don't need keys to all doors, keys that people tend to lose.
13.55 Ante has left us, he have go home.
18.52 Yesterday did the sweat make us wet, today is it the rain. We have walked around in town and will now rest.
23.50 We had pizza, had a final walk and will now have some Tokaj.
---
Wednesday 18th of July
07.10 Three happy and lively guys smiles and cheers. I wonder where they are heading. The three of us are ever so tired and far from ready to travel on.
14.48 Short stop and great lunch in Miskolc. Our waiter was sports-fan for sure. Kept talking about famous Swedish sport-men. As I mentioned the Hungarian soccer-player Puskas did he fire away the smile of the day.
16.13 Sitting on the same train-set but in a new wagon, our old one has been left in the latest station. Hopefully we will now head on to Košice in Slovakia.
SLOVAKIA

18.15 Inside Metropol in Košice, this will be our home base for the next days. We have made our beds and will now take a shower before we walk the city.
23.25 We have walked the city and just watched. After that did we have dinner at "Sedliacky Dvor" (The Farm). We ate for 15$ all three together. I had garlic-soup, Tatrafilé (pork, chicken and beef) with mushrooms, rice and potatoes. To this did I drink beer and after coffee and Napoleon cognac. 4 centilitre of cognac for 75 cents. We are for sure in heaven.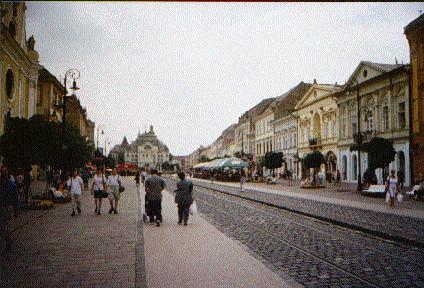 ---
Thursday 19th of July
07.30 Outside sings the birds, in here are we sleeping. The sun is shining, what might happen today?
14.00 We have walked the city-square it sure is beautiful. After some beers were Roger and I in the need of a toilet. We found one in a restaurant only lit up by candles. Perhaps a place for Dracula.
22.29 Home again after a short trip to Presov. As we got there did we look for the bus to the centre. We bought a ticket (for children by mistake), went by the bus, to far, walked back and saw the central parts. The trip ended at a restaurant.
23.19 We are packing like hell. Tomorrow we will travel to Krakow in Poland. It leaves just after 6 o clock tomorrow morning.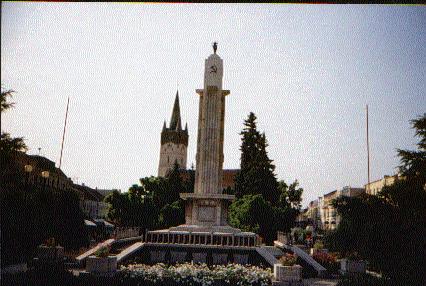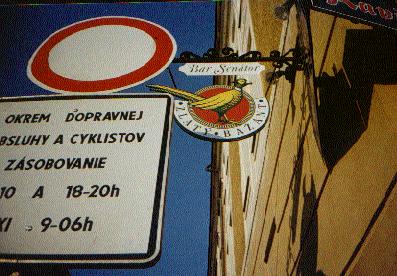 ---
Friday 20th of July
04.48 Time to get out of bed.
07.06 We are travelling on the guys are asleep. Outside is the world getting awake. I will soon have my breakfast.
POLAND

13.30 We are staying at Strawberry Youth Hostel in a rainy Krakow. Now we will get us some money so that we can pay.
21.14 Back to the beds after a long afternoon and evening. We had pizza and walked the town. The Old Town is magnificent. We looked at the castle and slowly walked home.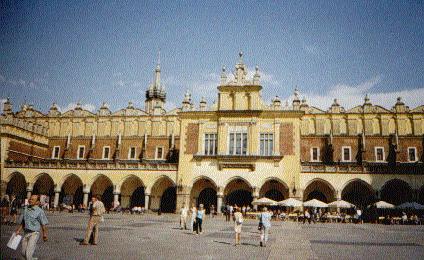 ---
Saturday 21st of July
07.44 It's a sunny day and we will head for Auschwitz today.
13.19 We didn't get to Auschwitz. We went to far (again), walked back (again) and realised we missed the train my just minutes. Now are we planing over some ice cream and coffee.
21.19 Home again. We have paid for another night. We will leave on Monday morning. Earlier today have we walked the town, had lunch and visited an Internet Café to check about ferries to Sweden. The strangest thing today was a man that we saw. He sat by the street and just slammed the strings of his guitar.
---
Sunday 22nd of July
08.15 Just woke up but am still tired. Today we will make a new attempt to get to Auschwitz. As of know am I choosing between shower and more sleep.
11.45 On the central station. We got tickets for Oswiecim. From there we will walk to Auschwitz. As we bought the ticket, that cost 19 zloty did Christer try to pay with a 50-zloty bill. That failed, instead did the lady take my 20-zloty bill and later asked me to pay 19 for my ticket. Roger just paid 9,50 zloty, we wonder if he has paid for one-way or if we have paid the double amount.
12.22 On the train in moulded seats. The bad thing is that they haven't moulded for me.
14.15 We got tickets and are on our way to the museum-area.
14.38 Coffee break before we enter the area.
17.16 We have walked around in Auschwitz. I have nothing to say about this. What has happened can't be described. How can any man do something like that to another human being ?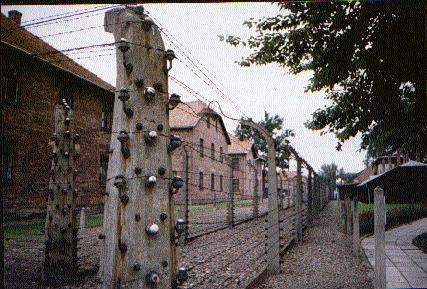 17.30 On the bus to Birkenau.
17.55 Things sure happens fast sometimes. Soon we will go back, they are closing. We have walked around and taken pictures.
18.51 After a quick walk from the museum are we now on the train back home. Soon we will know who of us have the right ticket.
22.41 The ticket-controller passed us twice. But no control. This was lucky for Roger, he had only paid for a one way trip. What he won on the trip did he loose on the dinner. He managed to order 2 main-courses . This cost him 9,50 extra, just the amount he had won on the ticket. Tomorrow we will head for Gdansk.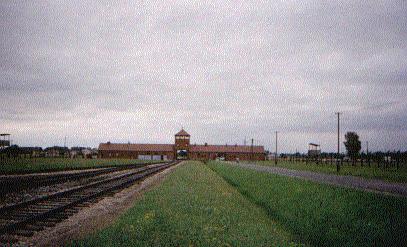 ---
Monday 23rd of July
04.30 The alarm clock just rang. The final lap is here and I am so tired.
04.40 I have washed my face and gone to get the breakfast. I am still tired.
13.25 On a bench in Gdansk, we got tickets for the train to the ferry. We won't do the same mistake as last year and go to far with that train.
15.27 We just had dinner on a place with "self-service". That means that you order by the cashier and bring your own beer to the table. The staff brings out the food but have no clue who to give it to.
16.12 We won't go too far with the train to the ferry; we won't go at all. We missed it by some minutes. Now are we at tram number 10. A guy in the tourist-information told us to take this tram.
17.54 First we did go too far, as usual. Then did we walk in the wrong direction for 5 kilometres. On top of that did we take tram back and jumped of. But hell wasn't over. We had to walk/run for another 2 kilometres until we reached the ferry. We paid the tickets 15 minutes before departure and got onboard as the last ones.
18.47 We just got us a cabin. Now will I take a long shower and later we will walk the boat.
23.00 We just had a sausage each. Or to be exact 1,3 sausage, we ordered 3 and got 4.
---
Tuesday 24th of July
09.20 Showered and far from tired am I in me bed. In just some hours we will return to Sweden. After 32 days travelling.
11.56 After a large breakfast and a beer is it time to pack the stuff for the last time. We will leave the ferry in an hour and I will become a smuggler. The allowed amount of tea is 100 grams and I got 195 grams. I wonder what the punish will be.
SWEDEN

15.27 On the Central station in Stockholm. The cost for 1 hour trip here cost the twice the amount of the travel between Olomouc and Brno.
16.32 Time for the final train-trip this time. On my way to Sundsvall and after that I will take the bus north before I go by car the last bit home.
At home I will rest.
All has gone well.
We have seen a lot.
Big plans for a new trip next summer.