---
Text: Peter Johansson, Christer Lundstedt
Photos: Christer Lundstedt
---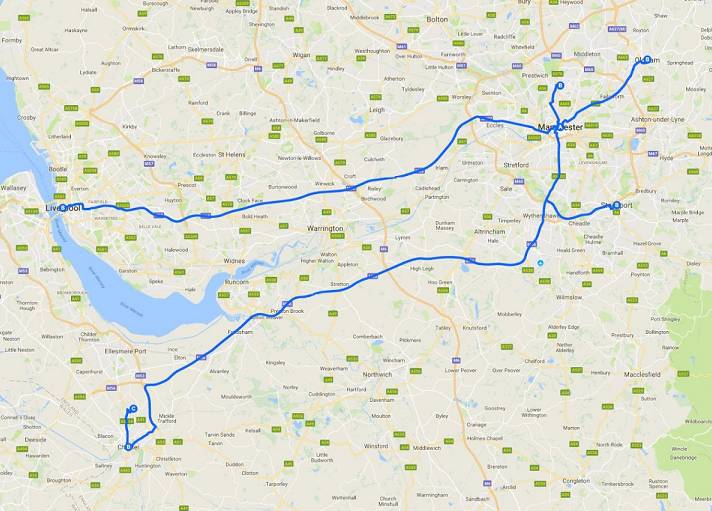 ---
Tuesday 3rd of August
---
This trip starts in Umeå and the airport bus took us to the local airport. After the flight to Arlanda airport north of Stockholm we had to change terminal because we´re heading abroad. We´re going to check in our bags for the Finnair flight from Stockholm to Manchester. We´re hoping that everything will work the way we want. When Christer did the same trip in 1997 he ended up in Manchester but his backpack in Zürich.
It was good flying weather and we could look down on Göteborg (Gothenburg) and northern Denmark. When you´re flying over England in summer it´s interesting to note the different colours the country has, the western part has bright green fields while the eastern parts have more brownish colours. Before we landed in Manchester we could see a football arena with the letters SCFC on the stands. Maybe we will find out which club it belongs to?
Our bags arrived. Good! Now we have to find out how to get from the airport. At first we only found a lot of rain but then we found the right train and got on it. The airport train arrived at Piccadilly Station and from there we used the "trams" on Metrolink to get to Crumpsall where our hotel should be. Metrolink is a part of the public transport and you can travel with it from Altrincham in the south to Bury in the north.
Through internet we have booked a room at the hotel Tarlsco House in the Manchester suburb Crumpsall. It should be on Crumpsall Lane 2 (today the hotel has another name, Wilton Grange Hotel).
We found the hotel and met the owner Norman. He´s Scottish and it wasn´t easy to understand what he told us but he had been upset the other day when some french tourists called him "english"
---
Wednesday 4th of August
---
We feel ready to explore Manchester. We´ve had english breakfast in the hotel restaurant. The chef was singing in the kitchen.. "I´m gonna run away, run away.." Christer visited Manchester already in 1997 but he stayed near the university at the other end of the city and most things we´ve seen so far is new for both of us. We started with a trip to the city center with Metrolink. From there we took a long walk which ended with the two of us getting lost in a part of the city with strange ugly buildings.
We realised that we needed a map of the city and managed to buy a street map "Manchester Street Atlas A-Z" and also managed to know where we were. Eventually we ended up at the railway station Piccadilly and decided to travel south to Stockport to find out if the football arena we saw from the plane was the Stockport County stadium. We visited the library in Stockport and also found the football ground Edgeley Park and that was the one! It was the arena we had seen from the air. Now it´s time to visit the pub!
This photo is from Stockport just south of Manchester. On the picture you can see two pubs.
The largest one was empty, the smaller one had good service and served good beer, Robinson´s.
We found two neighbouring pubs and entered the larger one. It was empty. Is it self service? We decided to try the other one, the smaller one. There we tried a good local beer called Robinson´s bitter. After this taste of British culture we decided to take the train back to Manchester.

It was time to use the little book with Manchester maps we had bought earlier. We started a very long walk to the southern parts of Manchester. Our final destination was supposed to be Maine Road, the football stadium where Manchester City played. It was far. It was hot. It took a lot of energy from us. Finally we found the stadium and visited the souvenir shop there . Christer bought a Manchester City video and a t-shirt.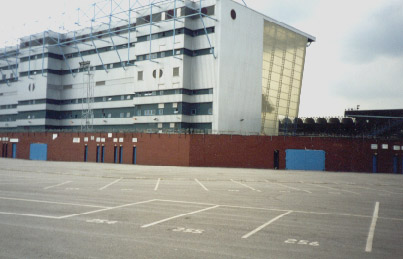 Maine Road. Manchester City FC played their home games here until the season 2002/2003.

This is the road leading to Manchester city centre from the south. This was a walk in hot weather with a burning sun.
Apparently a couple of murders took place in this area the same afternoon.
The long walk back took us along a neverending road going north to the central parts of Manchester. We had to sit down and rest in the green grass.
The day continued with even more walking in the central parts. Why? Well, we don´t know, in search for restaurants, sightseeing, confusion?
Finally we entered Chinatown and not too surprisingly we found a Chinese restaurant there. We thought the prices were really good but the rice did cost us a bit extra. A visit to the toilet was really pleasant because of the beautiful soft music they played there.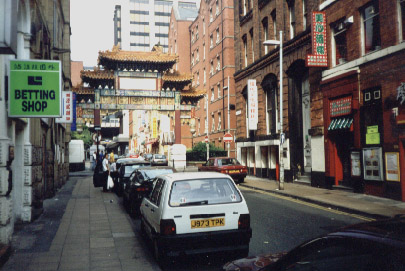 Chinatown in central Manchester.
In the evening we walked around Crumpsall where our hotel is. We visited a small supermarket and called home from a phonebooth.
---
Thursday 5th of August
---
It´s morning again. We have a new chef in the kitchen this morning. The guy who was singing "I´m gonna run away" yesterday is gone. Did he escape? Anyway, the breakfast itself is the same, white beans, bacon, toast, a spicy sausage, tea and orange juice. Today we´re going to travel a bit further than yesterday. We´re going to visit Chester, a city with a history going back to the days of the roman empire. It´s close to the Welsh border.
We went by train to Chester. After a while Peter fell asleep and maybe you think that he was asleep when the man selling coffee arrived, but no. When he opened the door Peter suddenly woke up and shouted "coffee please!" and the surprised coffee vendor served him the desired beverage. We´re pleased and satisfied and we´re approaching Chester. When we got off the train we had to escape under a roof because of a sudden shower of rain.
After the train we walked to a beautiful park, Grosvenor Park. To tell the truth, our plan was to walk to the city center but we couldn´t find it. We only found the park. It´s beautiful, peaceful and we can see small gray squirrels around here.

Grosvenor Park, a big nice park in Chester.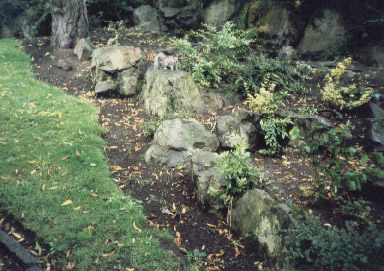 Do you manage to spot the gray squirrel?

Chester.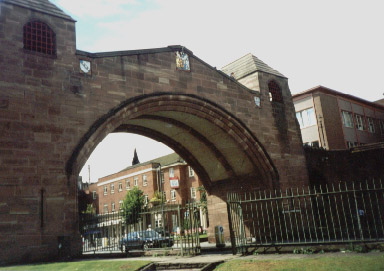 The map of Chester which we bought in a bookshop disappeared forever near this place. Who took it? Has anyone seen it?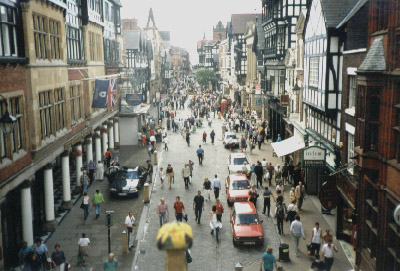 Looking down on Chester from the wall you can walk on all around the town center.
The weather is getting better and better and we´re coming closer to central Chester for each step. At last we could look at the oldest parts with wooden houses, remains from the romans and a long city wall you can take a walk on. We bought a city map for one pound at a local bookshop.
Well, you can´t feel happy for too long. During our bench break in front of the city wall our new map has disappeared without a trace. We searched everywhere and checked all the places we had stopped at but no, it´s gone.
We decided to explore Chester from above. We took a long walk on top of the city wall and it was a good way to see the different parts. We were not the only ones doing this. A lot of other tourists did the same thing. Our latest plan is that we´re going to take a look at the excellent zoo here in Chester.
We didn´t know how far it was between the central parts of Chester and the zoo itself. We decided to walk there because we didn´t know which bus to take. We walked, walked and walked. After that we walked walked and continued to walk. We reached the pub "The Green Frog" but instead of the green frog it became the green grass for Christer. Right now he is refusing to walk anymore for a while. It´s hot today, very hot! After a while both of us continued this neverending walk. The question is if we are still in Chester or somewhere else. It´s looking more and more like countryside around us. Finally we reached a road going to the right with the sign "Chester Zoo". Before we continued any further we went into a petrol station and bought something to drink and some blueberry muffins and rested near a small pond. Now we feel ready to visit the animals.
We´ve paid the entrance fee and now we are walking again, this time inside Chester Zoo. We saw penguins, kangaroos, elephants, zebras and many other animals as well. We also tried to visit the orangutan but he wasn´t at home. Instead we tried to call our friend Patrik back home in Sweden. He wasn´t at home either.

The penguins at Chester Zoo. We still don´t know why we walked all the way out to this zoo.
After our Chester Zoo visit we didn´t feel like walking all the way back again and decided to take a bus instead. Now we are looking for a place to eat.
Pizza is expensive here in England. Most places serving pizza are some kind of Italian restaurants and not the cheap diners we are used to from Sweden. After we had walked for a while we found a small place serving kebab. We bought a take-away kebab in bread each. England has a lot of take-away places and that´s not convenient for tourists. You can´t bring your food home if you don´t have a home where you are at the moment. We had our kebabs on a bench at the platform waiting for our train. After our meal there were pieces of salad spread around half the platform. Now we´re on a train back to Manchester. We´re a bit bored and Peter is guessing the names of the different places we stop at. He is wrong each time. The train trip continued with no problems except that parts of bushes and trees near the tracks ended up inside the train.
We are home in Crumpsall again. It has been an eventful day.
---
Friday 6th of August
---
The same kind of breakfast as usual, the same chef as yesterday too. Today we´re going to make a trip to Liverpool. We´ll go there by bus. We´ll travel with National Express, a bus company you can use all over England.
The bus trip to Liverpool was short and comfortable. It´s not very far between Manchester and Liverpool. Shortly after we had arrived to Liverpool we noticed a local bus with the destination "Penny Lane". This city has a lot of tradition, especially when it comes to music like The Beatles.
We walked around in the central parts of Liverpool. There is nothing spectacular or beautiful to look at but the city is not ugly or boring either. It´s just a city but with a nice atmosphere. We went to a supermarket to buy some candy and other things and after that we have reached the riverfront and the area Albert Dock. It used to be warehouses and dock buidings in the area but now it´s art galleries, cafés, restauants etc. We found a nice spot to sit down to rest in the green grass and of course it started to rain just at the same moment.

Albert Dock in Liverpool.
Ferry ´cross the Mersey... a really good song from the 1960´s being played here. This is the famous ferry across the river Mersey taking you from Liverpool to Birkenhead. This is just for tourists these days because you can drive under the river now.
On the river Mersey there is a small ferry transporting tourists on the river. They are playing music from the 1960´s on the ferry, especially music from Liverpool and in particular "Ferry ´cross the Mersey" by the local band Gerry & The Pacemakers. The rain has stopped. We also found the British Isles here among the warehouses, but in a smaller version a few metres out in the water.
Sometimes you learn from your mistakes, sometimes you don´t. We thought like this. We´re in a city famous for its football teams, Liverpool and Everton, why not take a walk to look at the football stadiums in real life. We saw the signs pointing in the right direction and walked towards the football grounds, Anfield Road and Goodison Park. Once again it was very far. It felt like a repeat of the long walk in Chester the day before. At last we managed to find, Anfield Road, the football stadium of Liverpool FC. We walked around in a resedential area and suddenly there it was. It was easy to see that it had grown a lot and become very new and modern compared to the buildings around it.

You can find McDonald´s everywhere, even inside Anfield Road football ground, home of Liverpool FC.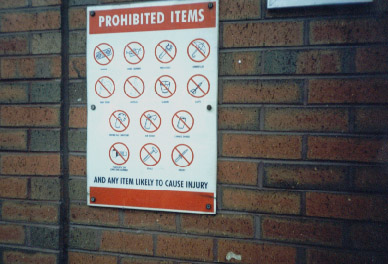 All the things you can´t bring with you when you´re going to watch a game of football in Liverpool.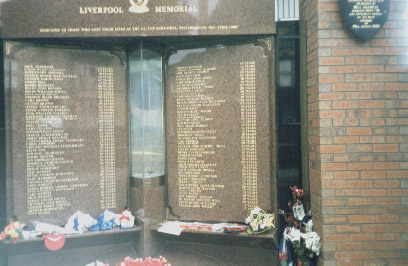 Remembering the dead in the Hillsborough disaster in 1989. The Hillsborough Disaster was a deadly human crush that
occurred at Hillsborough stadium, Sheffield, resulting in the deaths of 96 people
Usually we don´t enjoy eating at Mc Donald´s, in fact we hate it, but this time we had no choice. We didn´t find any other eateries within walking distance and we surrendered and entered the Mc Donald´s restaurant inside the football stadium. It´s not easy to understand the language here in Liverpool although they claim they speak English. After we had ordered the hamburgers we got a strange question from the lady behind the counter. "ate a horse?" she asked. We were a bit surprised and looked very confused. Once again she said "ate a horse?" and we guessed she wanted a yes or no from us. We said no and later realised that she had asked if we wanted "tomato sauce?" English is not an easy language... sometimes.
We went to a phone booth and called our friend Patrik in Umeå. This time he was at home. Christer said that he was calling from a place where he had a little green man with him. At first we didn´t explain for him that Peter was wearing a green t-shirt this day. After that we jumped on a double decker bus and we were sitting at the front on the upper floor of course. We didn´t do much more in Liverpool before we entered the bus which took us back to Manchester.
When we got back to Crumpsall we started to sing our own version of the Beatles song "Penny Lane" but about Crumpsall Lane instead. We found out that it didn´t sound much like The Beatles and we stopped. This part of Manchester has a lot to offer but not many restaurants except all those take away-places. We ordered a pizza each and sat down on a small wall and had a quick budget dinner eating with our hands.
---
Saturday 7th of August
---
This Saturday is the first day of the football season in England 1999/2000. The Premier League doesn´t start but all the lower leagues kick off this day. We´re in England and in the nortwest where there are lots of good football clubs within short distance of each other. We decided to watch a game today, but where should we go? Finally we decided to take a train to Oldham, just east of Manchester. We want to watch the game between Oldham Athletic and Preston North End in the 2nd division which in fact is the 3rd highest league in English football.
We arrived around lunchtime this Saturday. We explored the central parts of Oldham which is a town built among several hills. The largest of those was between the town centre and the football stadium Boundary Park. We looked at a church where there was a wedding going on, visited a couple of shops, a market and some other things before we started walking towards the hill. On top of it we had a good view of the town and we could actually see the stadium far away.

Oldham in mist.
We are at the stadium, Boundary Park. Oldham Athletic used to be in the Premier League but not anymore. We have found where they are selling the tickets but we don´t know where the entrances into the stadium are. We were early and decided to visit a small grocery store to buy something to eat and drink while waiting. The main sponsor for the football team is "Slumberland". We think they are selling beds. We´re hoping the game won´t make us sleepy.
Before entering the stadium we decided to visit the pub here. The sign that told us the pub is for "members of the supporter club" was invisible for us until we decided to leave a bit later. They were showing live cricket in the pub and the atmosphere was great. We ordered a beer each. Some guys were lauging at Peter´s British Airways tag on his small backpack and they wondered if he was going to fly somewhere.
We are inside the stadium and in the stands among the home supporters. On the other side of the ground we´ve noticed the away supporters. The supporters from Preston have been inside the stadium for quite some time and they are singing already. The game will soon start. A nice team mascot is doing his best to create a good atmosphere.

Boundary Park. The team mascot entertains the crowd before the game Oldham Athletic - Preston North End.
The game has kicked off. The spectators are loud and a lot of them have earplugs because of the noise. A young girl who looked really silent and shy suddenly started to shout and her eyes looked like the eyes of a killer. Football really creates strong feelings. Someone has brought a big beach ball and people throw it around. When one of the poor strikers in the home team didn´t score from his opportunity a man cried out "Grandma should´ve scored!!" The atmosphere is on top to say the least. The first half turned out to be a difficult time for Christer because the beer wanted to come out of his body.
Halftime! Lots of football fans move slowly towards the toilets. People have done this for ages and everything works very well. During the halftime break they are also reading the names of home supporters who had recently passed away and they played their favourite songs.
The final result was 0-1. Jonathan Macken scored for the away team Preston. The goal was scored at the other end of the pitch and we didn´t see much of it unfortunately.

90 minutes play is over. The spectators leave Boundary Park. Oldham - Preston 0-1.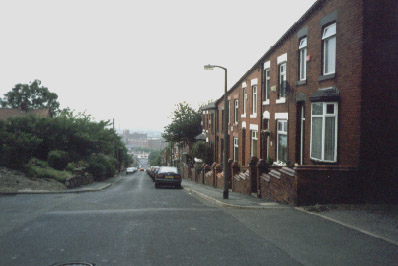 Oldham. The photo doesn´t really show how incredibly steep this street was.
We walked slowly back to the town centre and the train station but we didn´t walk over the hill this time. We noticed how steep a lot of the streets are here in Oldham. It was amazing that they could actually park the cars on some of them.
We´re at the station Oldham Mumps. We´re waiting for our train back to Manchester. We started talking to some Preston supporters. One of them didn´t want to speak to us because he thought we were Germans. Another guy, a red-haired mason wanted to talk though and he had lots to tell. He warned us about the girls from Lancaster because they were very ugly and told us we should date girls from Preston instead. We also talked about upcoming football games and he wanted Sweden to beat Poland because it would help England qualify to the Euro 2000 tournament in Netherlands and Belgium. We also told him about the Swedish player Tomas Brolin and what he´s doing these days after his football career. Our new friend called him a "vacuum cleaner wanker" and I guess he´s not a fan of Mr Brolin. A couple of his friends have started to "fight" out on the platform and they are pretending they are fighting a game of boxing. Something goes very wrong though and suddenly we hear a strange sound similar to what you hear when you put an axe into a piece of wood. Accidently one guy has knocked his friend out. We don´t know what happened later because our train arrived and when we left Oldham the poor guy was still there on the platform unconscious. (He wasn´t there when we passed the 12th on our way to Rochdale though)
When we returned to Manchester we decided to find out what tower we had seen each day on our way from Crumpsall to the city centre. We discovered that it was a part of the prison Strangeways. We also saw the icehockey arena "Manchester Evening News Arena". It´s the home of Manchester Storm. Icehockey is not very popular in England but this is one of the better teams.
---
You can see 15 photos from August 4 in this photoalbum.
You can see 29 photos from August 5 in this photoalbum.
You can see 20 photos from August 6 in this photoalbum.
You can see 25 photos from August 7 in this photoalbum.

---
---

---